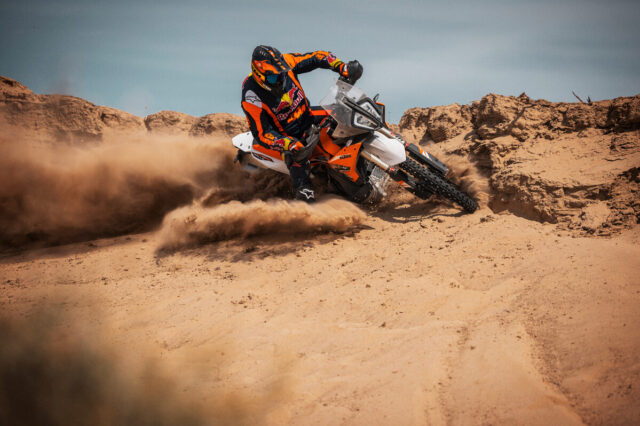 If the regular KTM 890 Adventure R isn't quite off-road enough for you, today sees the opportunity for a few select people to pre-order the Rally-spec version of KTM's mid-capacity adventure machine. And with only 100 units heading to NZ and Australia, it's going to be a first come, first served basis.
Online pre-orders open on KTM's website on September 21 at 9pm NZST.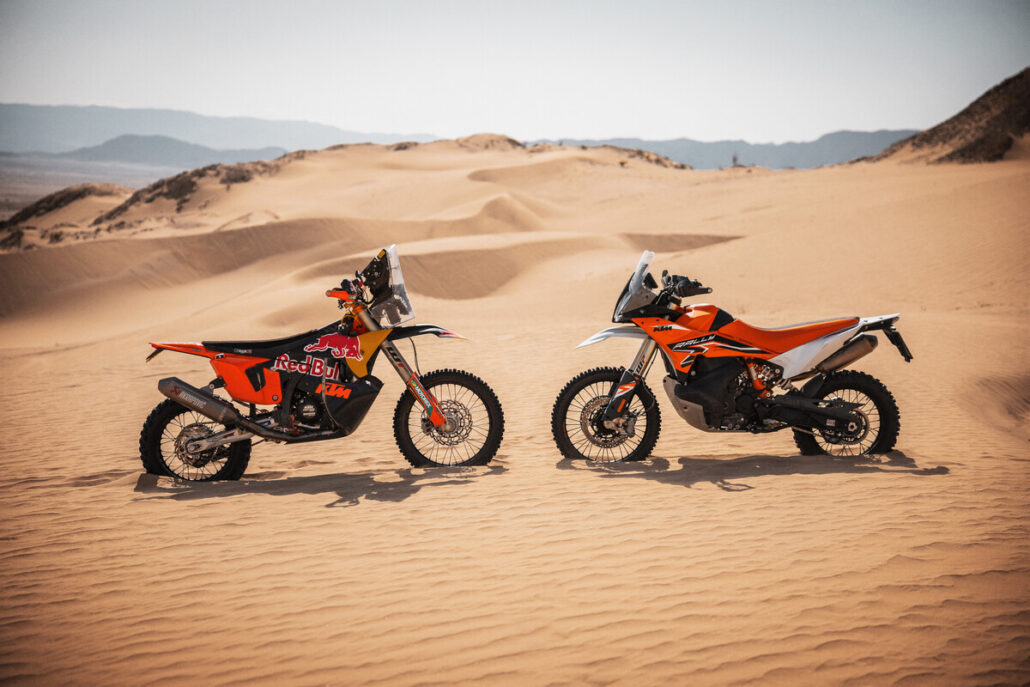 So, what do you get with the Rally version over and above the regular Adventure R?
Limited to 700 units worldwide, the first thing you'll get is a bit of exclusivity, that those in the know will recognise from the Rally graphics down the shrouds.
Designed to tackle the rigors faced by a Dakar machine, the pimped model gets a set of race-spec WP XPLOR PRO forks, heavy duty rims and a lightweight Akrapovic slip-on exhaust fitted as standard. Featuring a massive 270mm of travel, the suspension has been developed in conjunction with WP's Factory Race department, making this the most off-road capable version of KTM's all-ready decent adventure machine.
The lightweight WP XPLOR PRO 7548 forks utilise Cone Valve technology, and combined with the WP XPLOR PRO 6746 shock absorber, both are from the WP Pro Components program. With WP's experience from successful rally competition, this premium suspension offers the highest level of damping performance in the toughest of conditions, giving the rider more capability to push harder and faster over obstacles, while maintaining a higher level of comfort and control. 
But, if doing massive jumps or heading across deserts isn't your thing, this suspension system is also designed to provide a superior ride for globetrotters carrying large amounts of luggage or a pillion on their journeys, both on asphalt and offroad.

The 889 cc KTM engine offers 100 Nm of torque at 6500 rpm with 105 hp, and is combined with select components such as the lightweight Akrapovič Slip-on Line exhaust system, similar to that used by KTM's factory racing teams.
Being a premium model, as you'd expect the Rally comes with all of KTM's excellent electronics loaded and ready to go. This includes its offroad ABS system, Traction Control, TURN-BY-TURN+ navigation and multiple ride modes to select depending on terrain, all managed through the KTM's 5" TFT display. There's also the TECH PACK and Connectivity Unit kit included, making it extra-ready to explore new horizons.
Other changes include a race-specific Rally seat, heavy-duty wheels with Excel rims for use on tougher terrain, and Rally footpegs for increased feeling and grip on long liaisons. Carbon tank guards combined with further protection for the engine, rear master cylinder and suspension are also fitted. A Supersprox-Stealth rear sprocket is utilised as is a brand-new rally-derived and eye-catching functional design. 
To become a part of this exclusive club, you'll need to find $40,999 +ORC, but if you do manage to secure one of the new models you'll be in with a chance of a very special ride experience with off-road legends like Johnny Aubert.
If you want to place an order, you'll need to head to: https://www.ktm.com/en-au/ktm-world/news/ktm-890-adventure-r-rally-2024-au-nz-preorder.html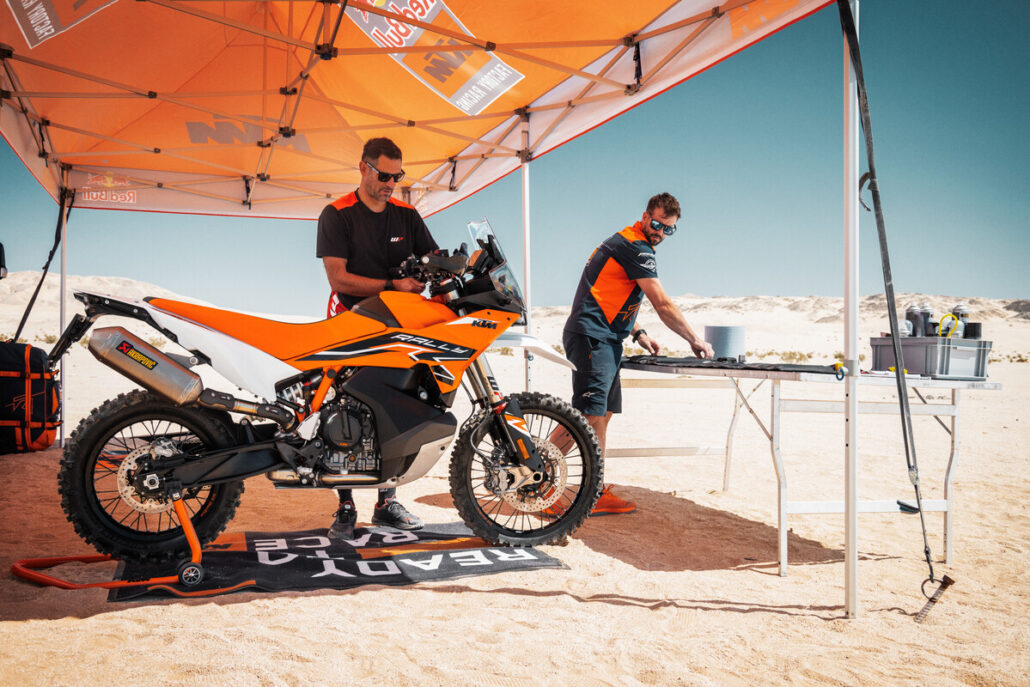 Exclusive Competition
34 thrill-seeking adventurers that purchase a KTM 890 ADVENTURE R RALLY, KTM has organised an exclusive opportunity to join some offroad legends at THE ULTIMATE KTM DESERT EXPERIENCE. 
The event will take place in Morocco, with two groups having the option to choose from two dates: 3 – 7 March or 7 – 11 March, 2024. Participants are looking to be offered a full-factory style package including the use of a fully prepped bike provided by KTM with all the necessary technical support required for desert exploration, transport during the trip and luxury accommodation for a three-night stay, plus one special night camping with KTM in the desert for the total prize of 4,900 € (incl. VAT).
With three days of riding in the area that the KTM Factory Rally Team carries out their testing, a dedicated and fully guided route, and a prepared KTM 890 ADVENTURE R RALLY, this event will be a trip of a lifetime.
2024 KTM 890 ADVENTURE R RALLY HIGHLIGHTS
Powerful KTM 889 cc parallel-twin engine (105hp, 100nm)
New fork guard with additional protection towards the tire
New Rally CTG with exclusive two-color fuel tank
WP XPLOR PRO Closed Cartridge Cone Valve Fork and PDS (270mm travel)
TECH PACK (Quickshifter+, Cruise Control, Motor Slip Regulation, Rally mode)
Connectivity Unit kit fully compatible with KTMconnect (Turn-by-Turn+ navigation)
Superior technology including ABS linked with Ride Modes
Akrapovič 'Slip-on Line' (35% lighter)
Race-specific Rally seat
Narrower heavy duty wheels (2.15×21″; 4.00×18")
Rally footpegs with wider footprint
Carbon tank guards
Aluminium guard for rear master cylinder
Engine protection grill
Supersprox-Stealth rear sprocket