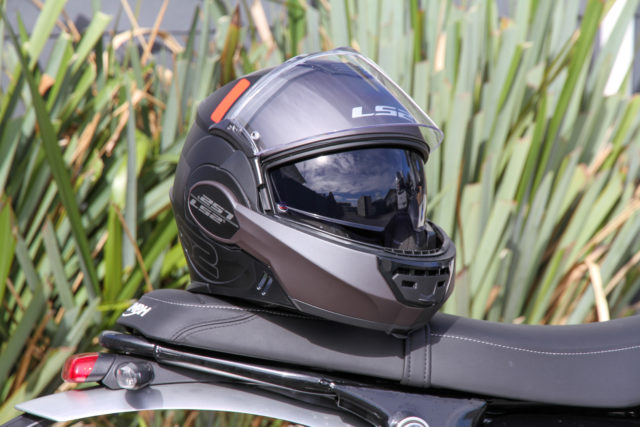 Tester: Paul | Distributed by: Whites Powersports | Price: $549 | Check it: www.bits4bikes.co.nz
I think everyone needs a flip-front helmet in their motorcycle armoury – they are simply so flippin' useful!
Back in the day, a flip-front helmet was large, clunky, heavy and ugly, but times have changed and so has the technology. Most flips you'd hardly notice are any different to a regular helmet, and they don't look any different either.
I got hold of a Valiant as I was going on two very different launches – a Royal Enfield Himalayan adventure followed by a direct flight to a Harley-Davidson new model release. Carrying two helmets along with all the other riding kit wasn't an option with limited luggage capacity, so I went on a mission to find one helmet to do it all and the LS2 Valiant was the one.
It doesn't flip in the traditional fashion; instead, the chin bar releases and rotates back, locking into place at the rear of the helmet. The fact it locks is a bonus as there's nothing more annoying than a helmet slamming shut when you lean forward, so that doesn't happen here.
With the chin bar up, the visor and sun visor still operate normally giving your eyes a bit of protection from the wind. And the way the cheek pads are still in place not only means the helmet continues to fit securely when in the open position, but it also means the Valiant is certified as both an open- and full-face helmet.
Flipping the helmet closed takes one hand and can be locked into place easily while riding, meaning you can get that bit of fresh air when cruising through town before locking and loading as you hit the open road limit again. The helmet is comfortable, well made and great for riding in warmer weather. The buckle is a steel quick-release variety, there's a Pinlock anti-fog system for the visor and even a reflective patch on the back for added visibility at night.
The LS2 Valiant really has proved its worth since I've had it, being reached for regularly when I'm testing bikes, whether it's a scooter, cruiser, adventure or any other style of machine.