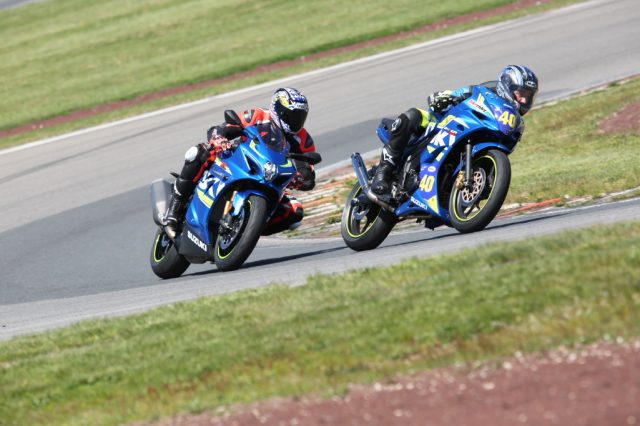 Excitement Builds For New GIXXER Cup Competition
They are small bikes with huge potential and that potential will be immediately realised when Suzuki's GIXXER Cup class bikes light up the tarmac this summer.
There will be at least 20 riders on the starting grid in the newly-created GIXXER Cup class at this year's Suzuki Tri-Series competition, set to kick off in just over a weeks' time, at Taupo's Bruce McLaren Motorsport Park, near Taupo, on December 10.
Entries have been received from as far afield as Greymouth, Timaru and Auckland, with Hamilton's Jesse Stroud the latest young man to sign up.
The Stroud name is synonymous with motorcycle road racing in New Zealand, with his father, Andrew Stroud, a record nine-time former national superbike champion. The Stroud dynasty is now being carried by a new generation that include Jesse and his elder brother Jacob Stroud.
Siblings Jesse and Jacob have already begun to make waves on the national road-racing scene, with Jesse continuing the long-standing Stroud family association with New Zealand's popular Suzuki brand.
After Taupo, the Suzuki Series takes riders to Manfeild, on the outskirts of Feilding, for round two on December 17, before its traditional Boxing Day finale on Whanganui's streets.
The Suzuki Series will feature all its traditional categories, from superbikes through to Formula Three and sidecars, but perhaps much of the interest will also now focus on the GIXXER Cup, where young riders will go into battle on identical Suzuki GSX150F bikes.
With the fledgling racers on matching bikes, the racing is certain to be intense, a level playing field being an ideal environment for the stars of tomorrow to learn their craft and spread their wings.
GIXXER Cup riders across the country have already been out at various track days and training sessions around the country, gaining valuable bike time and experience with their machines.
Several top Kiwi riders from the past and present have offered their advice and coaching to the young GIXXER Cup riders, including Brian Bernard, Gary Stirling and Jared Love.
There are still several GSX150F bikes that have not yet been allocated to riders, each of them fully prepared and ready to go, so there is still a good opportunity for potential competitors to come on board and enter the competition.
Reserved for riders aged between 14 and 21, the GIXXER Cup – with the tagline "Growing Future Champions" – is a production racing class that will provide a springboard towards a successful racing future at higher levels.
While the GIXXER Cup grade of competition will kick off at the pre-nationals Suzuki Tri-Series, the class will also be a feature of the four-round 2018 New Zealand Superbike Championships that follow, beginning at Mike Pero Motorsport Park, Christchurch, on January 6-7, with rounds to follow at Timaru, Hampton Downs and Taupo.
Meanwhile, Wellington's Victoria Motorcycle Club is evaluating a winter series class for the GIXXERS, to provide a further opportunity for these riders to keep their competitive spirits alive during what is usually the "off season" for New Zealand road racing.
Words by Andy McGechan