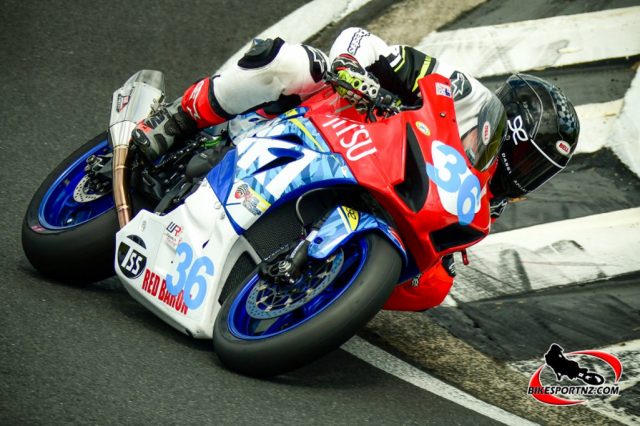 THE 2017 SUZUKI SERIES IS THE BIGGEST YET
It's perhaps the greatest thing in New Zealand road-racing and this year's edition of the Suzuki Series is going to be the biggest yet.
The popular annual three-round Suzuki Series kicks off the New Zealand road-race season at Taupo's Bruce McLaren Motorsport Park this Sunday, just a few kilometres away from the scenic lake's waterfront, and the anticipation has already reached a fever pitch.
Series organiser Allan 'Flea' Willacy reports from his Whanganui base that entries are now closed, but he "simply couldn't take any more anyway".
"Riders are still trying to get entered for the opening round at Taupo on Sunday, but we've been turning them away," he said. "This year's entry list the largest we've had in the nine years since the competition began (in 2008). The popularity is global, particularly for the Cemetery Circuit final round (on Boxing Day).
"It has been truly incredible. We have all the usual suspects entered in the Formula One (superbike) class, although we won't see popular Liechtenstein rider Horst Saiger this season.
"Horst became a new dad this week – the couple now with a baby boy – and that's been his priority. He has promised he'll be back next year and he says he'll probably bring a few more riders with him too."
Meanwhile, Manukau's Toby Summers is back in the 600cc Formula Two class this year and, as a multi-time former F2 class champion, he'll perhaps be the class favourite.
"The Formula Three class is absolutely chocker block full. We have 40 riders lining up on the F3 starting grid, the maximum number we are allowed," said Willacy.
"The sidecars class is also brimming with 26 crews lining up, eight of them from overseas, including former World Champion Tim Reeves, from the United Kingdom, with fellow Brit Mark Wilkes as his wing man. They will be hard to beat."
The international sidecars riders are bringing their 600cc F2 sidecars with them, rather than the 1000cc versions, because they believe they'll be better suited to the tight street racing at Whanganui on Boxing Day.
A new class this year for fledgling riders – the GIXXER Cup class, reserved for riders aged between 14 and 21 and all on board identical 150cc Suzuki GSX150F model bikes – could steal the spotlight.
There will be at least 20 riders on the starting grid in the GIXXER Cup class, with entries received from as far afield as Greymouth, Timaru and Auckland and with Hamilton's Jesse Stroud the latest young man to sign up.
The Stroud name is synonymous with motorcycle road racing in New Zealand, with his father, Andrew Stroud, a record nine-time former national superbike champion.
Home town hero Scotty Moir will hope that he can finally crack the top step of the F1 podium after taking his Suzuki GSX-R1000 so close in past seasons, but first the Taupo man will have to find a way past fellow Suzuki top guns Sloan Frost, from Wellington, and Glen Eden's Daniel Mettam, among others.
Whakatane's Tony Rees took his Honda CBR1000RR to win the Suzuki Series last year and he'll also be a top contender for the main prize this year too.
After Taupo, the Suzuki Series takes the riders to Manfeild, on the outskirts of Feilding, for round two just a week later, on December 17, before its traditional Boxing Day finale on Whanganui's famous public streets Cemetery Circuit.
The GIXXER Cup competition will also be a feature of the four-round 2018 New Zealand Superbike Championships, beginning at Mike Pero Motorsport Park, Christchurch, on January 6-7, with rounds to follow at Timaru, Hampton Downs and Taupo.
Words and photo by Andy McGechan