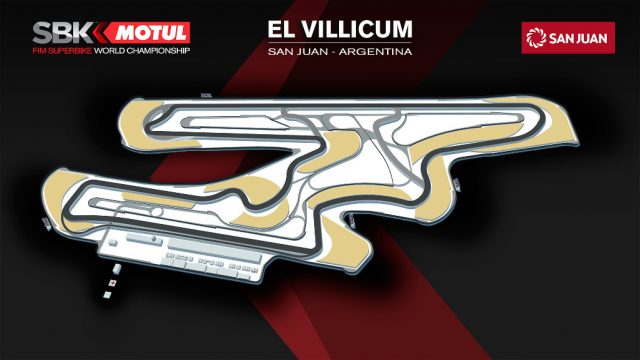 Province of San Juan joins the MOTUL FIM Superbike World Championship Calendar
Argentina's San Jaun province has been announced as a new host for the World SBK series from 2018 in a joint announcement by the Government of the Province of San Jaun and Dorna.
The signing of a three-year agreement to host a WorldSBK round at the 4.2 kilometre, 19 corner Villicum Circuit, which is currently under construction near the city of Albardónis. Work began in October 2016 and will make Argentina the 26th country to host a Round of the world´s fastest production-based motorcycle series.
WorldSBK is expected to visit the circuit in 2018, as the parties involved hoping to have the track homologated by the Federation Internationale de Motocyclisme (FIM) later this year.
The region of San Juan has an outstanding history in motorcycle racing and motorsport in general. The world-famous Dakar Rally has passed through the province in recent years, and the El Zonda circuit continues to host racing events across the year.
The new circuit is located on the symbolic Route 40, a 5,000km road which stretches from the north to the south of Argentina, along the breathtaking Andes. Route 40 is a tourist attraction not only for motorsport fans, but for all travellers who go to discover the best landscapes in the country.
The Governor of the Province of San Juan, Sergio Uñac said that the new circuit "is a project which will position San Juan at the heart of the sport, as the best categories of motorcycling and the motoring world will discover a stunning circuit with The Villicum, creating an unbeatable thrill."
"As well as this," added Governor Uñac, "there will be a hotel nearby – the old La Laja hotel. We are also talking with interested parties to build a hotel in front of the racetrack, which is one of the necessities in order to put this racetrack the highest international level".
Carmelo Ezpeleta, Dorna Group CEO, expressed his satisfaction at WorldSBK's arrival to South America for the first time in history. "Without doubt this is very good news. Knowing that Argentina will have a World Superbike Round is a solid step forward. The presence of the two  of the most important world championships in motorbike racing in Argentina, reflects the passion of a country which has a vast and deep rooted history in motor sports."
Attention now turns to the Netherlands and the Assen circuit, which host the next round of the 2017 championship the weekend of April 28-30.