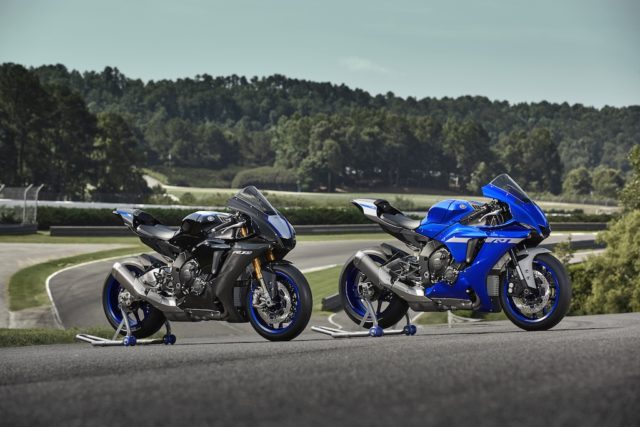 Yamaha have just announced the release of their greatly-revised YZF-R1 and YZF-R1M for 2020, with a mass of changes over the previous model. 'Built without compromise', the crossplane 998cc 4-cylinder engine is Euro5 compliant, but still puts out 200PS (over 197hp) in standard trim.
New race-inspired bodywork features on both bikes, with the R1 available in a striking blue and white or gloss black, and the R1M in bare carbon fiber over black livery, with blue wheels, and blue and white detailing. Increasing the bike's aerodynamic efficiency by over 5%, the new fairings give a significant performance gain at high speeds. Newly styled LED headlights and LED position lights further add to the next-generation look of the R1 and R1M for 2020.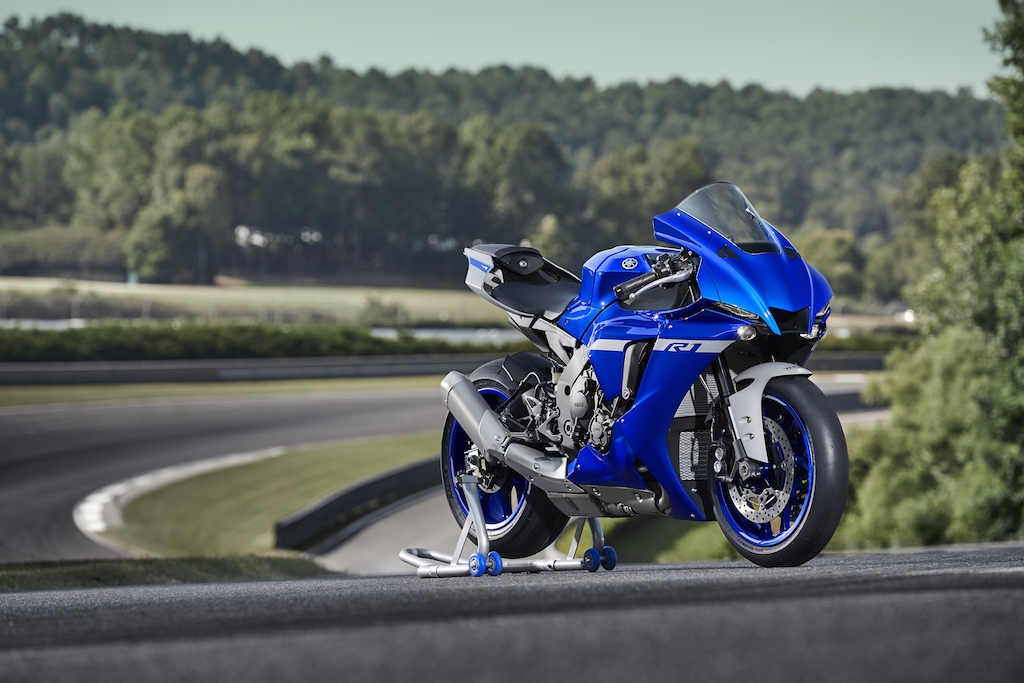 The unique sounding crossplane motor, with its uneven 270° – 180° – 90° – 180° firing sequence, produces 200PS (over 197hp) at 13,500rpm, before a 14,000rpm redline. The high-revving motor is thanks to the adoption of newly-designed finger-follower rocker arms and new cam lobe profiles, giving an optimised valve lift and more stable valve opening and closing at high rpm, which in turn ensures smooth and more efficient engine running.
The motor also features significant changes to the intake layout, with a redesigned cylinder head and relocated injector assembly to optimise engine performance. Aimed at improving combustion, the throttle valves have been moved closer to the combustion chambers, with the new Bosch injectors positioned on top of the 45mm throttle bodies, rather than beneath. Delivering fuel more directly into the combustion chambers, the new 10-hole injectors also give a wider spray angle to further promote increased combustion efficiency.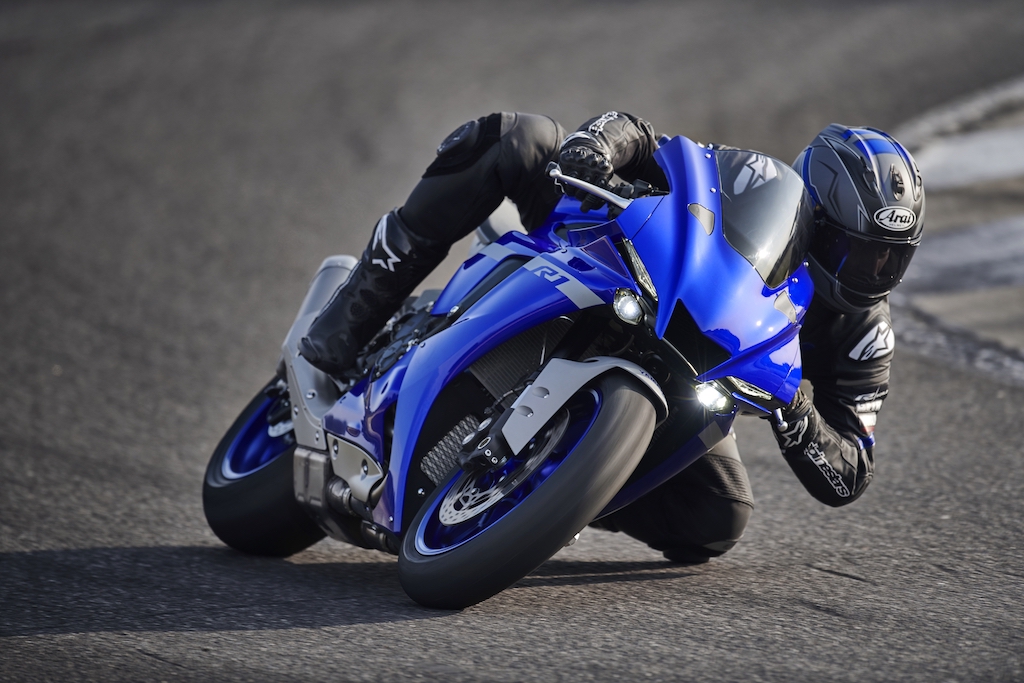 The new YZF-R1 features 43mm Kayaba forks, while the R1M has been fitted with the latest generation of Öhlins ERS (Electronic Racing Suspension) NPX gas pressurised forks, for the highest level of adjustability for ultimate control and performance. Revised rear suspension settings and a modified steering damper have been fitted to the R1, while the R1M's rear Öhlins ERS shock benefits from a modified preload setting, to compliment the improved performance at the front end.
The Yamaha Chip Controlled Throttle (YCC-T) continues for 2020, and for improved throttle feel and reduced weight the YZF-R1 features a new Accelerator Position Sensor Grip (APSG) system with a magnet and a sensor sending signals to the YCC-T. To retain the feel of a conventional throttle grip, the new APSG features a spring mechanism to give a more natural and progressive feel, with setting designed to give improved feel and control.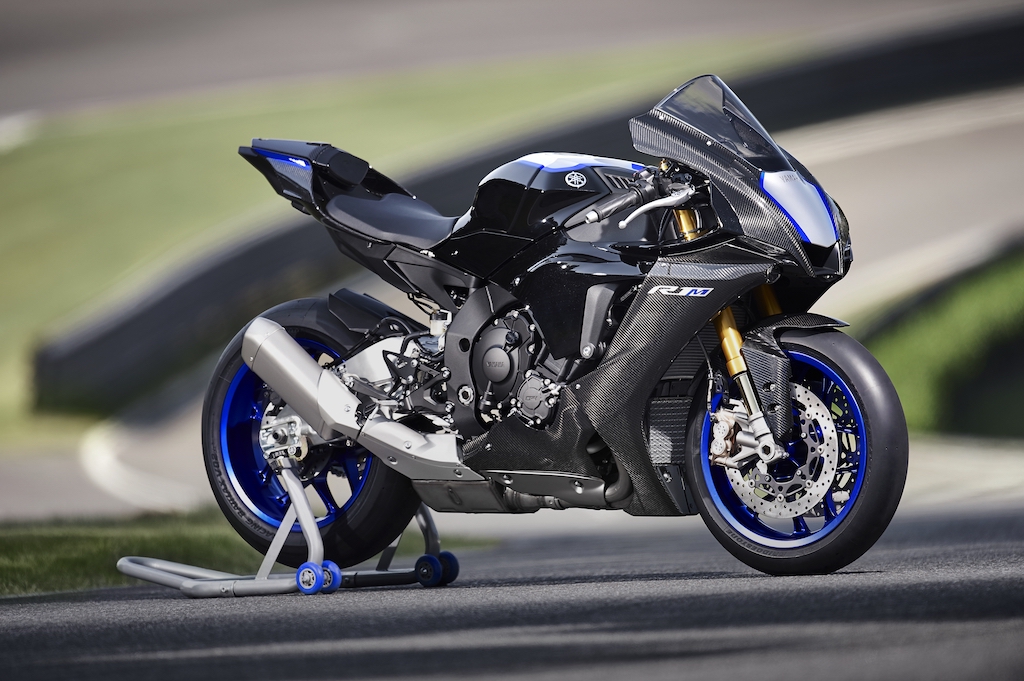 The new R1 features a next-generation 6-axis Internal Measurement Unit (IMU) to measure pitch, roll, and yaw, as well as an accelerometer to measure fore-aft, up-down, and left-right acceleration, transmitting data 125 times per second to the ECU, which in turn controls the bike's sophisticated electronic rider aids:
Brake Control (BC) allows riders to select between two levels of ABS modes – BC1 and BC2. BC1 offers a fixed level of ABS sensitivity, while BC2 allows for more flexible ABS sensitivity, depending on things like lean angle and corner speed. Engine Brake Management (EBM) allows riders to choose from three levels of electronically controlled engine braking, through throttle opening, ignition timing, and fuel injection volume. EBM1 delivers the highest level of engine braking force, with EBM3 the lowest.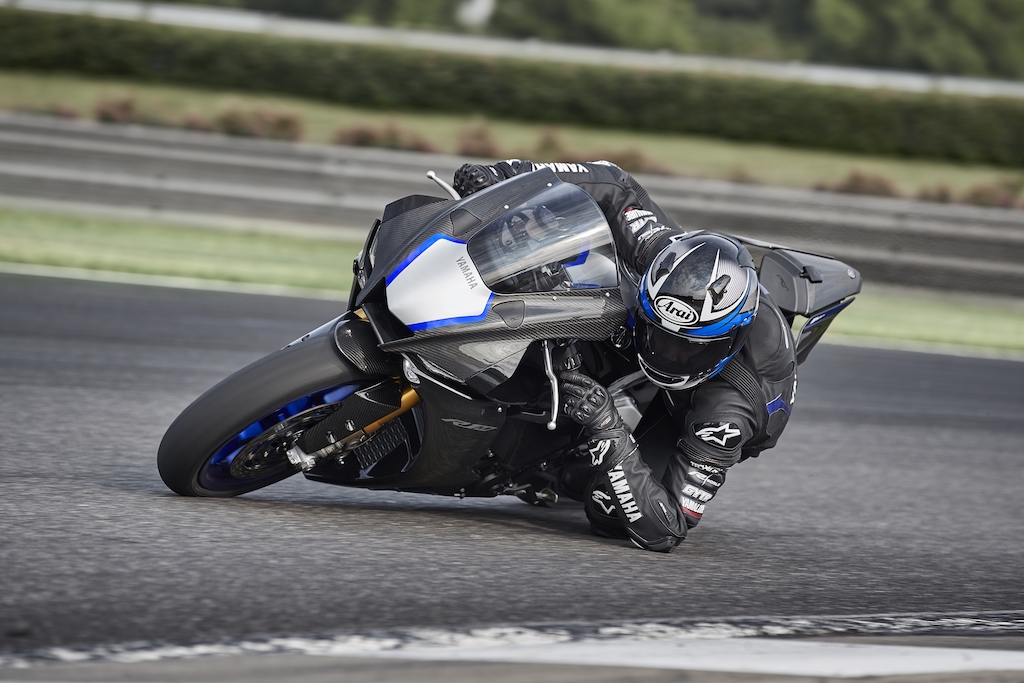 The Yamaha YZF-R1's Launch Control System (LCS) has also been modified for 2020, activating at 9000rpm with a throttle opening of 41-degrees. Along with the BC, EBM, and LCS systems, the new R1 features a total of seven different rider aids, to give the rider increased confidence and control in a wide range of conditions. Each electronic system has been designed to integrate seamlessly with the other systems, to give a completely natural feel. All adjustments can be made via an updated TFT liquid crystal display.
The 2020 YZF-R1M's are individually stamped with unique production numbers, and feature even more updates over the R1. The lightweight carbon tail cowl compliments the M1-esque carbon front fairing and front fender, contributing to the machine's lightweight and responsive handling performance. Riders can create and adjust their own personal riding modes, adjusting all seven electronic rider aids to their own personal requirements, via the YRC Setting App. Also, the Yamaha Telemetry Recording and Analysis Controller (Y-TRAC) App allows riders to download a range of data to their mobile device, to view and analyse everything from engine rpm to lean angle, acceleration G-forces, as well as when electronic rider aids were activated. Developed for Yamaha Factory race teams, the software gives riders instant and easily accessible control over the advanced electronic rider aids on their bike.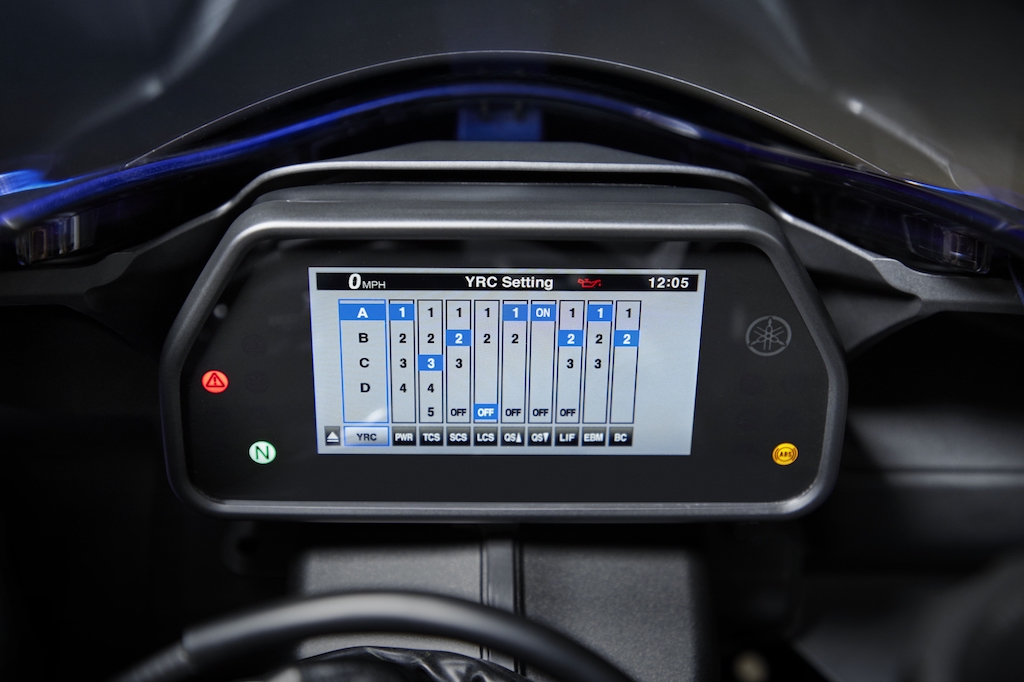 Photos: Yamaha Motor Europe Media