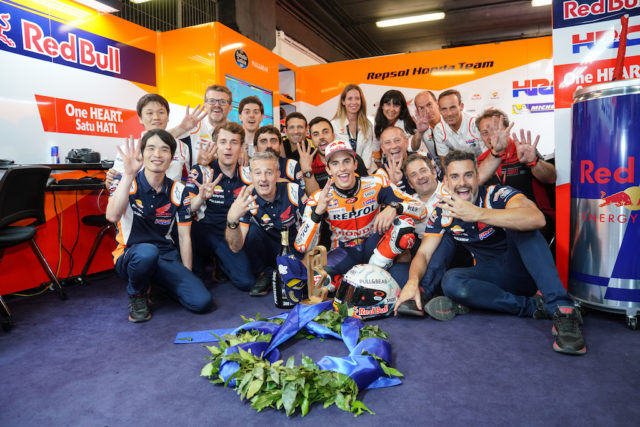 The racing over the weekend at Circuit de Barcelona-Catalunya certainly had its fair share of thrills and spills, with action and excitement aplenty for spectators.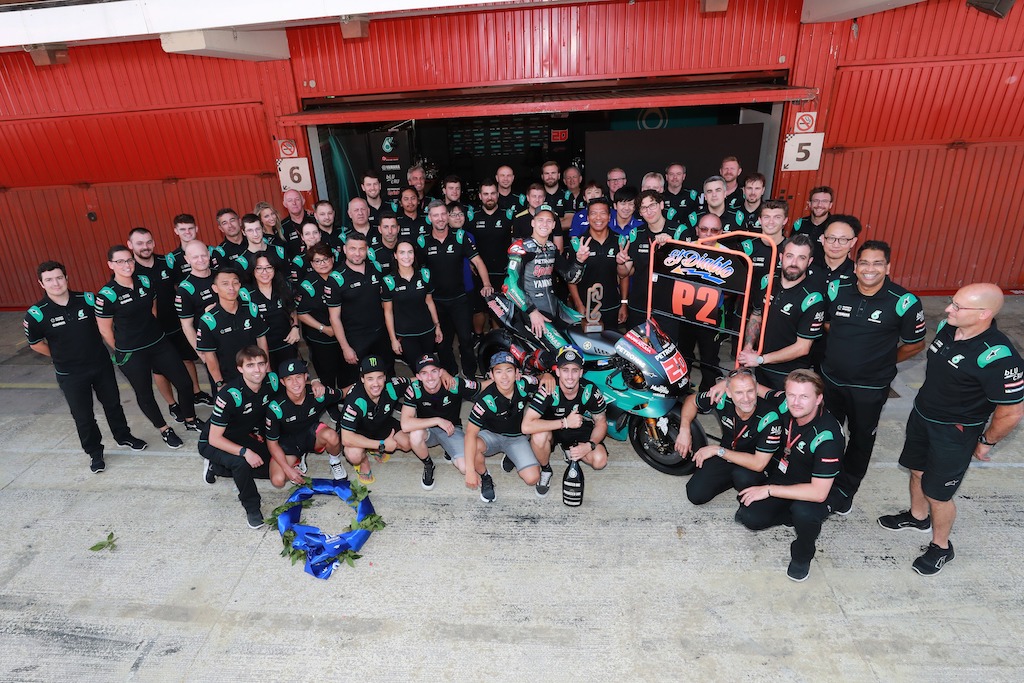 First up, Fabio Quartararo achieved his first ever pole position in the premier class, riding for the PETRONAS Yamaha Sepang Racing Team, in only their seventh MotoGP premier class outing. Freshly returned from surgery on his right forearm only 12 days prior to race weekend, he said his arm didn't bother him too much on the bike. In the race, Quartararo dropped seven places after a bad start followed by a mistake in Turn 4, but was able to work back up in the order consistently, showing great race pace and composure to regain the lost ground, finishing in a very respectable second place. The 20-year-old claimed his first podium in MotoGP in only his seventh race in the class, and is now 9th overall in the Championship standings with 51 points.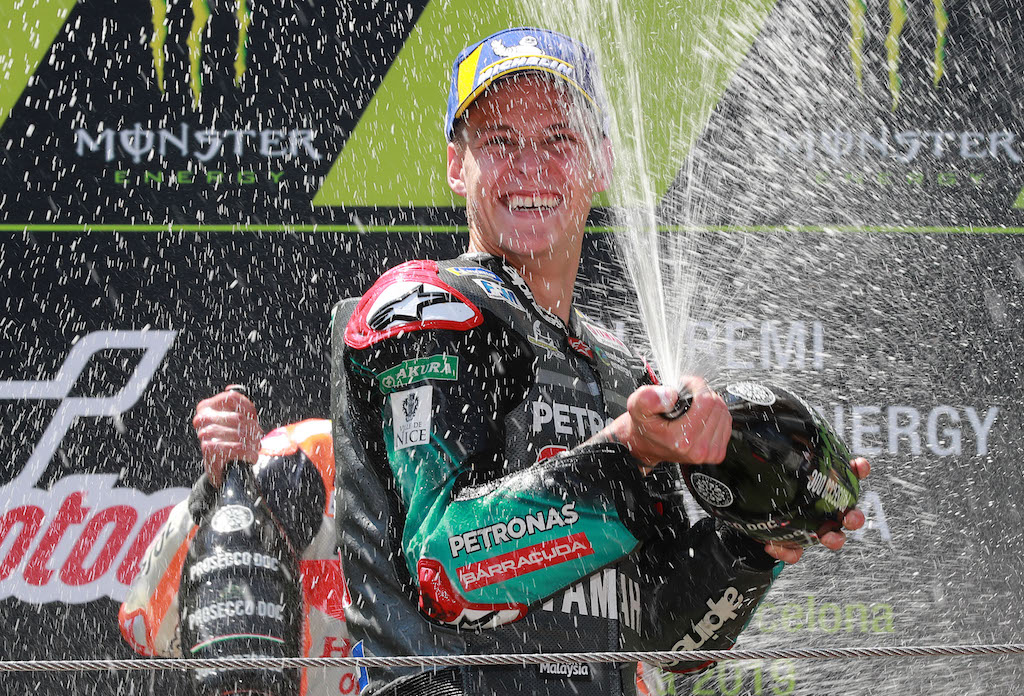 Fabio Quartararo – 2nd
"I'm very happy with what we've achieved today especially as it was a very hard race. We made our best start this year, since I only dropped two positions. Then I made a mistake at Turn 4, losing another four positions, and I was a little further back! Nevertheless, I found myself in the fight for the podium and a few laps from the end I managed to get into second and push. Thanks to the adrenaline of fighting for the podium – and the medicine – my arm didn't trouble me so much in the race. In the final laps my arm started to hurt a lot, but the reward of being on the podium is much greater than that. Twelve days ago I was undergoing an operation, and now I'm on the podium. Since the European races have begun, we have been very fast; this weekend the worst result in a session was second. The pace we have is very good, but we have to continue working as we have done so far. I want to thank the team for the opportunity they have given me and all the work they do. I am very happy to have achieved the first podium for PETRONAS Yamaha SRT."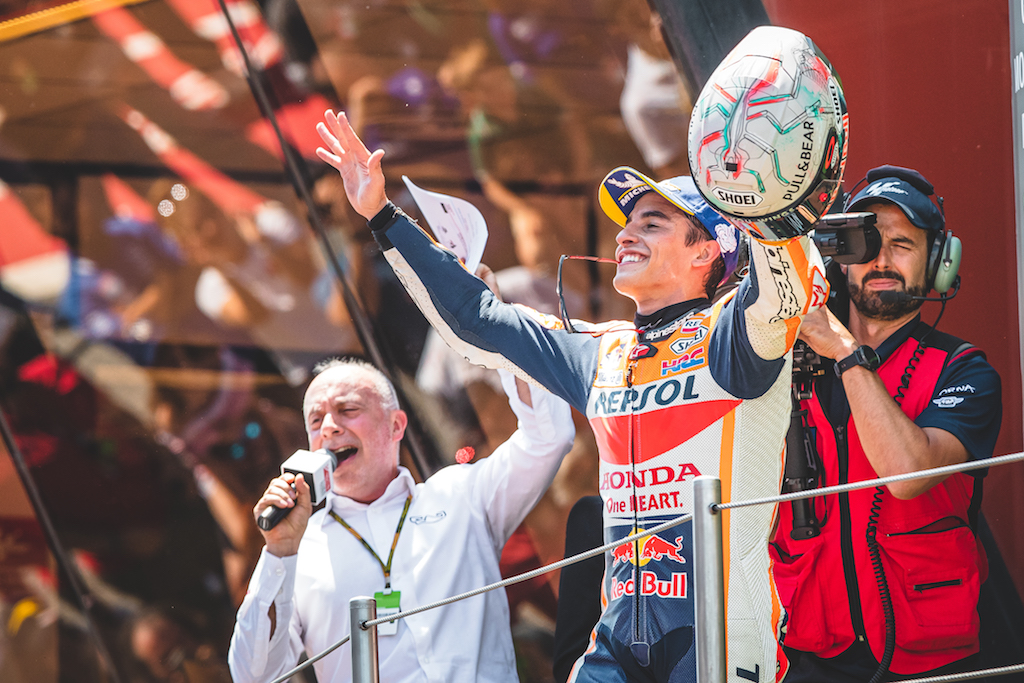 Repsol Honda Team rider Marc Marquez luckily escaped a big incident that saw Lorenzo crash out behind him in Turn 10 of the second lap, unfortunately unable to avoid taking out Andrea Dovizioso, Maverick Viñales, and Valentino Rossi all at once. Leading with a comfortable advantage, Marquez had little issue with the 51°C track temperatures, consistently lapping in mid to low 1m40s times. He maintained his advantage for the remainder of the race, crossing the line in first place, with 2.6 seconds margin to Quartararo in second. Marquez's 48th premier class career win extends his 2019 Championship advantage to a commanding 37 points over Dovizioso, with Honda also leading the Constructor Championship over Ducati by 15 points.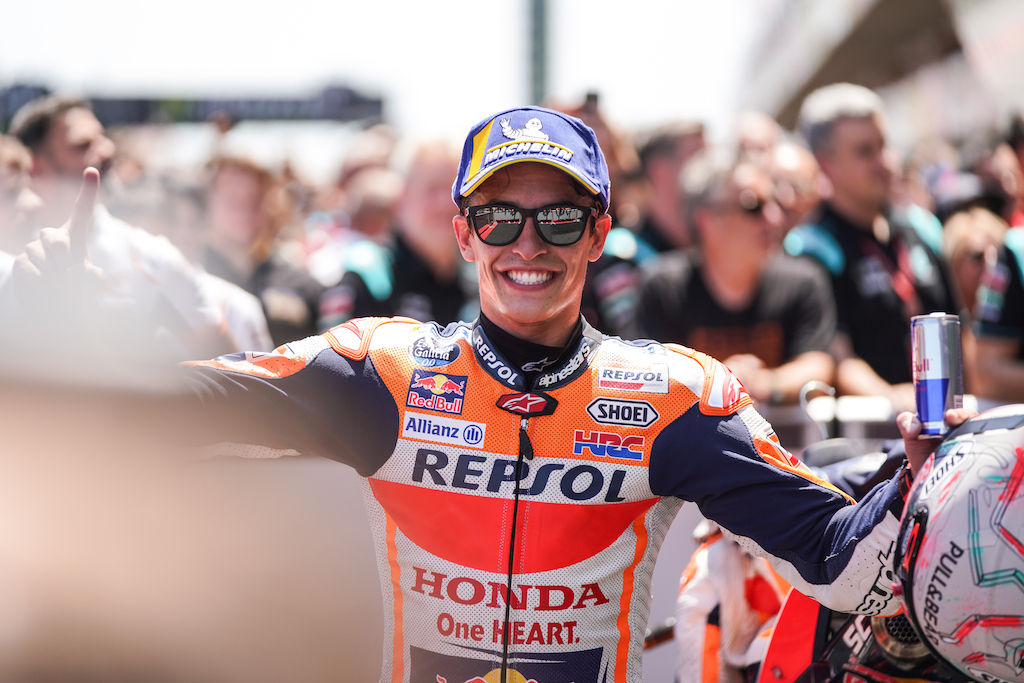 Marc Marquez – 1st
"I chose the soft rear to try and push in the beginning and to try to not overheat the tyre but to try to be constant and fast. All of the Repsol Honda Team did a really good job this weekend; we worked hard and prepared well for the race. The team told me something had happened to Dovi, so I just kept pushing and focusing on my own race. We had the perfect strategy regardless and I want to thank all the fans who came out. Gracias! It's always special when you can celebrate winning together with your brother, Alex rode well this weekend!"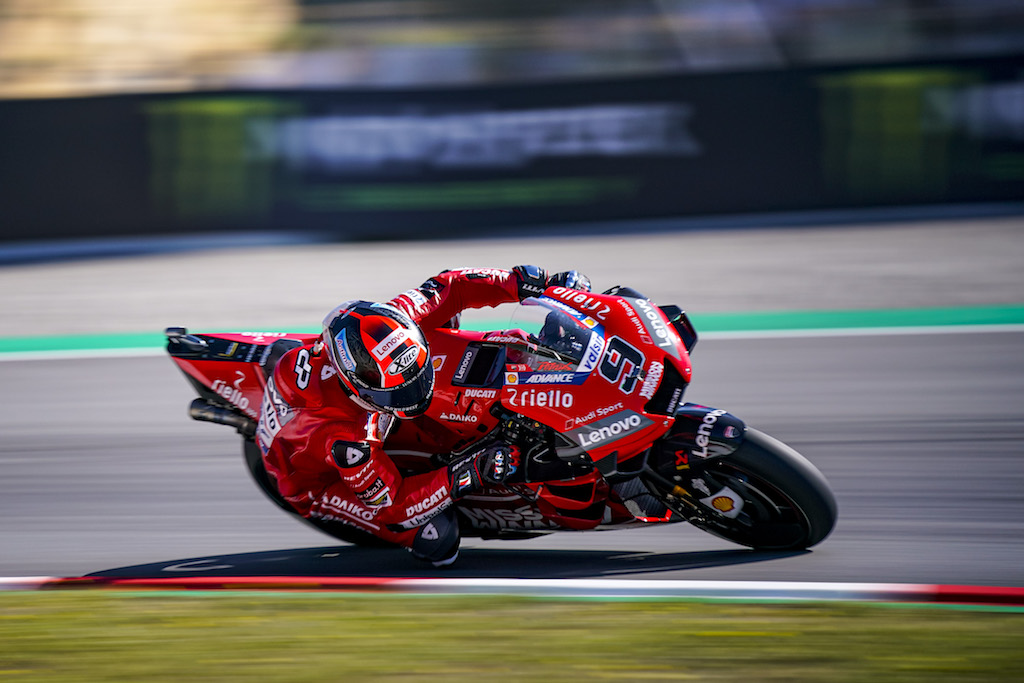 Mission Winnow Ducati's Danilo Petrucci, starting from P5 on the grid, was only a few metres behind teammate Andrea Dovizioso when the Italian rider was forced to retire in the combined crash at Turn 10. Luckily, Petrucci managed to avoid the tangle of bikes, gaining second position in the process. As the race progressed, Petrucci fought in close battles with first Alex Rins (Suzuki), swapping positions with the Suzuki several times before opening up a gap, then Quartararo, before eventually crossing the finish line in third place. The podium finish brings Petrucci's Championship points total to 98, fourth overall, only 3 points behind Alex Rins (101) and 5 points behind team-mate Dovizioso (103).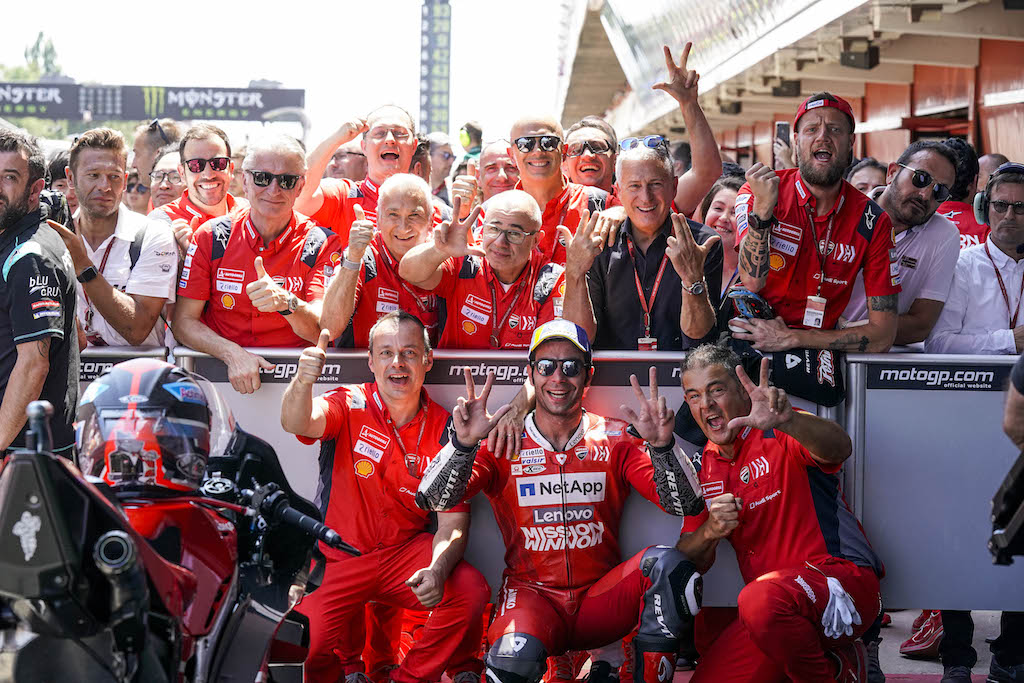 Danilo Petrucci – 3rd
"After a great start, I took the lead and I was in a strategic position to ride the race we had planned. The rear tyre still wasn't perfectly heated up so I wasn't pushing the pace yet but, considering how the race eventually unfolded and the rhythm shown by other riders, I believe we could have been contenders for sure. I prefer not to comment about the incident, but the race still was entirely up for grabs at that point. Tomorrow we have another important test to keep improving our base, and we'll try to make the most of it, to bounce back immediately at Assen."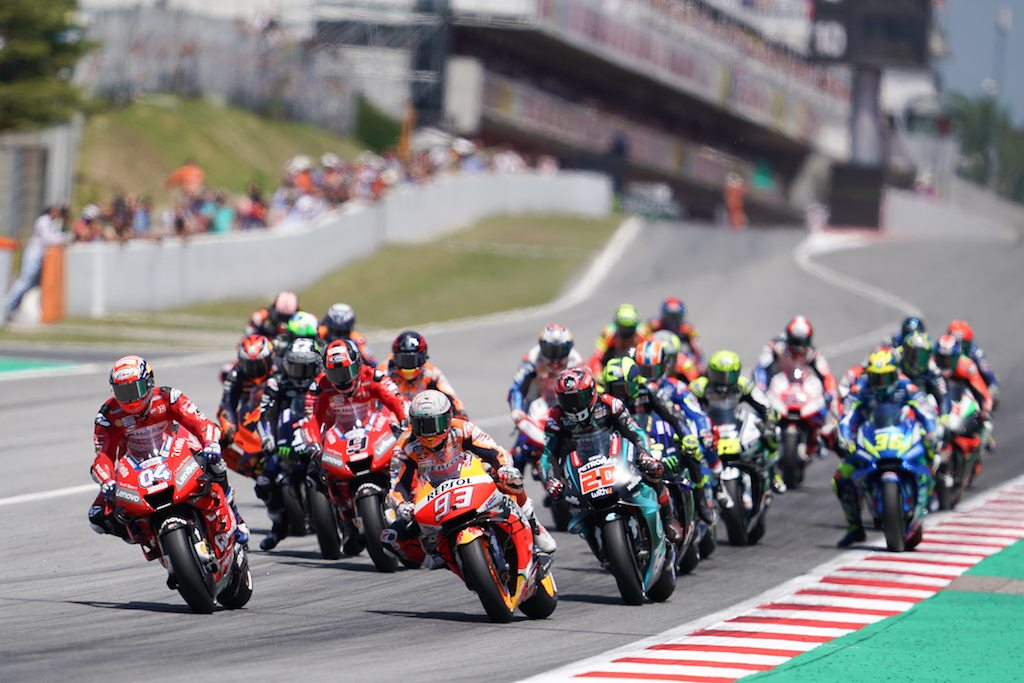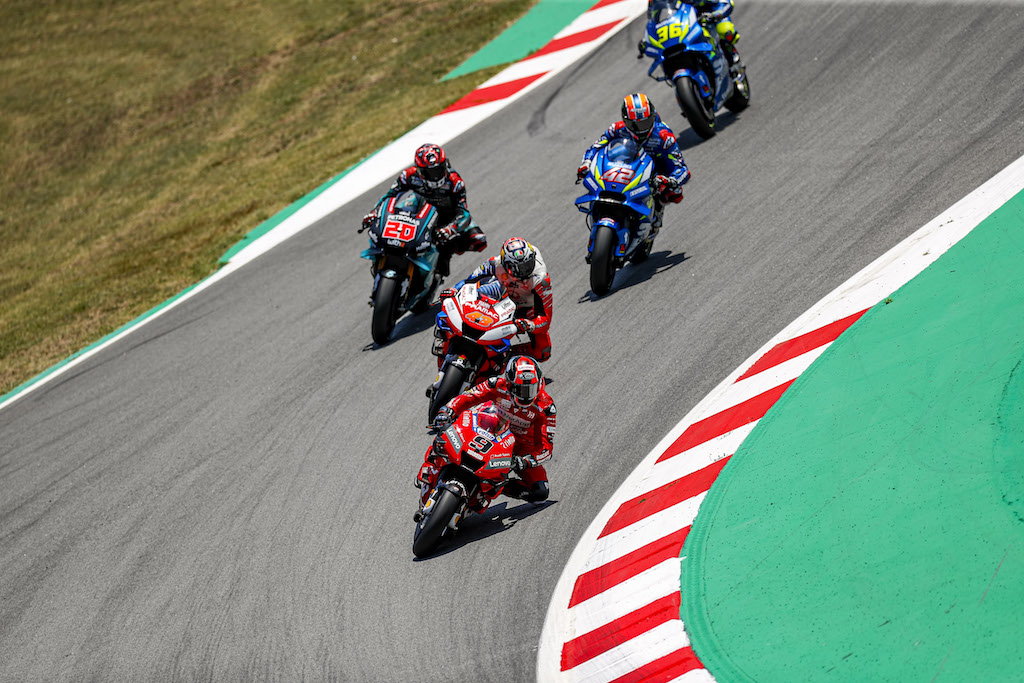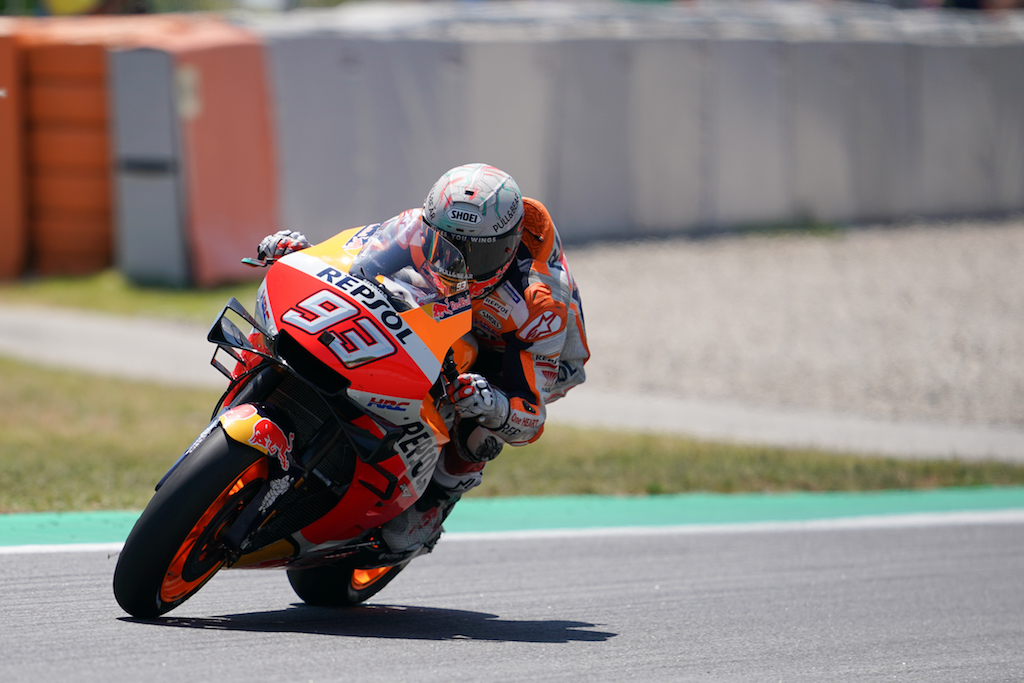 The next round of racing takes place in Assen in the Netherlands, scheduled for June 28-30, just over a month away.