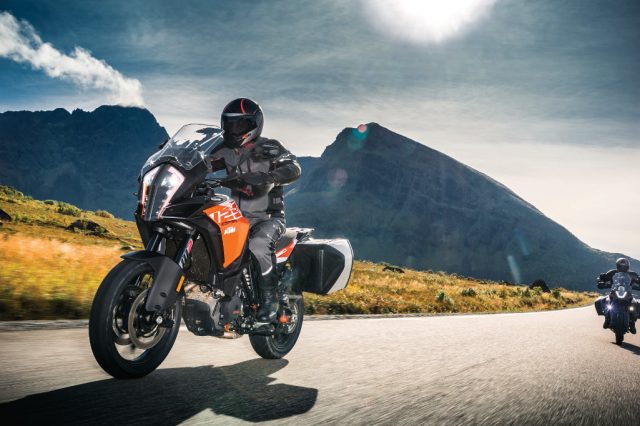 KTM has announced plans to introduce Adaptive Cruise Control and Blind Spot Detection systems on future models starting with MY2021 bikes – which would be a first for a mass production motorcycle.
While the technology is still in the development process, both of these features use sensor-based technology – similar to that already developed for the car world – to help detect and prevent a collision from the front or rear.
Unlike in the car world, where Adaptive Cruise Control (ACC) is used to both emergency brake and to maintain distance while in cruise mode, KTM's tech is currently not designed as an emergency brake system, which admittedly would be problematic for an unprepared rider. Instead, KTM's current plan is for the ACC system to work when the machine is in cruise control above a designated speed and keep the bike a safe distance from other vehicles ahead.
The system can detect a vehicle in front, ranging from the size of a motorcycle and above, and then locks on to maintain a distance of two seconds by automatic throttle control and – if needed – gentle application of the front brake.
The finalised packaging of the system is still in development along with adding the ability for the rider to customise the operational distance and speed. When fully developed, it is expected that ACC will be able to respond faster than any rider in such a given situation.
Checking your 'blindspot' on a bike is usually done by a long, rearward look which, can be dangerous in heavy traffic situations. Blind Spot Detection (BSD) adds another set of eyes in such demanding riding conditions or during a particularly long ride. BSD uses a short distance radar to ACC to alert the rider to the potential of an undetected rear collision – such as when changing lanes – by way of a visual warning on the TFT display as well as with illuminating superbright LEDs integrated within the rearview mirror glass, also boosted by audible signal.
These game-changing features – and they will be game-changers for rider safety – will be part of new electronics packages offered on certain KTM models, beginning with 2021 models. KTM hopes the technology will also create provision for other sensor-based systems further in the future, which are said to already in development.
"As a company, KTM is committed to improving rider safety and also to reduce accidents Gerald Matschl, Vice President for KTM Research & Development, said after personally demonstrating the effectiveness of these systems to the journalists by riding the KTM 1290 SUPER ADVENTURE S without his right arm and leg on the machine's controls.
"We have a lot more development and many thousands of kilometres to test these systems in the real world before we can implement them on series production bikes, but they are coming in the near future and we are sure they will make a difference."