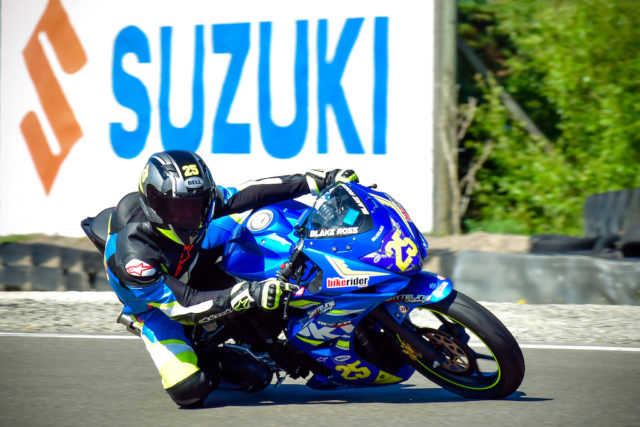 This season's inaugural GIXXER Cup competition certainly ticked all the boxes with the Kiwi bike racing community.
Introduced near the end of 2017 as a brand new class of motorcycle road racing, designed especially to encourage young riders to explore the possibilities of the sport, the seven-round GIXXER Cup competition was a motivating breath of fresh air.
All riders in the new class were mounted on identical Suzuki GSX150F bikes, entry was restricted to riders aged between 14 and 21 years, and, with no modifications allowed to the bikes, racing was guaranteed to be close and exciting.
And it certainly was that.
But what is perhaps more exciting is that this fledgling competition, which ran from December last year through until March this year, also provided massive inspiration for a batch of young riders to more seriously consider and then devote themselves to a dedicated racing career.
Several young riders who had not previously even been on a race track have now embarked on a new sporting pathway and they all offer their thanks to Suzuki New Zealand for having the foresight and imagination.
Pukekohe shop fitter Thomas Newton won this season's inaugural GIXXER Cup title, finishing ahead of Paeroa's Blake Ross and "The West Coast Warrior", Greymouth's Clark Fountain, although any number of riders could possibly have taken a final podium spot, including Whanganui's Tarbon Walker, Taupiri's Zak Fuller, Timaru's Harry Parker and Invercargill's Michael Wilson.
Several of those GIXXER Cup stars this season have vowed to continue on with the sport and have made plans to enter one or another of the bigger bike classes next season, while others have vowed to give the GIXXER Cup another crack in 2018-19.
The leading pair in 2017-18, Newton and Ross, are just two of the several who have made the commitment to push ahead into a road-racing future.
The 21-year-old Newton "did a bit of motocross" when he was younger, but this season was his first time on a road-race circuit, although you wouldn't have known that to see him tackle the tarmac.
"I have been riding bikes on the road for a couple of years, but not racing them," he explained.
"It has been really close racing and must have been one of the best classes for spectators to watch.
"I hope to race in the Supersport 300 class next season, but we'll have to see about sponsorship and all that kind of thing first."
The 16-year-old Ross, a year 11 pupil at Paeroa College, is still eligible to race again in the GIXXER Cup class, but he has also decided to step up to the 300cc class and has already tasted some success at winter series events around the country.
Ross took his new 300cc bike to win three races from three starts in the Junior Lightweight Production Class at the Hamilton Motorcycle Club's Winter Series at Taupo on May 13
At his next outing, at round two of the Victoria Motorcycle Club's Winter Series at Manfeild on May 26, Ross crashed while leading the first of his three Supersport 300 class races, but then bounced back to twice finish third. The 300cc class was won that day by another former GIXXER Cup hero, Hamilton's Jesse Stroud.
Ross' father, Mark, said his son "can't wait for the start of the 2018 Suzuki Series to begin … that's all he talks about at the moment. He's even given up rugby to concentrate on his road-racing".
Also racing at Manfeild on May 26 was another of the riders who had made a name for himself in the GIXXER Cup competition earlier in the year, Feilding's Scott Hawkes, this time in action in the Development class.
Meanwhile, continuing on in the GIXXER Cup class at the Manfeild event were even more of these rising stars who emerged in the Summer – Fountain, Sanson's Shane Miller, Whanganui's Cameron Goldfinch and Feilding's Justin Maunder.
With these young men quickly becoming regulars on the Kiwi road-racing scene, it seems the GIXXER Cup has done its job and perhaps even more fresh talent will come out of this competition in the 2018-19 season as well.
Words and Photo by Andy McGechan