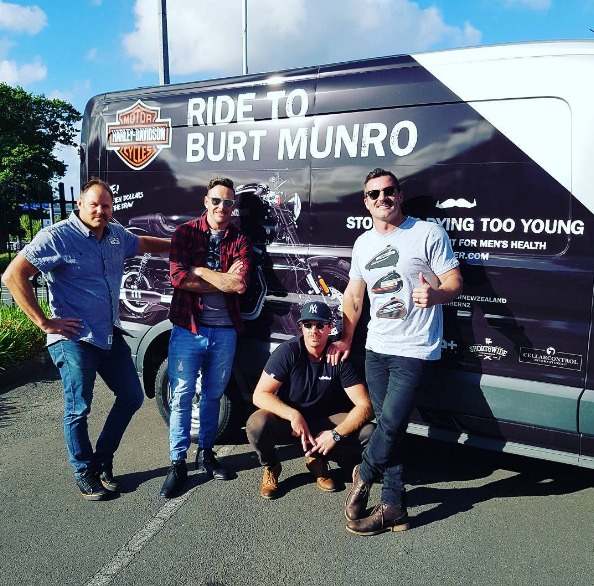 Josh Kronfeld, Jay Reeve and Eddie Dawkins will lead a group of motorcyclists riding from Auckland to Invercargill to raise funds for men's health charity, Movember. Travelling over 1,600 kilometres, the Harley-Davidson ambassadors are urging riders and motorcycle enthusiasts to join them at dealerships along the route to raise awareness for men's health.
The ride will aim to raise over $10,000 for the Movember Foundation; supporting 40 projects locally in NZ to deliver innovative, breakthrough research and support for prostate cancer, testicular cancer, poor mental health and physical health.
The eight-day ride will kick off on Wednesday, November 16th and travel from Auckland to the Burt Munro Festival in Invercargill on Thursday November 24th. Harley-Davidson ambassadors Eddie Dawkins and Josh Kronfeld will join Jay Reeve, along with some special guests at Auckland Harley-Davidson, Mt Wellington on the November 16th to proudly show off their MO growth and launch the first of five Men's Health evenings for Movember that are taking place across New Zealand.
Mixing motorcycles and moustaches, the free events will take place at nominated Harley-Davidson dealerships along the ride and culminate at Burt Munro in Invercargill.  Auckland, Hamilton, Christchurch and Dunedin Harley-Davidson dealerships are getting involved. The events will feature special spokespeople from Movember, food and drinks, health stations with key health indicator checks, giveaways and a pop-up barber for any mo-maintenance needs. To register to attend one of the events, visit   https://nz.movember.com/events/.
"I've been an avid supporter of Movember for the past 14 years because they are one of the only organisations that focus on raising awareness about men's health issues", says Harley-Davidson ambassador and media personality, Jay Reeve.
"Riding a motorcycle is a great conversation starter. You share a common bond that transcends vocation or social circumstance. These types of events are critical in bringing together communities to raise much needed funds and awareness for key men's health issues in NZ."
Jay, Eddie and Josh are also asking everyone to join the ride at different stages including:
–       Auckland H-D Mt Wellington, Nov 17th 2:30pm to ride to Hamilton
–       Christchurch, Rolling Thunder H-D, Nov 22nd 9am to ride to Dunedin
–       Dunedin, McIver & Veitch H-D, Nov 24th 8:30am to ride to Invercargill
Movember spokesperson, Robert Dunn commented, "It's time to break the silence and recognise that the key to overcoming even the biggest problem is to talk about it. Every dollar we raise and every conversation had takes us one step closer to delivering innovative, breakthrough programs that allow men to live happier, healthier and longer lives."
"Harley-Davidson has been integral to this year's campaign donating a brand new Roadster for one very lucky Mo Bro or Mo Sista to win. It's a huge incentive for more people to get involved."
The schedule of Harley-Davidson Movember events is below:
Wednesday Nov 16th – Auckland H-D, 521 Mount Wellington Highway
Thursday  Nov 17st – Road & Sport H-D, 381 Te Rapa Road, Hamilton
Tuesday Nov  22nd – Rolling Thunder H-D, 35 Manchester St, Christchurch
Wednesday  Nov 23rd – McIver and Veitch H-D, 112 Crawford St, Dunedin
Friday  Nov 25th – Brewers Elbow Bar, Avenal St, Invercargill
"There is a recognised connection between the feeling of freedom on a motorcycle and positive mental health, said Adam Wright, Harley-Davidson Marketing Director for Australia & NZ.
"It is a common bond felt amongst the Harley-Davidson community and we are encouraging all Harley-Davidson owners to join the ride, go along to the events and to raise money for Movember."
Harley-Davidson has donated a Roadster for one lucky Mo Bro or Mo Sista to win. Raising over $10 towards individuals' fundraising page, you will automatically go into a prize draw to be in with a chance to win a Harley-Davidson Roadster. To find out more head to https://nz.movember.com/prizes/view/id/572/