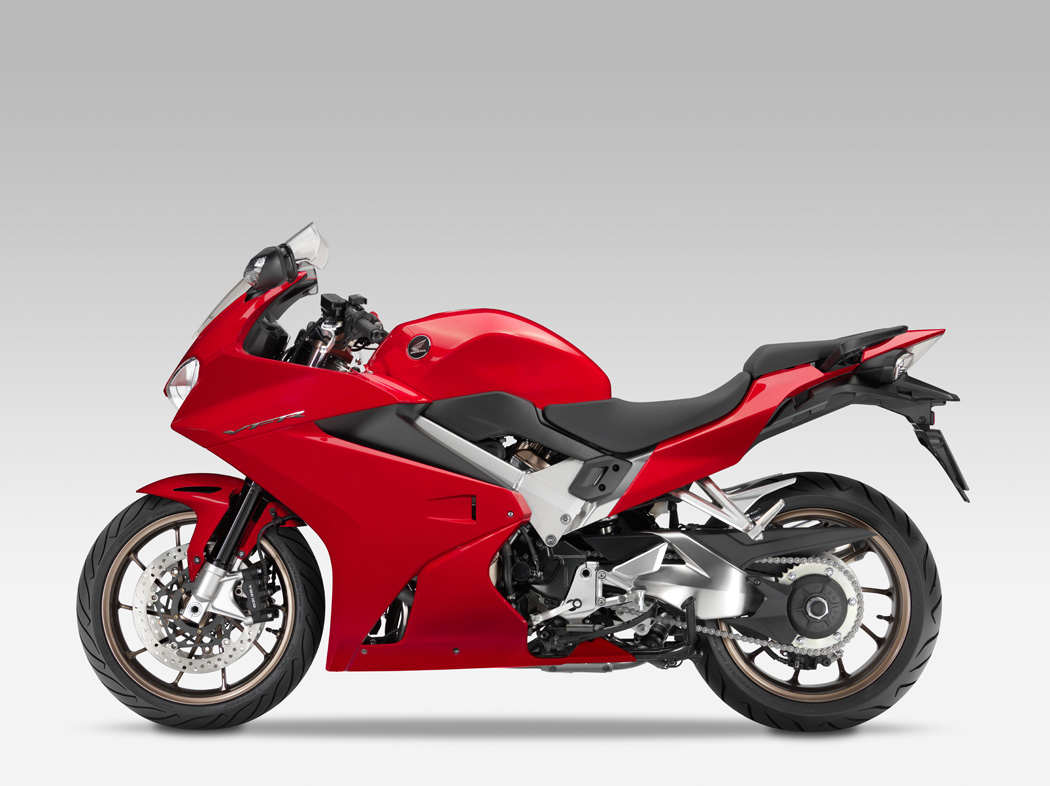 Stand-Alone Legend
It really is one of the motorcycling world's missing teeth. After the success the RC45 had, despite the capacity rules stacked against it, why was there never a V4 'Blade. This isn't it by the way, but it's a sweet mid-weight sports-tourer.
Words: Roland Brown | Photos: Zep Gori, Francesc Montero, Ula Sera and Felix Romero
The launch ride had been so good that reaching a conclusion about the VFR800F should have been easy. The updated V4 had been fast and fun on spectacularly twisty and traffic-free roads near Alicante. It had handled, stopped and been comfortable, and with its sharp red suit gleaming in the Spanish sunshine it had looked fabulous in the process.
But as I killed its V4 engine for the last time I was unsure what to make of the VFR. Yes it had been good, but I couldn't help wondering how much better it would have been if Honda had developed an all-new engine and chassis, then added a top quality electronics package to make this model as advanced as the VFR750F that began the line in 1986.
That was Honda's first problem in developing the VFR: its ancestors set the bar very high. That original V4 was one of Honda's most important ever models because with its performance and flawless reliability it almost singlehandedly restored the firm's reputation following a string of unreliable bikes including the VF750F.
Honda's other problem was justifying a major update. The VFR's popularity fell in the late Nineties, and although the 2002-model VFR800F with its far from universally popular VTEC system sold well, it couldn't halt the decline. These days, with many riders having abandoned traditional sports-tourers for adventure bikes, it's even harder to make the sums add up. So Honda's development the budget didn't run to changing the 782cc engine's basic layout or the frame's aluminium main spars.

Fettled To Fit
But there's still plenty that's new. The changes begin with the look: still unmistakably VFR, with that classy single-colour paintwork (in white or black as well as red), but now subtly slimmer and sharper, and with an X-shaped LED headlight that echoes the VFR1200F. It's leaner, helped by swapping twin side-mounted radiators for one up front. And it's 10kg lighter at 239kg wet, thanks mainly to a rear subframe in aluminium instead of steel, and a new exhaust with single silencer instead of two under the seat.
The feel is more sports than tourer, partly because the riding position means you lean forward to clip-on bars, albeit ones that are slightly higher and further back than the previous model's. The screen is sports-bike low too and there's no adjustment. At least the seat is now height adjustable, and an accessible 789mm at its lower level. It's also generously sized, and equipped with a colour-matched pillion seat cover plus retractable grab-handles.
The motor remains a 16-valve, 90-degree V4 and is retuned for more low-rev performance, with new cams, revised fuel-injection and longer inlet trumpets. A new ECU modifies the VTEC system to operate more smoothly as it stops one inlet and one exhaust valve in each cylinder from opening at low revs, boosting torque by increasing mixture speed. Peak output is down by a few bhp, which doesn't sound so bad until you realise that the figure of 104bhp at 10,250rpm means this bike is less powerful than the original, 105bhp VFR750F of 28 years ago!
Perhaps the strangest thing is that despite all that it still felt fast enough, at least on those mostly narrow and twisty Spanish roads. The strong low-rev performance is part of the reason for that, making the bike very easy to ride quickly. There's only one engine mode but that was enough because it worked very well. Fuelling was flawless, response through the midrange crisp and strong, and the bike's long-legged V4 feel made it effortless yet engaging.
And there's enough power to make you grin. The V4 lump stayed smooth enough up near its 11,750rpm redline to encourage plenty of revs, for one thing. Most of the time the VFR also shifted very sweetly, with the help of Honda's first accessory quick-shifter, with which all the launch bikes were equipped. But occasionally the box found a false neutral that sent the revs soaring with potentially expensive result. For that reason alone I wouldn't pay extra for the shifter without being sure that wasn't an issue, although other riders didn't complain.

It's Still There…
Most of the time the engine's noise was a big asset. There's was a restrained V4 rumble at low revs, then as the VTEC kicked in at about 7000rpm the bike came alive with a harsh, almost metallic note that never failed to dump adrenaline into my bloodstream. I don't doubt the variable-valve system's benefit in broadening the torque delivery, but for me it was invaluable in making the VFR more exciting than a bike with this power-to-weight ratio had any right to be.
There's enough performance for a top speed of about 225km/h and relaxed cruising far above the legal limit. If you're riding up an Alpine pass loaded with a pillion and luggage, the VFR is likely to feel sluggish. But on a day spent ripping round Spanish back-roads I didn't once find myself cursing it for being slow. I was also glad of the new traction control system, which can't be adjusted (apart from switching it off) and didn't intrude, though its effectiveness was hard to judge.
The Honda's handling and roadholding also impressed, despite that elderly frame and the fact that there's no sign of the electronically adjustable or semi-active suspension that BMW or Ducati would surely have offered. Instead the VFR gets 43mm upside-down forks with preload and rebound damping (but no compression) adjustment, and a Pro-Link shock with similar adjustability including a remote knob for the preload.
It's neither fancy nor high-tech but it works well enough, combining with unchanged and well chosen geometry to make the VFR both stable and respectably agile, even on roads where it was constantly changing direction. It also stopped pretty hard, aided by new radial four-pot Tokico calipers and a revamped ABS system, though surprisingly no longer by a system linking front and rear discs.
Would the VFR have been even better if I could have pressed a button on the bars to firm up or soften its suspension, perhaps while switching to a sportier or more relaxed throttle response at the same time? Almost certainly, yes. But the Honda gave a good example of what relatively simple but good quality kit can do, backed up by capable Dunlop Sportmax tyres and adequate ground clearance.
Some details are well thought-out, too, including the useful mirrors, self-cancelling indicators, heated grips and centre-stand — all standard fitment and very welcome. The 21.5-litre tank will be good for a respectable range of close to 300km, even if consumption averages 7l/100km, as my bike's did, rather than Honda's optimistic claim of 5.1l/100km. Honda's accessory panniers fit without requiring ugly brackets. The new instrument panel with its centrally placed tacho looks neat, and its information includes fuel consumption and gear position.
But that info can't be toggled from the handlebar; the button to disable the traction control looks like an afterthought; and there's no cruise control, let alone the integrated satnav, iPod compatibility or fairing pocket that would lift the VFR's touring ability further above that of a simple sports bike. Same goes for the low screen, which unlike those of most adventure bikes (and the 1988-model VFR750F that I once owned) can't be adjusted, and generated a fair bit of wind roar. Surely the lack of such benefits helps explain why so many riders have abandoned old style sports-tourers?
So in some respects the VFR frustrates as much as it delights, but overall I couldn't help liking it a lot. And at least Honda's cautious development has enabled them to keep the price competitive. This VFR800F isn't the cutting-edge sports-tourer that it could have been if they'd pulled out all the stops. But it's quick and versatile and blast to ride, and it's every last millimetre a VFR.

Masatsugo Tanaka, VFR800F Test Project Leader
"The V4 is regarded as a very special area of engineering within Honda, and the VFR is a special brand. I was very conscious not only of the VFR history going back to 1986 but also the more recent V4 history with the VFR1200F and Crossrunner and Crosstourer, because the V4 is going to have a long future as well as a long history within Honda.
"We could have given the engine more top-end power but the VFR is not all about chasing peak power. The model has a range of use, including commuting in town and two-up touring. So we wanted an engine with more focus on low to mid-range, and to improve how the VTEC works to get smooth performance across the whole range. We also improved the aerodynamics and reduced weight, which improved performance.
"We did have discussions about a new frame but the further we went through the planning stages of development, the more confident we were that we could get the sporty performance we wanted without a new frame or engine. We did things like changing the rear subframe to aluminium, plus the new exhaust and other work we did to save weight. All those things meant we were happy to stick with the frame we had.
"We are conscious that other manufacturers have electronically adjusted suspension, and technically it is something we could do. But the priority for the VFR this time was sporty performance and reduced weight, so we decided the extra weight of electronic suspension wasn't worth the trade-off. We think the suspension we have gives the level of both sportiness and touring comfort that we needed."

Specs
Honda VFR800F (2014)
Engine type
Liquid-cooled 90-degree V4
Valve arrangement
DOHC, 16 valves
Displacement
782cc
Bore x stroke
72 x 48mm
Compression ratio
11.8:1
Carburation
Electronic fuel-injection
Clutch
Wet multiplate
Transmission
6-speed
Maximum power
104bhp @ 10,250rpm
Maximum torque
75N.m @ 8500rpm
Front suspension
43mm telescopic fork, 108mm travel, adjustments for preload and rebound damping
Rear suspension
Pro-Link single shock, 120mm wheel travel, adjustments for preload (remote hydraulic) and rebound damping
Front brake
2, four-piston Tokico calipers, 310mm discs with ABS
Rear brake
Twin-piston caliper, 256mm disc with ABS
Front wheel
3.50 x 17in; cast aluminium
Rear wheel
5.50 x 17in; cast aluminium
Front tyre
120/70 x 17in Dunlop Sportmax D222
Rear tyre
180/55 x 17in Dunlop Sportmax D222
Rake/trail
25° 30"/95mm
Wheelbase
1460mm
Seat height
789/809mm
Fuel capacity
21.5 litres
Weight
229kg (kerb)