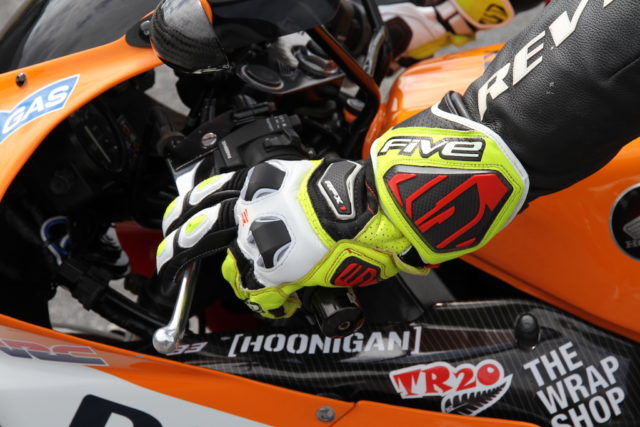 The cool guys at Motogear recently sent us a pair of Five RFX1 gloves to try on, and they are an impressive bit of kit. Featuring extremely supple full grain leather, feeling the controls on your bike with these gloves becomes an easy task. Featuring carbon reinforcements and Kevlar lining, including Stretch Kevlar on the palms and the top of the hand, these gloves are built for a purpose.
The little and third finger are linked with leather to help prevent injury, and the gauntlet collar is given extra rigidity with a carbon fiber protector. PU knuckle shells with ventilation cutouts allow fresh air to keep your hands cool, and foam inserts on the palm provide extra protection without sacrificing feel. Securing them on your hand is accomplished with two velcro straps – one on the inside of the wrist and the second closing the gauntlet collar. They have plenty of extra width to go over the top of your leather jacket's sleeves, but are still exceptionally light for a full sized glove.
Aimed primarily at the track enthusiast, the RFX1 gloves are a premium product, comfortable and very breathable. They mold to the shape of your hand very quickly, offering excellent protection while not being cumbersome or uncomfortable.
Available in White and Fluro Yellow, or Black and White, as well as Black White and Pink for Women's sizes, Five gear distributors Motogear have a full range of RFX1 gloves in stock, priced at $349.50.