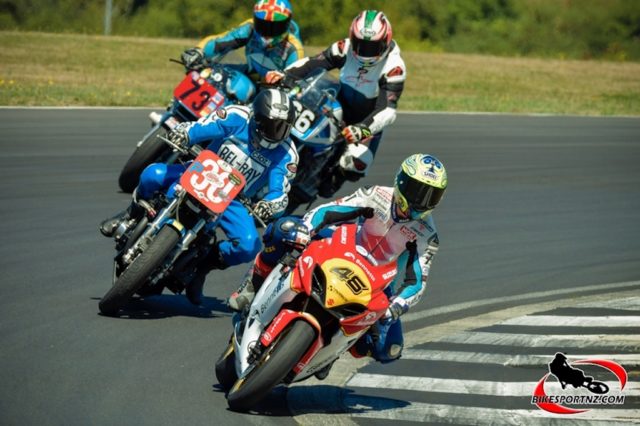 MotoFest is fast approaching and again expected to top the "must do" list of motorcycling activities for 2020.
Now heading into its third season, the Mike Pero MotoFest at Hampton Downs Motorsport Park will feature the third round of five in the New Zealand Superbike Championships (NZSBK) in March, the two-day event this time featuring an entirely new attraction, the inaugural Motul NZ Classic Grand Prix providing a massive boost to the programme.
Set for the weekend of March 7-8, the 2020 NZSBK MotoFest event has cemented itself as the largest track motorcycling event seen in the country, with the Motul NZ Classic Grand Prix certain to be a huge extra draw-card this time around.
Instigated by New Zealand motorcycling legend Graeme Crosby, the addition of the Motul NZ Classic Grand Prix to the programme will ensure fellow former Kiwi internationals will rub shoulders with the superstars of today, bikes old and new on the race track at separate times throughout the weekend.
"Classic racing is hugely popular and there needed to be recognition of this," said Crosby, who raced all around the world in the 1980s and holds the distinction of being the only person to have won the Daytona 200, the Imola 200, the Suzuka 8-Hour endurance race and the Isle of Man TT. Riders don't have to go a million miles per hour, they just have to love the bikes and want to race them. This NZ Classic GP will not be a round of any series or championship, but it will be an event that means something. There is a lot of Kiwi talent in the bike world with men such as Paul Treacy, Mike Sinclair and Mike Webb well-recognised overseas and the classic bikes that were central to their careers will be showcased at MotoFest," said Crosby.
Sponsored by Motul, the inaugural Classic NZ GP at MotoFest will comprise two races on Saturday and an eight-lap feature race on Sunday, with points system by class to determine the winner of Inaugural Classic Grand Prix
It will feature bikes of Pre 82 (72-82), Pre 89 (82-89) and Pre 95 (89-95) eras.
The event has been promoted around the world, so expect to see a few international riders in the field.
Of course this third annual MotoFest extravaganza promises excellence on all fronts, with well-respected identities from all segments of the motorcycle sporting world coming together for a spectacular two days of action that also includes the Shoei Helmets-sponsored Classic Two Stroke category, a class that will consist of only two-stroke racing machines from the 70s', 80s' and 90s'
Hampton Downs Motorsport Park commercial manager Mike Marsden anticipates MotoFest will be "another cracker of a weekend".
"It will be a the spectacle it has been in the past with added value. It has already established itself as the biggest track event in the country and we have learned much from the past two MotoFest events," he said.
"We're slowly getting the support of the manufacturers which is critical to the event's long term sustainability. We are very thankful of the support from Kawasaki since day one and now welcome Suzuki and Yamaha as exhibitors in 2020. Star Insurance will again sponsor and bring to life the Legends Garage and Pirelli remain the official tyre partner for MotoFest 2020. We anticipate another bumper crowd to really cement MotoFest on the landscape for years to come. There is plenty of international interest in the event. It will be huge."
He has certainly hit the nail on the head if the 2020 edition can match last season's MotoFest.
Who can forget MotoFest 2019 welcoming guests such as English author, commentator and former British Champion Steve Parrish; American MotoGP star Randy Mamola; Kiwi former GP winner and current MotoGP commentator Simon Crafar; Australian road-race hero Kevin Magee, Australia's 2003 World Supersport Champion Chris Vermeulen and Kiwi superheroes Aaron Slight, Stu Avant, Hugh Anderson, Gary Goodfellow, Mike Pero, Richard Scott, and nine-time former National Superbike Champion Andrew Stroud, among others.
Several of these characters will be back, of course, as will the current crop of younger men and women who will be battling for glory in the national superbike championships, riders such as Whakatane's multi-champion Tony Rees, with his equally-talented son Mitch and Damon for company, Glen Eden's current national superbike champion Daniel Mettam, Wellington's two-time former national champion Sloan Frost, 2018 Suzuki Series winner Scott Moir, from Taupo, and Rangiora-based Kiwi international and reigning national Supersport 600 champion Avalon Biddle, to name a few.
The NZSBK series features 10 separate bike classes, from superbikes to sidecars.
For more information on the upcoming Mike Pero MotoFest weekend, go HERE
Words and Photo by Andy McGechan