Harley-Davidson has already moved to expand the already expansive Softail lineup with the all-new Sport Gide, a bike which the Milwaukee giant expects to fill plenty of roles in the market.
When it comes to Harley-Davidson's, you can say the majority of the range already fill more than one role for their riders, be it touring, cruising or even the daily commute. However, no one bike has the breadth of ability to do absolutely everything you'd like a Harley to do – until now, with the imminent release of the ninth member of the new Softail family, the Sports Glide.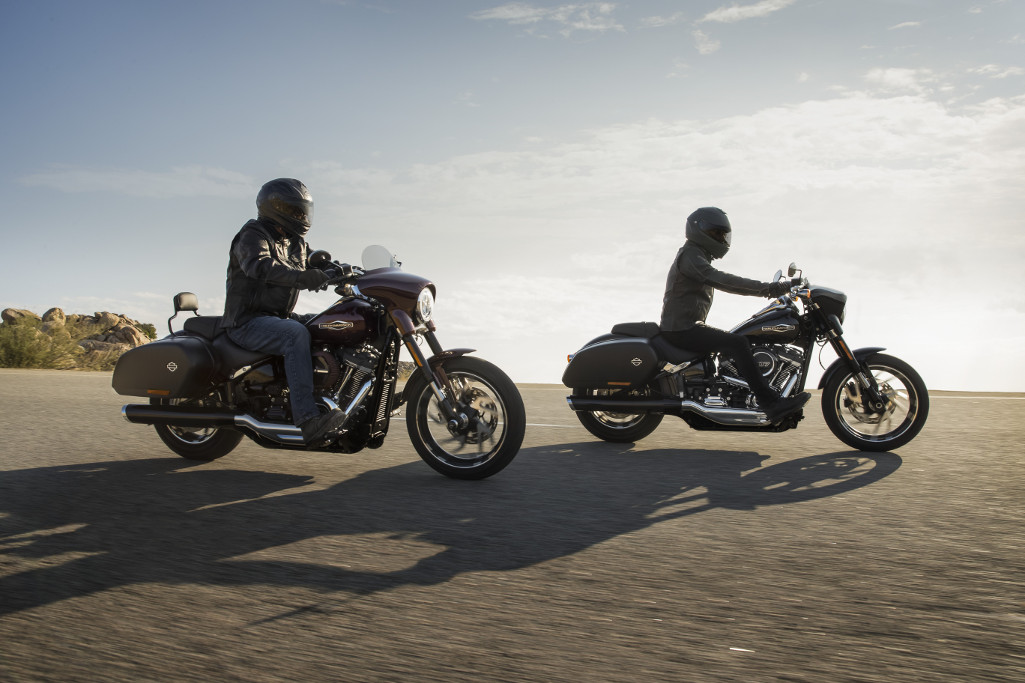 As its name suggests, the Sports Glide sits in the sportier end of the Softail spectrum, but mixes the fun factor the new Softail chassis offers with the ability to quickly swap between playful riding and touring, thanks to its detachable factory panniers.
"The Sport Glide presents the broad influence of Harley-Davidson design in a very contemporary way," said Harley-Davidson Vice President of Styling and Design, Brad Richards.
"In the new fairing, for example, you can see the influence of the iconic batwing fairing from Harley touring models, but it's been trimmed back to create a more compact, sporty shape.
"The Sport Glide project offered us a unique opportunity to utilise a directional wheel, the first of its style to come out of the Harley-Davidson factory on a non-CVO model. The spokes sweep from the hub to the rim to create a sense of motion, even when the Sport Glide is parked. The look of motion is reinforced with the shape of the fairing and the panniers, and even the slash-cut exhaust tips."
Like the rest of the Softail range, power is supplied via the 107cubic inch, Milwaukee-Eight V-twin, while LED lighting is exclusively used throughout, including the daytime running lights. Keyless ignition and the H-D Smart Security System are also standard features.
New 43mm inverted forks stiffen the front end and feature a single-cartridge damping system for precise handling, stability and confident braking performance. This is further enhanced with standard ABS. The Sport Glide rolls on new Mantis cast-aluminium wheels – 18-inch front and 16-inch rear – shod with Michelin Scorcher 31 performance tyres.
The Sport Glide is expected to arrive in dealers very soon with a rideaway price of $29,495.