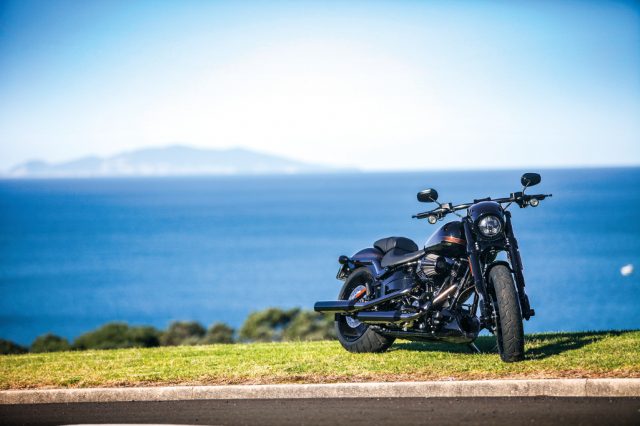 What does CVO stand for? That would be "Custom Vehicle Operations", which explains why Harley-Davidson threw the entire book of bling-ified goodness at the new Breakout…
 Words: Kev | Photos: Paul
So, what's special about the CVO variant of their mega-successful Breakout? The list is as long as my arm, but it includes a capacity hike from 103 cubic inches to a Screamin' Eagle-supplied 110. Matching the increased stomp from the freer breathing powerplant is a different front-end, complete with USD cartridge-equipped forks, twin discs (and Brembo calipers), Hi-Flo air intake, new wheels, a micro-bikini fairing, lots of polished trim and, no matter what your take on the big air-cooled American cruiser theme, what must be the most trick custom paint on any production motorcycle.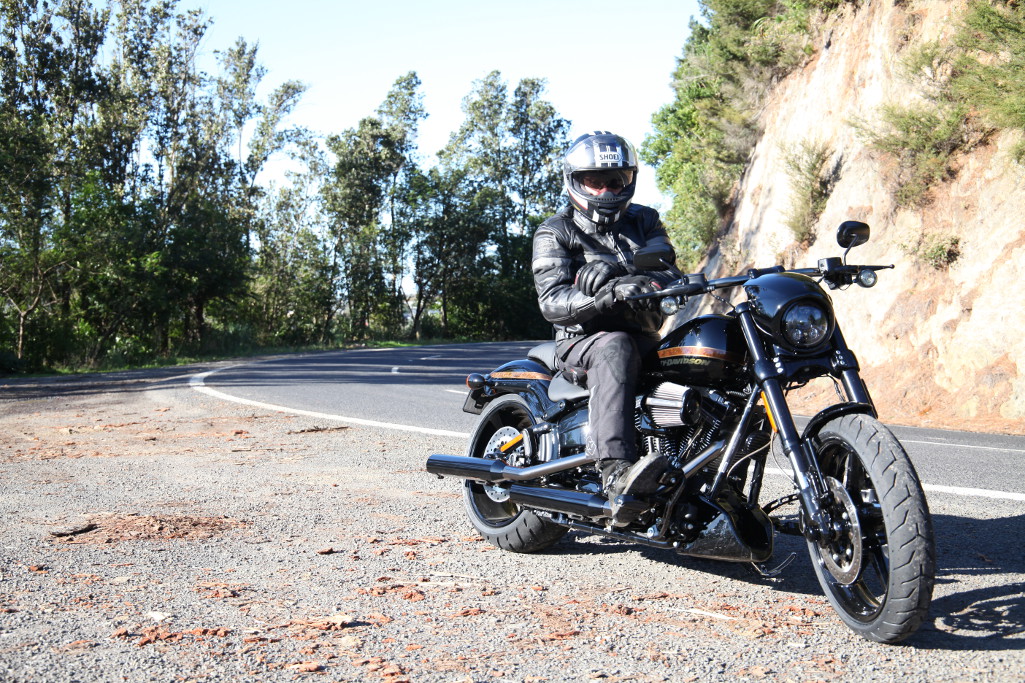 The art and design teams in Milwaukee went pretty much ape with the carte blanche script to make an upmarket and not inexpensive Breakout to add to their CVO fleet. It does still have the same Achilles' heel as the less spectacularly turned-out standard Breakout, which is a lack of cornering clearance. The firmer front and rear suspension units, disguised by the leather saddle's ergonomic abilities, lets it sit just a little bit taller in the stroke than the base model, but it's still aimed at cruising, not carving. Once you sort that as the way you like to roll, it's all good. If that's not you, well, you'll have to look at something less slammed and low-slung.
Simply put, that look that has people's necks craning to get a better glance – actually, they just walk straight over and ask about – comes at a price… and that price is scraping earlier than most other bikes, cruisers and all.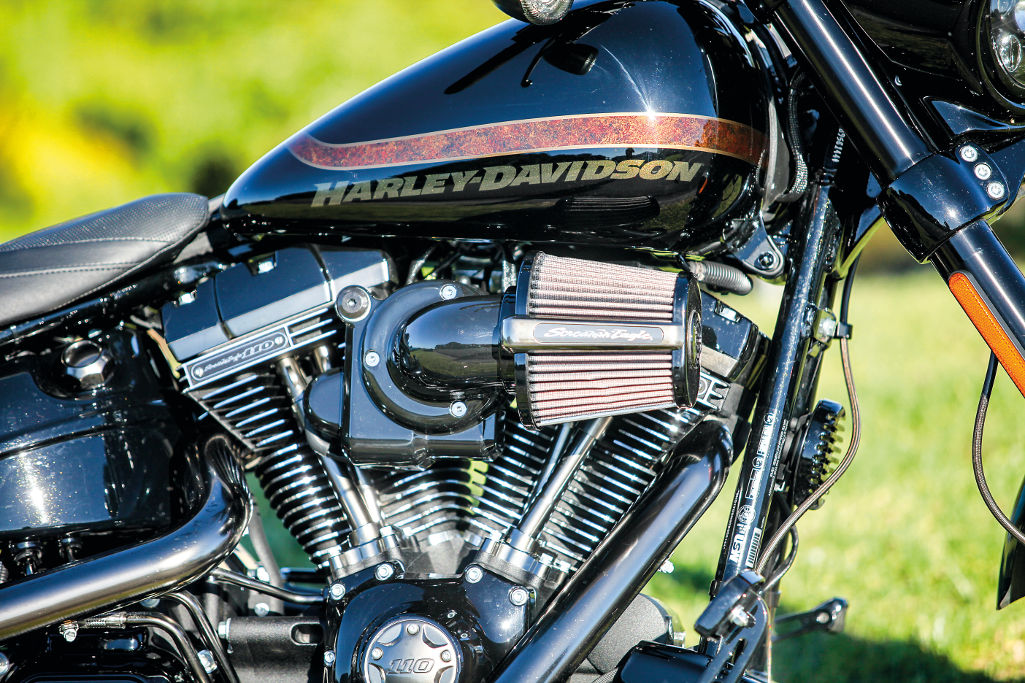 Within that look are some really classy touches, like the red and gold leaf pinstripe on the sparkly and gorgeous "Starfire Black" background. I showed it to a custom painter who still doesn't believe it left the Harley-Davidson factory exactly as it sat before him.
Really, it's an easy way to get a custom without doing the hard yards.
Off the mark, there's no denying that this is one-trick pony, which can put its money on the line and try to keep it. It gets away pretty smartly and pulls hard towards the 5500rpm limiter, all the while still sounding pretty sweet. Shifting is light and positive, but hardly sports bike smooth or quick.
It also has to be said, even with the 103 engine, sixth is not simply an overdrive. With the Screamin' Eagle goodies in place, the 110 pulls that long top cog with ease – just remember to use those beefed-up brakes to reduce your rate of knots to a suitable level before tipping it into a corner.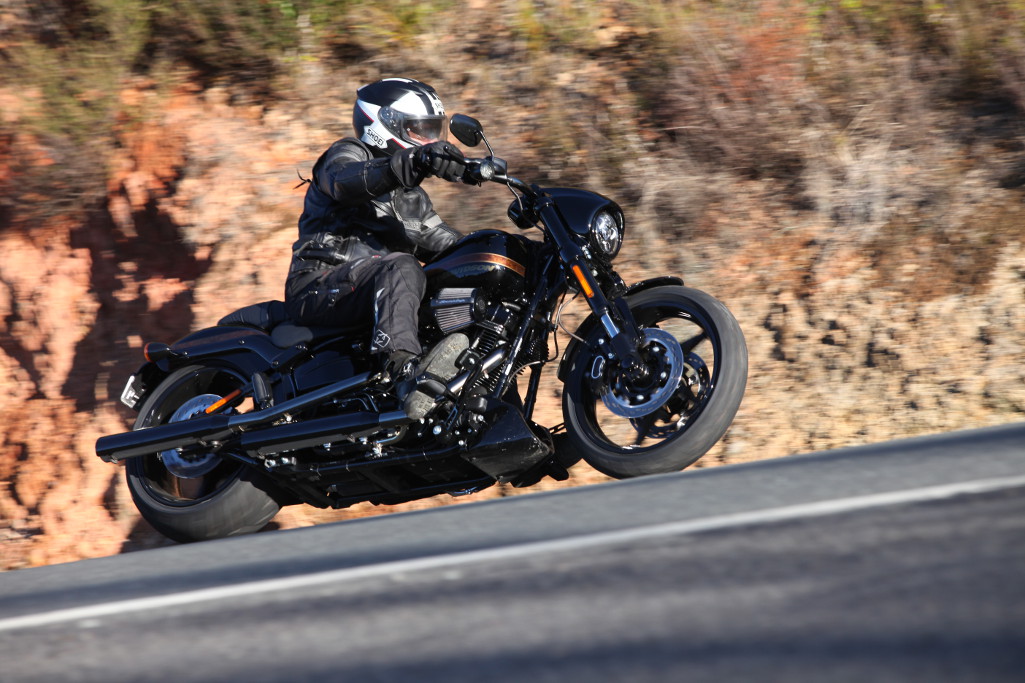 Ride quality is all-day easy, well up to par in the modern cruiser group with everything you see and feel from the cockpit. Everything from the neat little speedo with multi-function bottom zone – mounted beneath the wiring-free gunmetal anodised handlebars – to the controls, both hand and foot, reeks of solid class. I'm hardly a died-in-the-wool custom rider, but I can see and feel why the Breakout has become a hit on the sales list – and not just Harley's list. Living where I do, surrounded by cornering roads, that price – the lack of clearance – would be too steep for me, as would the actual price… if I was going to get into the nuts and bolts.
But, I'll admit that I liked the Breakout CVO despite its nagging curse.
Talking to a few experienced H-D owners, they suggested some slightly longer aftermarket shocks to raise the rear a bit to ease the contact on corners, all without spoiling the looks. So, even with a CVO and all the custom goodies you get with it, there's still plenty in the accessory book for you to add that personal touch.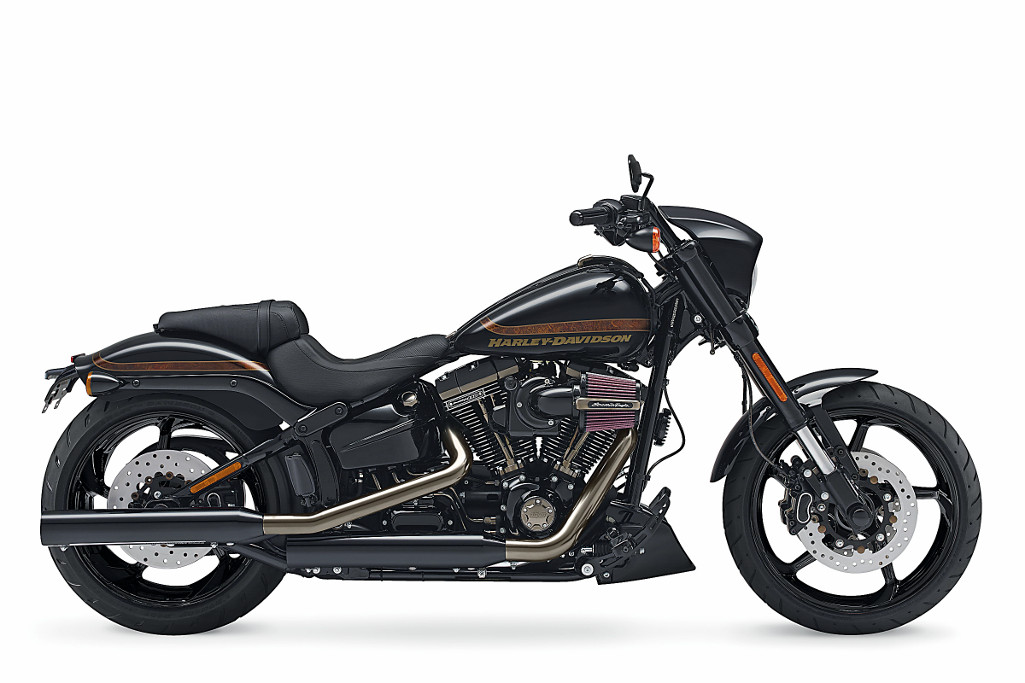 H-D CVO PRO STREET BREAKOUT
Engine: Screamin' Eagle Air-cooled, Twin Cam 110BTM
Pushrod-operated, overhead valves with hydraulic, self-adjusting lifters; two valves per cylinder
Bore x stroke: 101.6 x 111.1mm
Displacement: 110 cu. in. (1801cc)
Compression Ratio: 9.2:1
Maximum torque: 152Nm @3500rpm
Transmission: six-speed
Length: 2330mm
Seat Height: Unladen – 660mm
Ground Clearance: 120mm
Rake/Trail: 35°/196mm (Fork Angle: 33°)
Wheelbase: 1680mm
Tyres: 130/60B19 61H (front) | 240/40R18 79V (rear)
Fuel capacity: 18.9L
Curb weight: 331kg
Frame:  Mild steel, tubular frame; rectangular section backbone; stamped, cast and forged junctions
Front Forks: 43mm Inverted
Rear Shocks: Hidden, horizontal-mounted, coil-over
Wheels: five-spoke Aggressor, 19 x 3.5-inch front, 18 x 8-inch rear
Front brakes: Dual 300 x 5mm floating discs and four-piston calipers (ABS)
Rear brake: single 292 x 5.8mm disc, two-piston caliper (ABS)
Suspension Travel: front – 125mm | rear – 92mm
Lean Angle:  right – 24.8° | left – 25.5°