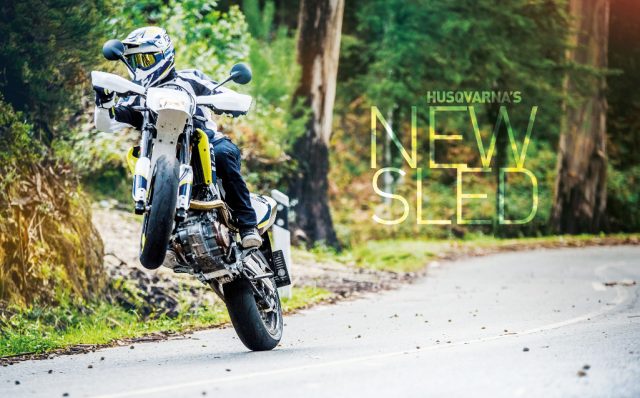 Husqvarna's Ice-cool big-bore single is perfect for tackling the twisties or letting you scare the begeezes out of the clip-on lads on a tight track. Swap tyres and a whole lot of fun options can be had too…
Words: Kev Photos: BRM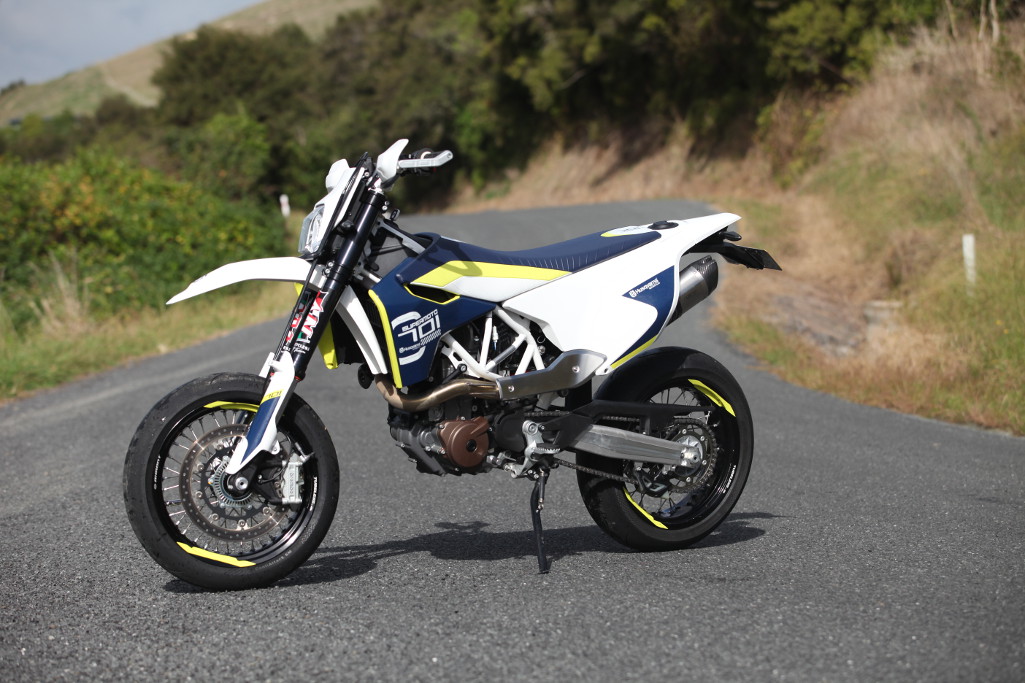 Just sitting at NV motorcycles in Morrinsville, the latest in looseness from Husqvarna looked ready to take on pretty much anything on a windy road. Nick had raced it the weekend prior and it was due to repeat the antics the following week as well. In stock trim, apart from lock-wired oil in and out, the lightss were even left in-situ as the flashy white Husqvarna showed some 'proper' BEARS bikes the way around Bruce McLaren Motorsport Park in Taupo.
Back on the streets, it's easy to see how the stonking big single could pull off such a trick. With the bike in the most aggressive of the three maps (switchable under the seat – don't ask why) and with the ABS disabled, the wide-barred supermoto is a really hard charger. There is an accessory dongle that gives more flexibility to the system, as in front-only ABS and the ability to leave it on either that, the standard setting or off and not have it switch back when you switch the ignition off but that's personal preference, so we left the 701 as is. Oh, apart from the barking Akrapovic muffler that is…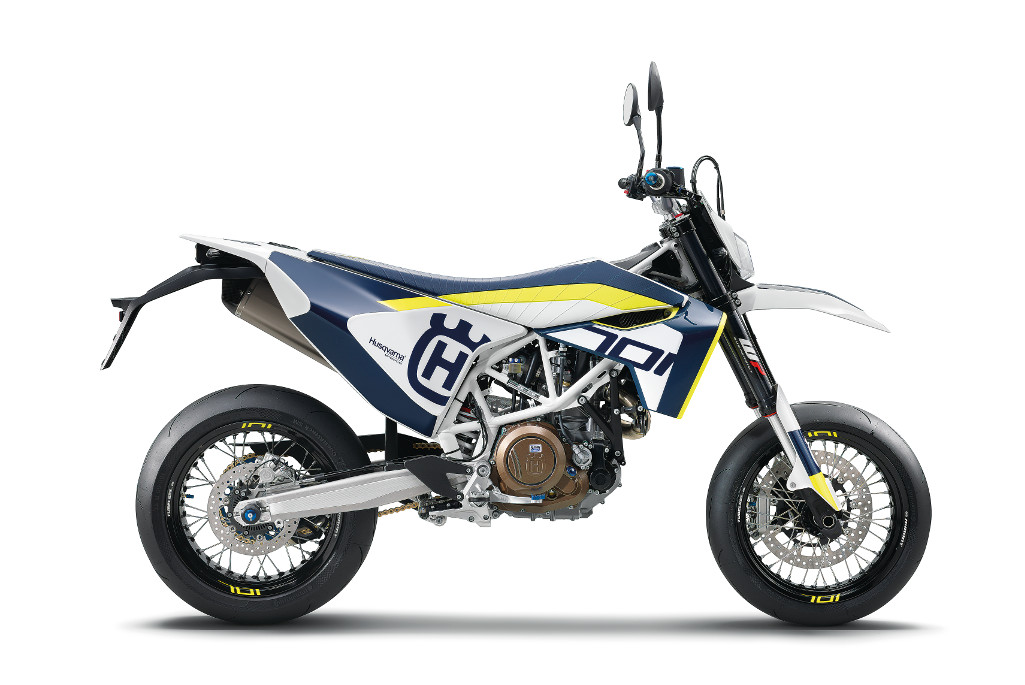 Husqvarna's 701 Supermoto comes stock with ride-by-wire throttle, selectable mapping, slipper-clutch and 67hp with the standard pipe. The louder option raises it to just over 70 and snips the weight to under 145kg dry (in road trim). With a lightweight box-skirt piston, the big single revs hard to 8000rpm with its 102mm bore and short 84.5mm stroke. Matching the go is Brembo 4-piston radially mounted whoa (although not the top-shelf Monobloc series). The optional dongle allows you to have trick ABS up front and not on the rear, if sideways into as well as out of corners is your thing.
With WP suspension set for maximum fun with those big brakes, sticky tyres and potent engine, cradled in a trellis frame, Husqvarna have also headed for more centralised mass by having the fuel sit low in the side-panel area, making the 701 Supermoto as much fun to slide as it looks. For longer rides, as in to and from the gnarliest, tightest tarmac you can find, the engine is surprisingly smooth running, care of a parallel-mounted counterbalance, making the trick-looking Husky more versatile than any hard-charging supermoto has any right to be.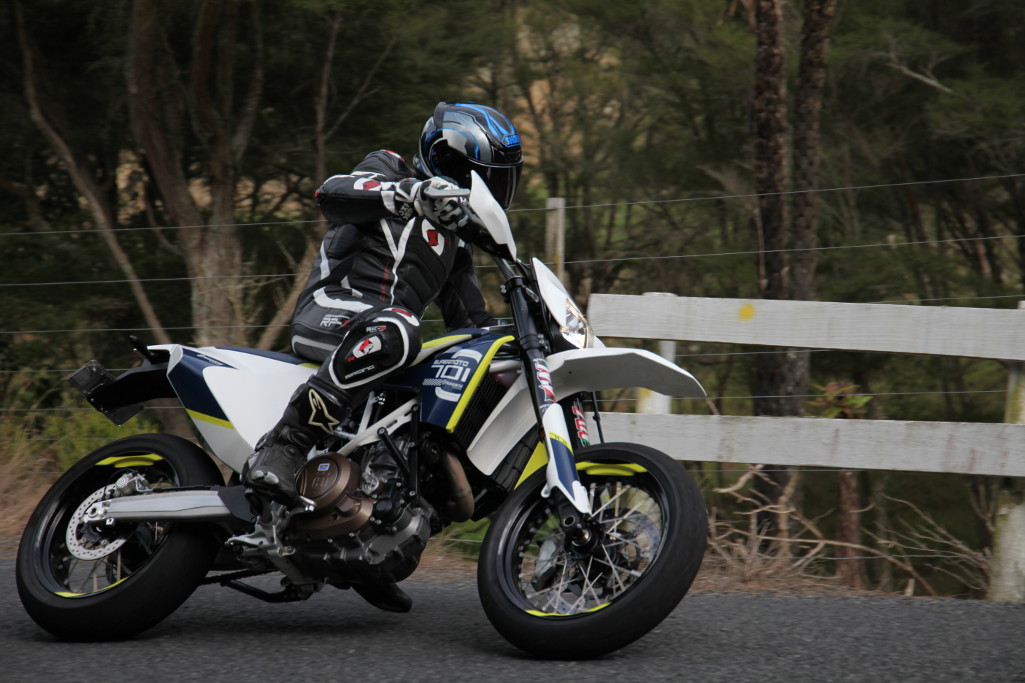 Keen to try it for yourself? Head to your Husqvarna dealer with your full licence (no way is this LAMS-legit) and see if they can suit you up.
HUSQVARNA 701 SUPERMOTO
Engine Type: 690cc liquid-cooled single cylinder four-stroke
Bore x Stroke: 102 x 84.5mm
Compression Ratio: 12.6:1
Fuel Delivery: Keihin EMS with RBW
Transmission: six-speed gearbox
Front Suspension: WP 48mm USD forks with 215mm of travel
Rear Suspension: WP monoshock with Pro-Lever linkage and 250mm of travel
Front Brake: Brembo four-piston, radially bolted caliper and 320mm disc
Rear Brake: Brembo single piston, floating caliper and 240mm disc
Front Wheel: 3.50 x 17 inch
Rear Wheel: 5.00 x 17  inch
Seat Height: 890mm
Wheelbase: 1480mm
Ground Clearance: 270mm
Fuel Capacity: 14L
Dry Weight: 145kg