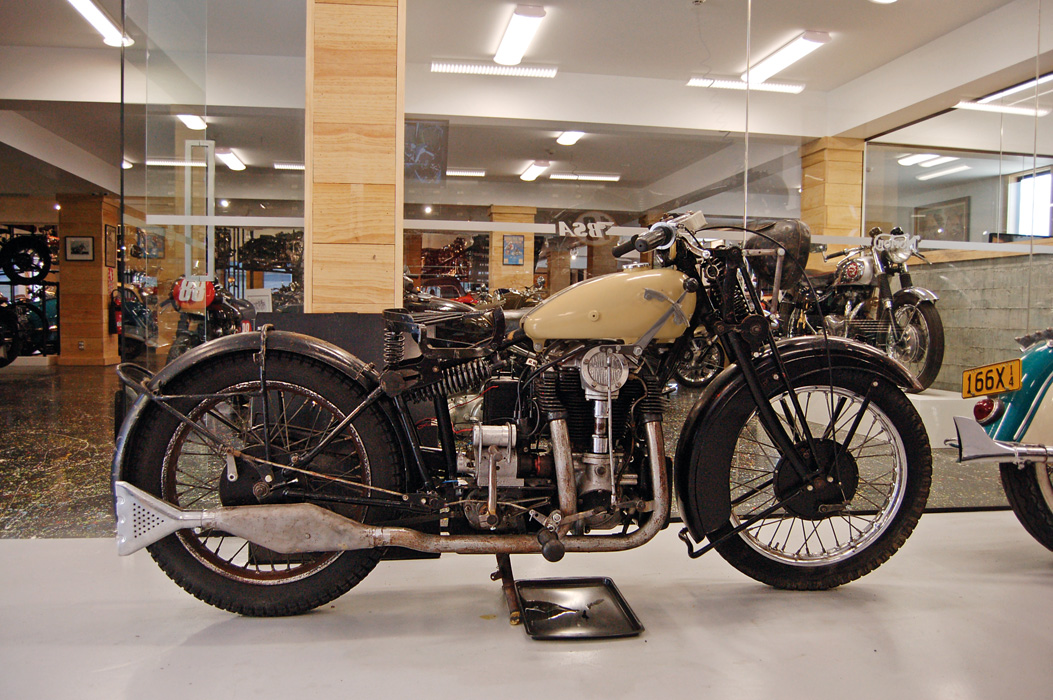 [two_third padding="0 30px 0 0″]
As if there weren't enough attractions to entice motorcycle enthusiasts to Nelson, the region of sunshine, boutique beers and stunning roads now has another reason to go there.
Words and photos Gordon Campbell
New Zealand Classic Motorcycles, an amazing exhibition, opened at 75 Haven Road in December 2014. It's world class and easily the best motorcycle museum in the country. In a familiar story of a collection that got out of control, a gallery wasn't originally envisaged by its owners, Heather and Tom Sturgess. Americans by birth and Kiwis by choice, Tom is a well-known philanthropist and ex-marine, with world-wide business interests.
One day he looked around his collection of more than 300 classic bikes in a commercial building and pondered what to do with them. His answer was to advertise for a Project Director, to develop a museum to display the collection. He found that special person locally. Wayne Daniel is a qualified motorcycle mechanic with 35 years of successful business operation in Nelson behind him. Importantly, he shared Tom's vision and passion. Another key member of the team was Auckland-based Neil McLachlan, one of New Zealand's leading interior designers.
The three, with others, have spent the last four years creating a very special place to display Tom's bikes for maximum effect, with an ambience that's hard to pin down. It's part history exhibit, part petrolhead paradise, but they've been very careful not to turn it into some intimidating blokes-only cave. Very tastefully done with many impressive artworks, there is plenty to appeal to all tastes.
Up Close and Personal
The bikes aren't isolated behind barriers – visitors can walk among many of them and touch them. Some are stacked in racks, which allow a different view of them, from below and from the first floor. Wayne hadn't expected to display all of Tom's machines, but Tom was very clear that all were to be on show. The cleverly-constructed racks were only way that could be achieved without making the display area claustrophobic.
Bikes have come and gone as Tom has refined his collection, which has caused some 'discussion' between Tom and Wayne. Tom would ask Wayne to pick 20 bikes for disposal and then cross out 19 on the list. Wayne would respond by suggesting that Tom should select the other 19 himself, and the answer would be, "I can't". Bikes have also been added to the collection, which now numbers just under 300. The latest is a 1931 Matchless Silver Hawk, a V4-engined rarity that will be the exhibition's first in-house restoration.
The Matchless was one of the bikes on Tom's wish list and, while I was talking to Wayne, Tom was at a Las Vegas auction, where he hoped to add three more to the collection. An interesting feature of the collection is that several of the exhibits are for sale, to eliminate double-ups of models. Here would be a chance for an enthusiast to buy with complete confidence, at New Zealand market prices. Selling off-shore is a last resort. Wayne sees the museum becoming a classic motorcycle marketplace, where bikes of a suitable standard can be offered for sale on behalf.
There are other plans for the future as well. Guided classic bike tours are in mind, using bikes hired from the collection. Anyone familiar with the region will be well aware it's a motorcycling paradise, and tours may include attractions such as Peter Jackson's Aviation Heritage Centre in neighbouring Marlborough. This is another example of Tom's personal undertaking to generate revenue for the region.
A QR code system is almost ready to go, which will give the known history of each motorcycle, with an emphasis on previous owners for a human touch. Tablets will be installed beside some machines, which will be handy for those with aged eyesight.
The collection ranges from a 1902 Peugeot to several moderns, with machines from all parts of the world. Most are superbly presented, and a few are in clean unrestored condition, appropriate to their age. There were a couple of brands I hadn't heard of and many I'd only seen in pictures. The Vincent gallery, Indian corner and race bikes display are just three of the fascinating and superbly-presented areas.
The gallery wouldn't be possible without local enthusiasts and volunteers. Some, like Murray Schwass and Murray Clark, along with other members of Nelson's Classic and Vintage Motorcycle Club, give a few days a month to talk to customers and do a bit of maintenance on the bikes. Alastair Ford, a retired mechanic and businessman, repairs and maintains many of the machines in running order. He confirms with a smile that he spends almost every day in the workshop that's viewable by the public. It's obvious there's nowhere else he'd rather be. Dedicated team players are Steven Scullion, a deeply talented specialised mechanic, Alan Malaquin, an equally talented motorcycle machinist and Ingrid Penfold, the Marketing and Promotions Manager.
Tom's enthusiasm for classic and vintage motorcycles is deep, and we can thank him for his ability and willingness to indulge in the pleasure of the chase and the completion of a purchase and/or restoration. Early in the project, Wayne pointed out that there were no race bikes in the collection. Tom's response was simple; "Let's buy."
If you're heading to Nelson, put New Zealand Classic Motorcycles on your itinerary; you won't be disappointed. However, you will be disappointed if you've travelled a long way, only to find it's closed. Opening hours are 10.00 am to 3.00 pm on Wednesday, Thursday and Saturday, but the venue can be booked for private functions. Go to www.nzclassicmotorcycles.co.nz or phone them on (03) 546 7699 to check they will be open on the day you want to visit.
New Zealand Classic Motorcycles is truly a credit to all of those involved. Don't be put off by the $20 entry charge; it's worth every cent and more, and NZ Classic Motorcycles donates a sizeable percentage of the takings to local charities.
[/two_third][one_third_last padding="0 0px 0 0″]
Matchless Silver Hawk 1931
Imagine the technology used back in 1931, as in 84 years in the past, and this rare machine will have you rethinking history. Yes it's British, and yes it's a V-4. It also has overhead cam and cantilever rear suspension, not to mention linked brakes and a clock included in the dash – a wind-up one that ran for a week at a time. It's estimated that there are around 60 of these machines still in existence worldwide, so like many of the bikes found in this world class museum, you are looking at irreplaceable motorcycling history.
Even if you only let your gaze pause for 60-seconds on each bike and swept from one to the next, without blinking as you walk, it'll take five hours with no breaks to see them all. Sixty seconds… best you find comfy digs in Nelson (easily done) and spend more than a minute on each.
[/one_third_last]