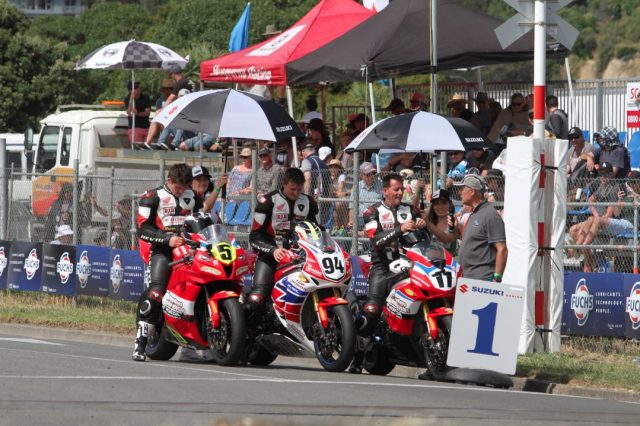 Wicked Wanganui
First Report
Another Boxing Day has passed with a day of incredible racing in the lower North Island, with the final round of the Tri Series giving the spectators plenty of thrills (and spills) to watch.
The morning saw a number of crashes as the riders struggled to get used to the cool track temperature which was taking a bit of time to recover from a lack of heat overnight. The most spectacular crash was Dan Ornsby, who lost the front of his Yamaha YZF-R1 as he came over the infamous railway lines and slid up the road almost to the bridge while Tony Rees Honda rider, Mitch Rees did his best to avoid both bike and rider. That wasn't the only spectacular spill though, with Wellington's Jay Lawrence celebrating his win in the Formula 2 class first with a massive slide into the turn after the finish line before looping out when he lifted the front wheel. It was too little too late though, with Damon Rees (Honda) taking out the class overall.
Lawrence wasn't the only one having problems though, with Irish road racer, Michael Dunlop discovering a serious problem with his Suzuki GSX-R1000 that had meant he couldn't ride as hard as he needed to keep up with the Kiwis at the front of the field. A twisted chassis was the problem and despite Dunlop getting to jump on Sloan Frost's 2nd bike, the standard pattern of the gearbox isn't what Dunlop is used to, seeing him finish down the field in race 1 and pulling out of race 2.
The father/son combo of Russell and Jet Josiah (Bike Torque Racing) were also having problems, with both rider's race bikes having engine problems early in the morning. That meant the more standard wet-weather back-up bikes needed to be called into action, but with Russell explaining the brakes had basically boiled themselves within two laps, they were never going to be fighting at the front.
In the Superbike class, it was 49-year-old Tony Rees' day, who took out all three races and set a lap record at the time aboard his Honda CBR1000RR. With a set-up similar to what he was using at Manfeild for round two of the Tri Series, he admitted his Fireblade was prepared slightly different this year with a tune to produce more midrange and useable power rather than going for full-on top-end thrust. The plan worked, with the Whakatane rider looking much more comfortable than Scott Moir who was having to manhandle his Suzuki GSX-R1000 in second place to keep up with the Honda rider.
Check back for a full report and results once they are updated.