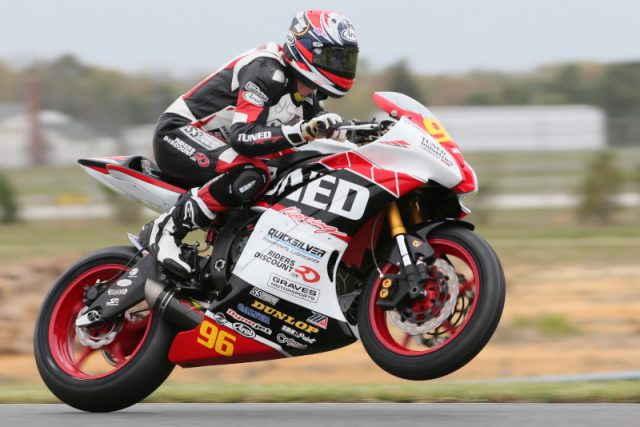 A rising star of American racing will be lining up in New Zealand for the final two rounds of the national motorcycle road-racing series.
Californian Jason Aguilar will race at rounds three and four of the 2017 New Zealand Superbike Championships as he uses the experience to help propel him further in the United States.
He will be racing for the Barnes Jenkins Racing Limited team, sponsored by Barnes Jenkins Insurance Brokers & R&R Powersports, while he is in New Zealand for this second half of the Kiwi season, the first two rounds of which were completed in the South Island in January. 
Aguilar will race a Suzuki GSX-R600 in the 600cc supersport class and also race a Kawasaki ZX10R in the 1000cc superstock class.
Round three of the nationals is set for the Bruce McLaren Motorsport Park circuit, on the outskirts of Taupo, this coming weekend (February 25-26), with the fourth and final round due at Hampton Downs, near Meremere, on the weekend of March 4-5. 
Aguilar has just wrapped up his third professional racing season and his 10th season in total since taking up the sport, so he already has a wealth of experience and this New Zealand adventure will only add to that. 
Last year he contested in the FIM MotoAmerica SuperStock 600 series on his Tuned Racing Yamaha YZF R6, ending the season two front row starts and three podium finishes.
"I have proven myself as a serious championship contender, even landing on the podium with a shattered foot."
When he returns to the US, he has plans to start up his own team, to give himself "the best shot at a championship" in the SuperStock 600 class.
Barnes Jenkins Racing team co-owner Graham Jenkins said he was looking forward to welcoming the young rider to his team.
"He will be joining with other team members Toby Summers (Superbikes) and Nathan Jane (Formula 3) and competing in the Supersport 600 class and the Superstock 1000 class. We wish him every success," Jenkins said.
Words: Andy McGechan, BikesportNZ.com