KTM always do things differently, so when they penned their LAMS-legal Indian-built 390 series, they left the 'ready to race' theme going.
Words and photos Kev
The seat is the single biggest issue for the 390 pair. In Duke form, it's as firm as a Rimu four-by-two at first but isn't too bad once your arse moulds to fit – the other way round ain't gonna happen. In RC390 form, it's even more of an issue. Great on a track, and really, that was the aim. But I do strongly feel that a simple foam swap at an upholsterer would reveal a pair of really fun, agile and nippy LAMS-legal numbers that would have a vastly broader appeal. Yep, I'm going to sit on the seat of the KTM RC390 and tell KTM they got it wrong. Will they listen? Just maybe – the sales haven't been as strong as hoped and if they're looking for reasons why, that's my ten cents worth because if you could get more people to experience the ride without needing to don cycling shorts or, as I did, a gel pad (made by Butt Buffer and freely available here), I'd bet the strike rate would climb faster than Auckland house prices.
Pennies to Play With…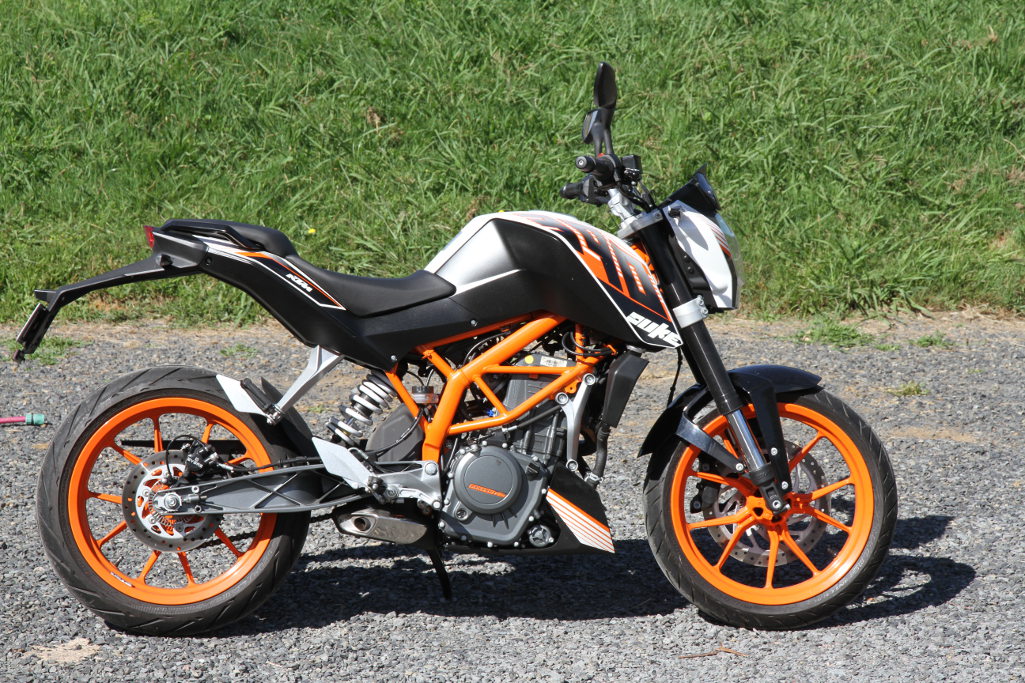 For the opportunist, they've cut the price by a grand on both models, even though the Duke 390 now has a slipper clutch, so spending $200 on creating a more empathetic seat (just do the rider's section – it's never going to be great for a pillion…) will see you riding on a bargain priced sporty little number. Seriously, I've had people go "ooh, that's nice", only for them to sit on it for a grand total of ten seconds before changing their assessment to "bugger that" due to the seat foam not giving a millimetr.
So, now that we've sorted the perch, it seems the single-cylindered KTMs are as much fun as they look, particularly the racy wee RC390, due to the ergonomics making you feel like a kid on a Moto3 bike with lights. That bitch-hard seat really is great for letting you fire across to quickly transition from one side to the other as the surprisingly quick 375cc bike gets into its work.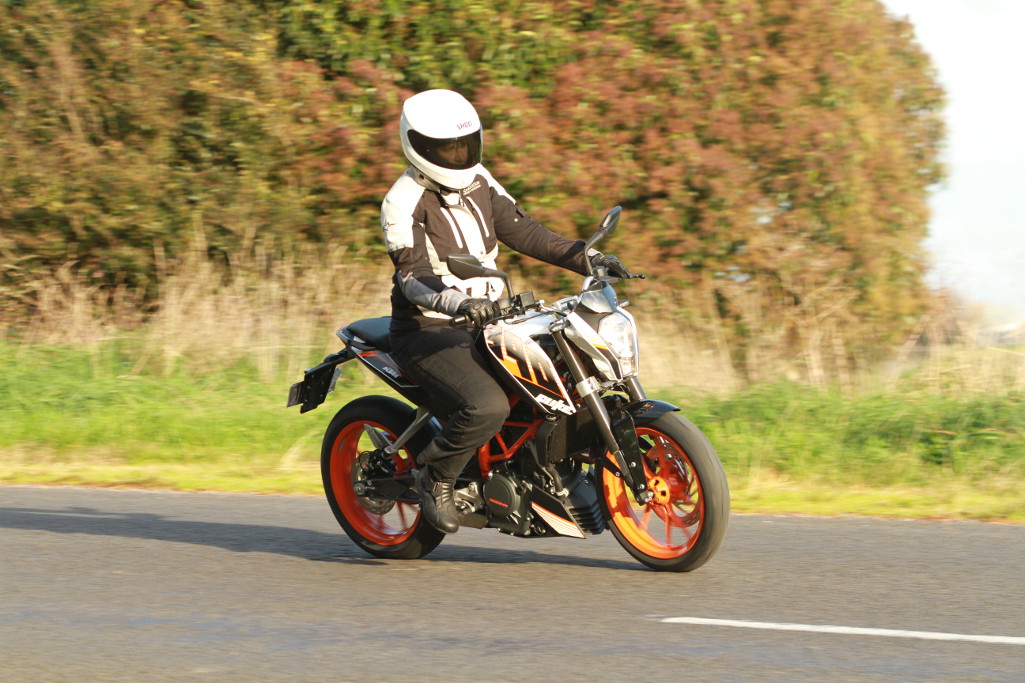 The more upright Duke 390 runs the same engine tune and basic componentry but the upright riding stance lends it more to urban carving or tight backroads, as elemental protection is nonexistent, being naked and all. It's a fun bike to grab by the scruff and charge on, half motard / half street bike – and for a learner, that's pretty cool.
With that dirt bike-sounding single going pretty hard, it actually beats the other sub-400cc competitors, as you'd expect with its higher capacity. It isn't as forgiving as some, demanding the right gear and a decent bellyful of revs to extract its very best and falling off the top of the power curve quickly in typical single style, so over-revving to hold a cog for that corner isn't the go. Quite happy to roll around at lower revs, once on song higher up the rev-range, that single really impresses with its turn of speed. But that's hardly surprising given KTM's roots in the enduro and moto scene.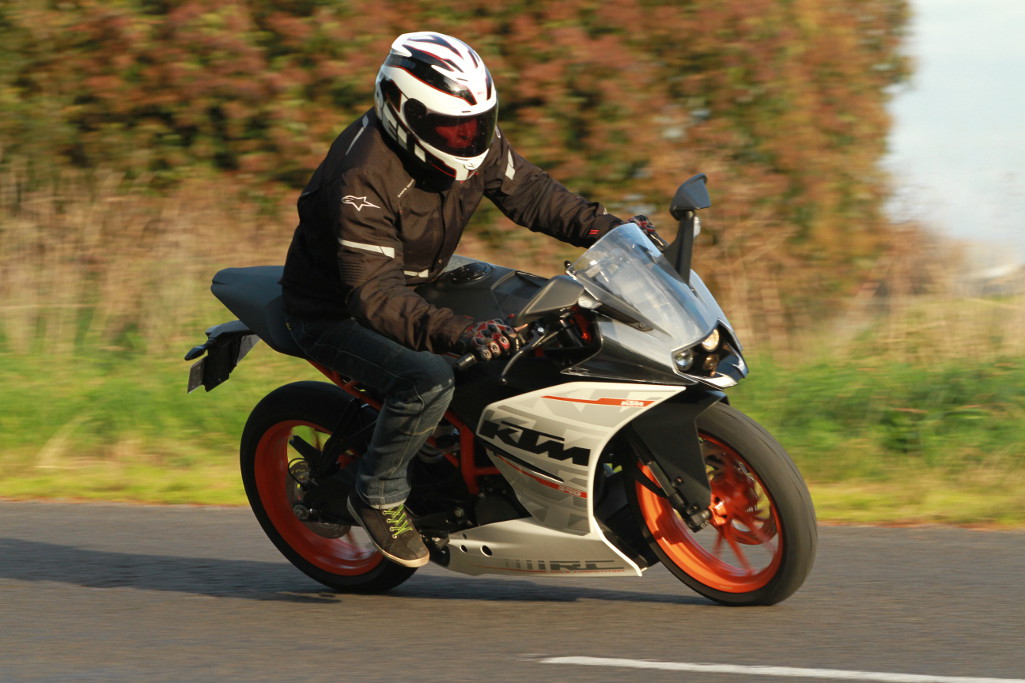 In the nuts and bolts department, it runs Bybre brakes, sourced from the Indian Brembo subsidiary. They're hardly vicious in bite but that's more the pads than anything and at least they don't fade out when you start asking a lot of them. Plus, they come with ABS, which is a must-have in the LAMS world.
From there, WP supply their entry level suspension units. Adequate more than excellent like the bigger KTM models get, you can upset the bike cornering hard with ugly road surfaces but nothing too serious. The bikes are deliberately quick in the steering department, adding some excitement to the impression through the bars and really, they are designed to be a fun bike rather than overly sensible. At the heart of both bikes, that engine is outstanding, possibly showing some of the other parts in an unfair light, as the further up the wick is turned, the more the engine likes it, and the closer the scrutiny on the brakes and damping.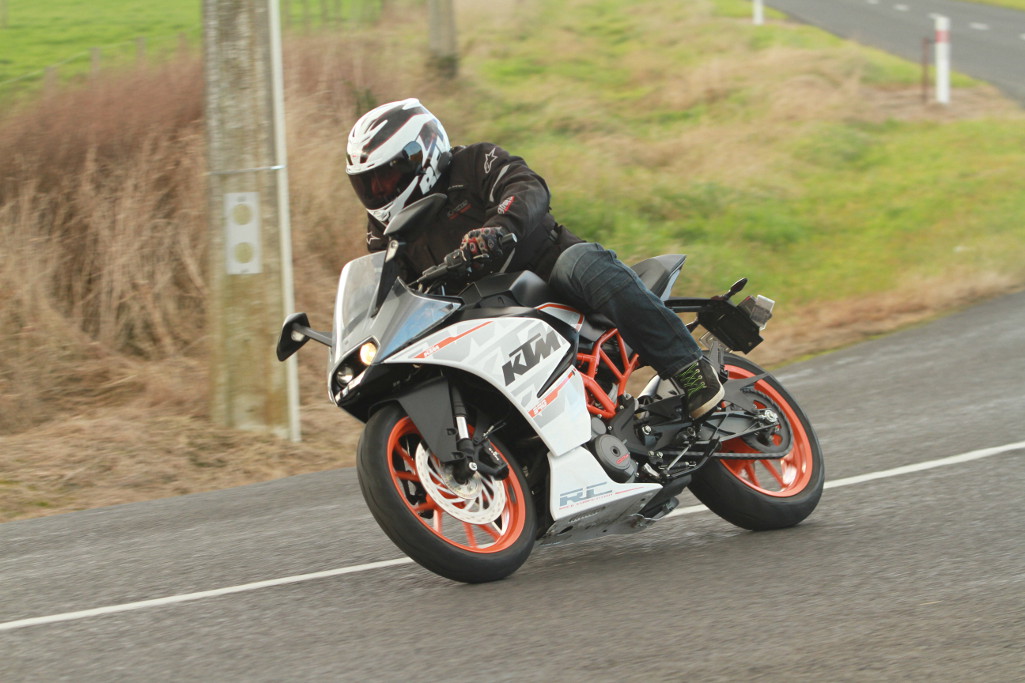 So, to Mr Bierre, CEO, owner and pretty much 'it' at KTM – soften the padding for us who don't sit on a wooden (as in Austrian Oak) chair and I reckon people will love 'em. These two Austro-Indian bikes really do entertain, with both bikes easily capable of reaching 160km/h and eventually sneak out another 10km/h or so before calling it a day, so they do get along but top speed is irrelevant to a large degree for the majority of their target audience as they're looking at a road bike not a track weapon. To that end, the nimble 390s are a great platform to learn skills on. The handling is sharp and responsive and the engine has enough power to make them plenty of fun pretty much anywhere, be that carving up the urban jungle or enjoying the twistiest sealed roads around. Economical as well as entertaining, the only limit to your fun is your tolerance for the seat (unless you took our advice), so maybe just half fill the tank each time so the light will force you to stop before you have to surrender…
On Track
The KTM RC390 has really made its mark in racing around the globe. The 'ready to race' RC390 powers a support class in Britain, running with the BSB calendar and the Germans also have a similar deal in their national series. In the USA the RC390 Cup again sees a one-type race class on pretty stock units, so it has earned its stripes on the track, which was the aim of the game for KTM.
With the old capacity rules already well out the window, here in NZ it is looking likely that the 250 production class might step aside for one that includes some of the larger learner models, possibly with weight or performance handicaps to enable a more diverse group of motorcycles to do battle, so the 375cc KTM 390 models (it's a KTM thing…) are no longer 'orphans'.
KTM RC390 (Duke 390)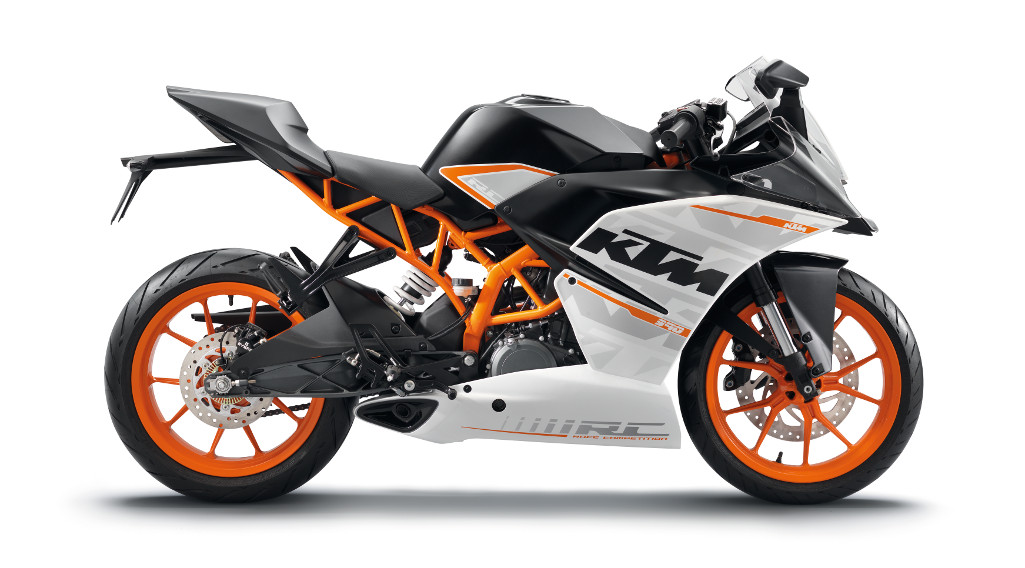 Price: $8999 ($8499)
ENGINE: Single-cylinder 4-stroke, water-cooled
Displacement: 373.2cc
Bore x stroke: 89x60mm
Performance: 32kW (44 hp)
Transmission: 6 speed, claw shifted (with slipper clutch)
Engine lubrication: Wet sump
Ignition: Fully electronic ignition system with digital ignition timing adjustment
CHASSIS:
Frame: Tubular steel trellis, powder-coated
Forks: WP USD Suspension
Shock absorber: WP monoshock
Suspension travel: Front 125mm/Rear 150mm
Brake system Front: Single 300mm floating disc, four-pot brake caliper
Brake system Rear: One-pot brake caliper, 230mm floating disc
Steering head angle:             66.5° (65°)
Wheelbase: 1340mm ±15 mm (1367mm)
Ground clearance (unloaded): 178.5mm
Seat height (unloaded): 820mm
Total fuel tank capacity (approx): 10litres
Dry weight: 147kg (139kg)