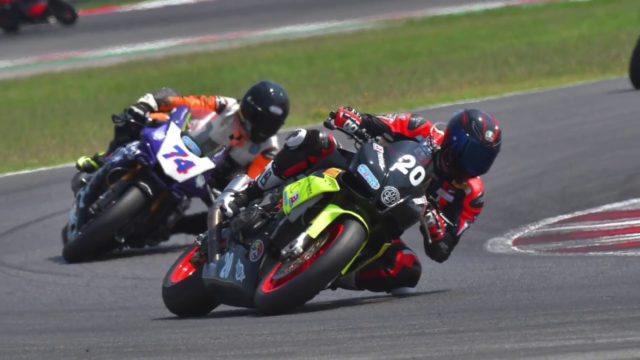 Dillon and Jo from TR20 Racing have sent through their latest race report from the National Trophy 1000 Championship, at the Marco Simoncelli Misano World Circuit, Italy. With a new engine arriving at the workshop only nine days before the event, an 1100cc with more power to push the Tuono, Dillon, Jo, and the Gabro Racing Team definitely had their work cut out for them!
After struggling with an electrical gremlin making the bike cut out, then limp mode issues, frustrations disappeared once Dillon got out in Qualifying. Feeling a bit 'off' in Q1, he resolved to focus on Q2, putting in a solid lap time of 1minute 40.777seconds, before getting caught up in traffic. That time put him at P23 out of 43 bikes, the field including some wickedly quick machinery – including a Suter MX500 GP V4 two stroke! Working out afterwards his 'ideal' lap time would have been a 1minute 38.800seconds, but for the traffic, that time would have put him in the top ten on the grid!
An early Red Flag in the race meant Dillon got a second chance after a bad first start – after the second Green he managed to get up to 17th before missing a gear downshift in the first corner, and losing all those positions again. Battling all the way through the shortened race, Dillon finished a very respectable 22nd overall. Considering the competition and massively financed race teams with WSBK class bikes, you have to admit they've done a great job so far!
With one more race to go at the end of the month before their trip home, we'll be sure to keep an eye on their progress from BRM HQ. Meanwhile, check out their video below, and get onboard their TR20 Patreon for the full report and to show your support!