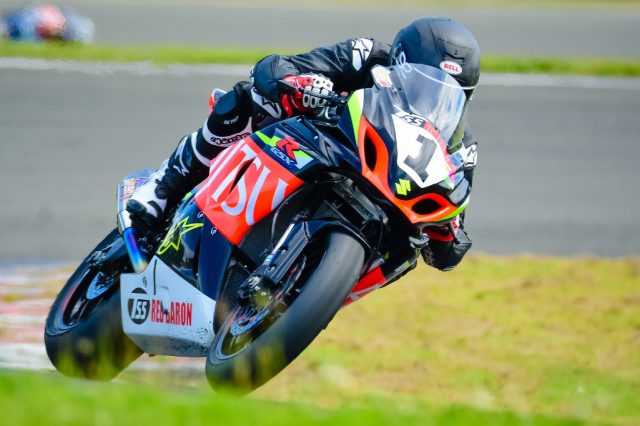 Suzuki's Three-Pronged Assault For Superbike Title Chase
It will be a three-pronged Suzuki assault on the New Zealand Superbike Championships this summer as national champion Sloan 'Choppa' Frost puts together an impressive new team ahead of his superbike title defence.
Wellington-based Frost will now have Taupo's Scott Moir and Glen Eden's Daniel Mettam for company in the Fujitsu TSS Red Baron Suzuki Team, their season starting with the popular Suzuki Tri-Series that kicks off in December and following on from that to the 2018 New Zealand Superbike Championships in the New Year.
Perhaps Frost had Hollywood movie The Godfather in mind – as Michael Corleone shared the wise words "keep your friends close, but your enemies closer" – or perhaps he was thinking of the Beatles' lyrics "with a little help from my friends" when he set up his new race team, because these men who join him in the Team Suzuki New Zealand pits enclosure will most likely also be among his fiercest rivals for the premier crown.
All three men will be riding the all new Suzuki GSX-R1000 bike, which was launched at Australia's Phillip Island earlier this year.
Since that launch, Northern Irishman Michael Dunlop scored race wins, including the Isle of Man senior TT title, and Australian Josh Waters took an emphatic round victory with two race wins in the ASBK Championships in Darwin.
Frost is currently campaigning the GSX-R1000 in Australia in the 2017 ASBK, gaining valuable development time prior to the start of the New Zealand season, but it will be with Moir and Mettam that he fine tunes his programme for 2018.
"For me, it's important to be able to get out on the track and test myself against top-class riders and Scotty (Moir) and Daniel (Mettam) are certainly that," said Frost.
"We have a fierce rivalry on the race track but, what goes on track stays on track, and we are good friends off the track too.
"Daniel and I will team up for the annual six-hour race at Hampton Downs and the team will also have a presence at the car-bike meeting coming up at Hampton Downs in October.
"It will be good working with Scotty and Daniel and learning from them too. It's a two-way thing. I'll be doing my best to catch them and they'll be trying to catch me. We'll be pushing one another along.
"I'm feeling pretty confident and I'm keen to make it three national superbike titles in a row," said Frost.
"I'm not getting any younger. I'm 35 years old, but I actually feel younger now than when I first started racing superbikes in 2008," said the refrigeration engineer, a married father-of-three.
The bike is completely new and we'll be racing under new rules in 2018 too, the bikes now classified as superstock, so they are standard machines, without modifications. But, to be honest, the bikes are so good out of the box anyway, that you don't need to spend a lot of money on them to make them go faster.
"It's going to be an interesting season. We'll obviously again be up against Honda's Tony Rees and his boys (from Whakatane), Al Hoogenboezem (from Christchurch) on the BMW and (Taranaki's) Hayden Fitzgerald on the Yamaha, so it's going to be intense."
Also joining Frost's team is Wellington-based rookie John Paul Siebrits, who will be running under the mentorship of Sloan Frost Motorsport on the GSX-R150 in the soon-to-be-launched GIXXER Cup as part of the 2018 New Zealand National Championships.
Of South African descent, the young Siebrits "ticks all the boxes" with Frost.
"He is nice and lean, has shown a lot of promise, has a great attitude and has great support from his parents," said Frost.
The Fujitsu TSS Red Baron Suzuki Team is supported by Suzuki New Zealand, Fujitsu Home, TSS Red Baron Motorcycles, Crown Kiwi Enterprises, Alpinestars, Nitron Racing Systems Ltd, Nationwide Accessories, Colemans Suzuki, Gull New Zealand, Auckland Motorcycle Club, Victoria Motorcycle Club Inc, Pirelli, Rst-moto and JDAS Photos.
Words and photo by Andy McGechan, BikesportNZ.com