Tested by: Paul
Available from: www.bits4bikes.co.nz
Price: $ 169.00 (Moto Bundle for Apple iPhone X)
There was a time when bikers used to have large GPS units mounted to their bikes to help them find their way. Now, the smartphone has taken over controlling, well, almost everything. So, finding a way to mount, securely, your precious smartphone to the inhospitable environment that are the handlebars of your motorcycle is a pretty serious job. Enter SP Connect, an Austrian/German company that has come up with a series of mounts and cases to fit the majority of popular phones.
We got the Moto Bundle for the iPhone X. In the box comes a new, sturdy case for your phone with the fitting system integrated into the back. The case sits slightly proud where the 'socket' is located, but it's a nice case and doesn't feel much different from the case I already had on the phone.
Next in the box is the mounting kit for the handlebars, with a quality-feeling bracket which is adjustable in a multitude of different angles and directions. The joints are notched, so you need to loosen the bolt, lift the arm and rotate it to the required angle. Do the bolt back up, and the arm is locked solid – there's no chance of it moving.
The system then lets you rotate the actual mount so you can decide whether you want your phone mounted horizontally or vertically on the handlebars. Horizontally gives me better access to the ignition key of the Suzuki V-Strom, but vertically means I'll get more 'distance' on my Rever App that I run for route planning.
Finally, in the box is a cover to go over the front of the phone. I wouldn't say it's waterproof, but it'll deflect the worst of the weather, mud and bugs from impacting on the phone's screen, while also still allowing you to operate the touchscreen through it.
There's also a couple of other fittings in the pack including a universal mount with a sticky backing that you can stick to the dashboard of the car, for example. For the BRM van, we got a suction mount for the windscreen meaning the phone can be mounted in or on every vehicle we run.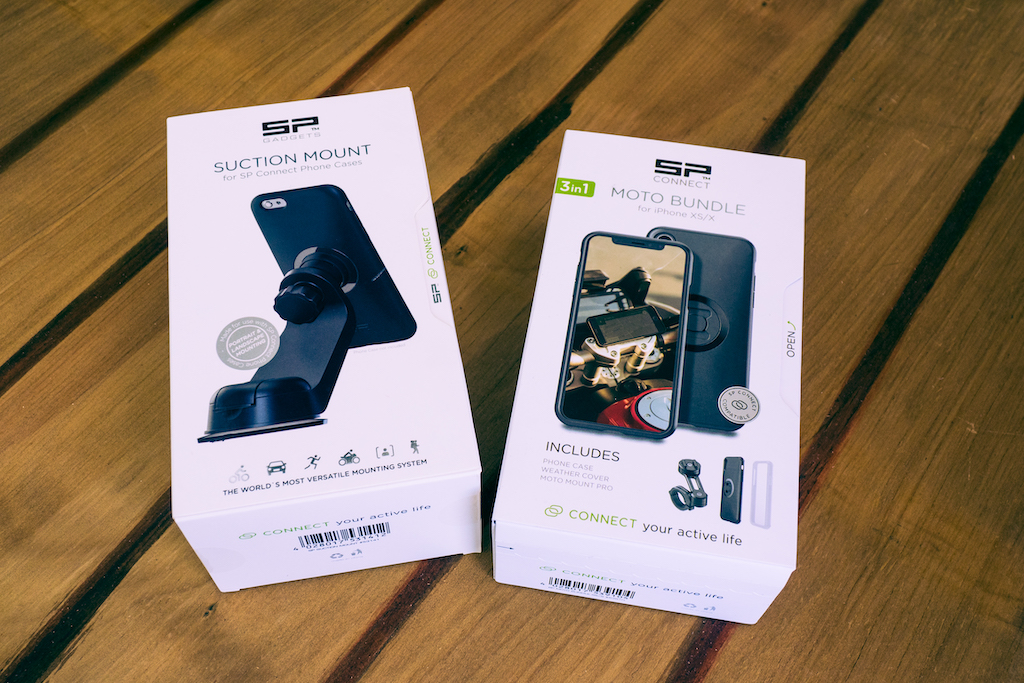 If you're looking for a phone mount system, then the SP Connect mounts are well worth a look. The quality and design are top-notch, and the cover isn't bulky on the phone. And once locked in place, you can stop worrying about your smartphone becoming a projectile as it disappears over your shoulder. With the system incorporating a unique vibration dampening system, G-forces transferred to the phone are cut by up to 40%, meaning you can even take your phone adventure riding without fear of it falling off.