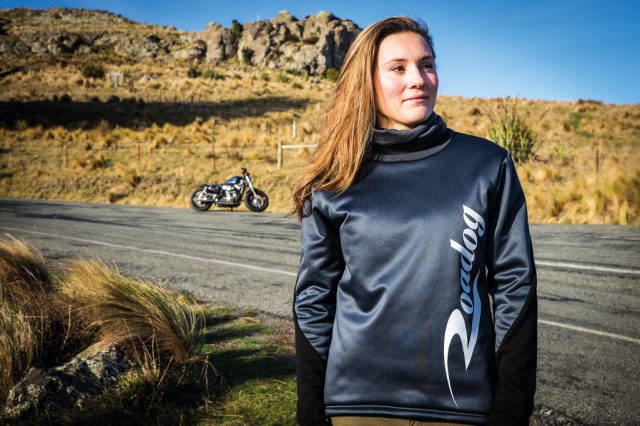 When something Kiwi-made comes across our desks, we make sure we give it a good shot and help support Kiwi industry. After all, BRM is made right here in Paeroa amongst the lemon trees. So, when the opportunity came to test out the Kiwi-made Roadog riding jersey, we were keen to see what the latest piece of Kiwiana was all about.
Designed and made in Christchurch by local Glenn Rodgers, the Roadog is his answer to the age-old problem of keeping warm on a bike, especially during the fast approaching colder months. Made primarily from good ol' Kiwi grown Merino wool, the Roadog also features Thinsulate, a synthetic insulator, and Hydrotex Chopper, which reduces wind chill. The best thing is that combined, the stuff works really well, as I found out while riding in the South Island during the Harley-Davidson Iron Run. On the cold sub-10degree mornings, I would don my Roadog, pull the snood (i.e. the built-in neck tube) up over my neck and face, chuck my jacket over the top – which thanks to the compact nature of the Roadog isn't a chore – and hit the road.
I decided to pull it off and stow it in a pannier mid-ride to see just how much of a difference the Roadog was making, which much to my regret turned out to be quite a lot! Apart from the built in snood, my favourite feature is that Hydrotex on the front of the jersey, which cuts down on wind chill drastically. While at $349 it isn't cheap, it definitely has an edge when it comes to keeping warm without packing on multiple bulky layers. For a first product from a small Kiwi start-up I'm really impressed with it. It's made of high quality materials that do the job (with the screen printed logo possibly the only weak point in how it's put together), and I'm actually looking forward to the cold winter mornings on the bike now.
Available in both men's and women's sizes, it's well worth a look on the roadog.bike website if you're planning on a bit of cold weather riding.
Available from: www.roadog.bike
Price: From $349
Rating: Toastie!