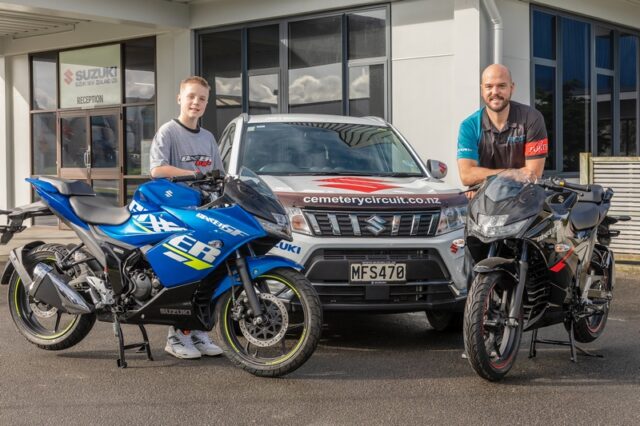 Suzuki New Zealand recently announced it would again provide massive support to the Kiwi bike racing community with continued sponsorship of the popular Suzuki International Series – the first two rounds again this season to be recognised as rounds one and two of the New Zealand Superbike Championships – and this has naturally been greeted with widespread approval by racers, fans and other stakeholders too.
The support being offered by Suzuki New Zealand for the 2023-24 season also extends to them offering a fresh injection of revenue and machinery in the form of a special $10,000 prize money pool for competitors in the reinvigorated GIXXER Cup segment of the contest and also the provision of a new shipment of Suzuki GSX150F bikes at bargain-basement prices for those wishing to accept the GIXXER challenge.
And the first to step forward and accept that challenge, which begins at Taupo in early December, is 12-year-old Nixon Frost, son of Wellington's two-time former New Zealand superbike champion Sloan 'Choppa' Frost.
"We love this controlled bike class … all bikes are the same and so it's a level playing field," said Sloan Frost.
"Nixon has been racing it the Supersport 150 class, but this GIXXER Cup class is a better place to really learn your race craft. The GIXXER bikes travel at a relatively safe speed and, because all the bikes are identical and with no special after-market modifications, the racing between the contestants is tight.
"This is where young riders can develop their close-quarter skills. That's something I never had when I started out on much bigger-capacity bikes.
"A wide range of people are welcome to enter, but there are no 'burglars' in there, no champions from other bike classes.
"All the bikes are shod with the same rubber too, all using Bridgestone tyres, and these tyres operate from a really cool temperature, so tyre warmers are not an expense or hassle we need to bother with," he said.
"With the bikes all being so equal, it comes down to the small things the riders do on track that makes the difference."
Not only will the GIXXER Cup riders be an integral part of the three-round Suzuki International Series, including the spectacular Boxing Day finale on the public streets of Whanganui's famous Cemetery Circuit, but these fledgeling "stars of the future" will also be in the race programme for the rest of the New Zealand Superbike Championship series, which runs on into March 2024.
Suzuki New Zealand's general manager of motorcycle/marine, Simon Meade, said: "Suzuki is a proud supporter when it comes to growing future champions and, with the GIXXER Cup, there is a regulated platform from which real talent can shine through at championship level for a very minimal investment."
Suzuki International Series organiser Allan 'Flea' Willacy, of Whanganui, said: "It's fantastic to have this continued support from Suzuki New Zealand.
"The support we have had from Suzuki over the years has been tremendous and this is a competition that has grown in leaps and bounds since its inception and inaugural running in December 2008.
"It will be brilliant to see the young rising stars of our sport taking advantage of this opportunity to race in the GIXXER Cup, a category that adds even more depth and credibility to our popular series."
With a $3500 price tag for a Suzuki GSX150F GIXXER bike, it's a cheap option for riders wanting to give road-racing a go in this entry-level competition and ironically it often produces some of the closest, most exciting and captivating entertainment for spectators.
The 2023 Suzuki International Series calendar
Round one – December 2-3
Taupo
Round two – December 9-10
Manfeild
Round three – Boxing Day (December 26).
Whanganui's Cemetery Circuit