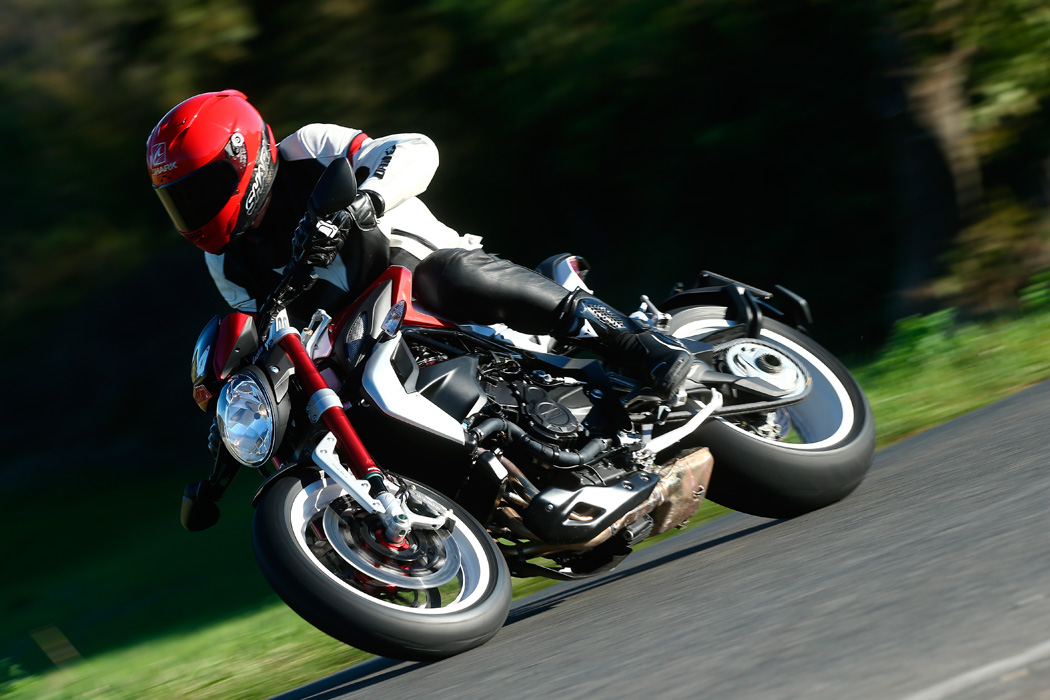 Spoke Like A Champ
Words: Roland Brown | Photos: Milagro
Making spokes sexy is just part of the allure of the new Dragster RR, and the Brutale lives up to it name more than ever.
MV Agusta found itself with an unexpected hit on its hands after launching the Dragster 800 at the start of this year. Essentially a slightly more radical version of the Brutale 800 equipped with new handlebars, a one-plus-one seat and fatter rear tyre, it captured the imagination and snarled out of showrooms as fast as the firm from Varese could produce it, despite a higher price.
"We planned to make 500, we've already sold 1700 and could have sold 2000 if we'd been able to produce them," says the firm's boss Giovanni Castiglioni, who now aims to go a stage further with two even more outrageous follow-ups. The first is the Brutale RR, a hotted-up version complete with more powerful 140bhp engine, firmed-up chassis and MV's most sophisticated electronics package yet. Alongside it is the Dragster RR, which features similar engine and chassis updates plus uniquely eye-catching wire-spoked wheels.

Dragster RR
If a pair of wheels could ever be said to sum-up a complete vehicle, it's the Dragster RR's 17-inchers. Manufactured by a Milanese firm that normally supplies the auto industry, the wire-spokers give no noticeable performance advantage over the standard model's cast items, as they're slightly heavier but have slightly less inertia, due to more of their weight being in the machined-from-solid aluminium centres.
But the visual impact is undeniable, especially that of the six-inch rear with its fat, 200-section Diablo Rosso II below a tiny mudguard that is mounted off the swingarm. The RR's wheels add an extra touch of visual drama to a Dragster model that was already bursting with aggressive, cut-down style and attitude.
In performance terms the biggest change from the standard Dragster is the updated 798cc powerplant that is mechanically unchanged, but whose intake and exhaust tweaks increase midrange torque and boost maximum power output from the Dragster's 125bhp to 140bhp at 13,100rpm.
That's a healthy boost to an already strong engine, and it makes the MV an even more seriously rapid and entertaining machine. Somehow the Dragster name sort of fits this unashamedly aggressive bike, even though the stubby MV, with its short 1380mm wheelbase, is the polar opposite of a typical drag bike that is built long and low to minimise front-wheel lift under acceleration.
The Dragster RR accelerates hard, sure enough, but it likes nothing better than to get that front wire-spoker far from the ground. When you crack the throttle open it's common to get an unintentional wheelie in second gear, or occasionally even third if the front wheel goes light over a slight crest. Fortunately the steeply raised near-single seat helps by keeping your weight well forward as the RR storms towards a claimed 245km/h top speed that is doubtless realistic if your neck muscles are strong enough, making a delicious three-pot howl through its tiny silencers.

Slick-shifter
This MV also helps with respectably crisp and well controlled fuelling. There are four modes; Normal and the sharper Sport, plus a Rain mode that softens output to a lower maximum; and Custom, which can be personalised with rider-defined settings for throttle response, traction control, engine braking and more. Both Normal and Sport gave slightly erratic running at a steady 5000rpm in town but generally worked well.
Most of the time I stuck to Sport because this adds the RR models' other new feature, the quick-shift auto-blipper which, like that of BMW's latest S1000RR, allows clutchless changes both up and down through the six-speed box. It worked really well, giving reliable and very quick down-shifts with minimal mental or physical effort.
Handling was a bit more like hard work. The basics are all intact, with a stiff frame, taut suspension and racy geometry on a bike that weighs just 168kg dry. The RR tracked well on smooth roads and was deliciously agile. But many of the lanes of rural Tuscany were bumpy enough to get it twitching and crunching, as the firm suspension passed on every imperfection to the bars and seat, sometimes so much that it was difficult to prevent the light-action throttle from being affected.
I'm not sure that the super-wide 200-section rear Pirelli helped its cornering stability, either, although it certainly puts plenty of rubber on the road. The agile, hard-charging MV was still respectably quick round those Tuscan back roads, and could doubtless have been made faster still by adjusting its suspension to suit the surface. It stopped hard too, occasionally triggering the ABS, which was probably cutting in not due to the front wheel locking, but due to the anti-stoppie function.
I could doubtless have slowed even harder if I'd been able to shift more weight rearwards, but the steeply stepped seat preventing me from moving back as much as I'd have liked. Despite that the Dragster RR provided plenty of entertainment on straight and twisty roads alike. And there's not much point in moaning about this bike's seat, because MV know it's not the most practical solution, and that's not what this bike was designed to provide.
No, this is a bike built for style, acceleration, posing, wheelies, three-cylinder sound, and even more style. MV's own brochure text sums it up: "Absolute exuberance… With the Dragster 800, MV Agusta pushed the envelope. With the Dragster RR, MV pushes even further."
Don't say you haven't been warned. There are plenty of much more sensible motorbikes, especially as the RR's price is around 20 per cent higher than that of the standard Dragster. But if you're looking for unmistakable looks, straight-line performance and charisma from a naked middleweight, this is the current state of the art.

Brutale RR
The name Brutale has always conjured up an image of a lean and powerful, if not actually brutal, naked roadster, ever since the original Brutale snarled onto the streets in 2001 with its revvy 749cc four-cylinder engine. Since then MV has done a good job of broadening its range with triples including the Brutale 675 that is the closest this most glamorous of bike firms has to an entry level model.
And now MV has gone back to the Brutale's roots with a triple that is every bit as mad, bad and bursting with attitude as that original four-pot hooligan machine. As its two extra initials suggest, the Brutale RR is a more extreme and racy version of the Brutale 800. That bike already has a well deserved reputation for being fast, light, sporty and stylish. The RR goes a step further in all directions.
There's not a huge difference in the look, though the stubby, compact triple is subtly tweaked with revised seat and LED tail light, new five-spoke wheels, fresh two-tone paintwork and gold fork sliders. The triple's compact size, dry weight of just 168kg and fairly slim and low (810mm) seat help make it manageable at slow speed.
With that 140bhp output, heaps of midrange torque and stubby 1380mm wheelbase the Brutale was always likely to be a hard-charging, wheelie-happy riot of performance. The moment you tweak the light-action throttle it comes alive, leaping forward enthusiastically as the smooth-revving triple motor responds to every command, helped by fuelling that was good, bar slight hunting at about 5000rpm in town.
The three main modes are Sport, Normal and Rain; and even Normal gives seriously crisp throttle response and storming acceleration, backed up by a soulful, fast-changing howl from the pipes down by your right boot as you flick through the box with your left, the ride-by-wire throttle pinned.
Better hold on tight and keep your weight well forward and your mind on the job, because this is one lively, wheelie-happy motorbike. The front lifts spontaneously in second and even occasionally in third gear at about 8000rpm, especially if there's the slightest help from a dip in the road.
Handling is light, agile and sharp, and with its firm suspension the Brutale felt as though it would have been perfectly at home if the launch had diverted for a few laps of the nearby Mugello circuit. Unfortunately the Brutale often felt almost as harsh as the Dragster RR as it passed on the bigger bumps through the bars and seat, sometimes firmly enough to make precise throttle control difficult.
Ideally I'd have tried softening the multi-adjustable suspension but limited time and constant bike swapping made that impractical. The Brutale was still rapid, if sometimes twitchy enough to make me glad of its adjustable steering damper. It had plenty of grip from Pirelli Diablo Rosso II rubber, and powerful stopping from ABS-equipped Brembo radial front calipers, complete with anti-stoppie setting.
Of the two new MVs this is the less extravagant and more sensible option, though that's not saying an awful lot. There are doubtless bikes that would have covered those bumpy roads more calmly; some even faster too. But not many would have been more fun or dumped more adrenaline into my bloodstream than the outrageously quick, light and well named Brutale RR.
RR Tech
The two RR models share most engine updates and some chassis tweaks. The 798cc, 12-valve powerplant is mechanically unchanged, but its intake system is revamped with a reshaped airbox, larger 50mm throttle bodies and twin instead of single injectors per cylinder. The signature trio of stubby silencers remains but they're new and breathe more freely. The result is increased midrange torque and a 15bhp boost in peak power output to a very healthy maximum of 140bhp at 13,100rpm.
This wouldn't be a new MV without an updated electronics package, and this time the change is significant. Alongside further revised fuelling incorporating four riding modes, one of which is customisable, the RR models are fitted with a standard fitment quick-shifter which, in conjunction with the slipper clutch, allows clutchless changes on both up- and down-shifts. Like the standard Brutale and Dragster the RR models get an eight-level traction control system, adjustable via a button on the left bar.
There's no change to the basic chassis layout, based on a compact steel-tube-and-aluminium frame and single-sided swing-arm. Suspension at both ends is firmed up slightly to cope with the extra performance, the Dragster RR's slightly more so. Forks are new 43mm Marzocchis with lighter, gold-anodised sliders, and super-tough DLC (Diamond-Like Carbon) coated stanchions that are also made from aluminium, saving a total of over a kilo in weight.
Both models also feature an uprated brake system that combines Brembo four-pot radial calipers with Bosch ABS, incorporating an anti-stoppie function called RLM (for Rear wheel Lift-up Mitigation).
Giovanni Castiglioni, MV Agusta President
"We've invested over €60 million in the last four years. Today we have 16 models, and we're aiming to have 19 at the end of 2015. From 2015 to 2019 we'll continue to invest in the company, another €60 million in the next four years.
"That investment will be in the four-cylinder platform, which we'll renew completely. Not just in the Brutale and F4; we'll move to a complete model range like we did with the three-cylinder bikes. So we'll have 600cc up to 1100cc, with a model in all the categories.
"We'll still invest in the three-cylinder models, you'll see at EICMA. As well as these RR models there will be a completely new model, a small tourer for city commuting, as well as the final version of the Turismo Veloce that we presented last year as a concept.
"We'll also show a new super-sport model, the F4 1000 RC, standing for Reparto Corse [Racing Department]. This is the bike we developed to race next year [in World Superbike]. Next year the rules change so all the major players will decrease power to close to Superstock rules.
"We've been working hard to make a bike that will start from a much better position. This bike makes 210bhp and weighs 175kg. It has a new cylinder head, lighter crankshaft, bigger fuel injectors, magnesium covers for the engine, and full titanium screws for the engine and chassis. You might think that sounds like nothing but just a set of titanium screws for this bike costs something like €3-4000.
"We'll build 250 units and sell them to our best customers. Due to the FIM regulations it will have a price slightly below €40,000, which is the price cap [for World Superbike homologation]. It's a collector bike, a pure racing bike, and it's fantastic."

Specs
Engine type: Liquid-cooled transverse triple, DOHC, 12 valves
Displacement: 798cc
Bore x stroke: 79 x 54.3mm
Compression ratio: 13.3:1
Fuelling: Digital fuel-injection with ride-by-wire
Clutch: Wet multiplate
Transmission: 6-speed
Maximum power: 140bhp @ 13,100rpm
Maximum torque: 86Nm @ 10,100rpm
Front suspension: 43mm Marzocchi, 125mm wheel travel, adjustment for preload, compression and rebound damping
Rear suspension: Sachs monoshock, 125mm wheel travel, adjustment for preload, compression and rebound damping
Front brake: Brembo four-piston radial calipers, 320mm discs
Rear brake: Brembo twin-piston caliper, 220mm disc
Dimensions
Front wheel: 3.50 x 17in; cast aluminium [wire spoked]
Rear wheel: 5.50 x 17in; cast aluminium [6.00 x 17in; wire spoked]
Front tyre: 120/70 x 17in Pirelli Diablo Rosso II
Rear tyre: 180/55 [200/50] x 17in Pirelli Diablo Rosso II
Wheelbase: 1380mm
Seat height: 810mm [811mm]
Fuel capacity: 16.6 litres
Dry weight: 168kg