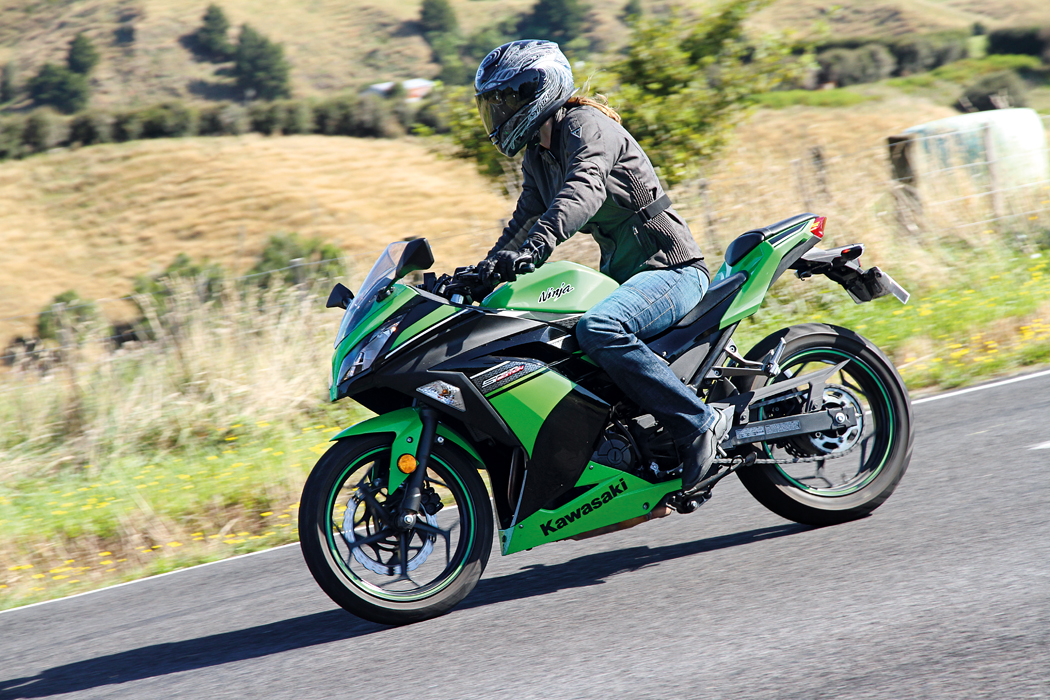 Taking A Backseat
Words: Gemma | Photos: Kev
This month Gemma joins the rest of the team for a shoot on the Ninja and takes a backseat in a bid to learn more…
What could possibly be the best work day ever..? A sunny day out on the Ninja with the handsome men that I work with. (I have to say that, they sit next to me in the office). Granted, this day did involve a lot of photos being taken for the magazine, but I also got some coaching from Paul and Kev too.
Learning to ride for me has had a bit more pressure added as I'm on a bike that isn't mine (I don't want to give Kawasaki the Ninja back in parts), I don't want to let anyone down and at the odd occasion I have cameras pointed at me so I have something to show you. Excuses, excuses… I know!
Leaning with the bike into the corner is something I struggle with, as 'my brain' (that's women talk) isn't keen on the idea even though I have been told many times that is the way to do it. Yip, I lean with the bike but nothing compared to what I see Paul and Kev doing, and as I got to experience later on in the day when I got to be a pillion on the Ninja behind Paul.
Going through the Karangahake Gorge as a pillion was f*kn fantastic. I'd only ever once been a pillion before and all I could see was the back of Fraser helmet. On this ride I was seated higher up (plus Paul's a bit shorter than Fraser) so I could see everything not to mention I didn't have to think, I just had to lean. Every learner should be a pillion at some stage!
The Ninja did so well with our combined weight of about 150kg going through the corners. It loved it. I loved it. Honestly this bike is such a great all-rounder. It may be learner legal but doesn't mean that you have to be a learner to own one! It is a great starter bike, it's a great bike for a pillion, it looks good, it can go up to at least 175km/h (so Kev told me – on a track of course!), you wouldn't necessarily sell it after you got your fully licence and it wont break the budget! Boom. Sold!
Hmmm, two-up on a Ninja 300. It wasn't something that I was expecting to be the highlight of my day but in actual fact it turned out to be a pleasant surprise. Okay, having Gemma on the back certainly beats having Kev as a pillion, but I was most impressed with how the little Ninja handled two-up duties, keeping up with traffic and showing a decent turn of speed despite having an additional passenger. The object of the exercise was to demonstrate to Gemma just how well the Ninja could handle the turns, and it carved through the gorge with sportsbike efficiency. Keeping the motor spinning around 6,000rpm meant there was instant response when I opened the throttle, while the single wavy 290mm front disc was more than up to the job of scrubbing off speed for the corners. Not that I really needed to as the chassis and suspension handled the corners with ease.
Hopefully, demonstrating to Gemma just how well the Ninja can corner will give her more confidence to carry a touch more speed and lean a little further through the turns, not that she's doing bad with her first go at owning a motorcycle. There's no substitute for time in the saddle and Gemma seemed to really enjoy coming out on a shoot with the rest of the team, so hopefully this won't be the last time we see Gemma and her Ninja come out for a play.