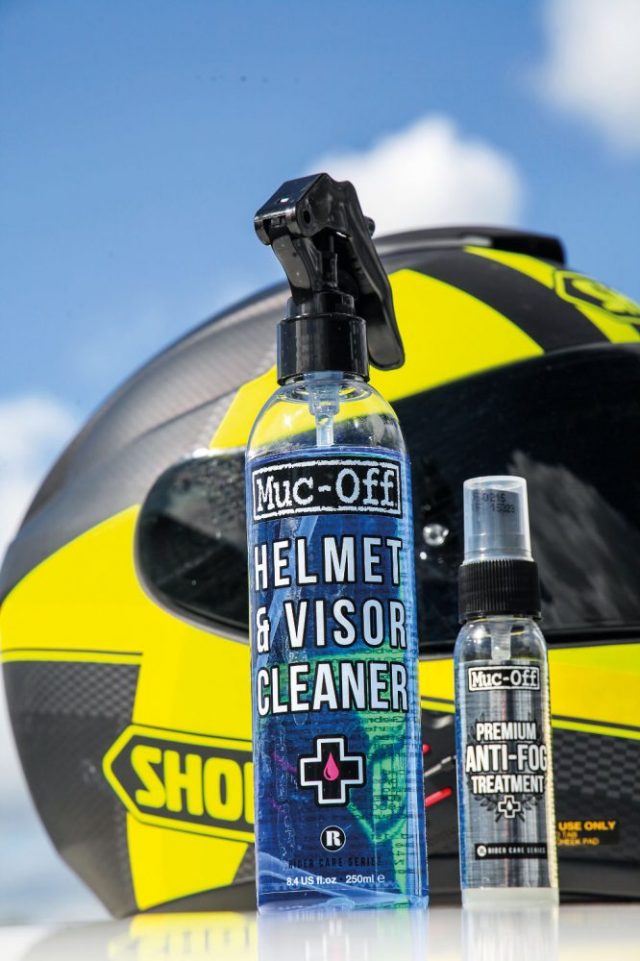 RIDE CLEAN WITH MUC-OFF HELMET & VISOR CLEANER
With a commute across the Waikato every day, my helmet needs to be cleaned almost daily as it gets that grubby from all the bugs and road grime. That's where Muc-Off comes in. This stuff is like magic on a filthy lid.
To be honest, using a specialised helmet cleaner wasn't something I was all that fussed on until I arrived at BRM HQ in Paeroa, and had the chance to try it out for myself. Now, I wouldn't go back to the ol' warm water and sponge trick I was using previously.
When it comes to anything you put on your helmet, you want assurance that it won't damage the outer layers in any way. A helmet with a brittle outer shell is no use to anyone, after all and common household products like window cleaner can actually do far more harm than good in the long term.
Muc-Off's Helmet & Visor Cleaner is PH neutral and has none of that nasty stuff like solvents or chemicals that can hurt your helmet, but does a bang up job of cleaning even the toughest road grime off. Best of all it is super easy to use: Just spray on and wipe/scrub off with a microfibre cloth. For tougher grime, you leave it on for a little while before attacking it with the cloth. I was surprised that even some of the caked on diesel soot from my time commuting The Great Southern Car Park in Auckland was removed. It works on both your visor and the shell of your helmet, with the only thing to avoid is getting it in contact with anti-fog inserts as it can find its way under a pin-lock style insert and cause it to no longer be 100% effective.
With the amount of gunk that finds its way onto my lid on a daily basis, I'm seriously considering getting shares in the stuff, but until I work that out it will definitely be finding its way onto my cleaning products shelf in the garage.
Test by: Mat | Price: $13.39 | Distributed by: Forbes & Davies