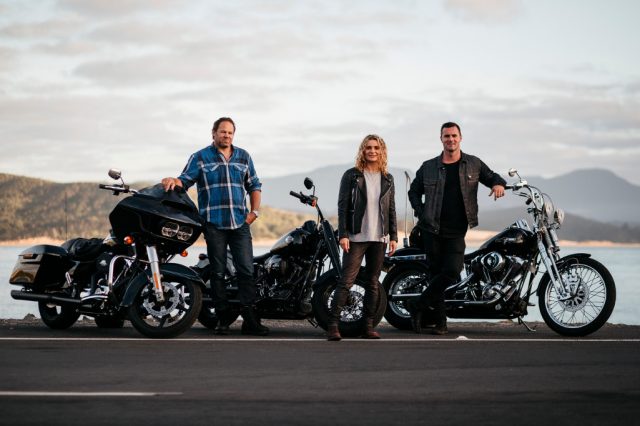 Harley-Davidson ambassadors Danielle Cormack, Josh Kronfeld, Caroline Buchanan (AUS), and Jay Reeve will join hundreds of riders and pillions as they descend into scenic Queenstown, New Zealand for the Harley-Davidson Iron Run Friday, March 17th – Saturday, March 18th 2017.
Queenstown residents and visitors are invited to join motorcycle enthusiasts for two days of free entertainment in and around town.
Listen out for the thumping sound of around 500 motorcycles rumbling through the streets of Queenstown to Arrowtown on Saturday morning, before joining the Arrowtown Street Party with live music from the Buckingham Belles and the Mine's Band. The party will kick off from 10.30am until 1.30pm Saturday 18th March, all in aid for Camp Quality.
Activities across the two days will also include demo rides, Jumpstarts and the Show n' Shine displaying an impressive display of Custom Harley-Davidson motorcycles.
Boasting stunning riding routes, Queenstown's spectacular scenery will form the backdrop for New Zealand's largest celebration of the world's best known motorcycle brand, Harley-Davidson.
THE RUNDOWN 
Friday 17th March
9:00am – 5:00pm H-D Merchandise, Demo rides & Jumpstarts at the Queenstown Memorial Hall
6:30pm – 11:00pm Harley-Davidson Owners Group & Friends (ticketed event)
Saturday 18th March
10.00am – Thunder Run, starting from Queenstown Memorial Centre to Arrowtown
10:30am – 1.30pm Street Party held in Arrowtown, featuring the Show n' Shine Awards held at 1pm
11:00am – 5:00pm H-D Merchandise, Demo rides & Jumpstarts at the Queenstown Memorial Hall
2:00pm – 5:00pm Entertainment & Live Music, Jumpstarts, Demo rides, Custom Harley-Davidson motorcycles at the Queenstown Village Green 
WHERE:           Queenstown, NZ (in and around town)
Proudly supported by The Queenstown Lakes District Council, The Iron Run is a celebration of the bonds that recreational motorcycling creates amongst both riding and non-riding communities.
TICKETING:
For the general public both Friday and Saturday activities are open to all, and no registration is needed.

For Harley-Davison Owners and Friends – To take part in the Saturday morning Thunder Run and to attend the Harley-Davidson owners event held on the Friday night, register online at

http://ironrun.co.nz