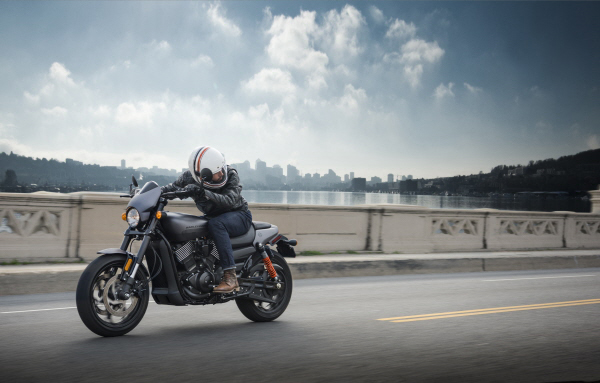 [Updated] Harley-Davidson have today announced details for an all-new Street Rod, and it's coming to New Zealand in all its 750cc glory!
If you're looking at the pic and thinking "hang on, that's not a V-Rod!" – you're correct. The new 'Rod is based around the Street 750, Harley's entry level model which has helped ensure the brand can attract newer riders in our increasingly legislated world, the new Street Rod builds upon the Street 750 and makes it, well, simply better in every respect. At least that's how we see it.
Most visible is the new screen which is now more sporty than Sons of Anarchy. Unlike the Street 750 and the 500cc LAMS approved version we get here, the new Street Rod has its own distinct style, albeit in line with Harley's Dark Custom design language for its more urban oriented machines. Follow the lines of the bike back to the rear cowling and it's an overall more aggressive design than the original Street.
"We made this new bike look tough and aggressive," said Harley-Davidson Lead Designer Chetan Shedjale. "This aligns with the environment our riders will experience this motorcycle in. The inverted, black-anodized forks and triple clamps along with a new speed screen combine to add visual mass to the Street Rod front end. The increased ground clearance and new 17-inch wheels give the Street Rod an intimidating stance. Finally, a supercharger-inspired air intake and the deeper growl of the exhaust note draw attention to the High Output Revolution X engine."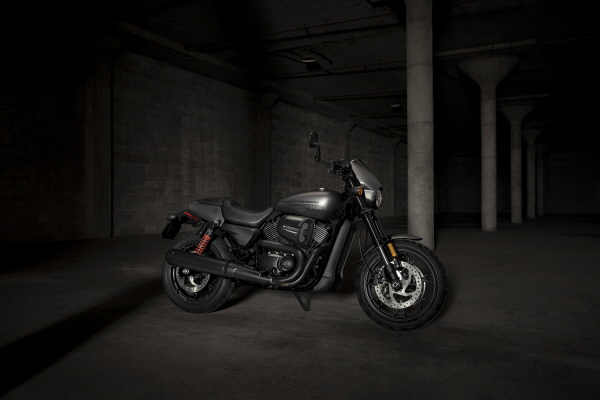 The new High Output version of the 750cc Revolution X engine produces 18 percent more horsepower than the original unit and 8 percent more torque. Keep in mind the unit we get is the significantly smaller 500cc so if, and that's a big if, this bike made it to our shores it would slot in nicely between the Street 500 and the Sportster range as a lighter sporty alternative. In order to get the power up the new single overhead-cam V-twin engine features a larger air box, a new dual-throat throttle body, revised four-valve cylinder heads and high-lift camshafts, and a higher-volume muffler. The compression ratio is also bumped up from 11.0:1 to 12.0:1, and the engine redline is increased from 8,000 to 9,000 rpm. Just what the doctor ordered!
"The Street Rod will put the thrill in any urban commute," said Mathew Weber, Harley-Davidson Chief Engineer for the Street Rod. "We've paired the potent new High Output Revolution X 750 engine with a revised chassis and up-rated suspension components to make the Street Rod quick, light-handling and easy to ride."
"We've improved air flow and then tuned this new engine to maximize mid-range torque," said Weber. "It really delivers a punch between 3,000 and 5,000 rpm, power you can always feel and use in real-world riding situations. Liquid cooling helps maintain that performance and rider comfort in stop-and-go urban traffic."
The new Street Rod chassis is engineered to match the performance of the High Output Revolution X engine. The front end features rigid 43mm USD forks gripped by a lightweight aluminium triple clamp. Fork rake angle has been tightened from 32 to 27 degrees to quicken the steering, while out back coil-over rear shock absorbers have an external reservoir to increase fluid capacity and improve control. The shocks increase the rear suspension travel by 31 percent, to 116mm . These are attached to a new swing arm which is slightly longer to accommodate the taller ride height, and has new performance-inspired styling.
With all Harleys, lean angle is an important stat and to help give the Street Rod the sporting chops it needs to be taken seriously Harley have increased the lean angle on the Street Rod to 37.3 degrees on the right and 40.2 degrees on the left. That's up from 28.5 on the Street 750/500.
Rolling stock is now light-weight, 17-inch front and rear split seven spoke black cast wheels wrapped in Michelin's new Scorcher 21 radial tires. Dual 300mm-diameter front disc brakes deliver confident stopping power. ABS and the Harley-Davidson Smart Security System are also installed from the factory floor.
"The Street Rod is the most nimble motorcycle in the current Harley-Davidson line-up," said Weber. "Tires, wheels, suspension and frame geometry are engineered to work together and deliver handling that's light and precise at all speeds."
A new seat shape is designed to fit the rider's contour, and seat height is raised by 93mm, to a still accessible 746mm.
A flat, drag-style handlebar puts the rider in a fist-forward posture on the bike while Harley have also upgraded the foot controls to new forged levers and aluminum foot pegs that are positioned for a comfortable seating position that also makes it easy for riders to get feet down to the ground at stops.
Street Rod styling highlights include a new color-matched speed screen, a short aggressive street fighter-inspired tail, and all-new LED tail lamp and turn signals with a Street Rod signature look.
"The Street Rod is a perfect addition to the Street family. It is an exciting time for Harley-Davidson and our riders." said Adam Wright, Director Marketing, Australia and New Zealand.
The Street Rod will be available in three colour options: Vivid Black, Charcoal Denim and Olive Gold.
Available in H-D dealerships across Australia and New Zealand starting from May 2017, the all-new Street Rod is priced at $12,995 rideaway in Australia and $13,995 rideaway in New Zealand.
Words: Mat