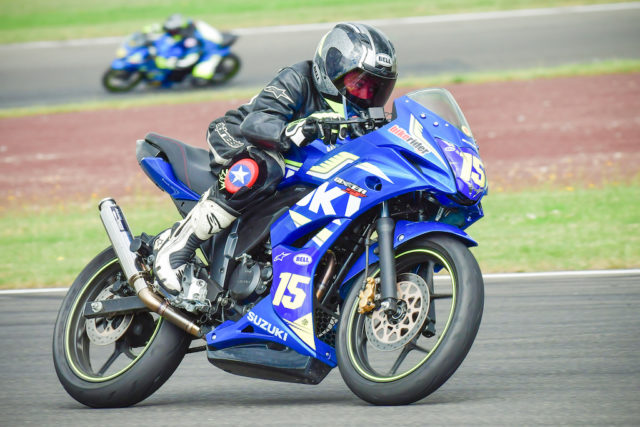 The hunt is on to find the next stars of MotoGP and some of those stars may well come from the ranks of Suzuki's Gixxer Cup race class.
Four rising stars of the Kiwi road-race scene are among the 117 riders who have been invited to the 2019 Idemitsu Asia Talent Cup Selection Event at the Sepang International Circuit, in Malaysia, on October 30-31.
More than 450 riders from Asia and Oceania put their names forward for a chance of joining the starting grid next year and, following a thorough analysis and review of each application, the selection committee finally settled on this list of just over 100 riders to invite to the Selection Event.
The New Zealand riders invited are Paraparaumu's James Barham, Greymouth's Clark Fountain, Paeroa's Blake Ross and Hamilton's Jesse Stroud.
Fountain, Ross and Stroud emerged as stars in the inaugural GIXXER Cup competition in New Zealand this season, while Barham raced earlier this season in the formula three class in New Zealand.
With the tag-line "Growing Future Champions", it's obvious that Suzuki's fledgeling GIXXER Cup competition has been quick to live up to its claim.
All aged under 17, the Kiwi foursome have shown incredible maturity and already exhibited impressive race craft, something that should stand them in good stead for the trials ahead.
All riders racing in the GIXXER Cup class in New Zealand this year were on identical Suzuki GSX150F bikes, entry was restricted to riders aged between 14 and 21 years and, with virtually no modifications allowed to the bikes, the racing is guaranteed to be close and exciting.
And it certainly was that, this innovative competition a virtual hornets' nest of cut-and-thrust race action last summer and sure to be again this coming 2018-19 season in New Zealand.
The GIXXER Cup class of racing was designed to be inexpensive, competitive and the perfect way for young riders to learn the sport and acquire true race craft and now, with these Kiwi riders now getting the nod to attend the event in Malaysia, it proves the GIXXER Cup is a massive success.
Meanwhile, at next month's Selection Event in Malaysia, each applicant must demonstrate their skills and riding ability at the Sepang Karting Circuit. The selection committee will then meet again to analyse all the data and ultimately determine the final riders chosen to participate in the 2019 Idemitsu Asia Talent Cup, as well as naming a list of reserve riders.
The father of 15-year-old Jesse Stroud, Andrew Stroud, a nine-time New Zealand superbike champion for Suzuki before finally retiring (for a second time) in 2016, said the Malaysian event was an "exciting opportunity" for all the riders.
"It can be a stepping stone to greater things, although not all riders will be able to commit, because they still have the expense of getting themselves to Malaysia.
"It's usual that about 500 riders apply, about 100 show up and, after a whittling-down process, about 10 are eventually chosen, so it's tough.
"The last 10 that are left standing can tackle the six or seven rounds of the (2019 Idemitsu Asia Talent Cup) series next year."
Along with the four Kiwi candidates for the Selection Event in Malaysia, 43 riders have been invited from Malaysia, 27 from Japan, 16 are Indonesian, 13 are Australian, Thailand will be represented by four riders, India has three candidates and Turkey has two, while China, Cambodia, the Philippines, Singapore and Vietnam will each send just one rider.
Words and photo by Andy McGechan