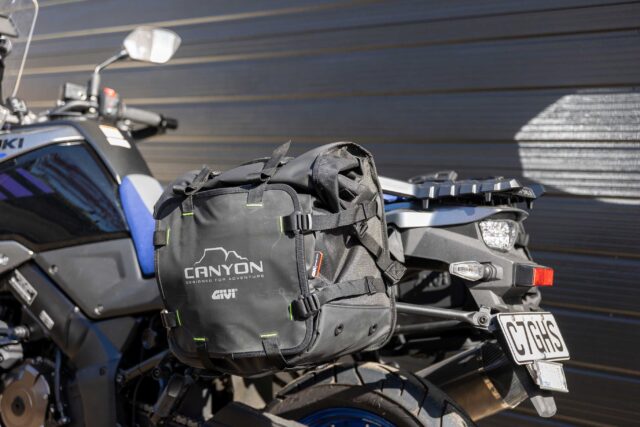 Name: Givi GRT720 Pannier Bags | Price: $949.00 | Distributed by: Eurobike Wholesale Ltd
With Givi's excellent Trekker Alaska panniers offering the hard luggage option on the Suzuki V-Strom longtermer, a chance to test the new Canyon bags meant we could go soft when the terrain got hard.
It's been a constant debate in adventuring circles whether hard or soft luggage is best. For security, you can't go past a set of aluminium, lockable panniers to stop light fingers from making off with your belongings. They were inherently the more waterproof option too, until the modern era of technical materials and fastenings which has allowed soft luggage to also keep the wet out. But if you're looking to properly adventure, then soft has always been the preferred option, and the new GRT720 panniers offer a combination of the best of both worlds.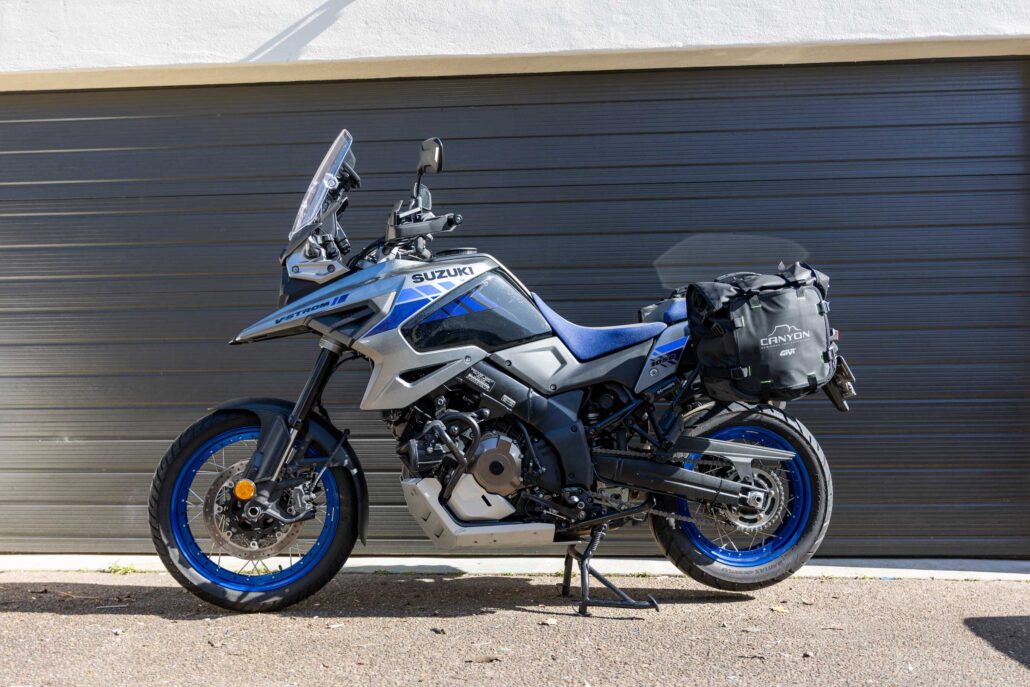 Monokey Match
To fit the Trekker Alaska bags we fitted Givi's Monokey frame system to the DL1050X so that the aluminium boxes could clip on and lock with ease. The beauty of the new GRT720 soft bags is that they also incorporate a metal baseplate which utilises the Monokey system, so you can lock them to the bike. Yep, being a soft bag, baddies can still unclip the top and take a look. But what it does do is stop someone unhooking the bag and running off with the lot.
The bags are made from a high-tenacity 1200D water-resistant polyester and thermoformed PE, with a 1680D PU coating for added strength. There's a waterproof roll-top closure system and adjustable straps allow you to adjust tension tightness. The front flap is equipped with a sturdy PVC mesh pocket on the back, and there's eight side loops to allow strapping of additional loads. Looking inside and the interior is fluro yellow, aiding you to find that annoying thing which always gets lost at the bottom, and there's even a removable inner reinforcement so that the bags don't go floppy at the bottom.
Fitting the bags couldn't be simpler, with the plate clicking straight onto the Monokey frame, with the key to release the bags positioned for easy access at the top. The bag is big enough to swallow 25 litres of kit, and with the additional straps, there's room to strap more on top.
Fitted to the V-Strom and we think the new bags give it a real adventure look. And should we take a tumble, the added advantage of soft panniers is that it doesn't hurt quite so much if the pannier ends up on your leg!
For further details, head to www.eurobike.co.nz or contact your local Givi dealer. They're in hot demand, so if you're looking for adventure luggage for this summer, we suggest you get in quick!