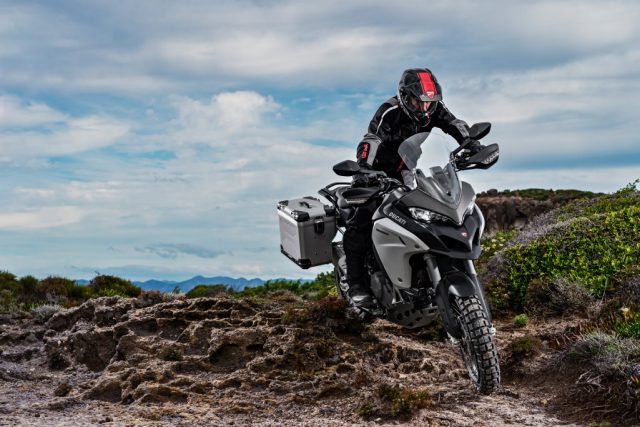 Following in the tyre tracks of established adventure bike manufacturers BMW and KTM, Ducati are launching their riders into the adventure scene with the all-new Ducati Adventure Riding Experience – D.A.R.E.
D.A.R.E is designed as a rider training and rider experience program for Ducati's Multistrada and Scrambler owners. Geared essentially to the adventurer and explorer, the program boasts two levels of training to ensure riders have the adequate skills to master their Ducati in a variety of terrain.
With Ducati's expanding range of Adventure, Travel and Crossover capable models; the D.A.R.E program offers owners of these models, as well as customers considering one of the models, the opportunity to really experience them off-road. But will Ducati owners dare to take their premium Italian off the beaten track?
Well, the first level of D.A.R.E aims to get them to do just that, by introducing them to the pleasures of adventure riding and giving them the basic toolkit of skills they will need to take their chosen steed on the road less travelled (much like ProRider's Gravel Riding course here in NZ).
Level two steps thing up a notch and sees riders tackling more challenging terrain, with the aim of preparing riders to take on long distance expeditions much in the way the Ducati 90th celebrations did by sending a Multistrada around the world.
In addition to the training courses, D.A.R.E will offer treks ranging from 2 days to 10 days with an annual expedition – much like the KTM adventure rally held each year in both Australian and New Zealand. Sadly, at this stage D.A.R.E will only be available in Australia, so if you want to take expensive Italian machinery off-road, you'll need to book a trip across the Tasman.