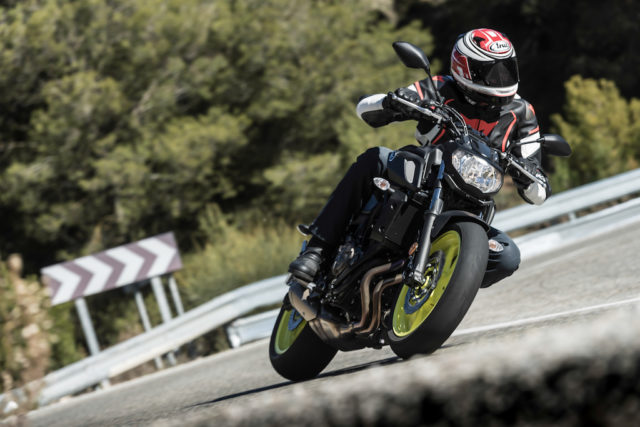 Having just launched the next level MT-09, Yamaha wasted no time unveiling the 2018 MT-07. Happily, we had Roland in place to report on the original hero of the MT family.
Words: Roland Pics: Alessio Barbanti & Jonathan Godin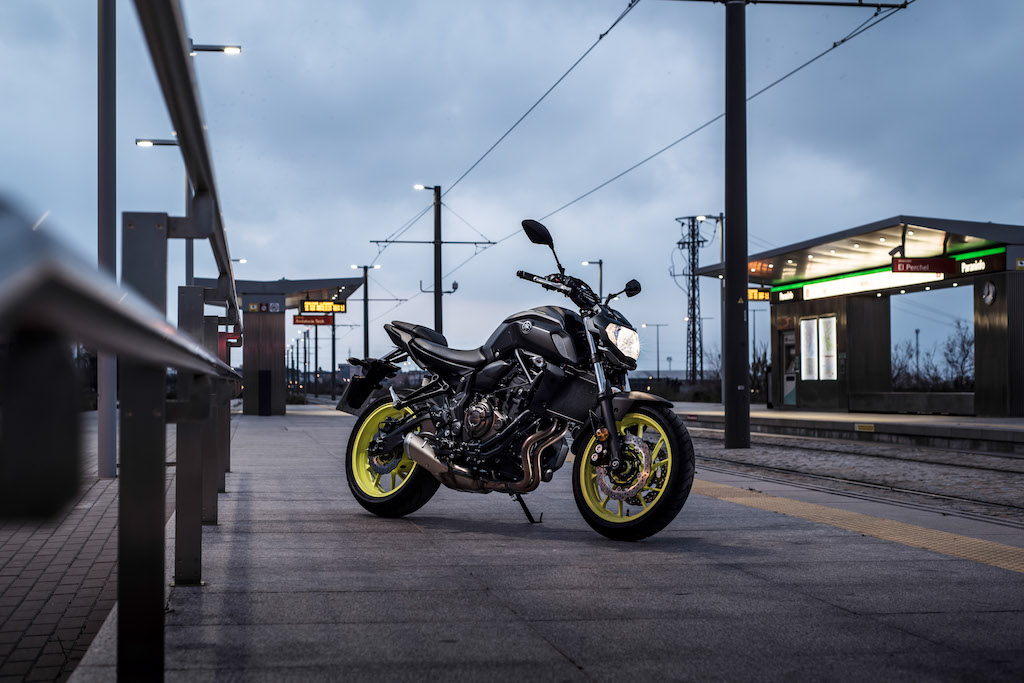 You can't blame Yamaha Europe's marketing crew for starting their presentation of the updated MT-07 with a few statistics.
The naked twin's 16,000-plus European sales in each of the last four years and a total of over 120,000 worldwide confirm that it's one of motorcycling's biggest recent success stories.
But it's a different set of half-remembered numbers from last night's press conference – the ones showing how much firmer its suspension is – that seems much more relevant, as I crank the MT-07 through a series of bends in the hills above Malaga, occasionally hearing a "scritch" from a footrest feeler as it carves through the turns, with the bike feeling impressively sharp and stable.
It's been a while since I rode the original MT-07, but I'm pretty sure it wouldn't be handling as well through here – and with good reason. Right now, the important MT figures are its extra spring stiffness of six per cent in the forks and 11 per cent in the shock; and the even bigger increases in damping: 16 per cent in fork rebound, 27 per cent in shock rebound, and a whopping 40 per cent in the shock's compression damping.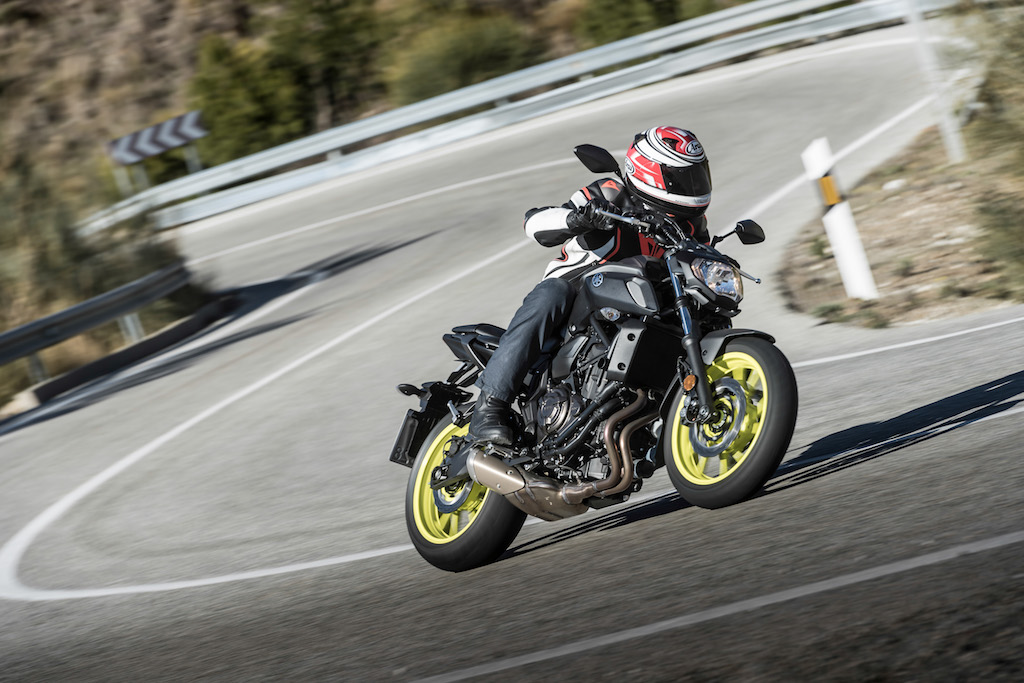 The increases are unusually large for a model update, but they make perfect sense. Although the original MT-07 was greeted with universal praise for its liveliness, agility and all-round brilliance, the one common criticism was of its soft and under-damped suspension.
Few people have had a negative word for the 698cc, eight-valve parallel twin engine, which is unchanged and still makes a healthy maximum of 74bhp at 9000rpm along with heaps of torque from very low revs. Suspension apart, there's also no alteration to the cleverly engineered, steel-framed chassis, which helps keep fuelled-up weight down to just 182kg.
Whether most of the other changes are effective or not, you can decide for yourself because they relate to the styling, which helps give this middleweight of Yamaha's naked family a slightly closer visual connection to its MT siblings. There are new front and rear lights; reshaped front mudguard, dummy air-scoops and radiator surrounds; and new rear "winglets" that can be unbolted to allow accessory grab-handles.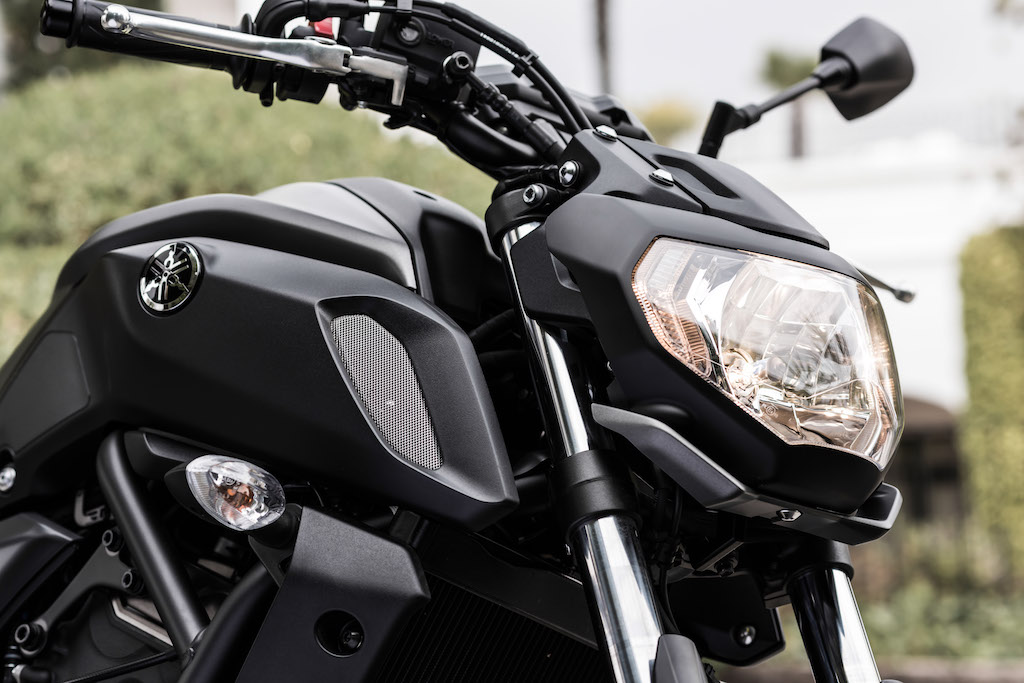 Personally, I'm not convinced that the new look is better than the old, but either way, the angular styling contributes to the MT models' aggressive, "Dark Side of Japan" image. The one slightly more significant design change is the new seat, which has less of a gap between its rider and pillion sections, and gives slightly more room, as the fuel tank has been made 10mm shorter.
The slightly raised, one-piece handlebar is now finished in black, so there's some change to the rider's view, although disappointingly, you still have to press buttons on the instrument panel to toggle the display, rather than using a switch on the bars. The left bar's switchgear also has a rubber bung over a redundant hole, which looks a bit cheap.
Inevitably, the stubby exhaust's note is pretty muted, too, but once under way, the MT comes alive just as it always has, feeling lively and effortlessly controllable.
There are no alternative fuel maps (or traction control, which would be more useful), just a generously broad spread of torque and plenty of smooth top-end shove from a motor that makes an unchanged maximum of 74bhp at 9000rpm.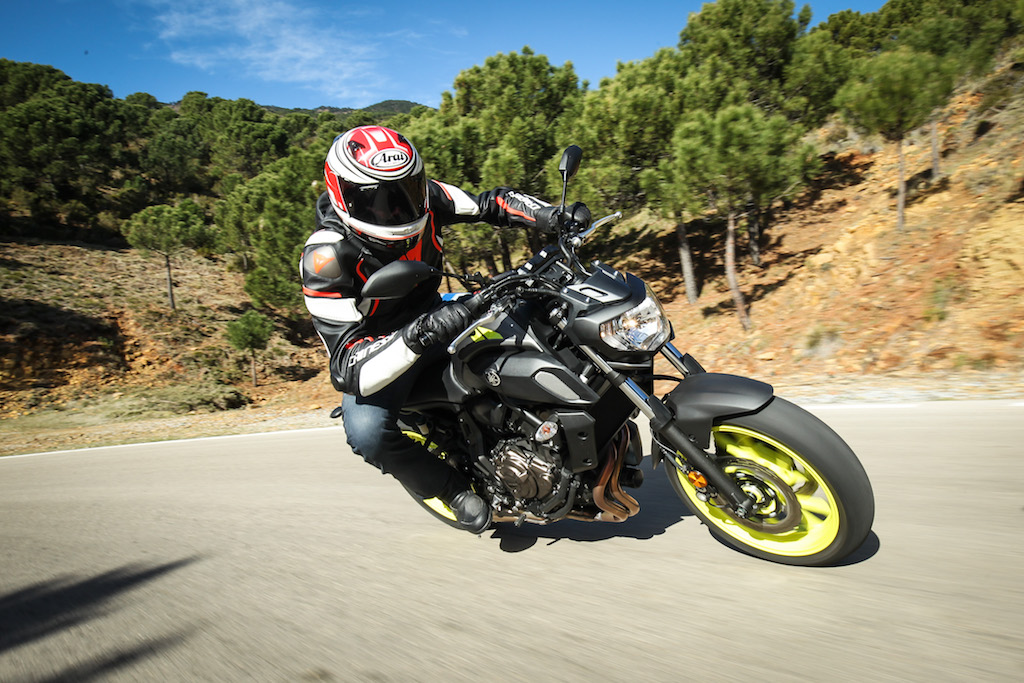 That flexibility makes the Yamaha very easy to ride, as does its lightweight, reasonably low seat and a respectable amount of steering lock. The bike pulls crisply from low revs, then picks up the pace in the midrange, allowing overtaking with just a lazy twist of throttle in top, and no need to flick down through the sweet-shifting, six-speed box.
There's enough instant grunt for effortless wheelies on the throttle if you're in the mood and for a top speed of about 200km/h. It'll cruise happily at 130km/h-plus, though it's a pretty windswept ride. Not that this was a problem on a warm day on mostly twisty, Andalucian launch roads.
If the MT's engine was originally the star attraction, the chassis is now an even better match for it. The Yamaha's lightweight has always been a major attribute, along with the frame's stiffness and steering geometry that is sufficiently steep to give sporty, yet respectably stable handling, even with suspension from the low-budget section of Kayaba's catalogue.
This latest MT's rates are pretty much spot-on. The bike immediately felt better controlled, whether it was accelerating without a hint of the old model's slightly soggy rear-end feel, or braking hard with the firmed-up front end giving light, neutral steering, along with distinctly more feedback and confidence.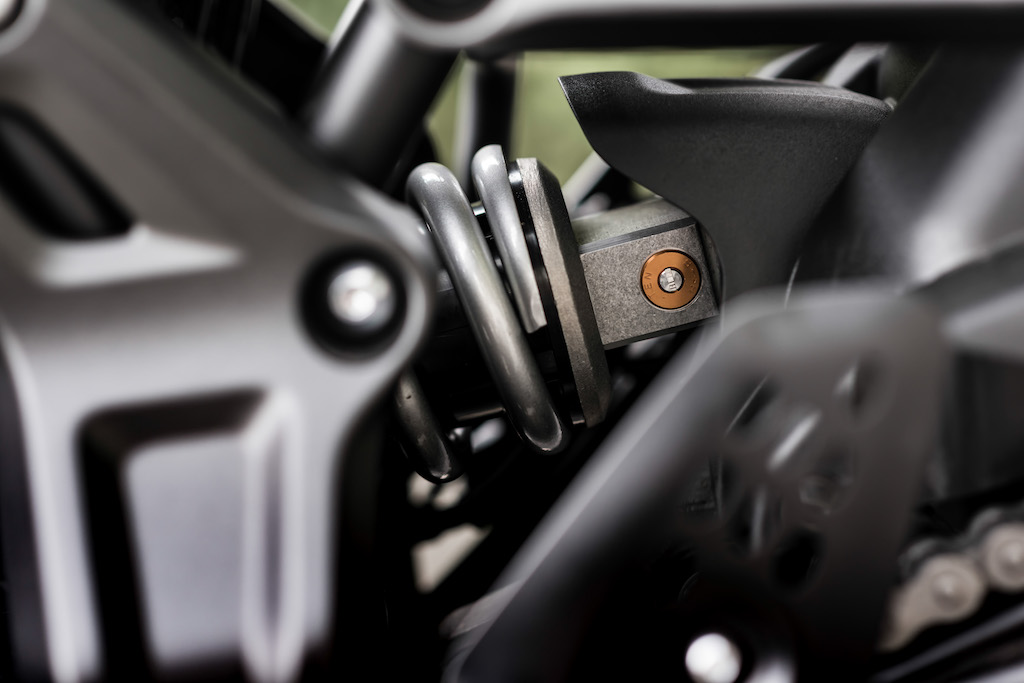 There's now the ability to adjust the shock's rebound damping as well as preload, but as I started the final leg of the launch ride, I realised that I'd subconsciously confirmed that Yamaha's tweaks have been worthwhile.
Four years ago, on the original model's launch in Lanzarote, the first thing I'd done on reaching the morning coffee stop was dig out a C-spanner from under the seat and give the rear shock several extra clicks of preload. This improved but didn't completely cure, the bike's slightly soft and bouncy feel.
This latest MT, by contrast, feels so much better, that here I was, almost at the end of the ride without having needed to have touched the suspension. Better still – despite it's being firmer – the Yam still has very decent ride quality. The only time I'd have been glad of a softer rear end was when briefly riding over cobbles through the old town of Ronda, but most bikes would have struggled with that. Even hitting a fair-sized pothole at speed on the main road shortly afterwards, didn't jar my wrists as much as expected.
One or two riders weren't convinced by the Bridgestone BT023 tyres, but I didn't have any problems with them, even on a few shaded and slightly damp sections of road. The 180-section rear, in particular, is wide for a bike in this class and gave enough grip to make the most of the slim Yamaha's generous ground clearance.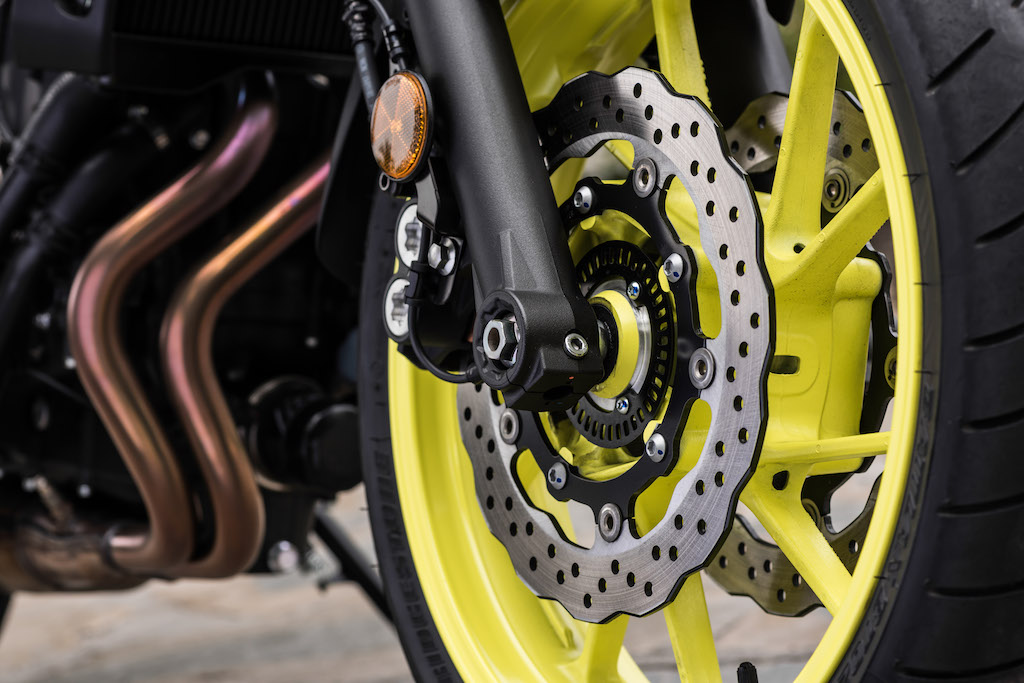 The front brake was adequate, if not outstandingly powerful, too. Better than I recall the previous model's in fact, although the specification of 282mm wavy discs and four-piston calipers hasn't changed.
I'm not sure the new seat made much difference, but I didn't feel cramped despite being tall. Two-up touring would be a stretch on a physically compact bike like this, but there's a fair bit of legroom, while the unchanged, 805mm seat height is low enough to make the Yamaha manoeuvrable for smaller riders.
Another thing that hasn't changed, despite the reshaped fuel tank area, is the 14-litre capacity. Most owners average 5 l/100k or better, giving a realistic range of well over 200km.
As before, there are heaps of accessories to add style or practicality, including screens, heated grips, luggage and a 12V socket as well as engine covers, billet aluminium parts and an Akrapovic silencer.
Equally importantly, although the basic MT-07 isn't as outrageously cheap as the original model, it is still very competitively priced. It's surely set to keep selling in large numbers, leaving Yamaha's engineers to try and figure out just how they're going to improve it further in the future while leaving its essential blend of edgy style, lively performance, agile handling and value for money intact.
Yamaha MT-07 HO (2018)
| | |
| --- | --- |
| Engine | Liquid-cooled, parallel twin, 8 valve, DOHC |
| Engine Displacement | 689cc |
| Bore x Stroke | 80 x 68.6mm |
| Compression Ratio | 11.5:1 |
| Max. Power Output | 74bhp @ 9000rpm |
| Max. Torque | 68Nm @ 6500rpm |
| Carburation | Digital fuel injection |
| Fuel Tank Capacity | 14-litres |
| Clutch type | Wet, multiplate |
| Transmission Type | 6-speed |
| Final Drive | Chain |
| Dimensions (LxWxH) | 2085mm x 745mm x 805mm |
| Wheelbase | 1400mm |
| Seat Height | 805mm |
| Ground Clearance | 140mm |
| Fuelled Weight | 182.8kg |
| Front suspension | 41mm telescopic fork with 130mm travel |
| Rear suspension | Monoshock with adjustable preload and rebound damping 130mm travel |
| Front tyre | 120/70-ZR17 |
| Rear tyre | 180/55-ZR17 |
| Front brake | 282mm double disc, hydraulic |
| Rear brake | 245mm single disc, hydraulic |
| ABS | Yes |
| Traction control | No |
| Cruise control | No |