When he made the move down from Auckland to Paeroa, Mat thought he'd be missing out on the fun of flogging about on a small capacity scooter, which is why he couldn't turn down the offer to play with Yamaha's updated NMAX scooter…
 Words & Pics: Mat
Let's just get this out there: unlike Yamaha's funky three-wheeled Tricity, the NMAX does require a motorcycle licence to ride, but it's worth doing so.
That's because the power for the NMAX comes courtesy of a brand new 125cc single cylinder motor, which Yamaha have put plenty of thought into, along with adapting it with their efficient Blue Core technology. That means the little four-stroke is the first scooter engine from the company to feature a four-valve cylinder head along with a newly developed variable valve actuation, which is essentially the same as variable valve timing in a car engine. While the little engine reputedly only puts out 8.9kW (12hp), it still manages to push the lightweight little scoot up to the highway limit.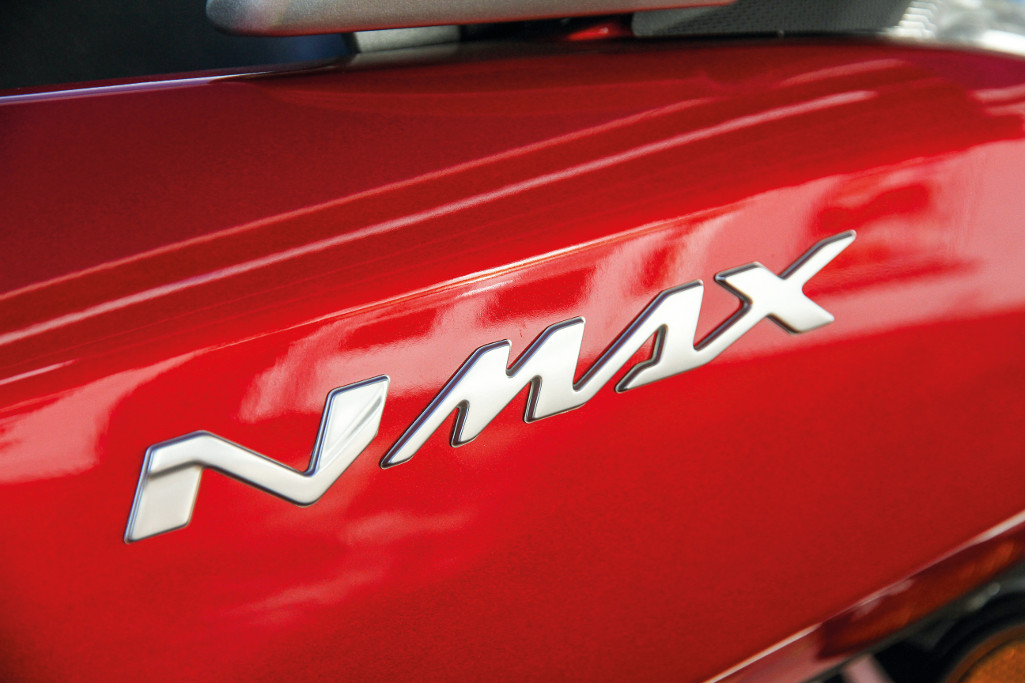 Styling has received an update, with a sporty new aerodynamic look setting it apart from the faux-Vespas of the world. Available in two colours, Frozen Titanium and Power Red (the latter being the pick of the two I reckon), the NMAX got plenty of looks from the public as I took photos down what I thought was a quiet side street in Cambridge. Instead of the old yellow tinge, the headlights light up with a nice white light, which also gives off a sense of class. In fact, the whole build of the NMAX exudes quality. The plastics don't flex when you apply a little pressure, there's no rattles from the engine (although, my test bike was yet to get through its run-in period, so it's yet to loosen up fully) and the gauge cluster is simple, yet incredibly easy to read out all the important info on display.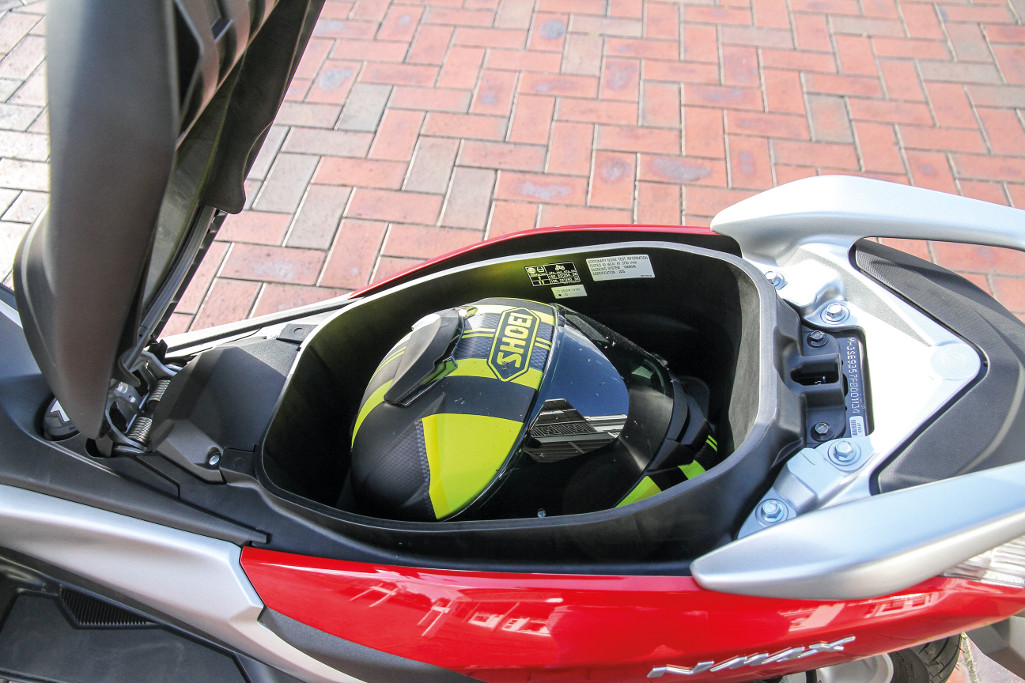 However, the biggest development for the wee scooter comes in when it comes to the braking. For once, we can actually thank the tough Euro emissions schemes for something quite useful, as from next year all Euro 4 bikes will also have to have ABS standard. Being big players in Europe, Yamaha have fitted the NMAX with ABS, of course; and the results are phenomenal for a scooter.
Honestly, I wasn't expecting the brakes to be this good.
Normally, when gripping the rear brake hard on a scooter, it sees the rear wheel lock up and you go into a skid. It's fun, for a while, but can get you into some serious trouble in the wet – especially if you have to stop in a hurry.
So, when barrelling along SH1B (just outside of Cambridge), I grabbed a handful of rear brake after purposely leaving my braking a little late to turn off the highway. Almost immediately, the lever started to fight me as the ABS kicked in and prevented the rear wheel from locking up. It comes in pretty quickly on the rear brake, which as it happens is a 230mm disc with a single piston caliper mirroring the brake setup at the front. But, on the front wheel, it feels like it comes in a little later. That is most likely due to there being much less weight over the front wheel than the rear, which not only has your weight sitting nearly on top of it, but also that of the engine.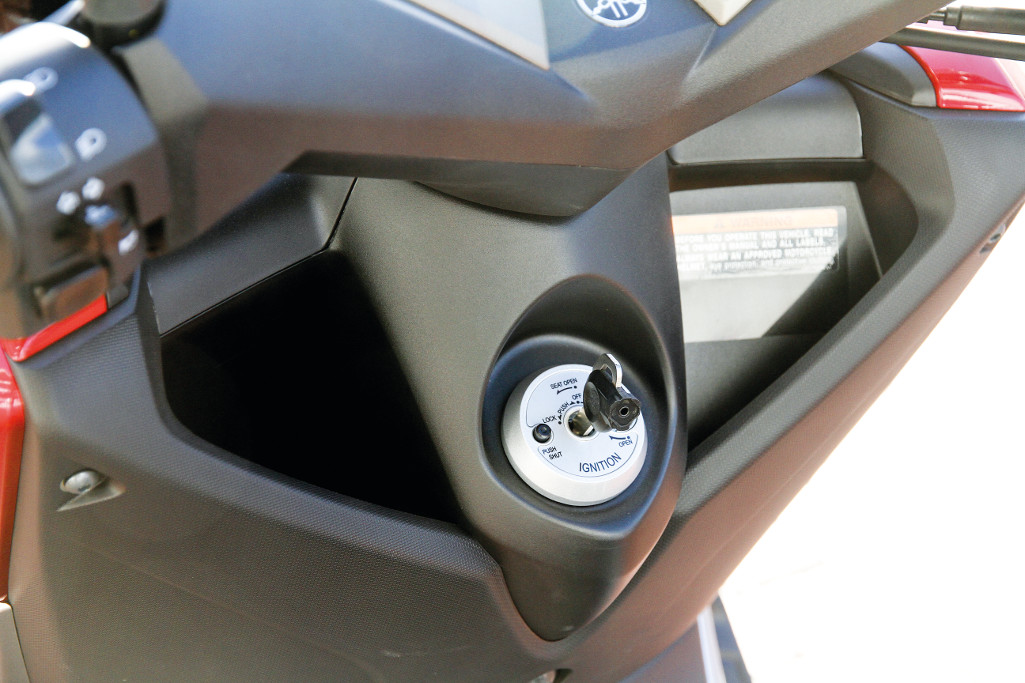 After filling up the brand spanking new NMAX up with its first ever tank of fuel – which set me back a paltry $12 – I did what probably 99 per cent of owners won't: I hit the open road and made my way along the Hauraki Plains for my daily 75 kilometre commute from one small Waikato town to another. Yamaha pitches the NMAX as an urban congestion buster and not really as an open road tourer, so it was going to be interesting how it did out on the mean roads of the Waikato, with its small 13-inch wheels and tiny power output.
Initially, I thought that I might be in for a bit more of an adventure than my 75-kilometre commute normally throws up, as the NMAX didn't want to top 84 km/h on the long straights. But, as the kilometres rolled by and the engine began to free up, the NMAX started to reach higher and higher top speeds (though it sometimes did need the help of a downhill segment and my efforts to streamline myself behind the fairing) 'til I finally I celebrated as 105km/h appeared on the big digital display. This might not sound like a particularly high top speed, but you've got to remember this is all thanks to a tiny 125cc motor attached to an automatic gearbox via a rubber band – that's not exactly a powerhouse by any sense of the word.
The dash, while seeming reasonably straightforward with its big speedo taking up most of the space, has a few tricks up its sleeve. With not only two trip meters for regular rides, but also oil and v-belt (that's part of the transmission) trip meters for aiding in servicing intervals. Plus, there's also fuel economy readings.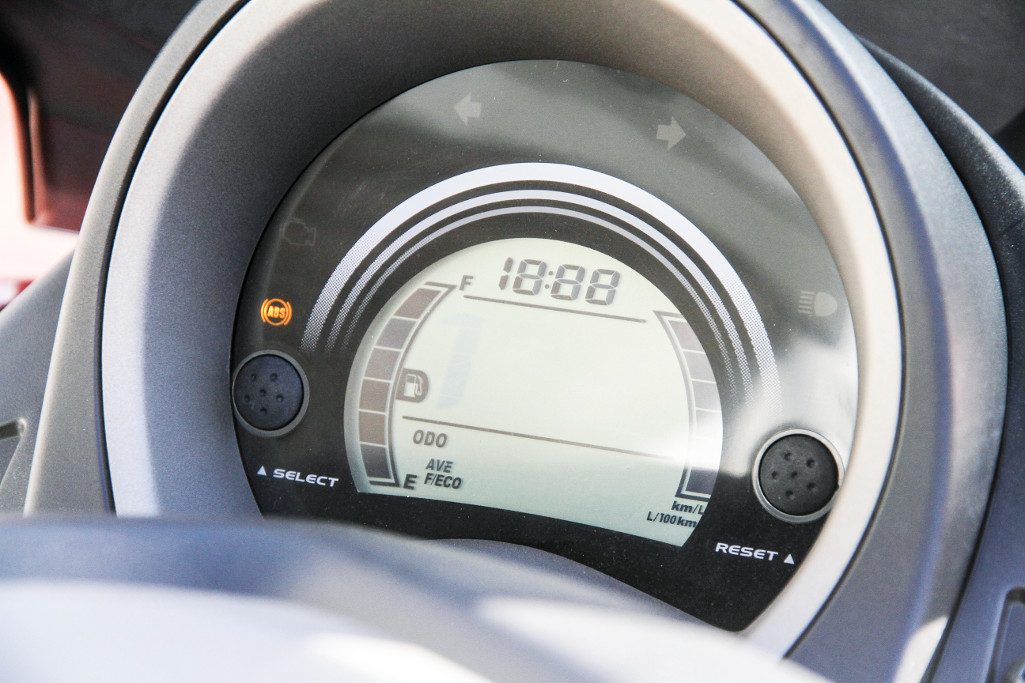 While riding along the highway at full throttle to maintain 100 km/h, the current fuel economy readout would indicate around 23 kays per litre of fuel used. This translates to 3.9 litres per 100 kilometres, or a range of 169km before empty, and I'd expect to see that improve somewhat as the NMAX becomes properly run in. In town, where the NMAX is designed to spend most of its time, you're likely to see more than double that economy with it showing readings higher than 50 km per litre as I pottered about Cambridge running errands. With the 6.6 litre fuel tank full that would give you over 300 of range in town. That's truly frugal motoring!
Like all good scooters, there is a large storage container under the seat, which can fit a full sized helmet (or a few of the essentials when you find the fridge a bit low stocked and you have to pop down to the dairy). Up front, there is a pocket that resembles a drink bottle holder like you see on new SUVs. But, after testing it with my trusty bottle, I think it's much easier to use it to store gloves.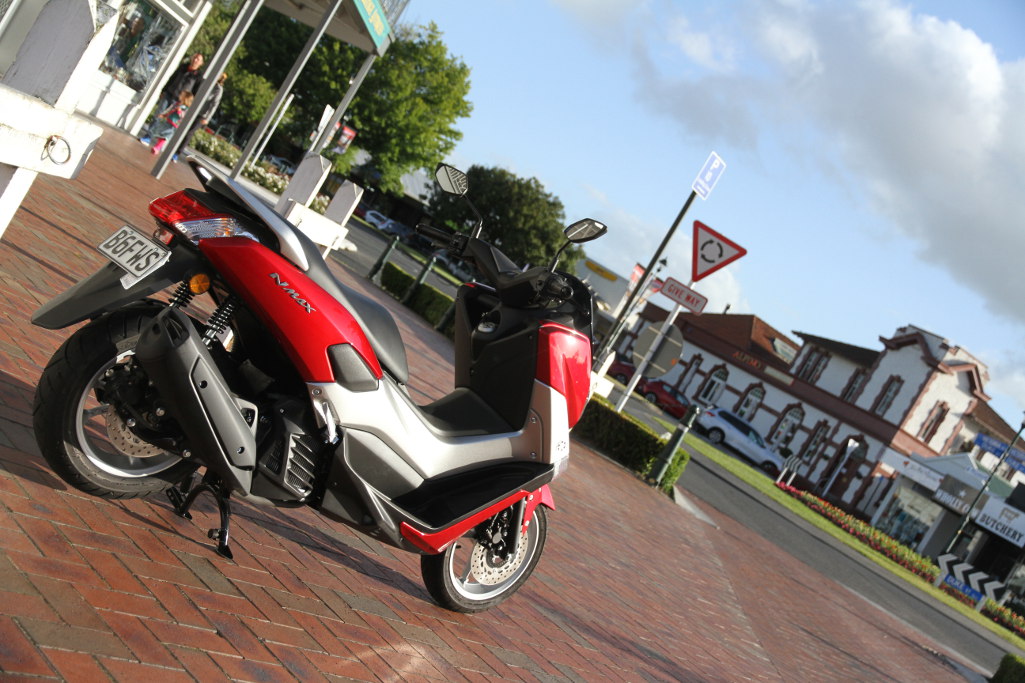 While I normally wouldn't consider riding a small capacity scooter for my open highway commute, I know which bike from the current test fleet I'll be riding home again, and it's not going to be the gas-guzzling 1000cc sports bike – the NMAX was quite a surprise.
YAMAHA NMAX SPECS
| | |
| --- | --- |
| Engine Type: | 125 cc single-cylinder, liquid-cooled, four-stroke |
| Bore x Stroke: | 52.0 x 58.7mm |
| Compression Ratio: | 11.2 : 1 |
| Lubrication System: | wet sump |
| Fuel Management: | fuel injection |
| Ignition: | TCI |
| Starter System: | electric |
| Fuel Tank Capacity: | 6.6 L |
| Transmission: | V-Belt Automatic |
| Suspension Front: | telescopic forks, 100mm travel |
| Suspension Rear: | unit swing with 90mm travel |
| Brakes Front: | hydraulic single disc, Ø 230 mm |
| Brakes Rear: | hydraulic single disc, Ø 230 mm |
| Tyres Front: | 110/70-13 |
| Tyres Rear: | 130/70-13 |
| Length: | 1955mm |
| Width: | 740mm |
| Height: | 1115mm |
| Seat Height: | 765mm |
| Wheelbase: | 1350mm |
| Ground Clearance: | 135mm |
| Wet Weight: | 127 kg with 6.6 litres of fuel |