With more power, aggressive styling and a razor-sharp chassis, the Super Duke R is going to need a serious case of self-restraint not to end you up in the big house…
Words: Roland Brown Pics: Marco Campelli and Sebas Romero
KTM's decision to hold the launch of its revamped Super Duke R at Losail was revealing. The Qatari circuit hosts MotoGP and World Superbikes, and is a popular launch venue for sports bikes. But despite its climate, the fast, featureless desert racetrack is not somewhere you'd expect to see a gang of naked roadsters glinting in the pit lane sunshine, their fat radial tyres sticky to the sidewalls. Then again, this latest version of the 1290 Super Duke R is hardly a typical naked roadster. And the reason for KTM's choice of launch venue was to emphasise that with this update they're going sportier and more aggressive; sharpening the teeth of the bike they're calling Beast 2.0.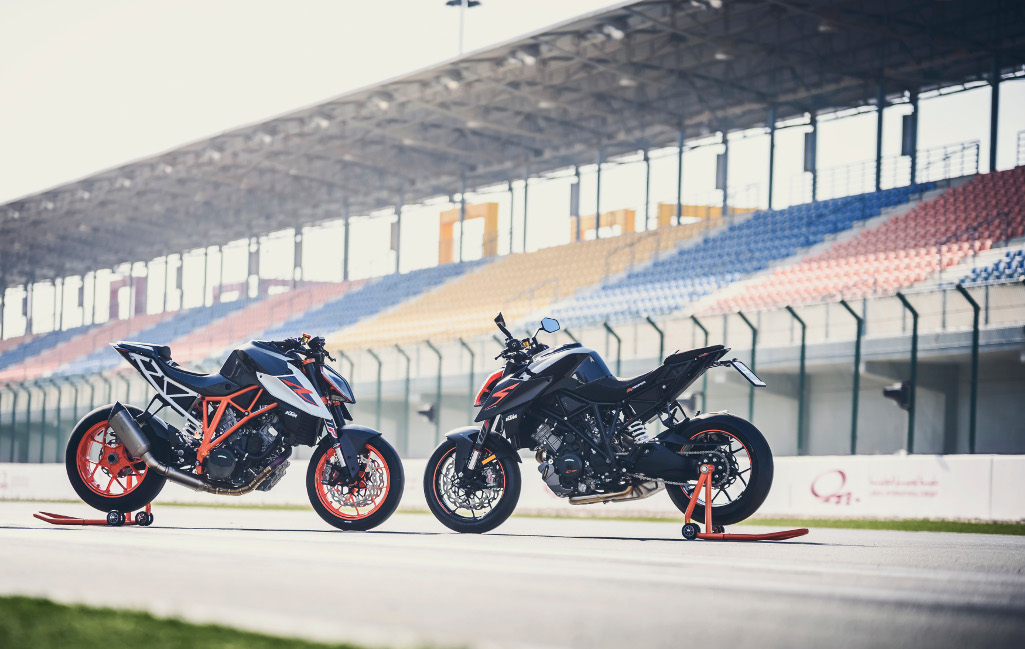 The thinking is easy to understand. With the recent arrival of the closely related and more versatile 1290 Super Duke GT, the Austrians reckoned they had the sensible side of super-naked performance sewn up. So why not sharpen the R-model's styling still further, add some power, and tweak the riding position and chassis to create an even more serious unfaired hooligan machine? There's a hint of extra aggression in the sharper, even more KTM-like styling, based around a new split-lens headlight whose aluminium central structure holds the various components and doubles as a heat sink for the LEDs. Other electrical updates include a new full-colour TFT instrument panel, plus keyless ignition, cruise control and tyre pressure warning as standard fitment.
The 1301cc, 75-degree motor is tweaked with titanium inlet valves, higher compression ratio and shorter intake trumpets. This allows an extra 500rpm, adding 4bhp to bring peak output to 174bhp at 9750rpm. To help get through Euro 4 there's also a new, stainless steel exhaust, plus resonator chambers, mounted on the cylinder heads, which are claimed to cut CO2 and improve low-rev response. There's no change to the tubular steel frame or chassis geometry, but the 48mm WP forks get stiffer springs, and the shock's standard settings are stiffened slightly with more preload and damping. As before, the brake system features Brembo's 320mm front discs and M50 Monobloc calipers, now upgraded with cornering ABS thanks to Bosch's latest IMU trickery.
Street Bike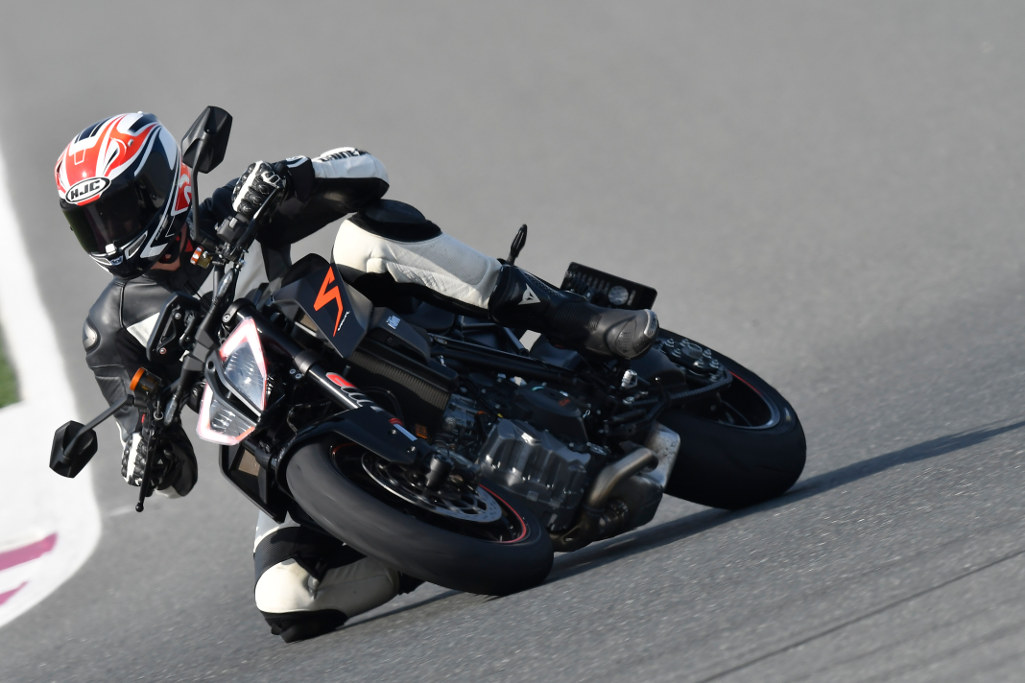 For all the Super Duke's extra R-factor it's still a naked streetbike, so I was glad to begin the launch with a short blast on the streets of Doha. The new bike felt familiar despite its more colourful screen, and it's a slightly sportier riding position from a 20mm wider one-piece handlebar that is set 5mm lower and 18.5mm further forward.
Despite its much-hyped Beast nickname, the previous 1290 was as refined as it was powerful, a far cry from its raw 990 Super Duke relations. That very much remains true of Beast 2.0, which in Street mode ripped round Doha, feeling effortlessly rapid yet very controllable thanks to its smooth, flexible low-rev power delivery.
In the lower gears it pulled sweetly from as low as 2000rpm, effortlessly storming through the midrange and keeping its front wheel down in improbably law-abiding fashion, thanks to the built-in anti-wheelie control. Given the Qatari police's harsh reputation that was probably just as well, though the launch bikes' optional Track Pack gave the opportunity to disable this while retaining the traction control.
The KTM's chassis was excellent for street use, its firmed-up but still fairly long-travel suspension (125mm up front, 156mm at the rear) giving a respectably supple ride, and the riding position still being comfortably upright and roomy. Although the 1290 has gained a few kilos (blame Euro 4) it's still light at 195kg dry, and required the lightest of nudges of the wide handlebar to get it flicking through Doha's numerous roundabouts. Its agility was welcome when a fancy limousine made a sudden right turn in front of me, and the KTM slowed and flicked past it with barely a twitch. I was glad to have the cornering ABS in the background, too, given the fierce power of the Brembo Monoblocs and the often dusty road surface, thanks to Doha's unofficial status as the world's biggest building site.
On The Track
It was with its throttle wide open on the track next day that this revamped Super Duke R got to stretch its legs properly. At Losail that superbly torquey engine was just as impressive as it had been on the street, thundering out of the smooth turns from as low as 5000rpm, and ripping up the straights with reliable help from the excellent, optional two-way quick-shifter. The KTM demolished Losail's 1.5km-long pit straight with such enthusiasm that it must have been close to its 250km/h-plus top speed. With my head on the tank trying to escape the wind, I couldn't see the display and occasionally tried to hook a non-existent seventh gear. In the Qatari heat I was glad of the cooling breeze, despite almost getting my head ripped off my shoulders. The R-model's complete lack of wind protection might not be so welcome back home; this bike is naked even by super-naked standards.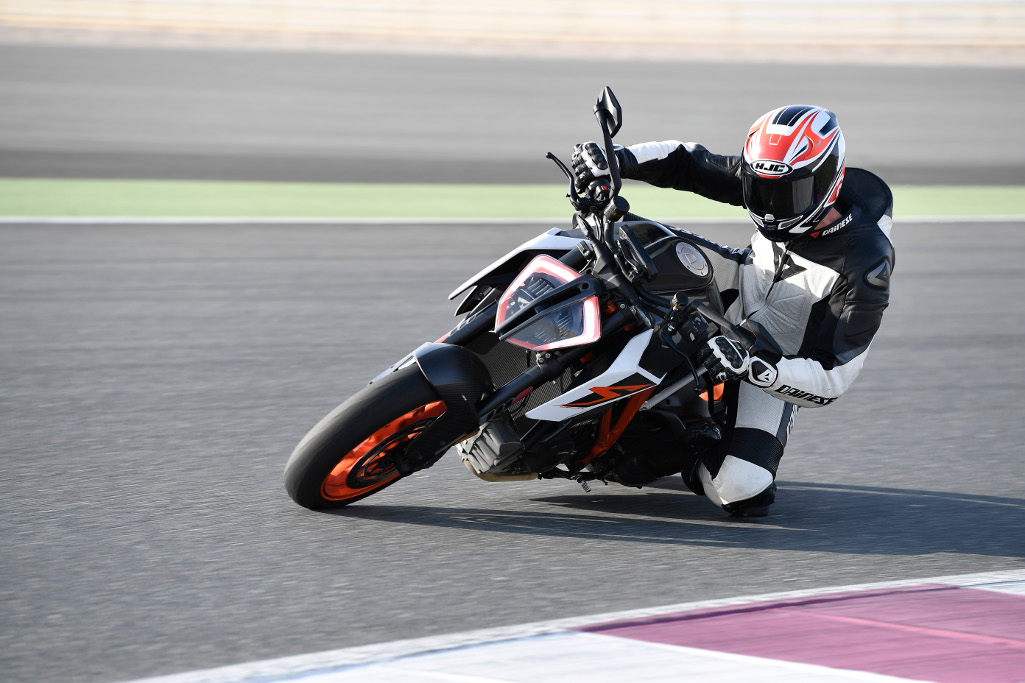 It's also pretty super, although the chassis' generous suspension travel caused a few issues, which were magnified by the grippy track surface and sticky Metzeler Racetec K3 tyres. The front end was fine, initially giving a slightly vague feel, but staying controlled even under hard braking, and responding well to being further firmed-up via the easily accessed fork-top damping adjusters. The WP shock, too, benefited from some additional preload and damping, which almost cured the bike's tendency to squat under acceleration out of the final, third-gear turn, then shake its head gently as it charged onto the straight. But for bigger or heavier riders (I'm 1.93m and 85kg) the long-travel rear end was still slightly soft. A stiffer spring like that of the race-kitted bike we also rode would help. Better still would be a semi-active system like that of the Super Duke GT.
Smaller or lighter riders probably won't have a problem, and to be fair the KTM's compliant chassis won't detract from its ability as a fearsomely fast and capable streetbike. Project leader Hermann Sporn estimates that fewer than one in five of the outgoing model's owners ever venture on track. Even they would possibly opt for superior pothole-smoothing ability over a firmer ride.
As it is, even this racier Super Duke R should prove to be a respectably good road going all-rounder, in mild weather at least, as well as an exhilarating occasional track bike. It's slightly more powerful despite having to comply with Euro 4. It's firmer but not too firm; its electronics are usefully upgraded; its styling is visually stunning, if no aid to practicality. And if some potential owners will be unimpressed to find that many of the new functions are optional extras, that seems fair enough given that in many markets the basic price hasn't changed since the original 1290's launch three years ago. That original Beast was thrillingly wild yet improbably sophisticated, and Beast 2.0 goes a step further in both directions. If you liked the original movie, you'll love the sequel.