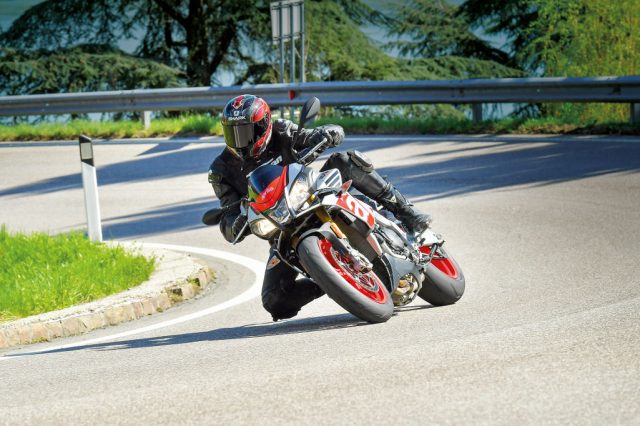 Fifteen years later, the café high in the Italian hills is different and so is the naked Aprilia that I've just parked outside, its fat Pirellis hot and sticky to the sidewalls. But the Tuono name on the bodywork is the same, and so is the feeling that once again I've just been riding the fastest and best sit-up-and-beg superbike that the world has ever seen.
That conclusion was not in doubt last time, outside the Caffè Mokarico in Tuscany in spring 2002. Back then, Aprilia had essentially just founded the hyper-naked class by removing the fairing from the RSV Mille sports bike and bolting on a raised handlebar instead of clip-ons to create the original Tuono, making that rorty V-twin the undisputed Number One in a class of one.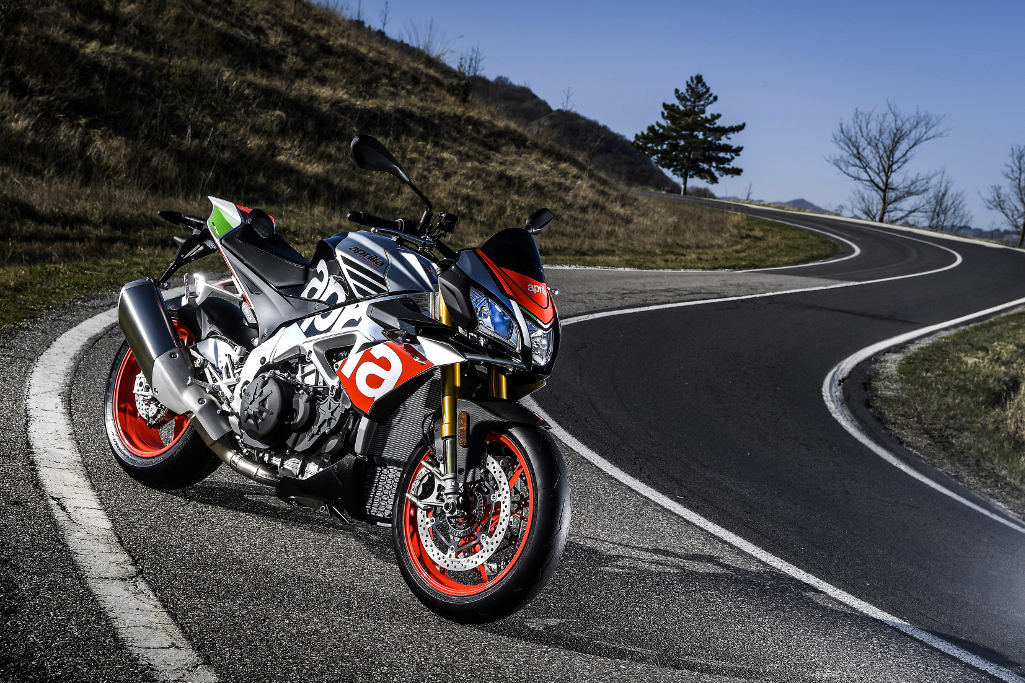 The competition is much fiercer these days; the level of performance far higher; any conclusions less sure. But after a memorable blast to reach the Costa Salici restaurant in the Alpine foothills north of Trento, it's not just the adrenaline in my blood and the V4 thunder still echoing in my ears that are persuading me that this latest Tuono Factory is the current unofficial holder of that ultimate hyper-naked crown.
The Factory will certainly take some beating in any head-to-head with the likes of BMW's S1000R, Ducati's Monster 1200R or KTM's 1290 Super Duke R, because Aprilia's challenger was already at a seriously high level. In its unchanged Superpole colour scheme the Factory looks almost identical to last year's model – in fact its new Euro 4 legal silencer is slightly bigger, and the heavier exhaust is the main reason that the bike has gained 2.5kg overall. But there are plenty of mostly invisible changes that make the Tuono better than ever.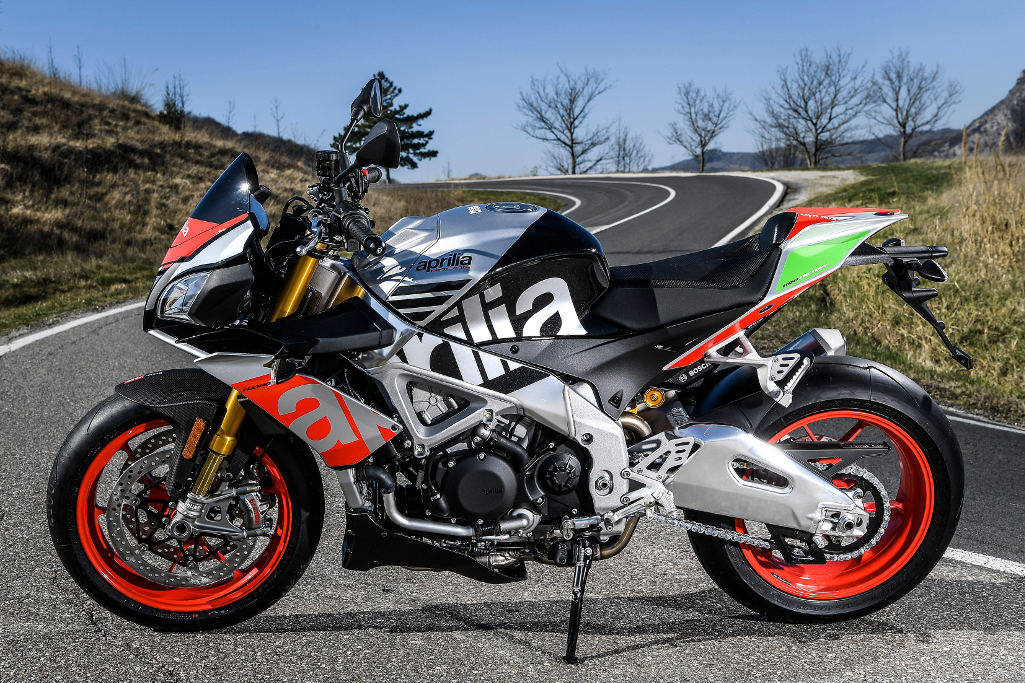 Aprilia concentrated on three areas for this update: engine, chassis and electronics. The 1077cc, DOHC 65-degree V4 powerplant was tweaked slightly with the main aim of getting the Tuono through Euro 4 without losing performance. Internal friction was reduced with DLC (Diamond Like Carbon) coating on piston pins, and a honing treatment on the conrods. Combined with a new ECU and revised cam timing this allowed the engine to rev 500rpm higher, but there's no change to the claimed maximum output of 173bhp at 11,000rpm.
The twin-spar aluminium frame and swing-arm are also retained, but the Factory (as before there's also a less expensively kitted 1100 RR model) gets new Öhlins NIX30 forks. These have slightly lighter springs, and save 800 grams over the Swedish firm's previous units. Öhlins also provides the unchanged, remote-reservoir rear shock and adjustable steering damper.
Biggest chassis change to both models is to the front brake, which is upgraded with bigger, 330mm discs, plus Brembo's higher-spec M50 (instead of 4.32) Monobloc calipers and radial master cylinder plumbed with steel hose. The system also gains cornering ABS, controlled via the Bosch 9.1 IMU on which the Tuono's electronics update is based.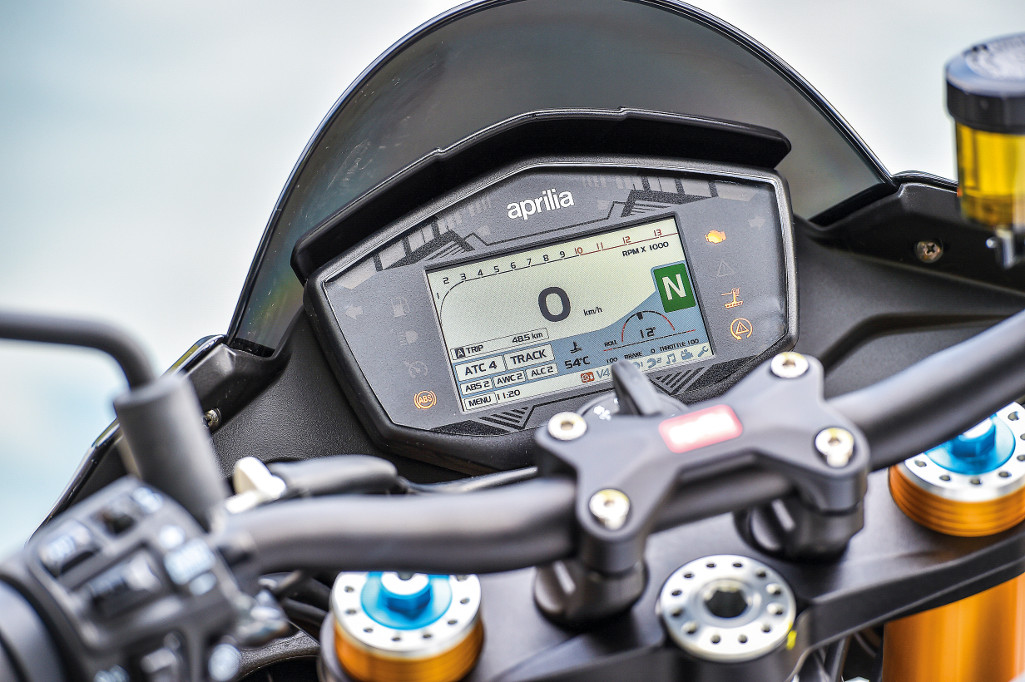 Most obvious change is the new, colourful TFT instrument panel, which gives a choice of Road or Race displays (plus day or night options for each), and shows the bike's lean angle as well as fuel consumption and the settings of the APRC functions. As well as three riding modes, there are options for ABS, anti-wheelie, plus the eight-way adjustable traction control, set as before by paddles on the left bar. The electronic update also includes a faster-acting gearbox quick-shifter that now incorporates an auto-blipper for down-changes.
That cool new dash made the Tuono Factory's fairly tall, one-and-a-bit person seat ­– there's a small pad that fits to the tailpiece, so you can actually take a brave pillion for short distances – an even better place to be. I fired up the engine, selected Sport mode (the options are Track and Race, not Rain – this is the Tuono, remember) and followed Aprilia's lead rider northwards towards the mountains.
Even at a relatively gentle pace, as we dialled-in brains and warmed tyres, the Tuono felt fantastic. It responded sweetly from low down, and short-shifted effortlessly (and clutchlessly) through the box. It even seemed respectably roomy and comfortable, and gave some wind protection although I'm not sure I'd want to be trying its new cruise control on a dull road for long.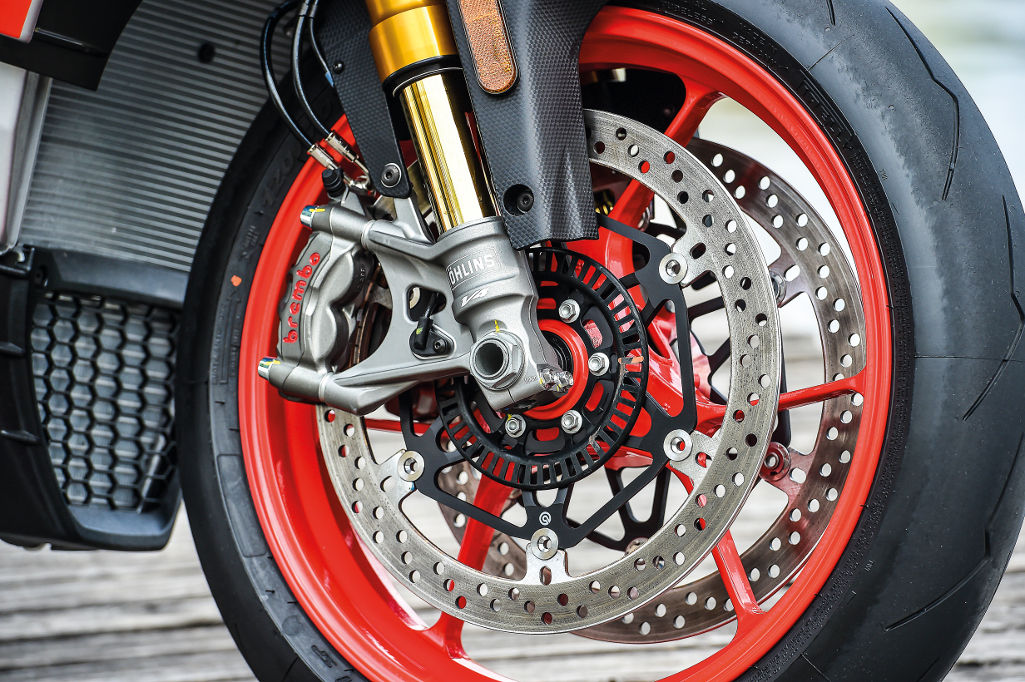 That restrained pace lasted only until it was time to turn off into the hills. Despite those couple of extra kilos the Factory is light at 209kg wet. With its wide bars and upright riding position it felt like a classically simple naked middleweight – but one that kicked like a supercharged stallion when I tweaked the loud handle, storming off with a delicious V4 moan from its exhaust, and a brief lift of front wheel because I'd set the wheelie control on its minimum.
It's a shame the launch didn't include a track session because we rarely needed to use more than third gear on those twisty hill roads, and never got close to the Tuono's maximum of 280km/h plus. It put 200km/h on that digital display mighty fast, though, and was magical in the way that it lifted its front wheel out of second-gear turns, and carried it down the next straight on pure acceleration, the electronics as usual helping rather than hindering the experience.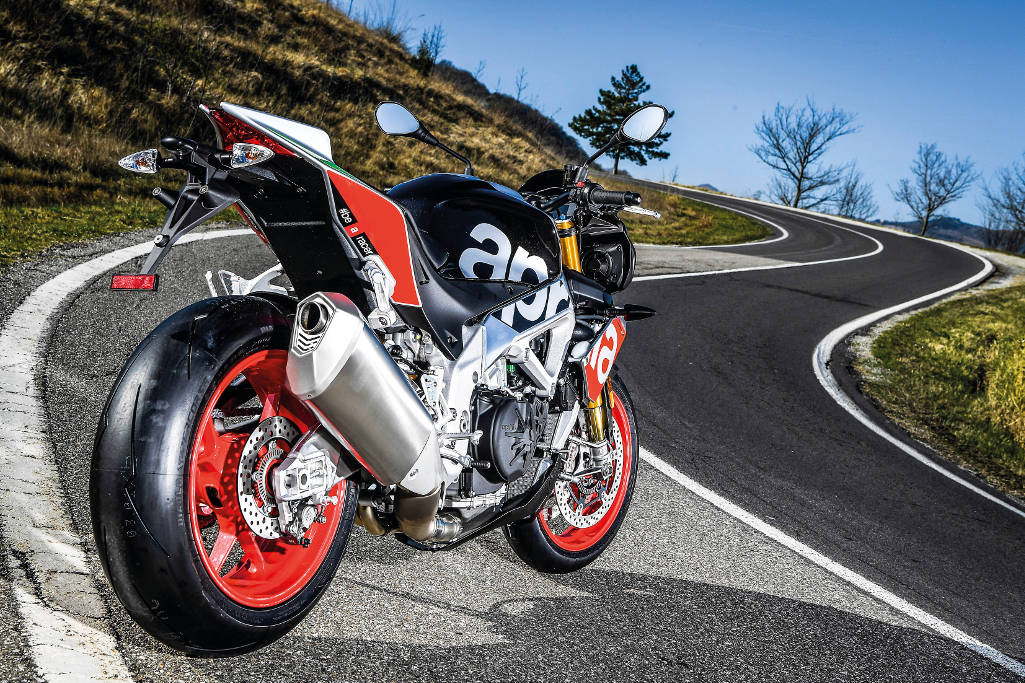 There's no single aspect of the Tuono that makes the bike brilliant. What stands out is the way its engine performance, sound, handling, braking ability and rider-friendly interface combine to make riding it so magical. The engine itself didn't feel any different to last year's but that was fine because it's an absolute star: stunningly powerful, obviously, but also deliciously sweet-revving and smooth, and so gloriously grunty that it pulled from just about anywhere.
The Factory was also outrageously controllable for such a powerful device due to its fast-acting and finely adjustable electronic systems: the traction control with those handy paddles for left thumb and fore-finger, and the wheelie control that can now be fine-tuned with its own button on the left bar (unless you prefer to set that button to adjust the cruise control). Oh, and of course the motor is improved, by the quick-shifter whose auto-blipper allowed seamless, throttle-open changes both up and down through the box.
Aprilia's electronics continue to set the superbike standard for both performance and ease of use. All the rider aids can be quickly adjusted, or turned off if you don't want them. The Tuono also follows the RSV4 in being equipped for Aprilia's V4 Multimedia Platform, which connects to a phone via Bluetooth to give track lap-times automatically via GPS, and allow traction control and wheelie control to be fine-tuned for individual sections of leading circuits.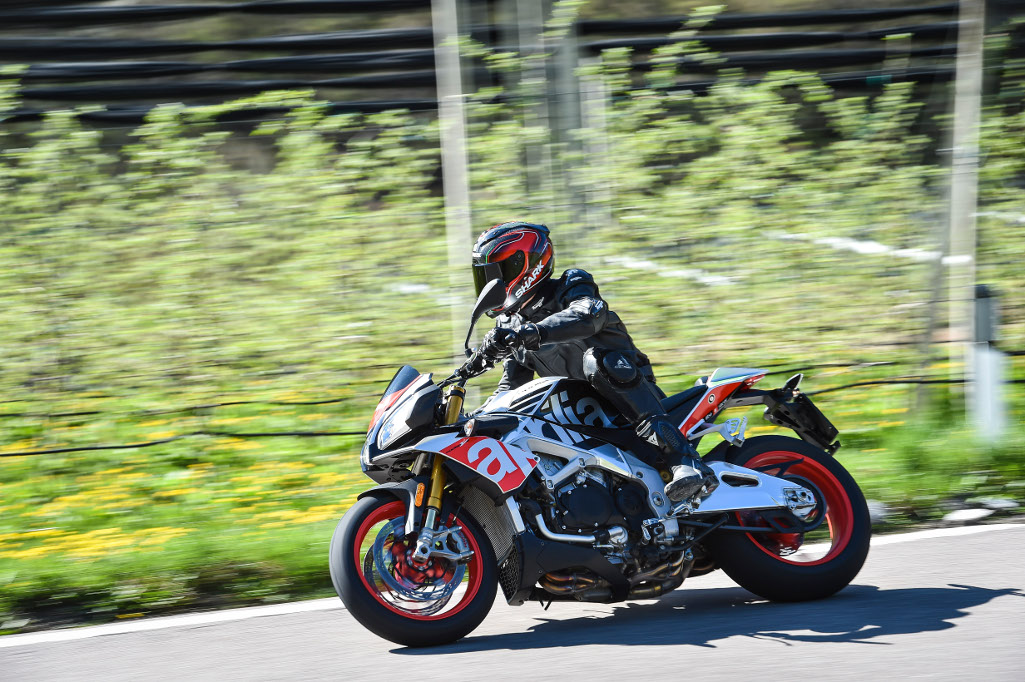 The Tuono Factory's chassis performance is also state-of-the-art, at least for a conventional suspension set-up. When we set off I was mildly disappointed that Aprilia haven't gone to a semi-active system. But the Öhlins units combined superb damping control with excellent ride quality, to the point where I had to wonder whether the extra complexity, weight and expense of semi-active would be worthwhile on such a sporty bike.
In town the Factory felt so composed that either the roads were much smoother than they looked or the Swedish suspension was superbly supple over small bumps. (I'd bet on the latter.) At higher speed up in the hills, the bike remained wonderfully taut as its sticky, 200-section rear Supercorsa SP was putting down serious torque, seemingly without coming even close to making the rear shock lose control.
Braking was predictably excellent, too. The ABS system initially cut in slightly early, but only because it had been left in the most intrusive, wet-roads setting. Changing to the Sport setting fixed that, and was ideal for the road. Toggling to Track disabled rear-wheel and cornering ABS plus the anti-stoppie function. That allowed the stunningly powerful M50 calipers to bite hard enough to lift the rear wheel at speed, when I snuck off on my own for a brief main-road blast during the photo session.
That diversion later resulted in the fuel light coming on before we'd finished the launch route, necessitating a quick top-up and confirming that even the 2014 V4R update's larger, 18.5-litre tank and thicker seat, which the 1100 inherited, didn't turn the Tuono into anything remotely resembling a sports-tourer. But that's okay because both tank and seat are good for a reasonable 200km or so even when the thirsty V4 is gulping gas at 8 l/100km.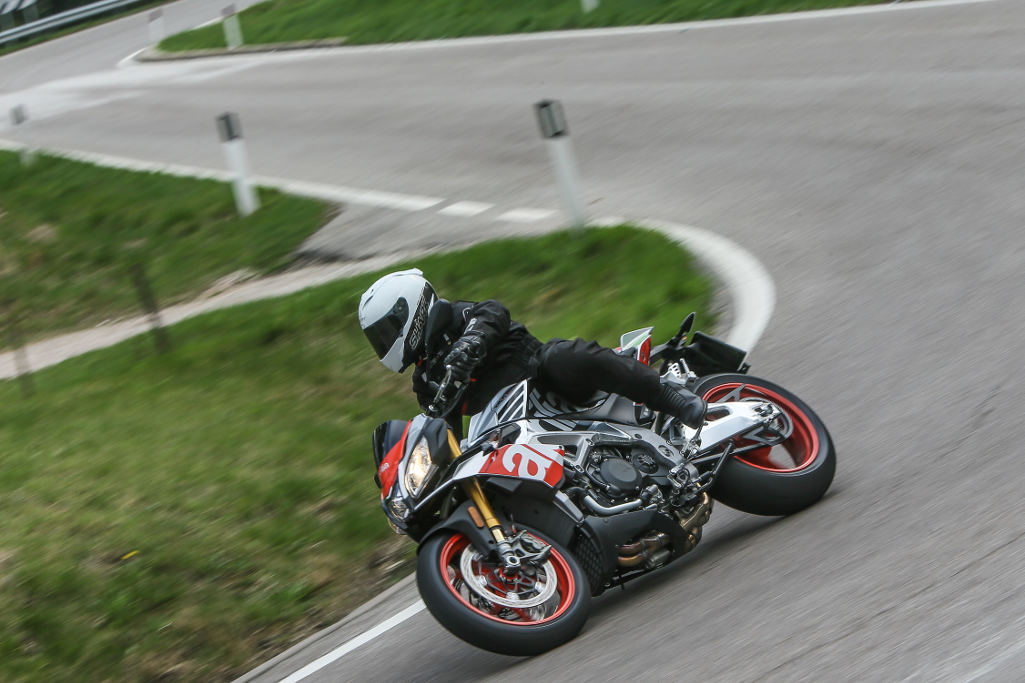 And besides, the Tuono Factory is such brilliant, wired-to-the-nervous-system fun that I'd happily do whatever was necessary just to feel that almost endless, vicious-yet-controllable acceleration, hear that soulful V4 moan as the revs rise, snick through that sugar-sweet box WFO with a tap of left boot, and flick that deliciously agile, sharp-steering bike through another set of bends with its brakes, suspension and tyres providing an almost ridiculous level of speed, feedback and control.
Inevitably there's a price to pay for all this, and not just at the petrol pump. The Tuono Factory is not merely expensive by naked bike standards, it's right up there with plenty of well-equipped super-sports bikes. But why on earth shouldn't it be, when it combines more useable everyday ergonomics with similar performance and a higher level of rider-friendly technology than just about anything else on wheels?
In the Factory's defence, it's considerably less expensive than its similarly equipped (if admittedly even more powerful) RSV4 RF super-sports sibling, and unlike some naked rivals requires no options or accessories to reveal its potential. Fifteen years after the original Tuono redefined what a "naked" bike could do, the V4 1100 Factory confirms how far the class has come – and takes sit-up-and-beg superbiking to a gloriously high level of performance and pure riding enjoyment in the process.
Words: Roland Brown Pics: Milagro