How does a bike survive 30 years in the marketplace with few major changes? We jumped on the 2017 Kawasaki KLR650 to find out what makes it so special…
Words: Mat Photos: Paul
Sometimes, we humans are a weird bunch. While year on year we spend thousands on acquiring the latest and best tech we can get our grubby hands on, simple bikes like the venerable KLR650 from Kawasaki, arguably the complete opposite to the trend of digital this and electronic that, still sell in large numbers. What the heck is going on there?
The Tuatara of Motorcycling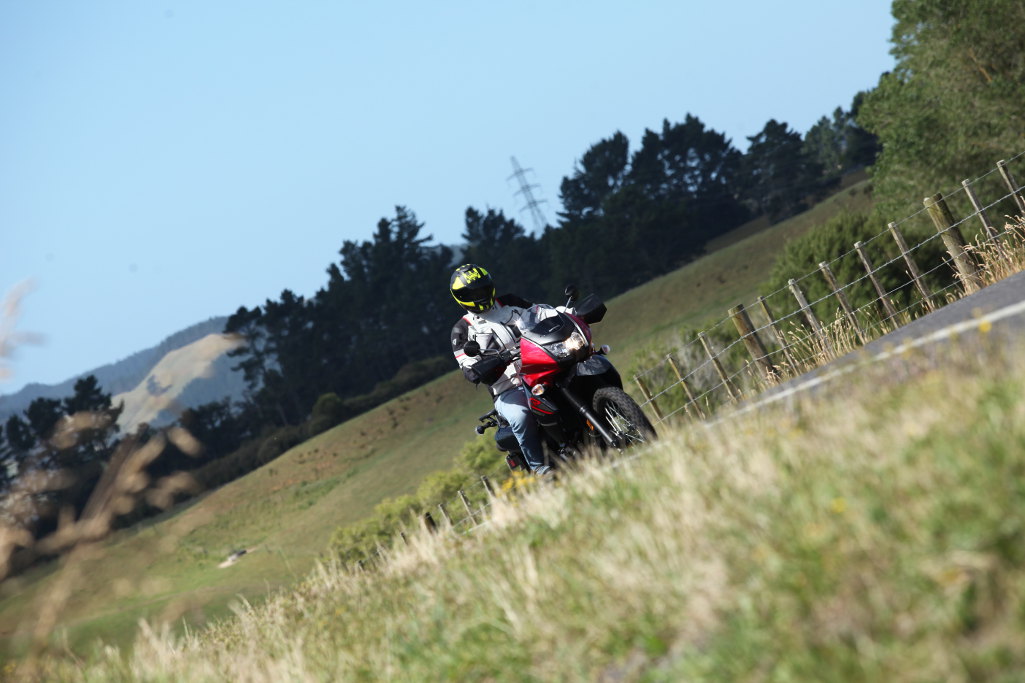 The KLR, now in its 30th year of production, is quite possibly one of the most straightforward bikes still on the market today. Over the past 30 years, little has comparatively changed when compared to other models in the same segment. That said, if there is a bike that represents the theme of "evolution over revolution", it's the KLR.
Like the Tuatara, the KLR is a creature of another time. There's no fancy digital instrumentation aboard, with even a basic amenity like a fuel gauge for the massive 22 litre fuel tank nowhere in sight. It still even pumps its fuel through a carburettor, which, while it may sound a bit backward, means there is quite literally no impossible to decipher electronics to overcome if you have to repair the bike out the back of nowhere – which is exactly where the KLR can take you should you wish.
In fact, it took 21 years for the KLR650 to see a decent update, with the bike getting a whole new look up front and refined performance all round. Yet the same strong principles of the design remained and no fancy electronics were added to the near bulletproof bike. Why completely redesign something if it doesn't need it?
Swinging a leg over the tall 890mm high seat and switching on the ignition there is an unfamiliar silence. Since the KLR is still rocking a carburettor, so there's no electronic fuel pump which noisily primes up in the KLR, just silence until you hit the starter. Being a carby bike, you may need to pull the equally rare choke lever back to keep the big single cylinder pounding as you warm the bike up, but to me this was added a bit of charm to the bike. It's just one of those small things we've lost with the mass uptake of electronic fuel injection, but for some reason (namely nostalgia) is enjoyable now that it's no longer the norm.
Evolution over revolution
Over the years the KLR has benefitted from a variety of upgrades, with the most obvious coming in 2008 with a new look to the front end for the bike and minor tweaks to the suspension. It's hard to believe that this last massive upgrade happened nearly a decade ago.
In the 2008 update, the KLR changed from a machine looking like a farm bike with a number plate, to a bike that looks like it'll comfortably take you around the world.
The trailbike look got the chop and a fairing – complete with windscreen – took its place. The square headlight also got the axe in favour for a pair of lights in the fairing, undoubtedly adding better visibility at night over the solo bulb that they replaced. Since then the majority of updates have come in new colour schemes and more fine tuning of the suspension settings, which were quite good for my 102kilo frame over our rural highways.
It's definitely moved more in the tourer direction than a trailie with indicators. Obviously, the screen is one hat-tip to this but taking a look at the rubberised footpegs you can see the KLR has become a slightly more civilised machine than its initial incarnation.
If it ain't broke, don't fix it
Coming all the way through its 30 year life (so far) is its 651cc dual overhead cam single-cylinder engine. Sure, it's had minor tweaks to improve reliability, but as it sits it is still essentially the same thumper that debuted in the late 1980s. For a big single with such deep roots, it is remarkably smooth, as far as singles go. That's thanks to its dual balancing shafts that neutralise the majority of vibes. If you rev the engine out to the redline those traditional single cylinder characteristics start to show through, with noticeable vibes pulsing through the wide bars, and footpegs to your extremities.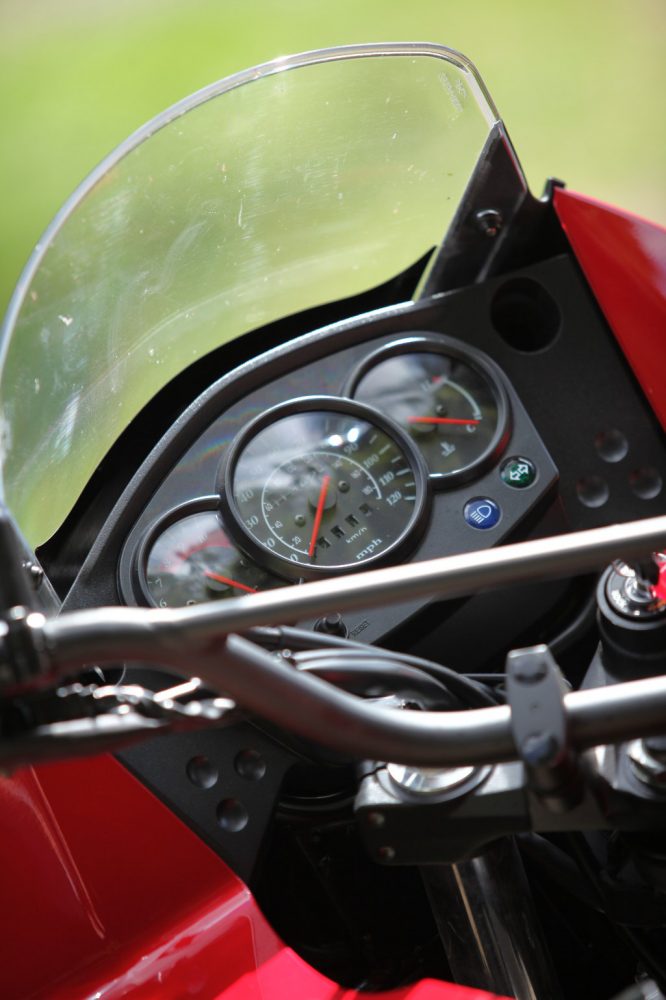 For me at least, the KLR produces enough power to keep you entertained on the open road. With 43hp and 50Nm of grunt it's not a powerhouse, but it can get up and go and once in top gear; in this case, that's fifth and you can essentially just leave it there on the highways. Unlike a lot of other bikes, you can actually feel the KLR reach its peak torque figure just above 5,000 rpm, just 2500rpm away from the 7500rpm redline.
The same could be said for the bike's subframe, which is eerily similar to the 1987 bike. The major update there has been the tweaking of the factory supplied rear carrier, which has changed materials and colour a few times over.
Riding between the office in Paeroa and my home in Cambridge, I was surprised to find myself looking down every side road for a completely different reason than normal. Yes, I was still looking out for a rogue car or truck which I might have to avoid, but what I was really searching for was a chance to take the KLR into its natural habitat, our vast array of gravel roads… To my annoyance, it seems I picked the wrong part of the Waikato for unsealed roads, with a quick search on Google maps revealing a severe lack of gravel around Cambridge. I might have to borrow this machine again for a trip up to Port Jackson to really test out its gravel chops.
With 200mm of stroke in the 41mm conventional forks, there's plenty there to absorb the pot holes found on our less maintained roads despite its more road focused settings these days. An old complaint for the KLR was just how soft and squishy the suspension as a whole was, with riders who took it off road finding the bump stops easily, while on road riders found it didn't leave them with a lot of feel as it wallowed its way around the streets. This was addressed in the 2008 redesign as well as being constantly tweaked from year to year. Personally, I found them pretty dialled in for my uses; although I didn't throw a pillion on the back to test out how it does under loads, which it is meant to be quite good at.
Braking comes via a single 280mm petal brake disc with twin piston caliper up front and a 240mm petal disc and single piston out back. On the road they're adequate, but not earth shattering. A good squeeze of the front is needed to bring you to a stop in a hurry on the road, but considering there's no ABS they'll prove pretty handy on a gravel road.
Accessorise, accessorise, accessorise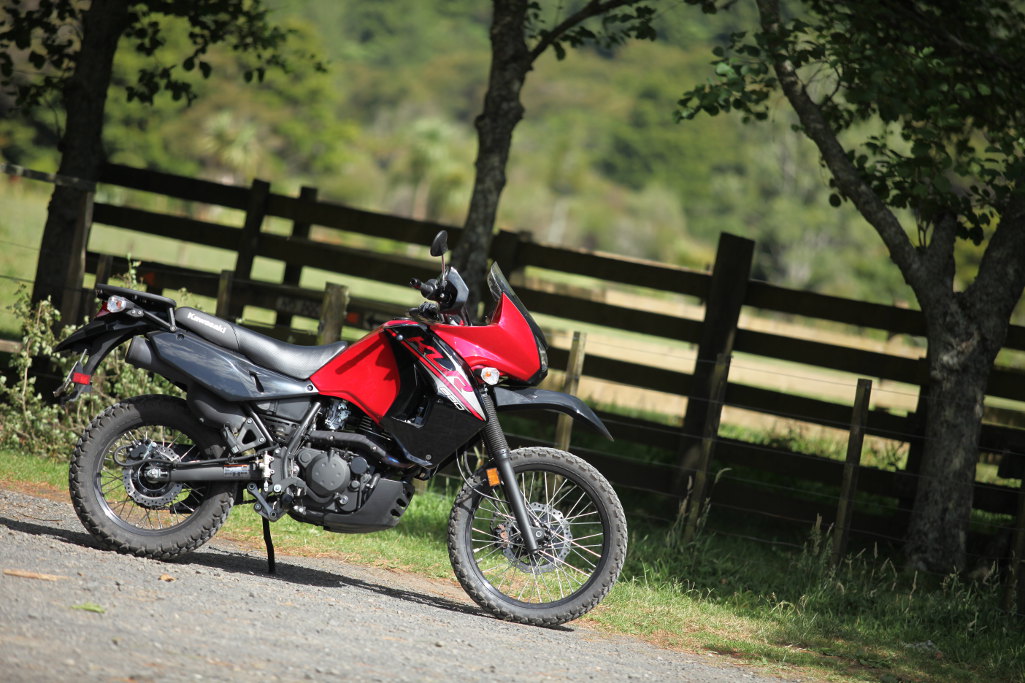 Perhaps the greatest benefit of having a production run measured in decades is the huge range of aftermarket parts that are available for the KLR at an affordable price. Just like the bike itself, which Kawasaki have kept affordable by holding off massive regular updates, the aftermarket is filled with parts that are, especially when compared to accessories for other newer designs.
If you see yourself hitting the gravel roads that take you out to see the lesser experienced parts of our fine country, I'd definitely recommend hitting up the aftermarket for some bike protection parts. Straight out of the box, the KLR650 comes with a plastic 'sump guard' and hand guards, though these won't do much in the protection stakes should you take a tumble. The highly efficient radiator is also vulnerable in a fall, with only the plastic fairing and a plastic stone guard to protect it. You can replace all the above quite affordably with either Kawasaki genuine parts or non-OEM manufactured items. If the KLR has one major downside for off-roading it would have to be its curb weight of 196kilos. Not only is that heavy to pick up, it's 31 kilos heavier than its nearest competitor, Suzuki's similarly long-lived DR650. That said, the KLR not only has a bigger fuel tank than the zook, but also much better rider protection off the showroom floor. It's just one of those compromises you'll always find on a bike like this anyway.
Rugged reliable roamer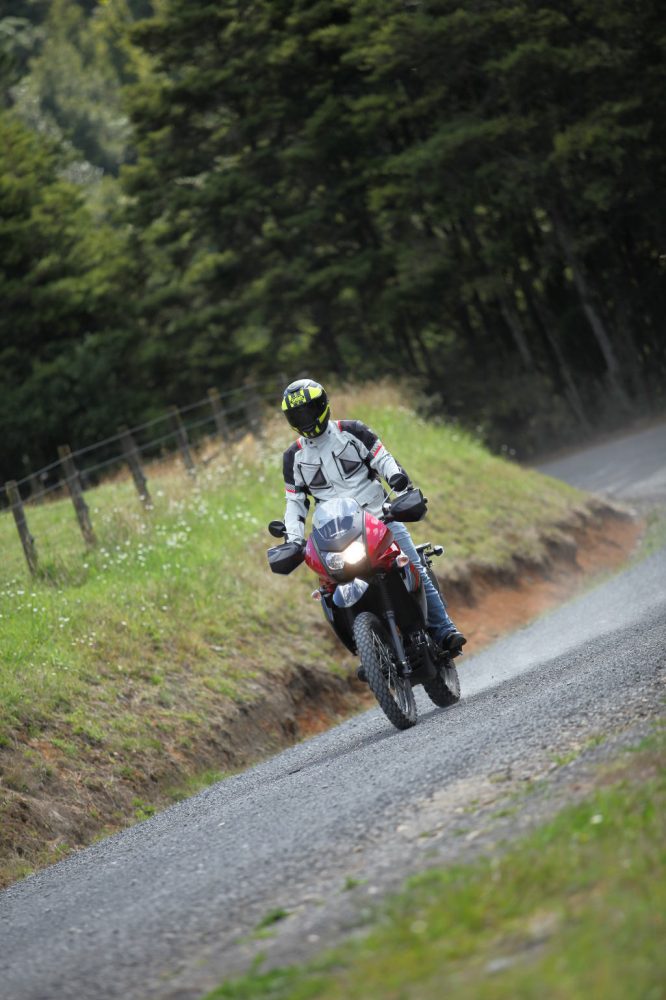 The thing with the KLR is it is a survivor through and through. While other bikes in the class have moved forward and now offer oodles of tech, that comes at a cost – and I'm not talking money. You see when you want a reliable easy to live with motorcycle, all that fancy tech, however useful, can become a major pain if you manage to break it. That's where the KLR's longevity and old-school simple tech becomes an asset. If it breaks, you can fix it with a couple of zip ties, a bit of duct tape and some twigs if need be – but it does have a rather comprehensive toolkit strapped into the luggage rack, too.
How far can you go on that big ol' gas tank? Well, with that massive 22 litre fuel tank you'd expect the KLR to have a pretty decent fuel range – and you'd be right. Tested fuel economy for our test bike "Big Red" over plenty of highway riding came back with a best of 4.95L/100km. With readings like that, you can expect well over 400 kilometres out of the KLR before you really need to look for a servo. Being a carby machine, you can also be a little bit flexible with your choice of fuels, meaning it's not the end of the world if there's only 91 available out the back of beyond.
It's been somewhat of a surprise for me just how good the KLR is. Yes, it's a bit old-hat, but that's all part of its charm. If you're looking for a bike that can take you nearly anywhere and have a tight budget, you've got to take a closer look at the KLR.
2017 Kawasaki KLR650
| | |
| --- | --- |
| Engine: | 651cc liquid-cooled, 4-stroke single cylinder |
| Bore and Stroke: | 100 x 83mm |
| Compression ratio: | 9.8:1 |
| Valve system: | DOHC, 4-Valve |
| Fuel System: | Keihin CVK40 Carburettor |
| Ignition: | Full transistor |
| Starting: | Electric |
| Lubrication: | Forced lubrication, wet sump |
| Max power: | 43 hp at 6,500rpm |
| Maximum torque: | 50 Nm at 5,500rpm |
| Transmission: | 5-speed, return |
| Clutch: | Wet multi-disc, manual |
| Final drive: | Chain |
| Frame: | Semi double cradle, high tensile steel tube |
| Wheel travel | 200mm front, 185mm rear |
| Tyres: | Front-90/90×21, Rear-130/80×17 |
| Caster (rake): | 28 degrees |
| Trail: | 112mm |
| Suspension front: | 41mm telescopic fork |
| Suspension rear: | Uni-Trak, single shock |
| Brakes front: | Single 280mm petal disc with dual piston caliper |
| Brakes rear: | Single 240mm petal disc, single piston caliper |
| Overall length: | 2,295mm |
| Overall width: | 960mm |
| Overall height: | 1,350mm |
| Wheelbase: | 1,480mm |
| Seat height: | 890mm |
| Kerb mass: | 196 kg |
| Fuel capacity: | 22-litres |