Roland checks out two versions of BMW's legendary GS and discovers the changes have diversified the flat-twin adventure bike more than ever before.
Words: Roland Brown Pics: Markus Jahn and Jörg Künstle
"If you want to ride the more challenging off-road route you need to wear motocross boots," the BMW lady had insisted, politely but firmly, before we set off. I'm glad of my hefty footwear as I take a quick dab, then bash my boot on a rock as the GS grunts out of a rut with a shower of stones, before charging on up a bumpy dirt trail in the hills near Almeria.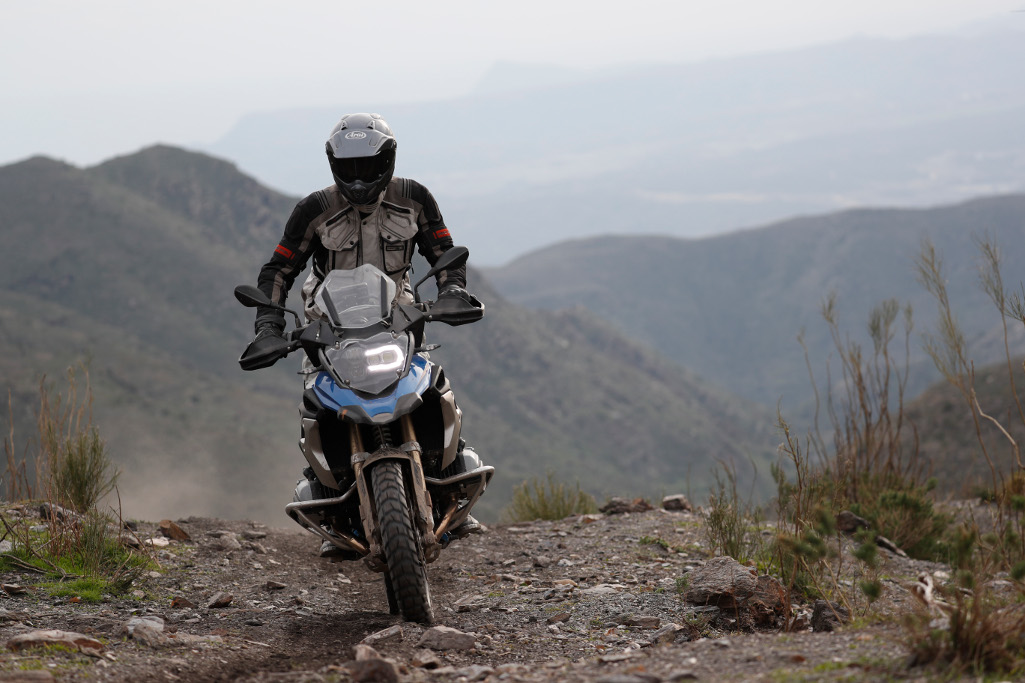 Sturdy boots are useful in such situations, but what's helping most on this fantastic afternoon's dirt riding in southern Spain is the bike. BMW is billing the R1200GS Rallye as the "sportiest series production GS of all time", by which they're referring to its unprecedented off-road ability. And it's difficult to argue with that.
Along with comparably well-equipped but contrastingly street-focused GS Exclusive that we've already tested on the local Andalusian roads, the Rallye represents an attempt to broaden the boxer's appeal still further with more precisely targeted models.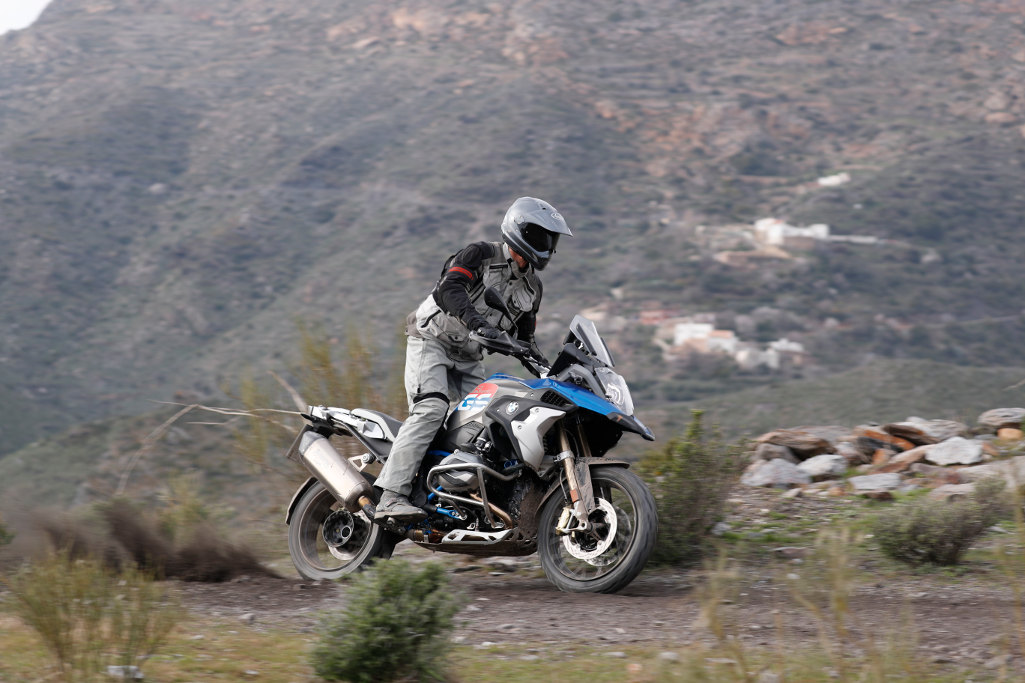 "The GS is known as a motorbike you can do everything with, and our idea was to enlarge this, or at least to give the customer more choice," says Reiner Fings, the GS Product Manager. "We now have so many GS customers, and everybody is different. So we took the chance to offer the GS in a range that is more diverse and interesting."
The most obvious example of this approach is the Rallye, which has been designed as the most off-road ready standard GS yet. There's a hint of BMW's Motorsport tradition in the Rallye's blue paintwork and frame, and the bike gets a sportier look from its lower screen, a slimmer seat designed to work better when standing up, wider enduro footrests and plastic frame protectors.
The Rallye also comes with radiator guards to protect against stones, and cross-spoke wheels that can be fitted with knobbly rubber at no extra charge. The launch bikes were all the more expensive Rallye Sport model available in some markets, which includes dirt-friendly options including Dynamic Traction Control (more sophisticated than the base-model's Automatic Stability Control), and Riding Modes Pro, which has additional Enduro settings.
The launch bikes also incorporated some options that the Sport package doesn't include, notably engine bars, an aluminium bash-plate, longer and stiffer sports suspension, plus Dynamic ESA "Next Generation", an evolution of BMW's semi-active suspension system. This does away with the previous ESA's manually adjusted rear shock preload, instead sensing the bike's load and automatically adjusting preload to suit, in similar fashion to the system introduced by Aprilia four years ago on the Caponord 1200.
Some adventure bike launches barely include off-road riding but BMW gave the Rallye a chance to show what it could do by choosing a route that was almost exclusively on dirt, with some deeper sand, serious ruts and hefty boulders along the way. Many bikes would have struggled but the GS lived up to its billing, getting everyone round with impressively few tip-overs and huge amount of entertainment.
That big boxer engine, essentially unchanged apart from Euro 4 tweaks, and still putting out a max of 125bhp, was as useful an accomplice as ever. It grunted out its torque and found improbable amounts of grip on the loosest surfaces, with the assistance of the knobbly Metzeler Karoo III tyres and superbly refined traction control system.
Selecting Enduro mode puts throttle response, traction control and suspension and ABS into off-road mode, and at one stop I fitted the under-seat dongle (part of the Riding Modes Pro option) that actives Enduro Pro, with its extra fine-tuning options. The Rallye Sport includes the optional Gear Shift Assist Pro quick-shifter, which was very welcome although when standing on the pegs I still sometimes struggled to get my big motocross boot under the lever to change up. At least as simple stamp was all I needed to change down, accompanied by a reassuring crackle from the auto-blipper.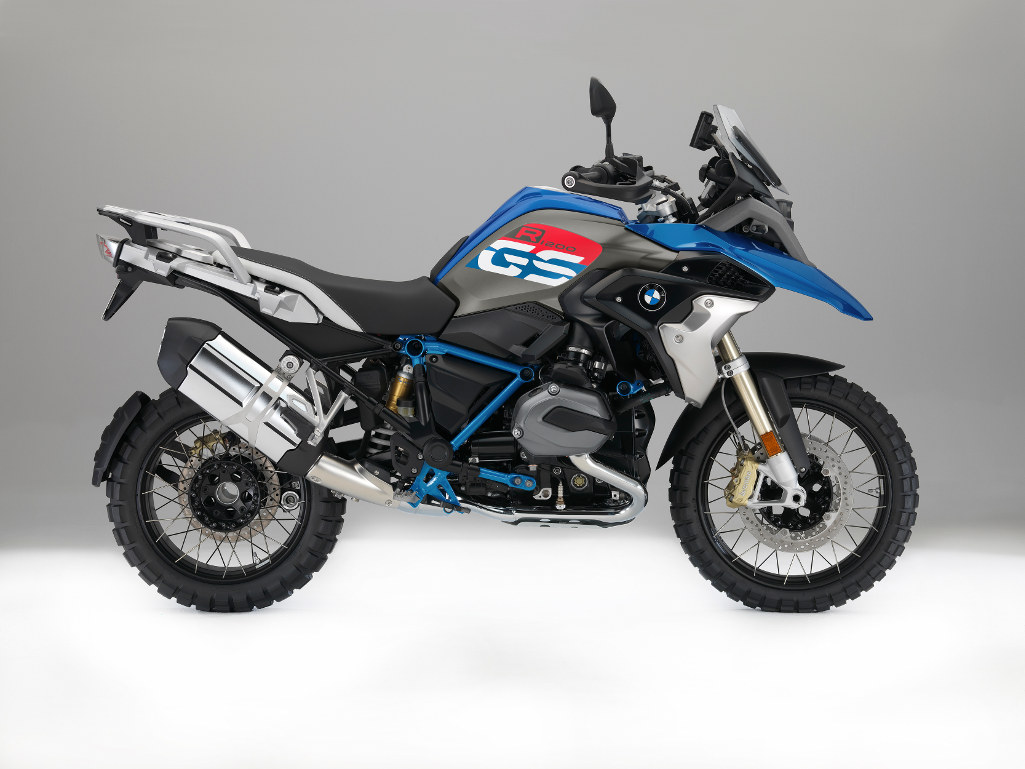 The stiffer, longer-travel suspension coped brilliantly with the bumpy terrain, helping the BMW over the ruts and bumps, and managing to make it seem improbably agile for a tall, shaft-drive machine that weighs roughly 250kg with fuel. Although you can't afford to forget about the weight, the GS's versatility and off-road ability for such a big bike is remarkable.
R1200GS TE Exclusive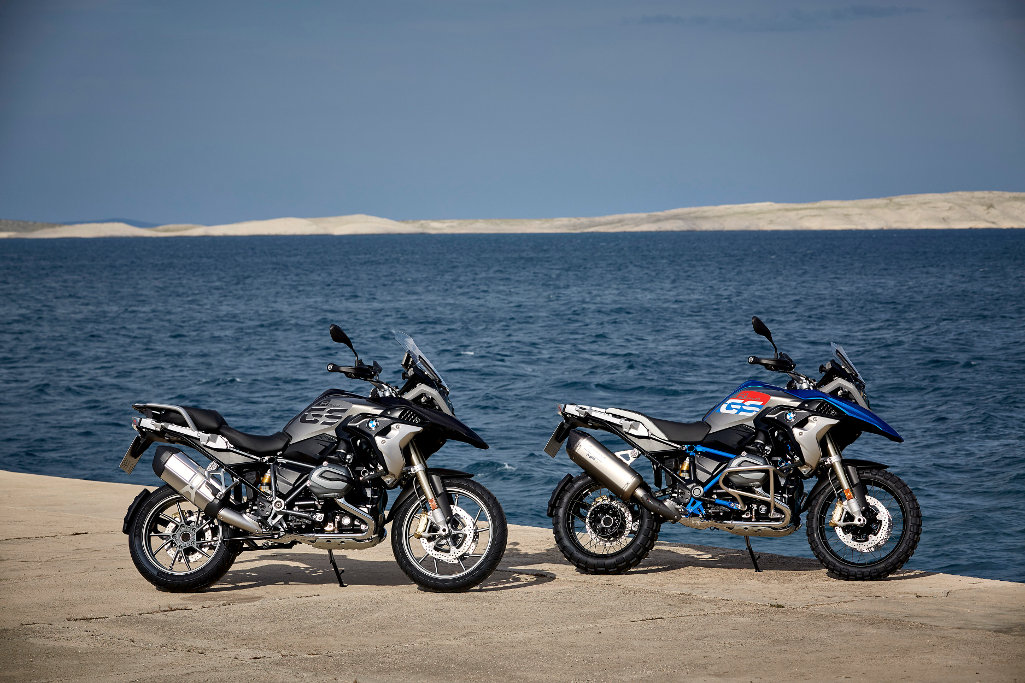 By contrast, the GS Exclusive that we tested on the Almeria roads in the morning is a similarly high-end boxer aimed at a very different type of rider. The Exclusive is essentially a cosmetic revamp of the normal R1200GS TE, the upmarket version of the standard boxer. It's essentially a cosmetic upgrade, finished in "distinguished" Iced Chocolate metallic paintwork – possibly the first time that a giant choc-ice has been advertised as remotely posh.
Like the TE version of the standard GS, the Exclusive incorporates a host of optional parts, most significant of which is the Dynamic ESA Next Generation system. This abandons the previous manually adjusted rear shock preload, denoted by the familiar dashboard diagrams showing crash helmets (for solo/two-up) and panniers (for luggage). Instead it senses load and adjusts shock preload automatically to suit.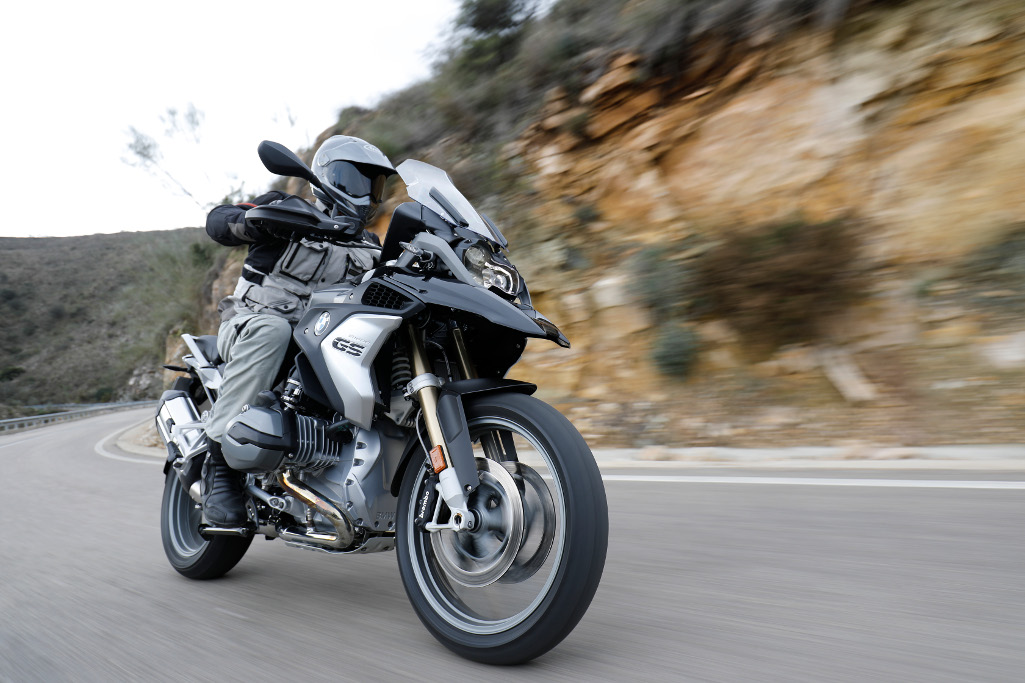 Ironically Aprilia's Caponord 1200 introduced a near-identical system four years ago, but the Italian V-twin was virtually ignored in the fuss surrounding the liquid-cooled boxer's launch. BMW admit as much, pointing out that self-levelling systems were previously used in the car world. As before, the GS system gives a choice of softer Road or firmer Dynamic mode. This can be done by changing riding mode with the button on the right bar, which also alters throttle response. Alternatively, the suspension alone can be adjusted via the left bar.
The Next Generation system is simpler than it sounds and works well, but on the twisty roads around Almeria on the launch it's the Exclusive's familiar GS character and all-round brilliance that makes the strongest impression. The 1170cc boxer engine, its 125bhp performance unaltered by minor mods and exhaust tweaks required for Euro 4, is glorious: grunty, smooth-revving, sweetly fuelled, and enhanced by the slick Gear Shift Assist Pro quick-shifter, complete with fruity sounding auto-blipper on down-changes.
There's so much about the GS that makes sense and helps explain its ubiquity. The screen works and is easy to adjust by twisting a knob; the Exclusive's two-part seat is comfortable and supportive; the riding and suspension modes are distinguishable and easily used. On a dry but cold day in southern Spain I'm glad the Exclusive's long list of features includes hand-guards and heated grips, along with other options including keyless ignition, LED lights and Hill Start Control, which makes its debut on the GS.
I love the semi-active system too, especially the way it firms the front under hard use of the powerful Brembo front brake (although one experienced rider thought the Telelever system's lack of dive reduced feel, an old complaint). The rear end is firmed under acceleration, too, giving a wonderfully taut cornering feel considering the generous suspension travel of 190mm front and 200mm rear.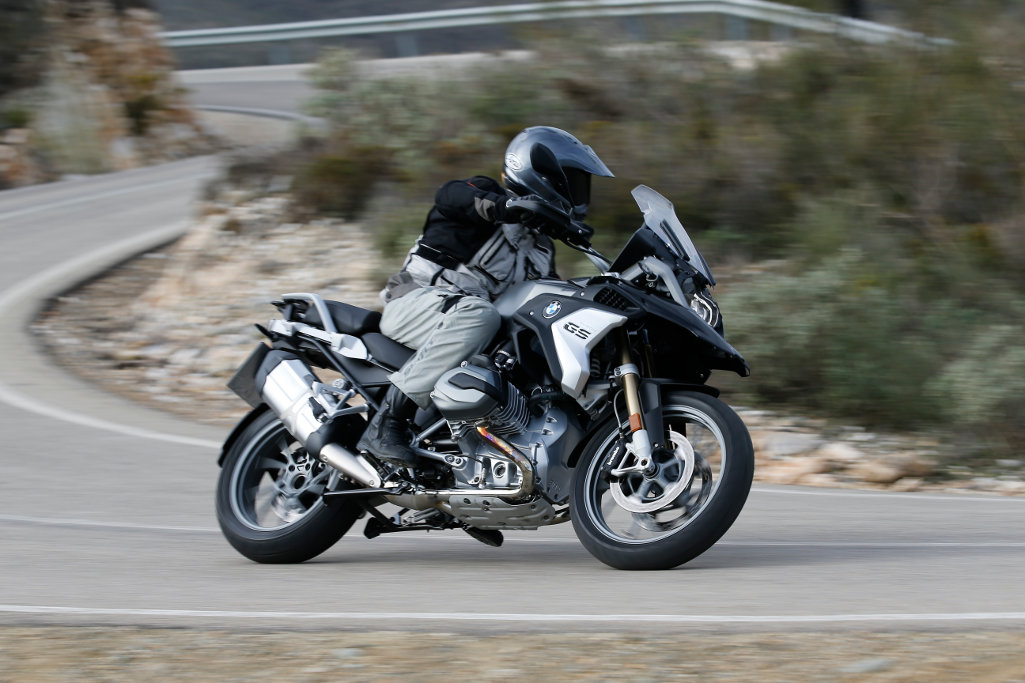 The Next Generation system's preload choices seem fine, and there's the option to reduce preload manually (to the "Min" setting) for a lower seat height, or increase preload to Max to add ground clearance for off-road use. Maybe a bit more potential to fine-tune the damping wouldn't go amiss, but I suspect the majority of riders will be happy to get on and go, with minimum fuss, and plenty of trust in the Metzeler Tourance Next or Michelin Anakee III tyres that were shared among the launch bikes.
The Exclusive also matches the standard GS TE model by including BMW's more advanced Dynamic Traction Control (the standard boxer gets the simpler ATC system) and Riding Modes Pro, with its additional dirt-friendly Enduro mode for throttle response and traction control settings. As before, many GS buyers are likely to pore over BMW's complex options and accessories lists for hours… and eventually sign up for a fully-loaded model.
Whether they choose the TE Exclusive or the slightly less expensive standard R1200GS TE, whose list of included features is identical, will depend on willingness to pay extra for the two-wheeled choc-ice with its gold (painted) front brake calipers and grey tank panels and frame. Either TE model costs much more than the base-model GS, but those options contribute to a subtly enhanced boxer that looks sure to keep BMW's bandwagon rolling on.