Tech-Laden Flagship
With 1301 reasons to like the biggest, most sophisticated motorcycle to come out of KTM's factory yet, is this the new standard everyone will be aiming at?
Words: Roland Brown Photos: Francesc Montero and Sebas Romero
Back at the launch base hotel on Gran Canaria, taking a final look at a 1290 Super Adventure that is slightly dusty but otherwise seems barely to have broken sweat, my head is spinning with scenarios from an exhilarating day. And as each one momentarily comes into focus, I'm struggling to decide which was the most fun, and which said most about KTM's stunning new go-anywhere flagship.
The most telling moment might just have come very early in the day, when I pitched the Super Adventure into the first series of tight bends – and was blown away by how light and agile it felt for a bike that is given a misleadingly portly look by its broad, large-capacity fuel tank.
Yet the KTM had also impressed in a very different way on a motorway towards the end of the ride, when I slowed to little more than 2000rpm in top gear, wound open the throttle and held on tight as the ultra-grunty 1301cc V-twin pulled cleanly and catapulted me forward to over 200km/h in seconds… before I backed off and engaged the cruse control to leave the bike loping long-leggedly along at an indicated 140km/h, its efficient screen contributing to an utterly effortless feel.
Or early afternoon, on a steep, narrow mountain road, when I was searching out patches of gravel that would have been best avoided on many bikes – but on this KTM were a laugh to ride over on purpose, then crack the throttle and let the traction control system allow the rear Conti to squirm slightly before it hooked up to fire the bike up the hill, wiggling its bars slightly but never feeling remotely worrying.
Or heading back down that same mountain shortly afterwards, braking into a bumpy bend, confident in the brilliant cornering ABS, and being amazed not just at how hard and controllably the 1290 slowed, but at the way its semi-active suspension made the pockmarked surface seem a whole lot smoother than my eyes were telling me it actually was…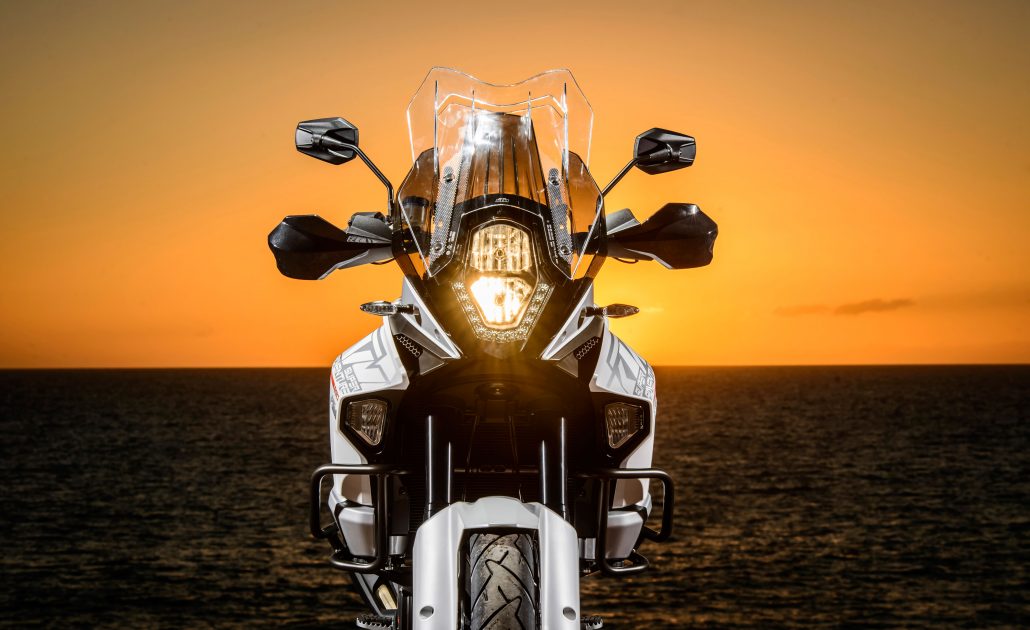 Good Impressions
Perhaps the most revealing moment of all came when the lead rider turned off, back through the hotel gate to end the test – and I realised that I didn't think there was another bike that I'd rather have been riding, or that would have impressed quite so much on that varied launch route.
At that point the winter sun was sinking fast towards the horizon. That big tank still had petrol to spare, the broad seat wasn't even beginning to get uncomfortable, it wasn't yet dark enough to test the innovative cornering headlights properly, and we hadn't put a tyre off-road. The Super Adventure felt as though it had barely warmed up but it had done more than enough to suggest that it's a fabulous bike that can compete with the very best all-rounders.
That's no great surprise, because if ever there's been a bike that is "born well" it's the 1290 Super Adventure. As its name suggests, it's essentially a blend of the 1290 Super Duke and 1190 Adventure – with added wind protection, even more clever electronics and some luxury features thrown in.
Smart As
The Super Duke donates its engine, a 1301cc, 75-degree liquid-cooled V-twin that is remarkably grunty and refined in the super-naked bike and even more so in the Super Adventure. For this 1290 it's detuned by 20bhp, via smaller intakes and reshaped combustion chambers, but that still leaves a hefty maximum of 160bhp at 8750rpm. Some extra ducting and exhaust lagging are added to reduce the amount of engine heat felt by the rider.
A 2kg heavier crankshaft helps make the Super Adventure smoother at low revs, and it also gets a taller top gear for lazier cruising, plus cruise control as standard fitment. Like KTM's other V-twins it has four riding modes: Sport for full performance, Street for slightly softer delivery, Rain for 100bhp maximum and early traction control intervention, and Off-Road, which also gives 100bhp and allows controlled sliding.
The chassis is based on the same tubular steel frame and aluminium swing-arm as the 1190's, but the Super Adventure combines those with KTM's first semi-active suspension system. The WP rear shock and 48mm forks have push-button adjustability through four settings (Sport, Street, Comfort and Off-road), which are independent of the riding modes. You can also adjust shock preload to suit load.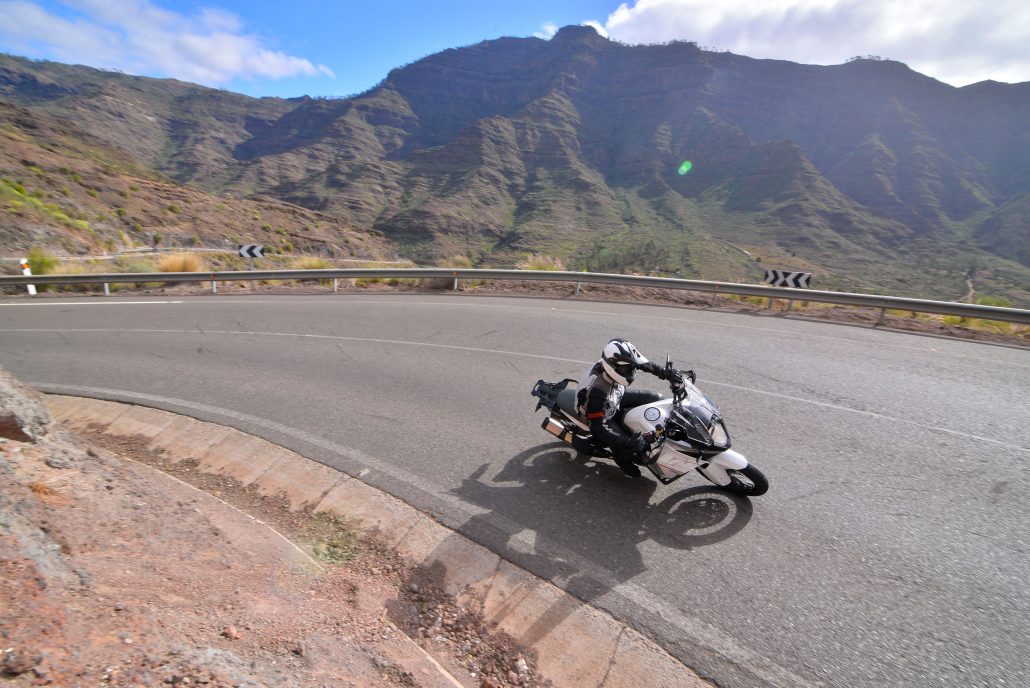 Despite its white rather than orange paint the Super Adventure looks very much a KTM, with the characteristic sharpness of a Kiska design. But it's bulkier than the 1190, mainly due to that big tank, which holds 30 litres (against the 1190's 23 litres) and is wide enough to give some leg protection. The slim fairing itself is topped by a large screen that is adjustable with one hand once you've unlocked it, which can be done on the move.
Extra width apart, the new bike feels much like the 1190 at a standstill. At 229kg without fuel it's 12kg heavier (mainly due to the bigger tank, heavier crank, and additional cornering lights and crash-bars). Its seat is slightly wider but the same height, and is quickly adjustable between 860 and 875mm. Its one-piece bar is slightly raised; the engine comes to life with a similarly smooth, free-revving feel and a familiar muted sound from the big single silencer.
Straight-line performance is explosive: somewhere between the crazy Super Duke and the 1190 for outright power, bursting with low-rev grunt, and remarkably smooth and refined for such a big, powerful V-twin. Fuelling is sublime, without a cough or splutter, and there's so much instant urge from as low as 2000rpm that it's almost impossible to be caught in the wrong gear.
On the twisty roads of Gran Canaria the KTM grunted out of bend after bend, accelerating at an arm-yanking rate yet feeling superbly controllable. Despite that I was glad to have the smooth-acting traction control system (part of the Motorcycle Stability Control package that also includes cornering ABS, and whose level varies depending on which mode the bike's in) there as a back-up.
The KTM was excellent on faster roads, too, including that short stretch of motorway where it sat at an utterly effortless 150km/h feeling very long-legged, helped by that taller top ratio. It doesn't have quite the rev-happy snap of the Super Duke but it ripped forward at every opportunity, with plenty more to come towards a top speed of over 250km/h.
The cruise control was easy to activate and adjust, although one rider thought the switches slightly out of reach of his right thumb. I didn't have a problem with that or, really, with the comprehensive panel of buttons on the left bar, which control the bike's main functions via the familiar Adventure/Super Duke instrument display. KTM's system works well once you get the hang of it although ideally you'd be able to adjust more without needing to look down quite so much.
Wind protection from the intricately vented screen was excellent, although for lanky (1.93m) me the screen was a fractionally too low at its tallest point, so I had to crouch very slightly to get a near-silent ride. Normal height riders (and one even taller guy) found it outstandingly quiet. Some shorter riders found the top of the screen impeding their vision, but the mounting bracket can be reversed to lower the whole screen assembly slightly.
Carver Par Excellence
If the Super Adventure's straight-line performance was impressive, its cornering was even more so. The bike's width had led me to expect it to feel quite heavy, but the opposite was true: I could hardly believe how light it felt; hardly different to the 1190 Adventure in the way it could be flicked into tight bends, carved round feeling superbly precise, and then fired out again. (From memory BMW's R1200GS Adventure, capable as it is, feels tall and heavy by comparison.)
The semi-active suspension was superb: supple, especially in the softest Comfort mode (I didn't try Off-road), yet firming up when required – mainly at the front end under braking and at the rear on acceleration. That kept the bike feeling incredibly stable and well-controlled, given that it has a generous, pothole-smoothing 200mm of travel at each end.
The Street setting is slightly firmer and feels subtly different because it's designed with more anti-dive under braking and anti-pitch under acceleration. KTM recommend this for two-up riding, as a pillion gets a more stable ride. For hard one-up riding the Sport mode wasn't remotely harsh, and gave a brilliantly taut feel with just enough fork dive under braking to sharpen the steering usefully.
And what brakes they are: a powerful blend of four-pot radial Brembo calipers and 320mm discs up front, plumbed with the Bosch cornering ABS system that means you can brake hard right to the apex of a turn without danger of the front washing out. There was plenty of grip from Conti Trail Attack 2 tyres, and ample ground clearance, aided by a centre-stand that was well tucked in (though slightly hard to use).
We'll be back for more…
So the KTM is fast, flexible, goes round corners… and it's also very comfortable and practical, at least as far as a one-day launch ride can show. It should also work well off-road, though sadly there was no chance to test that on the launch. Standard fitment hand-guards plus heated grips and powerfully heated seat (which is independently adjustable for the pillion section) meant that I stayed warm when we rode high enough for the air to get distinctly chilly.
That big tank means most riders will get a realistic range of over 350km even if hard riding brings consumption down to 8l/100km or worse, as it did on the launch. If you're gentle you'll get over 400km. A luggage rack, pannier mounts and pillion hand-holds are built in, along with those cornering lights: three LEDs on each side, linked to the lean-angle sensor, which illuminate in turn as the bike banks through 10, 20 and 30 degrees.
Then there's the even longer than normal list of options and accessories, which includes a hill-start facility: when you brake on a slope of over five degrees, the rear stopper automatically stays on for up to five seconds to prevent the bike rolling, automatically disengaging if you accelerate.
Another option, Motor Slip Regulation, is linked to the lean-angle sensor, and stops the rear wheel locking if you down-shift too soon while leant over into a turn. It shouldn't really be necessary for experienced riders, but is quite a cheap extra. Inevitably there's also a long list of Power Parts ranging from an Akrapovic exhaust to aluminium panniers.
Luggage would add a finishing flourish to an utterly brilliant motorbike that is just begging to be aimed at some far-away destination. As KTM's flagship model the Super Adventure isn't cheap, costing about 15 per cent more than the Super Duke. But it comes with a remarkable blend of performance, features and all-round ability that is arguably second to none.
KTM 1290 Super Adventure Specifications
Price: $31,995
Engine type                         Liquid-cooled 75-degree V-twin
Valve arrangement              DOHC, 8 valves
Displacement                       1301cc
Bore x stroke                       108 x 71mm
Compression ratio               13.2:1
Fuelling                               Keihin digital fuel-injection
Clutch                                  Wet multiplate slipper
Transmission                       6-speed
Maximum power                 160bhp @ 8750rpm
Maximum torque                 140Nm @ 6750rpm
Front suspension                 48mm WP upside-down telescopic fork, 200mm travel, semi-active with four modes and adjustable preload
Rear suspension                  WP single shock, 200mm spring travel, semi-active with four modes and adjustable preload
Front brake                          2, four-piston Brembo radial calipers, 320mm discs with switchable cornering ABS
Rear brake                           Twin-piston Brembo caliper, 267mm disc with switchable cornering ABS
Front wheel                         3.50 x 19in wire spoked
Rear wheel                          5.00 x 17in wire spoked
Front tyre                            120/70 x 19in Continental Trail Attack 2
Rear tyre                              170/60 x 17in Continental Trail Attack 2
Rake/trail                             26 degrees/120mm
Wheelbase                           1650mm
Seat height                           860/875mm
Fuel capacity                       30 litres
Weight                                 229kg without fuel