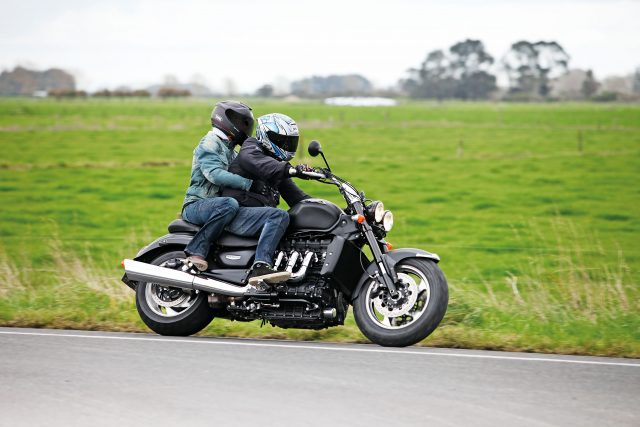 Locco-Brit
It's big and bold yet its street presence is even bigger than the 2300cc Roadster itself. It is the rolling definition of Triumph's defiant attitude – and I like it.
There are very few bikes with the charisma of the Rocket 3, period. It's one of those machines that you never for a minute forget what you are riding. The sound is big, even through the stock exhausts, as there's no hiding the swept volume of that enormous triple. The weight, and there's no denying it's a big unit, is nicely balanced, so although you are aware of its mass, through the bars it translates into slowish at changing direction but still light to initiate, so you don't have to muscle the Roadster around unless you are doing what few open-class cruisers can do, really hustle. Once you choose your line, the biggest Trumpy holds that line religiously, it'd take a small but meaningful thermo-nuclear device to deflect the trajectory – or a decent input through the wide handlebars – and that'd take time and distance to take effect.
With the power and torque curves rubbing shoulders all the way up through the chart, power is available anywhere on the rev counter – instantaneously. That locomotive torque sees it produce litre-class numbers at a slightly fast idle, doubling their numbers at a lowly 2750rpm. Smack that tap open when you hit the open speed sign at anything close to that number, where it starts producing its maximum torque and the unique sensation of you and over 360kg of bike accelerating harder than any cruiser should, is the trademark of the Rocket 3 Roadster.
Rubber On The Road
Although most cruisers don't really require traction control, the Roadster may well be one that does, particularly on damp roads and with the torque restrictor relegated to the bin. Sure, it has a decent sized rear hoop but it's easy to overwhelm with 221Nm of torque and 109kW (148hp) available. Really, it's that tyre-twisting number, 221Nm that tells the tale, although 148 big horses at 5750rpm are not to be sneezed at either. It holds that torque figure almost to the end as well, so the thrust doesn't stop until the almost eerily free-revving behemoth signs off. The speedo only reads to 220km/h as it chooses not to watch past that point where the enormous bike would be classed as a ballistic projectile with that all inertia… The Roadster shares most components with the other models over the past decade but with different fuelling and pipes, does produce more torque (up from the scant 200Nm of the first Rocket 3) and five or six more horsepower as well, in case you needed more. It's really a glutton when it comes to torque and as such, it's definitely its most endearing trait. Making that increase even better is the fact that it is no longer restricted, as the earlier bikes were in the first three gears. I mean, if you've got it, flaunt it, right?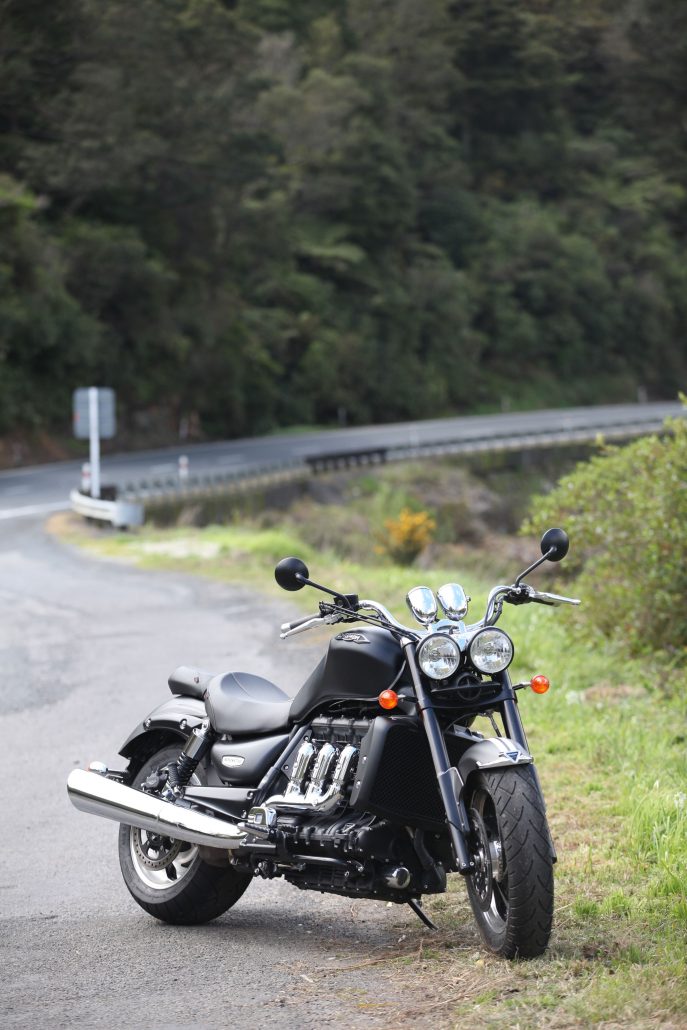 In some markets, the largest production motorcycle never made the sort of splash expected, or deserved. Here in NZ, we seem to have taken a liking to the Triumph with the trio of four-inch, long-stroke pots. Our test unit, in regulation New Zealand matt black with simple white contrasting 'racing stripe', is striking, doing it no harm either. If you've never ridden one, you are denying yourself unfairly. I'm not saying everyone will like the bike but I dare you to open one up and hold it open until it demands another cog and keep a straight face. Is it the politically incorrect size and style? Maybe, but whatever it is, it's one of those rare bikes that has no other that looks or feels remotely similar, be that good or bad in your humble opinion.
Back to the Roadster's ride: it's really much improved over the early models. The original Rocket 3 had harsh rear shocks for a skinny unit like myself, and the forks were designed for someone who doesn't like hard braking, so I found the rear too hard and the front too soggy. The new Roadster has firmer forks and a more compliant rear-end, so way better. It also holds a line better and doesn't get upset in G-out plagued corners that litter our countryside. Clearance is also better, so the Roadster is surprisingly capable of carving up the corners. The ABS-equipped brakes are excellent in the cruiser-class with twin 320mm rotors up front, gripped by four-piston Nissins and a massive 316mm unit at the back with a Brembo caliper doing the honours. With the long low stance, that rear stopper is more than decoration, so with all three discs getting gripped hard, the big ship slows hard – I'd hate to imagine a bike this capable of accelerating hard with only a single disc up front as many cruisers still appear to fashionably do.
That massive powerplant is surprisingly quick revving but when the rev counter is at the serious end, there is an awful lot of inertia inside the casings. The longitudinal triple has a counter-rotating crankshaft, so doesn't throw you off and lie on its side like you might think when you give it a huge fistful, but you do feel it at times. You're never going to get a 2.3litre triple to shift cogs as quickly as a tiny 1000cc inline four, so again, you are reminded what you are on and should you really be doing what you're doing? The reverse is also true; when you slam the throttle shut, you can almost imagine the sound of truck air-brakes as the massive crankshaft and associated hardware slow the rear wheel, adding to the pretty impressive rate the Roadster can retard its velocity when asked the right way.
Mid-ships
That wide tank does several things but holding a large amount of fuel is not one of them. With the fuel countdown on the dash saying I'd be pushing 360kg in around 25km, I squeezed 16litres in, so I reckon I had enough for more like 40-50km left but wasn't willing to go there. What the tank does is give room for the intake tracts and fuel injection, as well as airbox and the shape also lets you sit into the bike, deflecting a lot of the windblast as the big unit punches through the atmosphere. Even at pace, holding onto the Roadster is easier than the wide bars suggest. If you prefer more elemental protection, screen options are part of an accessory range that has steadily grown over the past decade.
In a nutshell, it'll never fit, so looking back at the big blacked-out Triumph Rocket Roadster, yeah, it makes you smile for many of the wrong reasons. Undeniably excessive in most dimensions, it's also one of the most engaging and memorable motorcycles on the market. Not for the shy retiring types, you owe it to yourself to try one.
Pillion Perspective
Although the touring variant has a plusher perch, the Roadster still fares well from the VIP seat. With the bike also being long and weighty, pillions get an easy time unless you let the Newton Metres out suddenly, in which case a lumbar support-come-catcher's mitt would be handy. With plenty of room to place footpegs where a pillion wants, the Roadster was a bit of a hit, although it was mentioned that the rider does get more foam and vinyl… Vibration is not an issue for rider or pillion on the 120-degree separation crankshaft Triumph. You can feel those pot-sized pistons moving, as you should, but even with that heavy crankshaft spinning at close to the maximum, there are no untoward vibes or shaking. All-day comfy up front, the rear rates as pretty good but not brilliant.
From the rider's seat, you hardly notice the pillion, so you do need to keep them in mind when passing cars briskly – you wouldn't know they'd slid off the back until you stopped for fuel which would have unfortunate ramifications. With the mass and long wheelbase, not to mention grunt, the pillion could be doing cartwheels on the back seat and not upset the Roadster. Sure, it's too big and the capacity is ridiculous – but sometimes, just sometimes, two wrongs can make a right – for all the wrong reasons…
Triumph Rocket III Roadster Specifications
Price: $26,990
Engine: Inline triple, longitudinally mounted
Capacity: 2294cc
Bore and stroke: 101.6 x 94.3mm
Maximum power: 148hp @ 5750rpm
Maximum torque: 221Nm @ 2750rpm
Final drive: Shaft
Gearbox: 5-speed
Oil capacity: 5.9litres
Frame: Tubular steel, twin spine
Front wheel/tyre: Cast aluminium alloy 17 x 3.5-inch 150/80 R17
Rear wheel/tyre: Cast aluminium alloy 16 x 7.5-inch 240/50 R16
Front suspension: KYB 43mm USD, 120mm travel
Rear suspension: Kayaba twin shocks with adjustable preload, 105mm travel
Front brakes: Twin 320mm floating discs, Nissin 4-piston calipers with ABS
Rear brake: 316mm disc, Brembo 2-piston caliper with ABS