Peerless Powerhouse
Adding a whole new dimension to the phrase 'World Launch' as Roland opened the taps down Losail's straight – did the supercharged Kawasakis skim across the surface or actually spin the globe faster?
Nobody could claim they hadn't been warned about the Ninja H2 and H2R. There were all those trailer videos last year, followed by huge coverage when the supercharged fours were displayed at the shows, with talk of massive power outputs. Then Kawasaki had said that the original estimates were too low, and the street-legal H2 actually makes over 200bhp with ram-air, far exceeded by the track-only H2R's unprecedented output of well over 300bhp (estimated at 326hp with Ram-Air effect).
But even after all that hype and expectation, it's still quite shocking to wind back the Ninja H2R's throttle and aim it onto the Losail circuit's pit straight. There's a maniacal shriek as the bars go light in third gear, then the sound rises and falls rapidly as I tap the quick-shifter three more times. This incredible bike keeps on pulling hard deep into top before, with the first turn rapidly approaching, I have to sit up and squeeze the front brake lever and brace myself against the braking force and sudden rush of wind on my head and shoulders. It's a thrilling, violent experience from a production bike whose like I've not ridden before.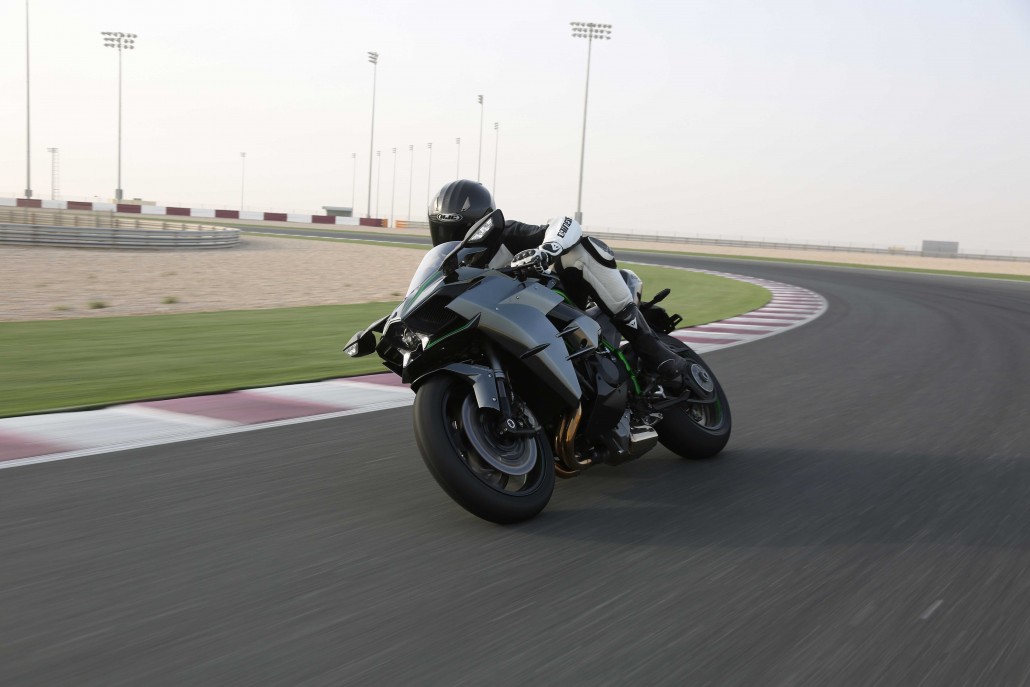 Longer straights please…
Back in the pits, a mechanic presses a button on the dashboard to reveal that the H2R recorded a maximum of 198mph. That's just short of the double-ton mark that a couple of braver or smaller journos managed, and what's even more impressive is that the bike was nowhere near its top speed. And the standard Ninja H2 had been seriously rapid at the same point in the previous session, revving high in top gear to get close to its electronically limited maximum of 186mph.
If you're looking for speed and excitement, you've come to the right place with the Ninjas. Kawasaki has long prided itself as a brand that delivers high performance, dating right back to the original H2 two-stroke triple of 1972. And it's absolutely no coincidence that the firm revived the H2 name for this pair of supercharged bikes that are the most outrageous and hardest-accelerating yet from a major manufacturer.
They're certainly among the most visually stunning looking motorcycles ever produced; combining an array of dramatic, distinctive shapes with a quality of finish rarely seen on production bikes. The H2R is unique in that its carbon-fibre half-fairing is equipped with pairs of aerodynamic fins on either side, shaped to provide downforce at high speed.
And even the standard H2, whose bodywork is in conventional plastic, has a literally brilliant finish from mirror-like paintwork that contains genuine silver, is applied by hand and is unique in the automotive industry. The road-going Ninja too has a host of neat details, from its LED lights and neatly machined top yoke to the sculpted tailpiece. And in some markets, at least, the contrastingly huge and ugly silencer will be replaced by a much smaller and neater (and doubtless more tuneful) carbon-fibre Akrapovic can.
Of course the powerplant, almost all of which is common to both models, is special too: a 998cc, 16-valve four like that of the ZX-10R, but an all new design created to be boosted by a supercharger, which was also purpose-designed and produced in-house by Kawasaki. It's the firm's proud boast that the Ninjas were created to showcase the giant corporation's numerous divisions including Aerospace, and that no other firm could have built them – and it's hard to argue with that.
Even the chassis is like nothing Kawasaki has ever built before, based on a tubular steel trellis frame that would be Ducati-like if it wasn't painted metalflake green instead of red, and didn't employ a four-cylinder engine as the pivot for the single-sided aluminium swing-arm. Both bikes have KYB suspension at front and rear, with the 43mm forks' adjusters set into the green tops that poke through the immaculately machined top yoke.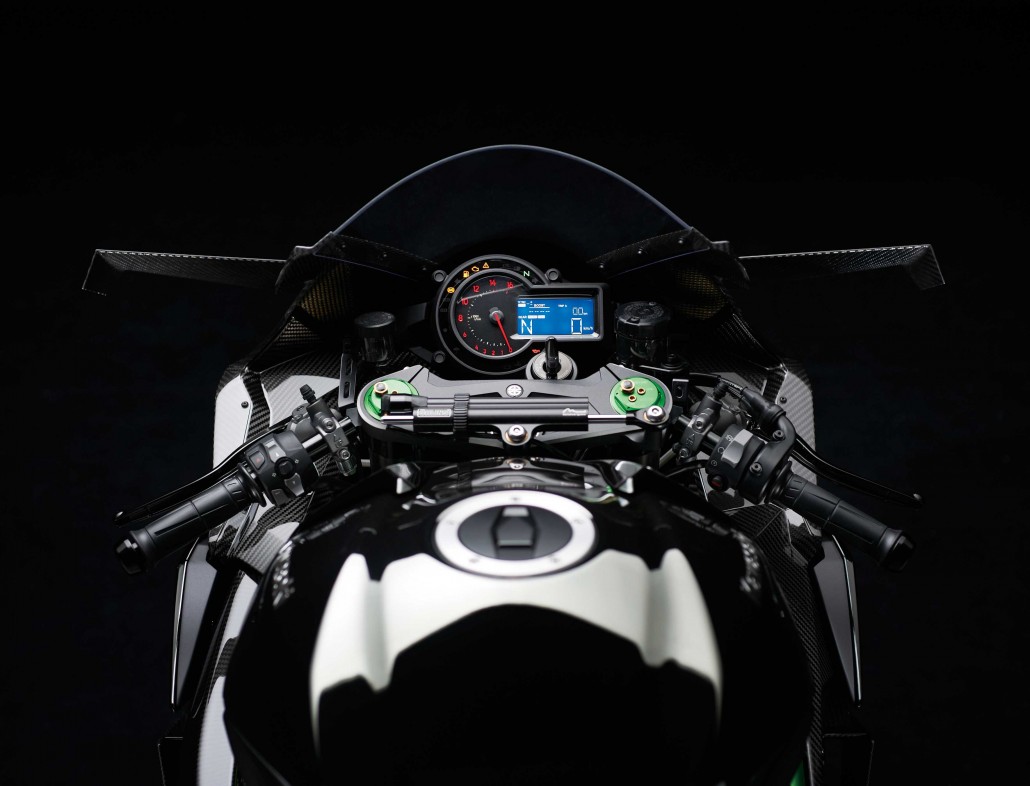 Hard-Chargers
The standard H2's maximum output of 197bhp at 11,000rpm (without ram-air) puts it on par with the latest crop of super-sports bikes, but its torque output before that point far exceeds that of conventional engines, and the Ninjas aren't intended to be sports bikes. Their riding position is more relaxed than the ZX-10R's, with handlebars 10mm higher and wider, footrests further forward by a similar amount, and a more roomy and generously padded seat, which has forward/back adjustability and is shaped to give support under hard acceleration.
Any suggestion that the H2 is a slightly more comfy sports bike disappears the moment you open its throttle in the lower gears. The response is sudden, to say the least, as the supercharger kicks in to send the bike lurching forward with an abruptness that makes fine control difficult. Aiming the H2 around the Losail circuit for the first few laps, my mind flashed back to the morning's press conference and the phrase: "demands the razor-sharp reactions of an experienced rider". The words were written about the original 750cc H2 two-stroke triple of 1972 but ring true of its latest descendant.
The Ninja is as demanding as it's powerful, but you learn to deal with it to some extent. And one thing's for sure: the supercharged brute is never less than exciting. I was wary of opening the throttle at the apex of the turns (not least because one fast and experienced rider had high-sided himself into hospital) and found the best solution was to finish braking slightly early, then dial in a little throttle and boost before the apex of a turn so the bike was steady at full lean and able to accelerate more smoothly.
As the boost built and the bike tore forward it was difficult to be sure exactly what the traction control was doing, except that it did usefully keep the front wheel near the ground as the Ninja catapulted down the following straight. Its monstrous midrange power delivery meant it revved even quicker than normally aspirated bikes, its efficient quick-shifter helped feed it gears, and its respectably tall screen meant I could keep my head out of the wind-blast. The standard exhaust's muted sound was soon lost to the wind, but the supercharger compensated with a twittering sound on a closed throttle.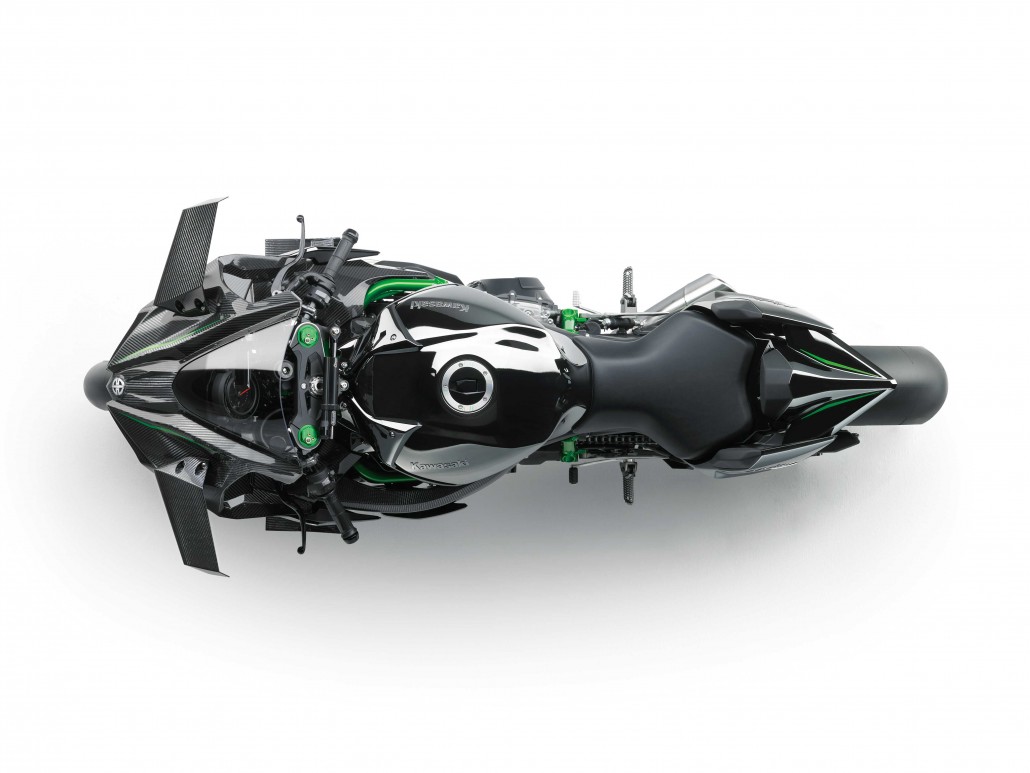 H2 – Hyperbike not a pure sportsbike
With a kerb weight of 238kg the H2 is notably heavier than a top sports bike, but it handled very well. Kawasaki say they chose the trellis frame partly to aid cooling but mainly because it allows a little flex that aids stability at very high speeds. The bike lived up to that by being rock solid in a straight line and composed in bends, especially after the mechanics had firmed both ends slightly.
The relatively wide bars helped with manoeuvrability, and Bridgestone slicks (which are standard fitment on the H2R; the H2 will come with street legal Battlax RS10FGs) ensured heaps of grip. There was plenty of braking power too, with the front blend of 330mm discs and Brembo radial calipers biting hard and refusing to fade even when the H2R was hauled down from almost 200mph, though the ABS cut in earlier than the best rival systems.
These Ninjas aren't designed to be practical, but the H2 will make a handy ZZR-style roadster, provided you don't need to carry a pillion. The 17-litre tank capacity means range won't be huge but the bike is roomy, gives decent wind protection, and has excellent ride quality, a classy instrument panel and usefully wide and clear mirrors.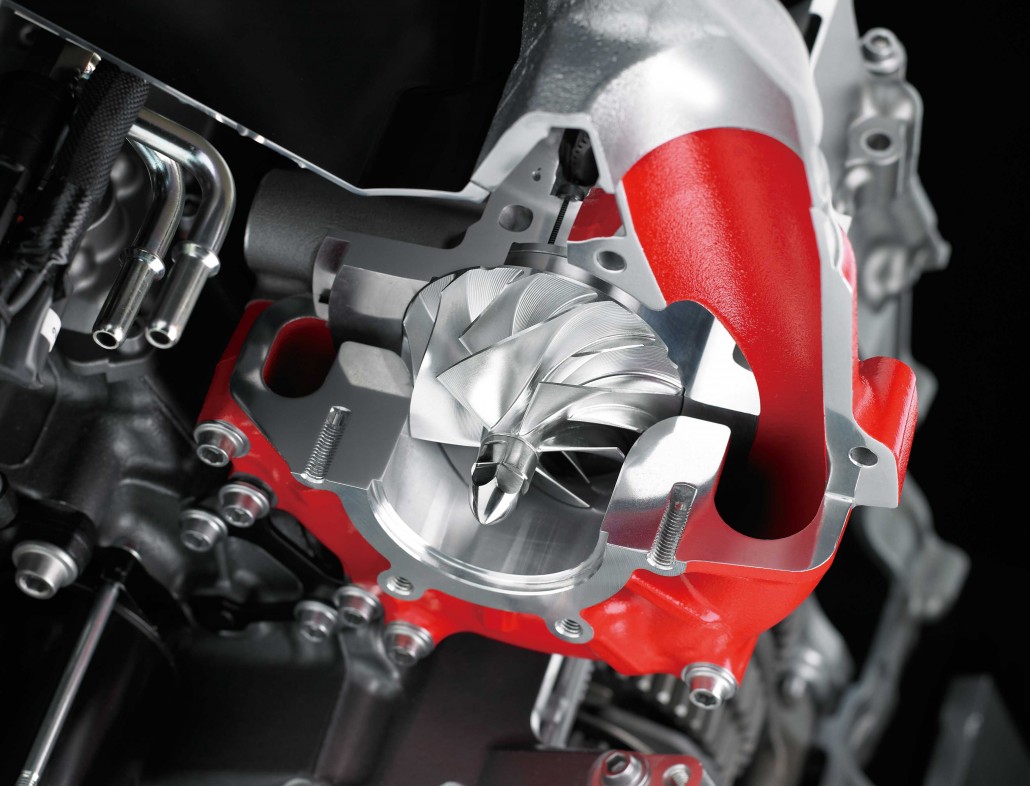 Because We Can…
Even so, by most objective criteria neither Ninja makes much sense. They're more difficult to ride than most conventional superbikes, have fewer safety aids and would be slower around a racetrack. The H2R can't be ridden on the road, and will need a decibel killer fitted before it can even be used on track days. But how can you put a value on that supercharged stomp, or the thrill of the blown four's unique shriek? Nothing else comes remotely close.
And what's not to like about a Kawasaki approach that said, "We're going to build a pair of bikes that showcase the best of our company, that are different to anything ever built both technically and visually, and are as exciting as the legendary machines that made us famous more than 40 years ago." That sounds like a very admirable aim to me – and after riding them, there's no doubt that these insane Ninjas hit the target in every respect.
Verdict: Stylish, ferociously hard-charging. An outrageously rapid supercharged brute that was created to produce raw power and excitement and delivers both, plus looks and sound handling, but is demanding to ride and expensive to buy.
Pros: Stunning power and acceleration, styling, detailing
Cons: Abrupt throttle response, price – but then you do get something pretty special (H2R is around US$50k but is order only, and they are all gone.)
Words Roland Brown Photos by Double Red and Ulla Serra