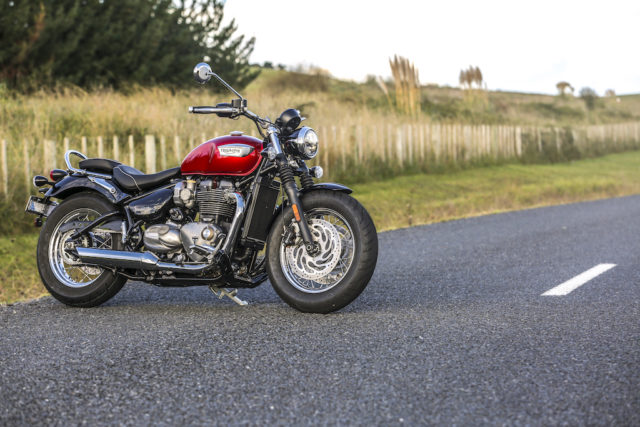 Another triumph from the so aptly-named brand. The eagerly anticipated Bonneville Bobber Black arrived this month and brought with it a friend – the 2018 Speedmaster. Having ridden the two bikes back to back, which is best? Mat and Sean had a fairly heated discussion over which bike should come first…
Words: Sean Pics: Mat
Mat will put my ultimate victory down to my advancing age and experience – that and the fact that I play a dirty game as the sub-editor, which gives me the power of override decision as to what appears and when. But in fact, I genuinely believe the Speedmaster should take line honours over this brace of Bonnevilles.
For a start, matte black motorcycles are not really my scene, while bikes with nice shiny bits are, and the Speedmaster – which comes in a selection of colours by the way – in its 'nail-polish' red and shiny chrome colour scheme especially, is impossible to overlook. Indeed, when surrounded by a host of pricey bikes, the Speedmaster stands out as a beacon of breeding – a machine for the distinguished rider; and me too.
I am woefully ignorant of the Speedmaster's heritage, but I have it on good authority that the previous generation did not really light anyone's (other than hard core Triumph fans) fire, despite its rather pretentious and race-inspiring name.
That being said, the current iteration – on surface blush anyway – might give many pause to think – a 'master of speed' this machine does not appear to be.
Deceptively good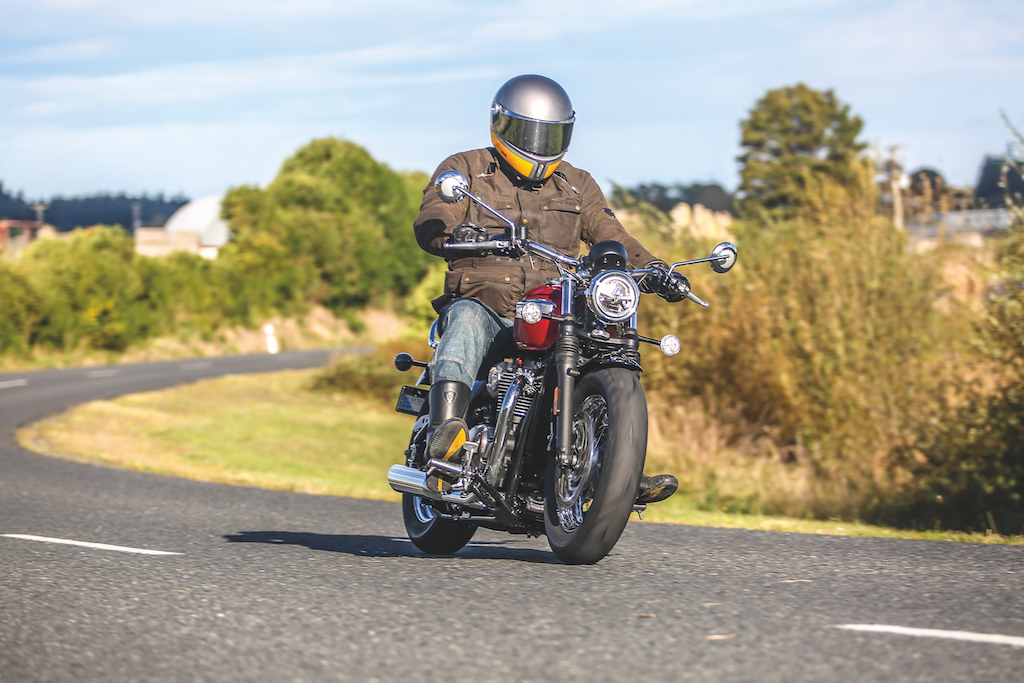 But appearances are often deceiving, with this case being a good example. At the heart of the Speedmaster is the high torque version of the 1200cc twin all Bonneville's are blessed with, but for the 2018 Speedmaster, the torque output is an impressive 10% over that of the T120 Bonnie at 4500rpm (appreciated in BRM #162) and up 2% higher at peak.
What's staggering is the peak torque output of the new model is 42% above that of the 2015 Speedmaster. Forty-two per cent!
So, now that I have your attention, how does this translate to riding in the real world? Well, it means you can bobble along through 50km/h zones all day long in top gear without lugging, but when you want to cut loose on the open road, let's just say New Zealand's roads are not really built for the sort of speeds you can get to.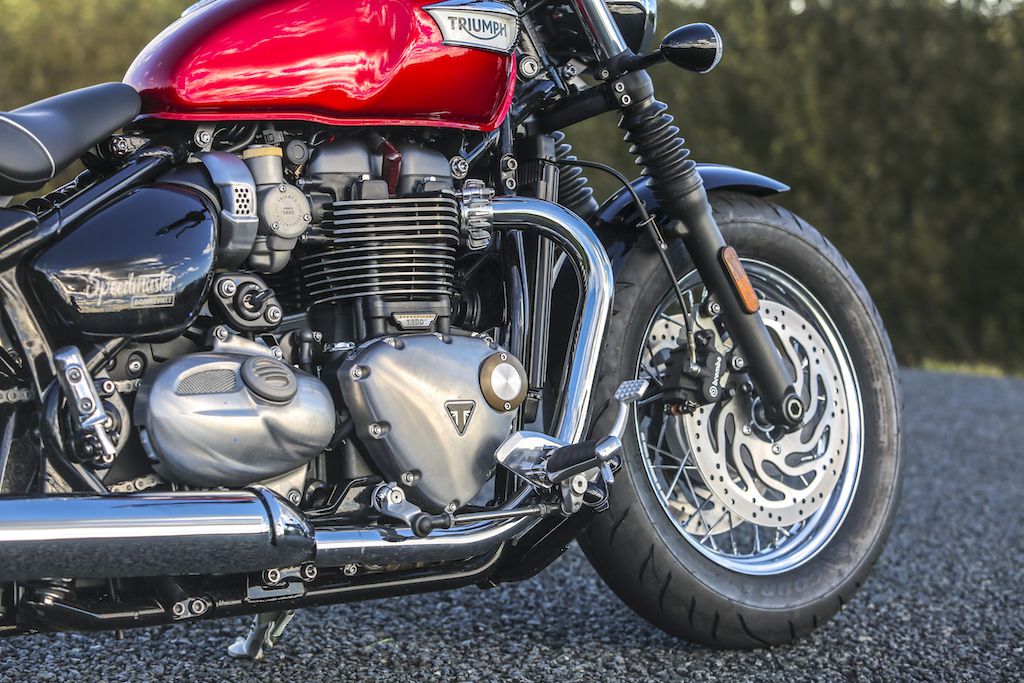 2018 Triumph Bonneville Speedmaster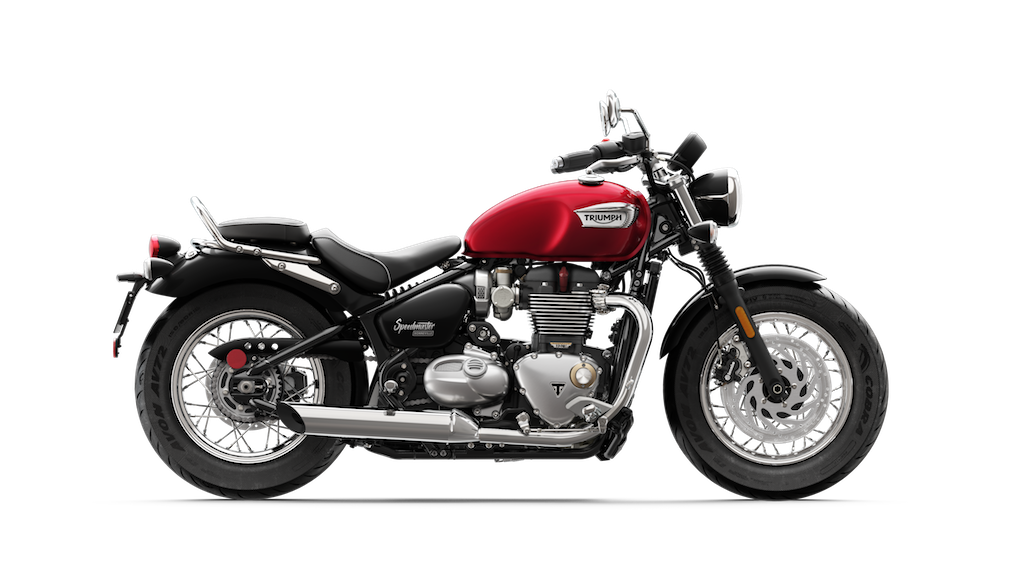 | | |
| --- | --- |
| Price | $22,490+ ORC |
| Engine | 8 valve, 270-degree crank angle, SOHC parallel twin with liquid cooling |
| Engine Displacement | 1200cc |
| Bore x Stroke | 97.6 x 80mm |
| Compression Ratio | 10.0:1 |
| Max. Power Output | 76bhp at 6100rpm |
| Max. Torque | 106Nm at 4000rpm |
| Carburation | Multipoint sequential electronic fuel injection |
| Fuel Tank Capacity | 12 litres |
| Fuel Consumption | 4.3 litres per 100km (claimed) |
| Clutch type | Torque assist wet, multi-plate |
| Transmission Type | 6-speed |
| Final Drive | X-ring chain |
| Dimensions (LxWxH) | 2195mm x 770mm x 1040mm |
| Wheelbase | 1510mm |
| Seat Height | 705mm |
| Fuelled Weight | 245.5kg |
| Front suspension | KYB 41mm forks with 90mm travel and cartridge damping |
| Rear suspension | KYB monoshock with linkage and 73.3mm travel. Stepped preload adjuster. |
| Front tyre | 130/90 B16 |
| Rear tyre | 150/80 R16 |
| Front brake | Twin 310mm disc, twin Brembo 2-piston floating calipers, ABS |
| Rear brake | Single 255mm disc, single piston Nissin floating caliper, ABS |
| ABS | Yes |
| Traction control | Two stage |
| Cruise control | Yes |
But it's not all about speed, which in this case, is a nice bonus. No, the Speedmaster magic comes in getting to all that speed.
With the Speedmaster notionally being a cruiser – it wouldn't be unreasonable to expect all that torque – and speed – to hurl you back off the seat and onto the tarmac, but the Speedmaster doesn't; instead unloading its gobfuls of torque in a deliciously buttery way, with a seductive soundtrack from those twin chrome pipes at the same time.
As far as staying onboard the bike is concerned, here the Speedmaster's intriguing Beach 'bars really come into their own. At first, I was a little uncertain of the peculiar styling of the 'bars, which curve in slightly towards the rider – not to the extent that your hands have to work at 45 degree angles to your arms, but they're certainly a significant curve in from straight bars.
A Surprise Hit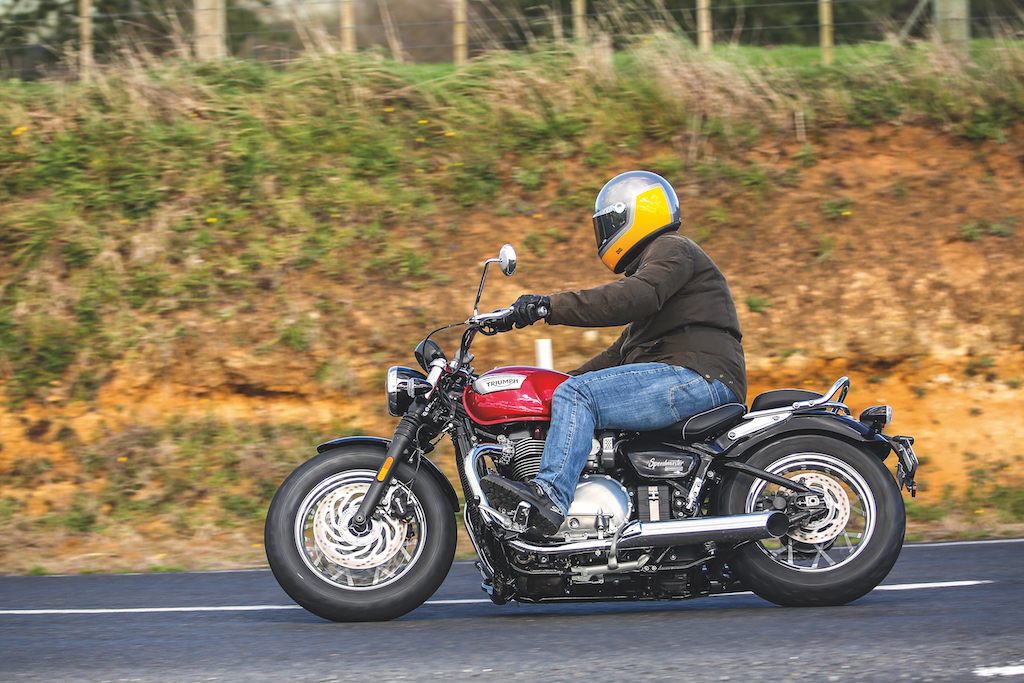 After a few 'kays at 50km/h though, the California cruisin' vibe started to ring true and on the open road, I found the 'bar design really came into its own, providing both a solid anchor point for the rider and an excellent measure of control for the surprisingly nimble Speedmaster.
Surprisingly nimble? Yes, well look at the tyres! The Speedmaster rocks it's front and rear 16-inch hoops, but they don't lend themselves to the appearance of being agile. The truth, however, is that the Speedmaster's turning circle is nothing shy of superb, thus giving you the best of both worlds: easy 'round town manoeuvrability and a solidly planted feel on the open road.
Then there is the seat, or rather, seats. The biggest point of difference for the Speedmaster and its stablemate Bobber is the former's ability to carry two people because it's seat is designed to. In saying that, there are customisation kits available for the Speedmaster, which personalise things like 'bars, single seats, screens, luggage, pipes, guards and mid-mount foot controls and pegs among other tasty bits, but the standard two-up seat is actually rather good. Actually, better than 'rather good.'
It won't suit everyone – especially those for whom Triumph motorcycles represent individuality and the freedom of getting out there with your own machine rather than sharing your shiny toy with your significant other.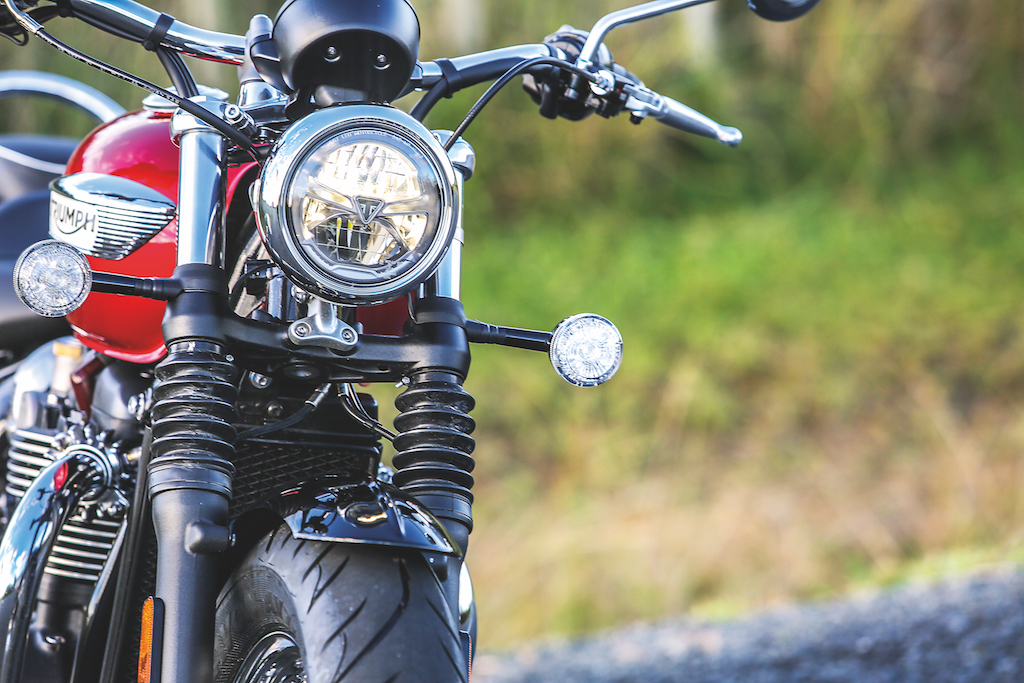 I'm firmly of the opinion that if you – as a Speedmaster owner – were unable to completely customise your machine, the seat should be the thing you'd leave be. It's comfortable, it's functional, it's practical and provides just enough vibration to be 'anatomically exciting', and as Forest Gump put it: "that's all I have to say about that."
But Wait…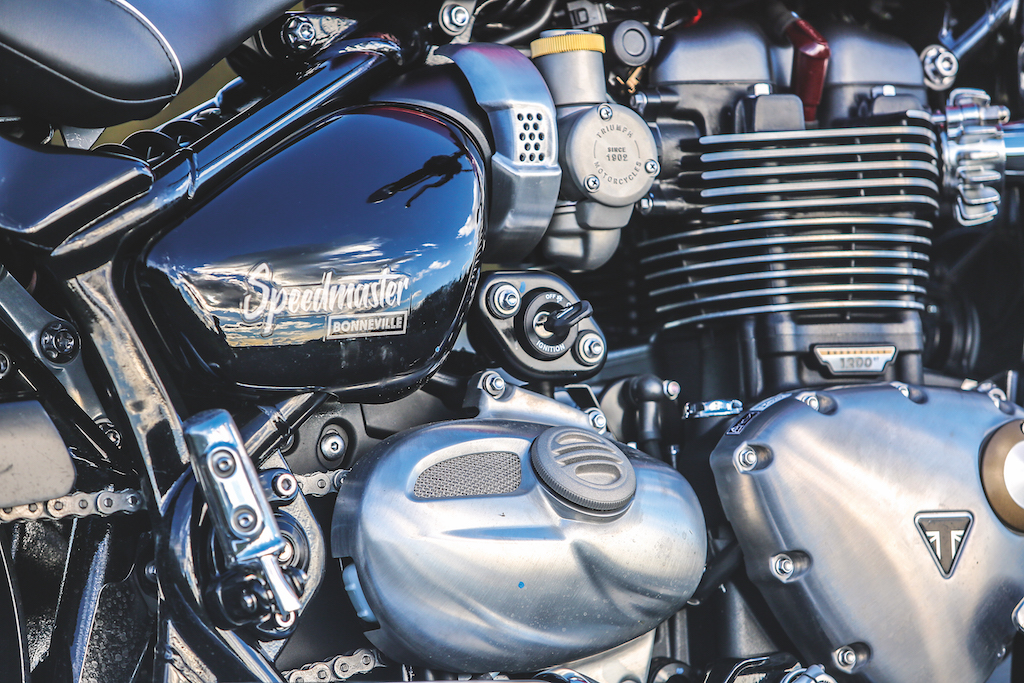 But there is so much more the Speedmaster offers; particularly when it comes to old school style meets new tech convenience. Yes, you have ride by wire throttle, but those faux carburettors conceal a very clever EFi system that returns something on the order of 4.3 litres per 100km, 98gms of CO2 per km and of course, compliance with Euro 4.
If you struggle to reach that figure – dude, you're doing it wrong – but you could always call up Triumph's ace-in-the-hole, the one touch cruise control, mounted on the left-hand switch block. One touch on, one touch set, one touch cancel. Now you can wave cheerfully at others using your right hand and get good gas mileage at the same time. Or render a one fingered salute to the servo as you continue past.
Since we're looking at the left-hand side of the bike, it's worth mentioning the 'OMG that's so light' torque assisted clutch. I could probably find out who the person was who designed this spectacular piece of tech, but then I'd have to go and offer him undying gratitude and my first born as thanks – and I consider myself to be a good Dad, which should tell you all you need to know.
The torque assisted clutch makes gear shifting on the Speedmaster a joy rather than a chore, and of course, if a clutch is as good as I'm trying to convey, then the gearbox itself better be up to snuff. It is. The six-speed of the Speedmaster is silky smooth and incredibly forgiving, offering respectable pull-away, even in top.
Conversely, as I mentioned earlier, the ability of the Speedmaster to bop around at 50km/h in top gear, does make you wonder about the name; but then Torquemaster, while more accurate, probably doesn't rate on the 'cool' scale.
The not so…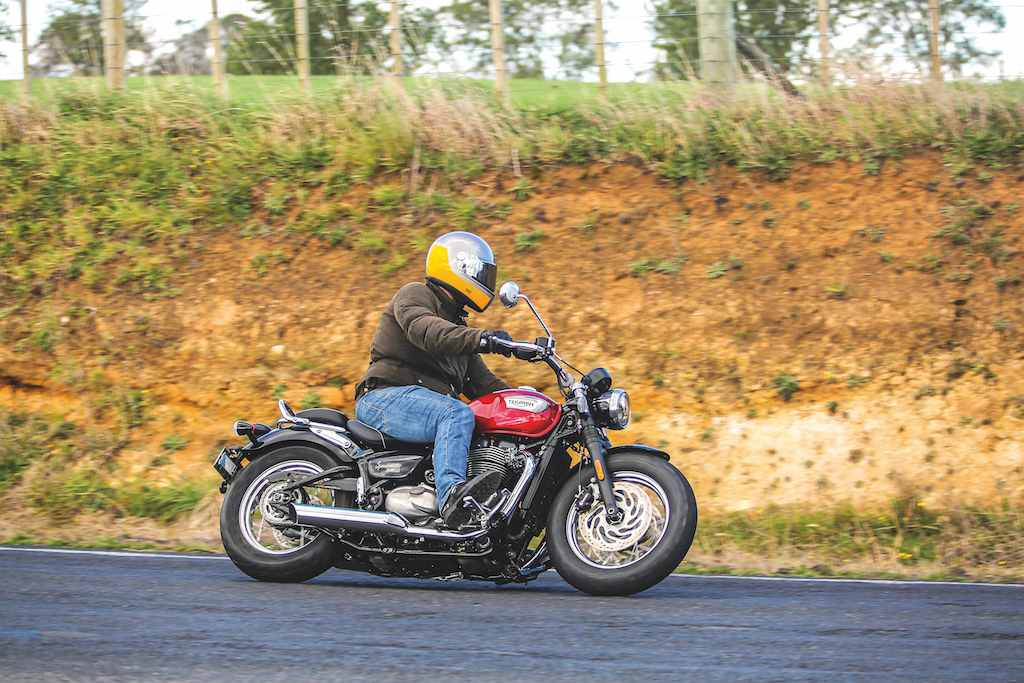 And it's cool that leads me back to the Beach 'bars. Well, not the 'bars, but actually the standard grips. I have 'gorilla paws' and even so, I found the 'balloon bulging' rubber bits too much to contend with after a 50-kay open road ride.
In town, it's not such a big deal, but long-distance touring can be a bit draining when you're in the C-cup cruiser riding stance trying to hold grips that feel like Dwayne "The Rock" Johnson's biceps. I imagine most women riders wouldn't have a problem with that…
In all seriousness though, the grips were probably the greatest sin of the Speedmaster, but it can be easily remedied by specifying smaller grips – which is definitely what I'd do.
You see, the more relaxed my hands are, the happier I'll be switching between the Rain/Road modes of the traction control system that is standard fare or flipping my way through the ultra-informative and multi-functional fuel computer.
This is part and parcel of the comprehensive display housed in the single analogue clock; said display giving gear position indicator, rev counter, fuel gauge, twin trip meters, clock and service interval indicator. The Speedmaster is lavishly equipped in the electronics department.
 Its Little Red Dress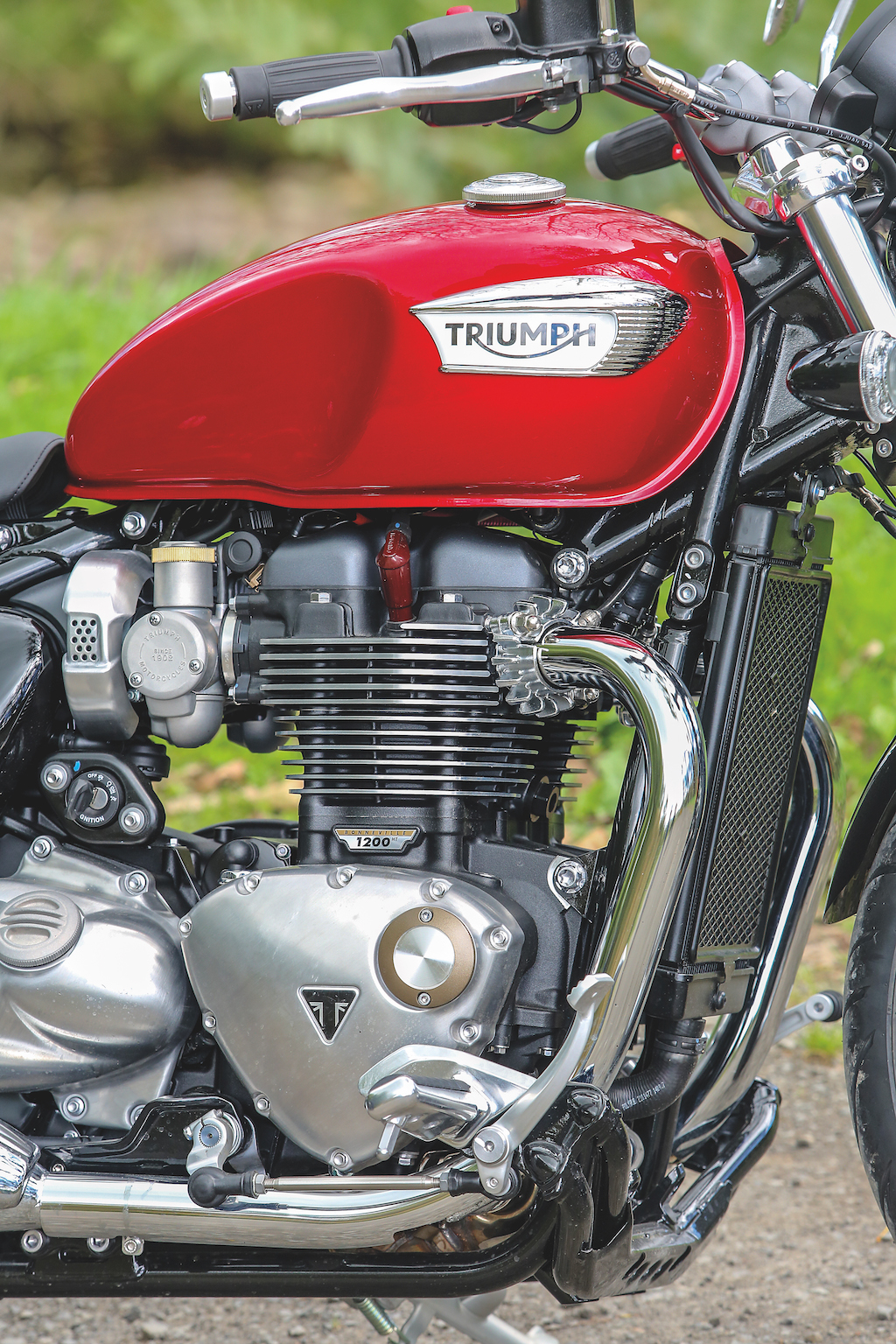 And that brings us to other areas of lavishness-ness – yes, that's a word. I referred to the nailpolish red paint work of the Speedmaster and that was a bit misleading because it's actually a Cranberry apparently. You can also run to a combo of Fusion White and, or you could opt for gloss black.
If you were going there though, jump on-board Mat's choice, the Bobber Black which ain't gloss, but looks ultra-cool just the same.
Personally, I reckon Triumph could have gone with the Cranberry alone and gotten away with it because it really does the business for the bike, but clearly, there is plenty of scope for customisation with this model and I guess that starts with colour choice.
Of the Speedmaster and the Bobber Black, it was a really hard decision to pick one over the other. We spent most of afternoon trying to work out which we preferred, a choice made even harder by the fact that they are both priced identically, which means it really is a personal preference thing.
For Mat, the Speedmaster's standard foot forward control was the only real hesitation, and you can specify mid mounts anyway. For me, the only issue was the 'bar grips, and these too, can be swapped out.
So why did the Speedmaster get my vote? Colour yes, but more than that, the Speedmaster offers versatility and a sense of cultured refinement. Yes, there's a rebel without a cause hidden under the paint, but that's for the masters of speed to know about, not necessarily everyone else.