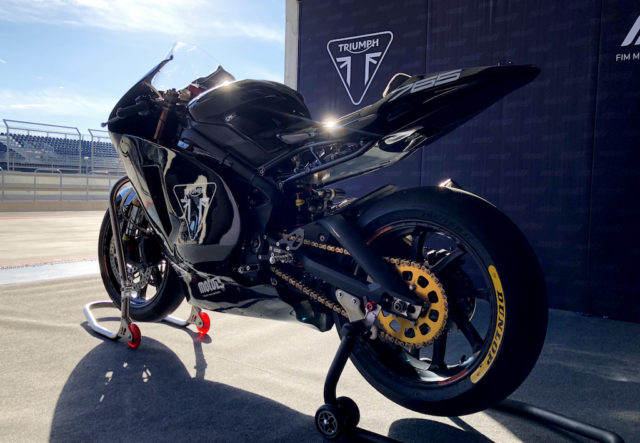 It has been quite some time since Triumph Motorcycles were amongst the GP paddock, so it is fair to say that they definitely don't want their return to top-tier racing to go unnoticed.
With the British GP taking place this weekend, the first of three showcase activities that celebrate the British Grand Prix MotoGPTM race weekend and Triumph's return to top-flight motorcycle racing from next season begins with a factory visit by seven Moto2TM  star riders from the current championship.
Luca Marini (ITA-Sky Racing Team VR46), Sam Lowes (GBR-Swiss Innovative Investors), Danny Kent (GBR-+Ego Speed Up Racing Team), Isaac Viñales (SPA-Forward Racing Team), Bo Bendsneyder (NED-Tech 3 Racing Team) and Joe Roberts (USA-NTS RW Racing GP), together with British Moto3™ rider John McPhee (CIP – Green Power) will take a tour of Triumph's main factory, see a historic line up of the most famous Triumph race bikes in history and unveil the final Triumph Moto2TM engine development bike, which will be showcased on track just before the Moto2TM race
at the British Grand Prix.
DAY OF CHAMPIONS & TWO WHEELS FOR LIFE AUCTION
TWO PRICELESS TRIUMPH LOTS TO WIN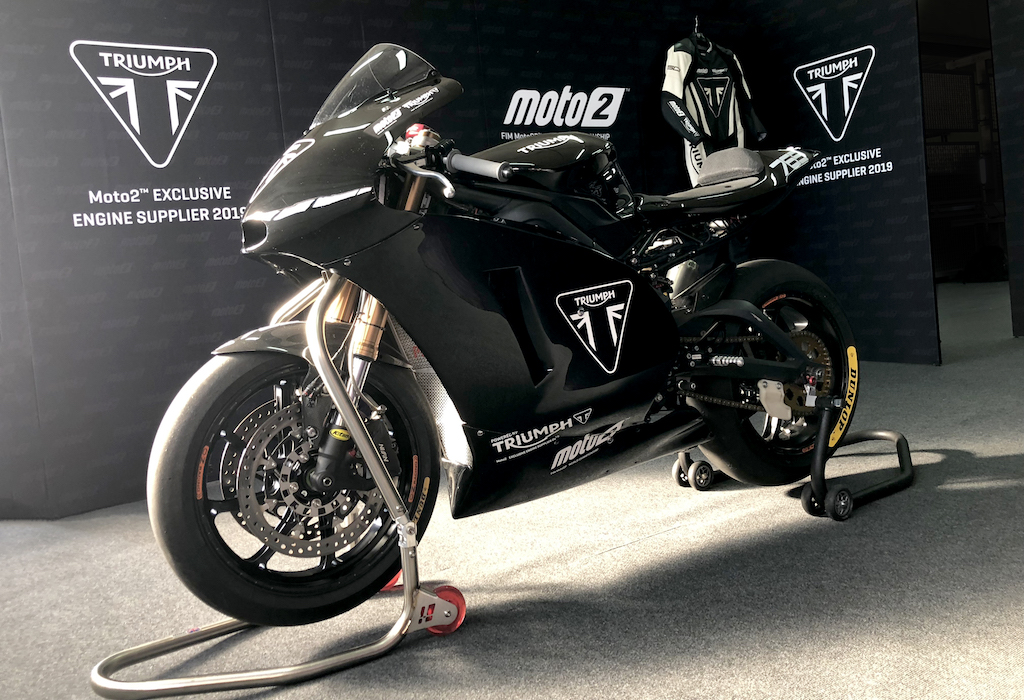 On Thursday, Triumph is supporting Two Wheels for life in fundraising for crucial causes in Africa, with two once-in-a-lifetime Triumph experiences on offer.
The top prize winner will have the chance to join Triumph on a global press launch of a new motorcycle hosted in southern Europe. All expenses on the trip will be covered and the winner will be among the first in the world, and the only member of the general public, to ride the exciting new model before retail.
Triumph is also offering another unique opportunity for a winning bidder and nine of their friends to have a private all-access tour at the Hinckley factory and time with the official Triumph design team.
HISTORIC PARADE LAP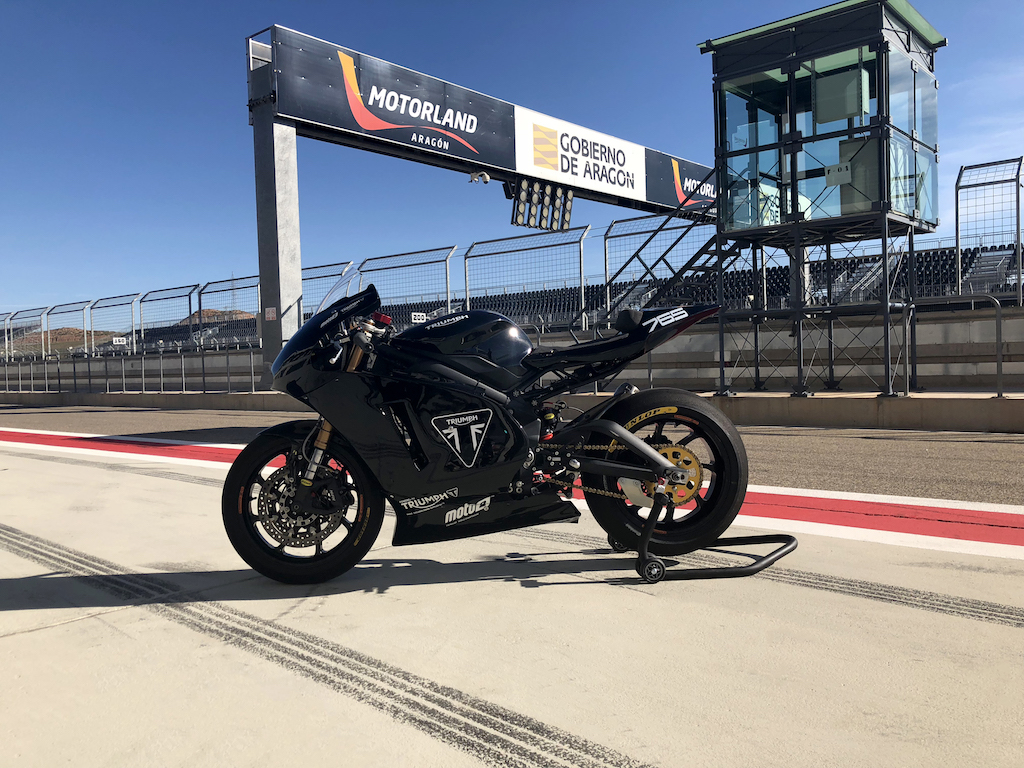 Just before the Moto2TM race on Sunday 26th August at the Silverstone British Grand Prix former multiple World Superbike Champion and BT Sport MotoGPTM commentator James Toseland will ride Triumph's final engine prototype bike, with eye-catching Union Jack scheme, in a historic parade lap in front of thousands of fans. This marks a significant moment in Triumph's racing history with the new 765cc Triple Motor2TM race engine taking to the track at a Grand Prix weekend for the very first time.
Prior to the parade lap, the Triumph Moto2TM engine prototype bike will be on display at the Go-ProTM stand. Fans can also join Triumph, see our range, and meet the team on the Triumph stand. 
ENGINE DEVELOPMENT UPDATE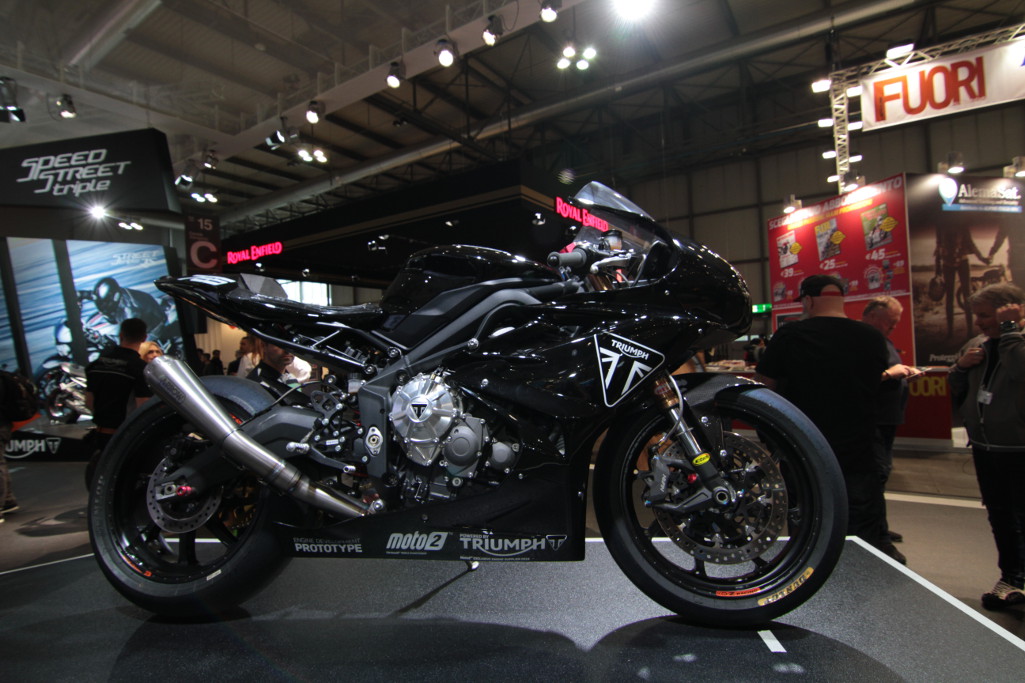 On 19th June 2018 Triumph's powerful new Moto2 Triple 765cc engines were matched with Magneti Marelli super-customisable ECUs and some of the key chassis manufacturers' prototype race set-ups for the very first time, with results well on track for the 2019 racing season.
During the test, three of the chassis manufacturer teams (Kalex, KTM and NTS ) ran the Triumph 765cc Moto2TM engine for the first time on track in their prototype 2019 frames, pushing the 765cc powerplant under near-race conditions.