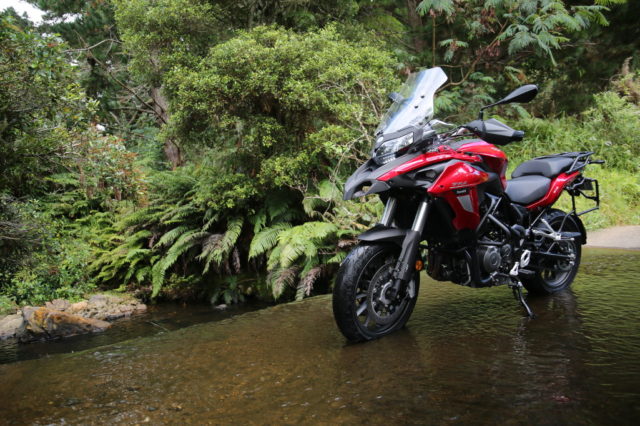 Anyone remember Victor Remington? The man who liked the razor so much, he bought the company? After Sean's first 48 hours with the Benelli TRK502, he was ready to part with some cash for ownership papers at least…
Words: Sean Pics: Mat
Back in the 80s, Benelli had some pretty impressive machines in Europe and the US, with a handful of bike models making appearances in our great Southern lands. Perhaps the most memorable – mostly for its weirdness, but it should have been for its technology – was the 750cc Sei; a six-cylinder behemoth and Benelli's last great claim to fame before the company was absorbed into Moto Guzzi.
Benelli is doing that phoenix from the flames trick, as befits a motorcycle company with over a century of 'here; gone, back here again' history. For 2018, Benelli once again has a NZ distributor looking after us – and Australia, in that order – and is in other vital motorcycle markets like Europe, the US and more critically for company resilience, India and China.
Yep, we did it – dropped the 'C word' in connection with a 'European bike', so let's clear that up. Benelli today, is in fact a subsidiary of a Chinese motorcycle group – Quianjang Group – one of China's largest motorcycle producers. We understand it's a joint venture arrangement; and Benelli Q.J is based in Pesaro, Italy, where Benelli's history began back in 1911. Thus, Benelli's can still be considered well, more pasta than noodles.
Getting real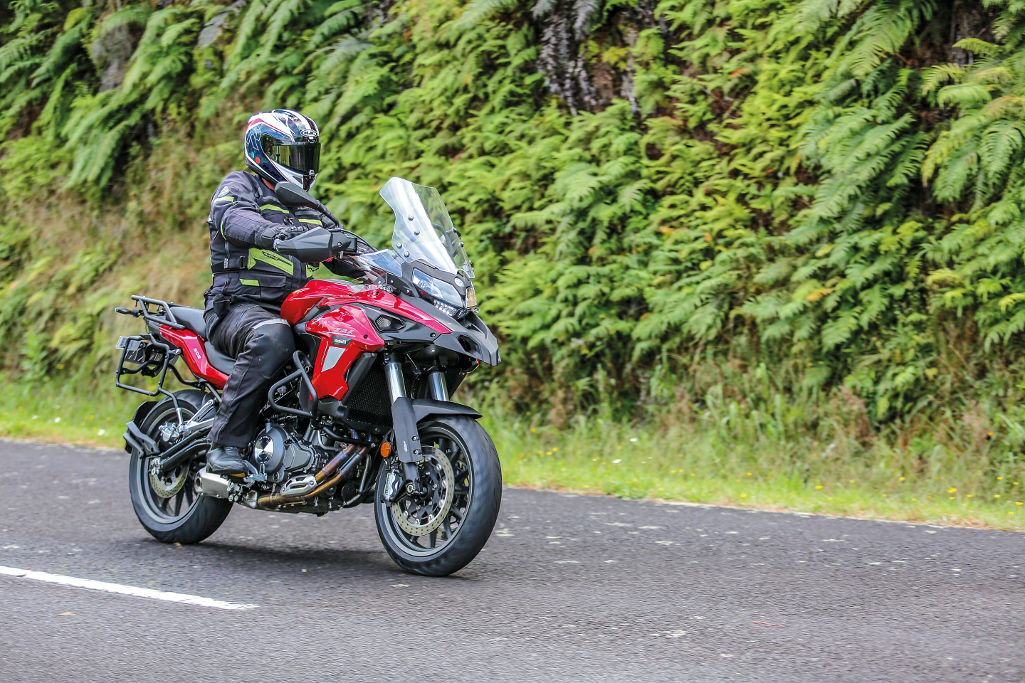 This is a 500cc LAMS bike – which is not a handicap – but is something certain reviewers need to get their 'upward of 600cc or nothing' heads around, especially as the design of a good LAMS bike is more crucial to a brand's longevity these days, as opposed to the development of a hyperbike with limited marketability.
The Benelli TRK 502 runs a 500cc parallel-twin with about 47hp output for a bike weighing somewhere around 230kg. In saying this, the Benelli gives brilliant economy (running 95+ octane), feels great to ride, and has enough 'go' to lose you your licence quickly enough.
It has quite possibly, the best seat of any bike I've ridden yet (for comfort anyway), but for me, the outstanding characteristic is the handling. The Benelli inspires confidence on the part of the rider, and not through knowing there is switchable ABS braking on hand, nor the grip of the frankly excellent, Pirelli Angel ST rubber; though this all helps.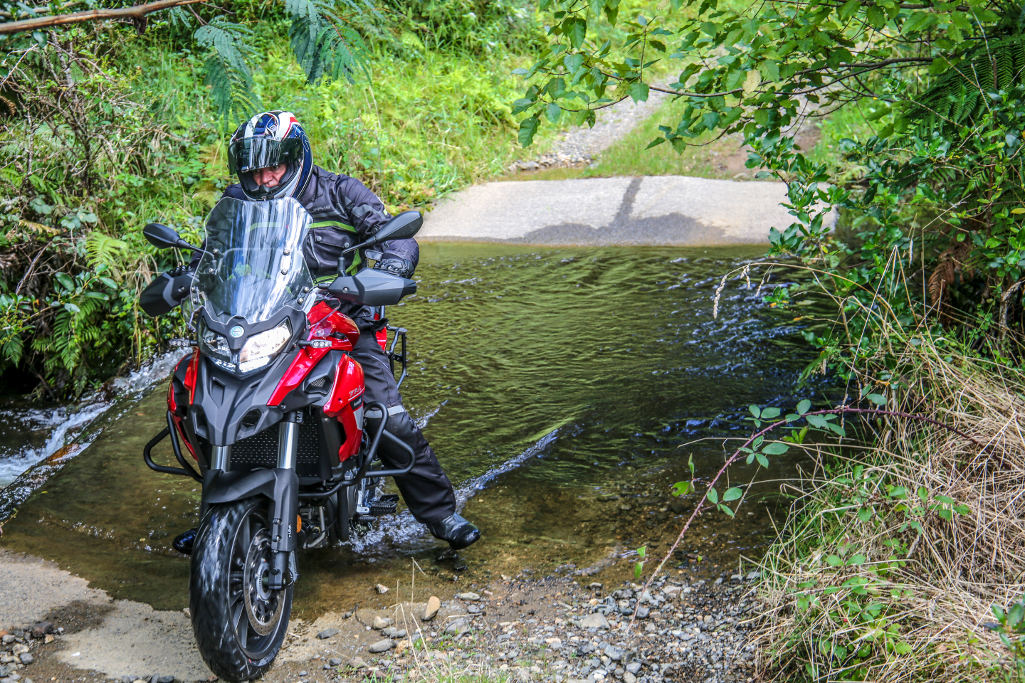 I put the confidence inspiration down to the cockpit of the Benelli, and I don't use that C-word lightly either. With the high 20-litre tank in front and the 2-inch taller-than-rider-position pillion seat behind, the Benelli pilot sits in the seat rather than on it, in a crouched attack riding position, perfect for distance riding and fabulous for cornering.
Once your tuckus is settled where it should be – hard against the pillion seat with some free space between the tummy and the tank – riding the Benelli is something you can do forever. Really? Forever's a long time… OK, but my commute is an hour and half, and usually, after about 45 minutes, I'm side shuffling, trying to work out which cheek is less tortured. On the Benelli? An hour and half and I'm ready to turn the bike around and do the ride all over again.
Standing up – normal practice for gravel riding and what you might think the Benelli has those big rubber footpeg inserts for –  feels a bit weird, which suggests the 502 is more suited to blacktop, despite its adventurous pretentions. For gravel riding – and you can, even with the nominally road-going Pirellis – it goes against the grain, but I found staying in the cockpit for those 'Holy Sh…who put that there?' moments, and even protracted forays on self-shifting surfaces, is the best bet.
Devil in the detail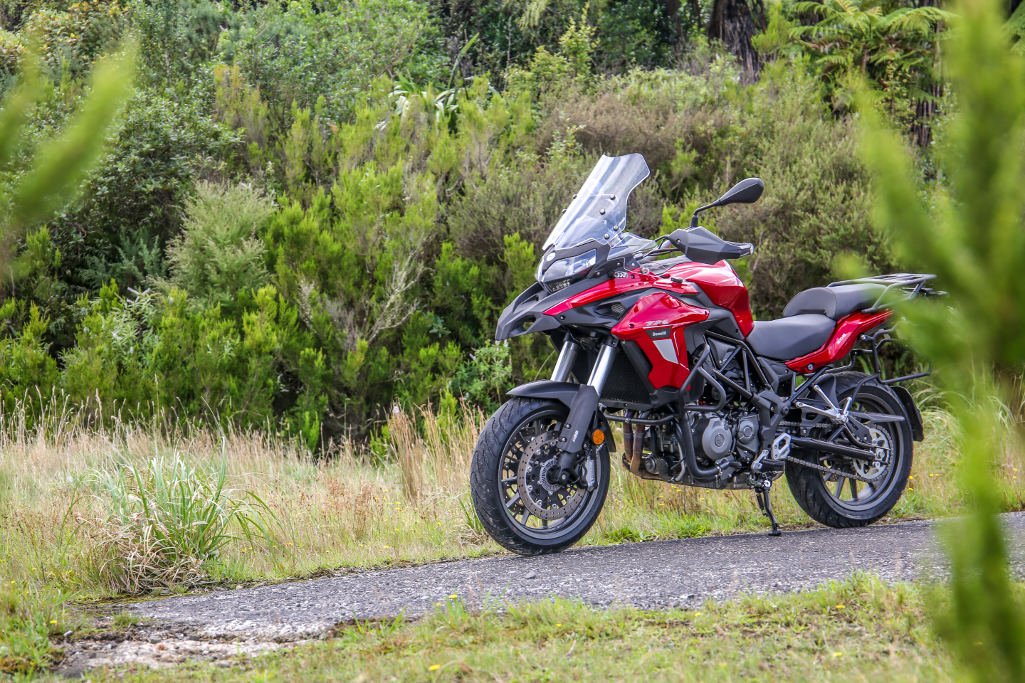 The Benelli isn't the perfect bike for everyone, but then, name me a bike that is. The meagre grumbles we found were – in the first place, fixable and in the second place, acceptable. More than, in fact, considering the price of the bike.
Mat wasn't happy with the front brakes, but then, he likes his Brembos – at a pinch, Nissins – which the Benelli don't got. For his preferences, the Benelli needed a double pull of the lever, and a two-fingered lever pull was too close to his throttle fingers for comfort. Apparently, a brake bleed fixes the double pull requirement.
I'll admit the front brake was spongy compared to some others recently tested, and there will be riders out there who won't like the feel. The brakes combined did what I needed them to do however, and remember, I had my confidence boosted to 'overdrive' thanks to the handling, so I wasn't hanging about.
I'm pleased to report that the brake lever is span-adjustable, but have to add that the clutch is not. Some may find it a bit of a reach. The factory handguards are a little well, flimsy. If you want them for the look and keeping your gloves wind-proofed, we'd suggest getting something aftermarket with more substantial plastic support and biff the factory ones, or put 'em on a kid's quad.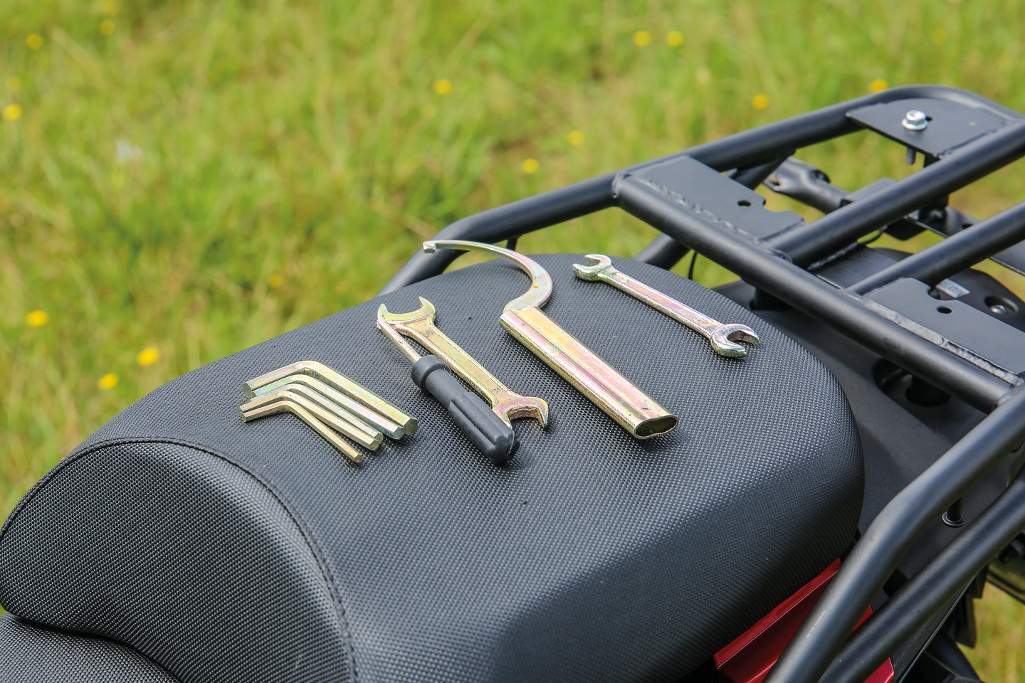 Oh, and when you take delivery of your Benelli, bend the horn out a little bit. It runs the risk of nicking the radiator hose, which would be a pity at best and catastrophic at worst. We both loved the factory toolkit. This includes – among other tools – a C-spanner for tweaking the suspension, though it was missing an 8mm ring spanner to take the rubber stoppers out of the foot-pegs.
Rather than having the new owner shell out for adventuring hardware, Benelli has factory-fitted a set of crash bars (not universally-adored, though I thought they were a nice bonus), along with side pannier racks (to accommodate Givi gear apparently) as standard.
A top box plate is also part of the ride-away kit and the tall screen is brilliantly set up to deflect all manner of bugs, gravel and wind buffet away from the rider. The screen's big support bracket seems to me to be the perfect place to position a GPS and allow you to wire it to the 'tank'-mounted USB port.
The instrument cluster, which – while not TFT – does give a goodly amount of info and easily read info at that. Speed, temp, fuel, gear, time, twin trips and odo are all digital with a nice, swinging analogue tacho showing a 9k red line. In top (6th) gear, 100km/h (and a smidge) was between five and half and six thousand revs, but at no time did the parallel twin sound like it was stressed. Quite the contrary, in fact.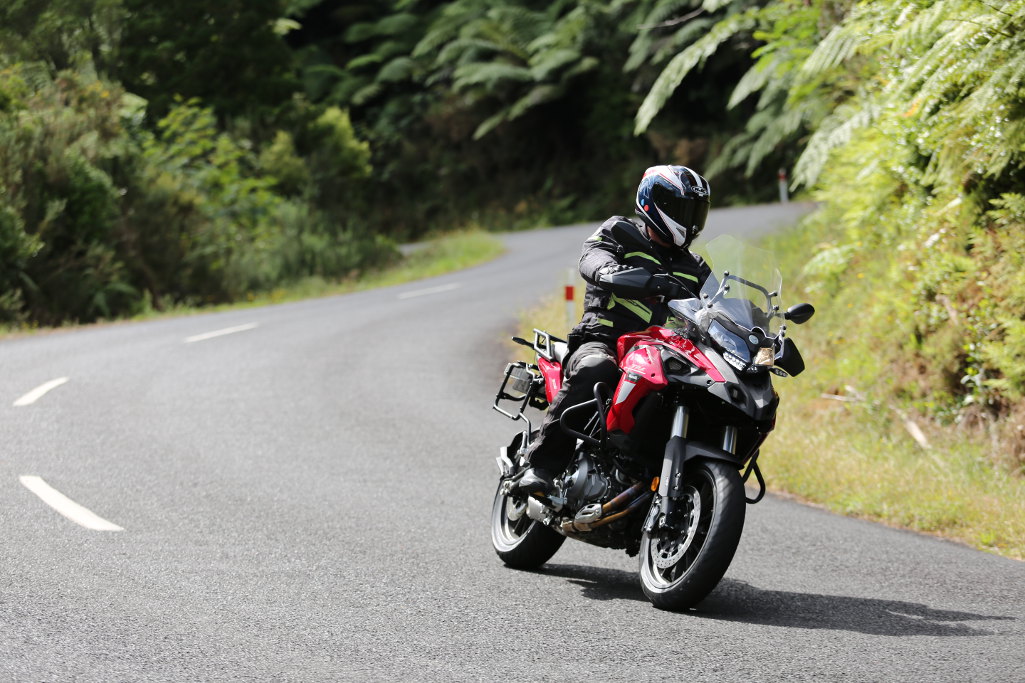 For those who have ridden – or ride – 500's, which sit at the open road legal limit anywhere between 5 and 6 grand, you'll probably question why you'd need more than 9,500rpm, especially as this is an adventur-ised commuter rather than an adventur-ised sports machine.
Other thoughtful considerations we liked included; a side-mounted sump plug, handy for oil changes, given the Benelli is only blessed with a side stand; rubber-mounted handlebars prevent unwanted vibration, and a skeletised gear shift lever, which could have been left – economically – as a cast lump of steel, but no, it's got some stylish cut outs built-in.
To my mind, the design of the bike scores a 10 for 10 inasmuch as I had a number of extremely positive comments on the TRK's styling from riders and non-riders. I'm sure that even the most open-minded rider will take a long look at the TRK502 and contemplate other bikes in the same class. A detailed analysis will highlight minor things that – could be – tweaked on the Benelli.
However, within the analysis should be Benelli's two-year manufacturer's warranty that comes standard, along with the roadside assistance package. This should, at the very least, take away any uncertainty about the longevity of the bike and/or the brand.
Benelli TRK502
Price: $9280.00 + ORC
Engine                         In-line 2 cylinder, 4-stroke, liquid-cooled, 4-valve, DOHC
Engine Displacement  499.6cc
Bore x Stroke              69 x 66.8mm
Compression Ratio     11.5:1
Max. Power Output    47hp @ 8500rpm
Max. Torque                45Nm @ 5000rpm
Carburation                 EFi with 37mm throttle body
Fuel Tank Capacity      20 litre
Clutch type                  Wet clutch
Transmission Type      6-speed
Final Drive                   Chain
Dimensions (LxWxH)  2170mmx912mmx1465mm (1495mm opt)
Wheelbase                  1525mm
Seat Height                 815mm (825mm opt)
Ground Clearance       230mm (240mm)
Fuelled Weight           213kg
Front suspension        Adjustable USD 50mm with 135mm stroke
Rear suspension         Rear swingarm with monoshock (preload adjust) and 45mm stroke
Front tyre                    120/70-ZR17 (std) 110/80-R19 (opt)
Rear tyre                     160/60-ZR17 (std) 150/70-R17 (opt)
Front brake                 Twin semi-floating 320mm disc with 4 piston caliper
Rear brake                  Single 260mm disc with single piston caliper
ABS                             Yes, switchable
Traction control          No
Cruise control              No
So who are Benelli?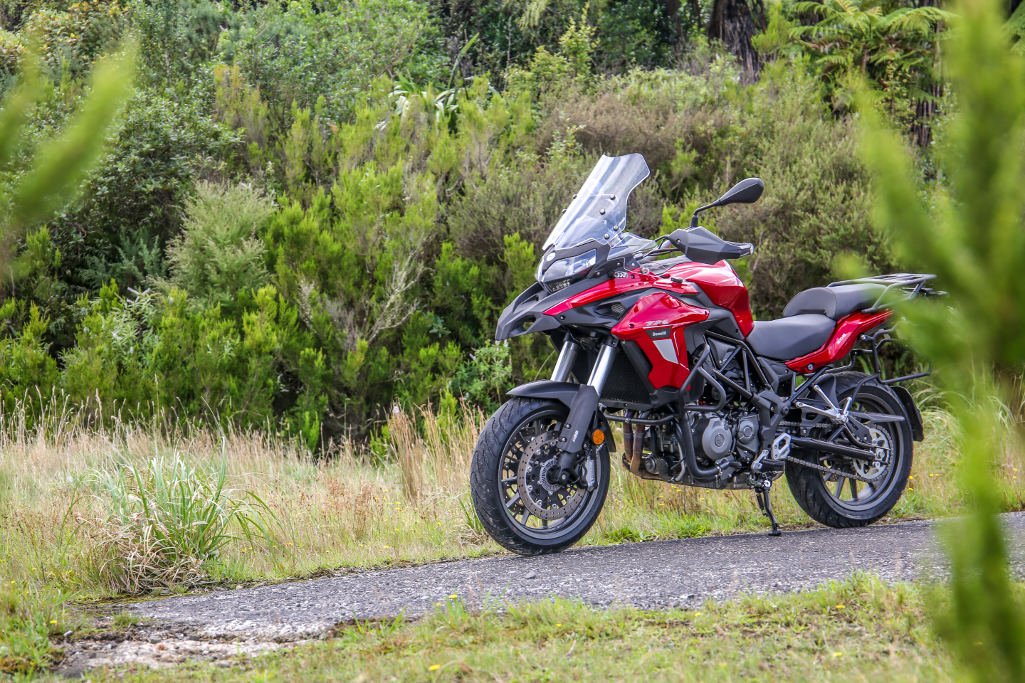 1911 – Widow Teresa Benelli opens Benelli Garage in Pesaro, Italy to provide employment for her six sons.
1919 – Benelli Garage introduces its first supplied component motorcycle.
1920 – 1st in-house engine produced by Benelli – 75cc, 2-stroke for bicycle application.
1921 – Benelli introduces first Benelli motorcycle using improved 98cc in-house engine.
1923/37 – Benelli commences racing winning four Italian championships in five years and culminating with an Isle of Man victory in the 250cc lightweight class in '39.
1940 – Benelli debuts a 4-cylinder, supercharged 250cc but WWII precludes international racing and Benelli ceases production until 1949.
1959 – Benelli returns with 98cc and 125cc 2 and 4-stroke machines (Leoncino) and 350cc and 500cc single cylinder bikes. Benellis are also licence-sold in America.
1962 – Benelli acquires Motobi motorcycles, jointly producing 300 motorcycles a day with 550 employees.
1969 – The Tornado 650 vertical twin is introduced to Great Britain and the US. High performance and a reputation for reliability saw the Tornado continue to 1974.
1973 – Argentinian industrialist Alejandro de Tomaso buys Benelli and Moto Guzzi to produce multi-cylinder engines to compete with the Japanese brands. This era saw the 350 GTS, the 500 Quattro and the 6-cylinder, 750 Sei.
1973/88 – Benelli produced technically advanced bikes but had issues when matched against other manufacturers. By '88, Benelli production ceased and the company merged formally with Moto Guzzi.
1989 – A flawed attempt to revive Benelli did pave the way for a successful rebirth under new stewardship in 1995.
2002 – Benelli introduced the Tornado TRE 900 super sport and the TNT Roadster followed.
2002/Present – Benelli is now owned by Quianjang motor group out of China, with the subsidiary Benelli QJ based in Pesaro, the Italian home of Benelli. Recently, Benelli has entered into a joint venture with DSK Group in India, launching five models there; the TNT 300 twin, TNT600i and GT, 4-cylinders, TNT 899 triple and the flagship TNT R, an 1130cc triple. New Zealand's new distributor, Urban Moto Imports, was announced in 2017.