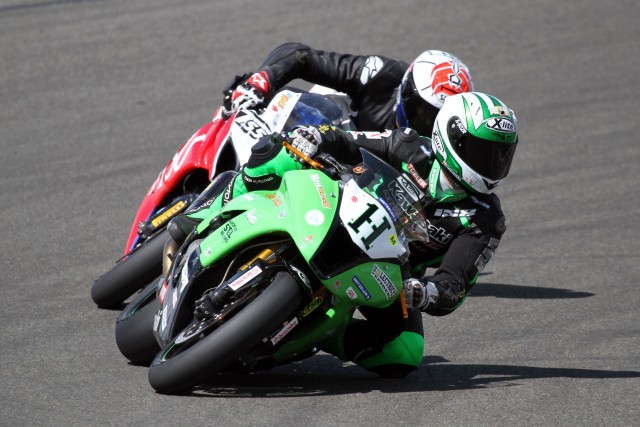 Suzuki Series showdown on Boxing Day
Whanganui hosts the final round of the 2015 Suzuki Series on Saturday and it may be one of the greatest showdowns in Cemetery Circuit history.
The gloves are off on Boxing Day. It is Kawasaki vs Suzuki, Liechtenstein vs New Zealand, Horst Saiger's Red Devil's Racing team vs Sloan Frost's Fujitsu TSS Red Baron Suzuki NZ team, and international pride vs kiwi passion.
Both riders are equal on 91 points in the premier Suzuki F1 Superbike class. Saiger of Liechtenstein, and Wellington's Sloan Frost lead the Suzuki Series and a small error of judgment or a simple slip on a white line could decide who becomes champion.
However, if both riders take a win and a second place in the two points races (or remain equal on points by day's end), then Saiger will take his second Suzuki Series championship back to Europe on account he would have more victories than Frost.
Which makes it even more important that Frost finishes ahead of Saiger in both legs if he wants to win the title, and the Wellingtonian is going all-out for series victory on Boxing Day.
"Usually I don't do a lot of preparation for Whanganui because I don't really try that hard, thinking about the nationals. But this year we are going to do the best we can so we're going to Whanganui with the intention of winning!" Frost says. "Robert Taylor has put in a Nitron rear shock which is working better than the Ohlins, so we're putting more of an effort in than we have in the past and hopefully come away with a win.
"On those tight streets it's down to how you qualify. You don't get much time on the track so I need to go fast straight up, and that's what is difficult about it."
The more experienced Saiger has raced at the Isle of Man, Macau, the Northwest 200, and the Ulster GP road circuits, and has other ideas where the title will go, "It is perfect for the championship as we are equal with the points. It is also perfect for Whanganui, so there's no silly game or anything, just full gas!" The defending champion says, who only recorded one top-five finish in the two championship heats last year.
"It is not too bad, I did the fastest lap of the whole meeting but I couldn't manage to pass the other guys as I was a little bit over the limit of the tyres. I preferred to sit on the bike (not crash), so I just didn't win there."
With all their skill and bravery there are a number of other riders capable of beating the pair of them, Jayden Carrick is a local Whanganui rider and he'll have the bit between his teeth after missing both previous rounds due to a practice crash at Hampton Downs. At Whanganui last year Carrick recorded a second and fourth on his Physiotherapy Hand Clinic GSXR1000, so he is good for the task at hand.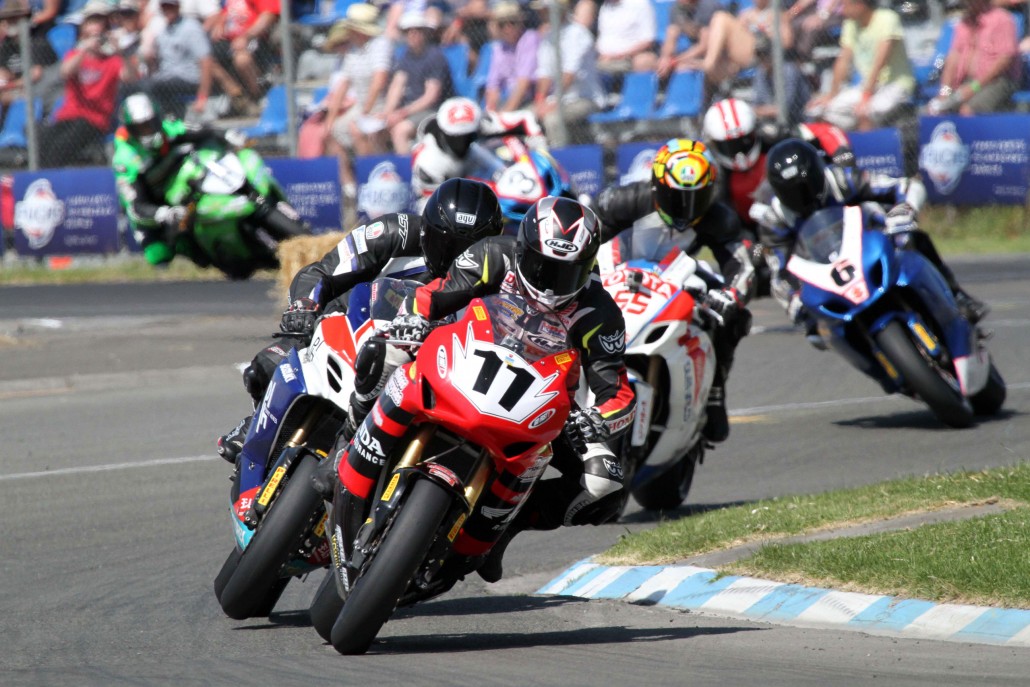 Whakatane Honda rider Tony Rees took a valiant opening race win then finished second to Taupo's Scott Moir on his Penny Homes GSXR1000 in the second leg. Either of these riders are capable of winning outright on judgment day. Moir finished runner-up in the 2014 Suzuki Series, and Rees was third.
Moir says, "I want to take the overall win this year – that is the plan!"
Last year's F2 600 champion Toby Summers will be racing his Barnes Jenkins Insurance Kawasaki ZX-10R for the first time in the Suzuki Series, and is fast enough to be a deciding factor for the eventual title holder if his day goes to plan.
Honda Rider Insurance CBR1000RR mounted Rees won the Robert Holden Memorial Feature race last year, his fifth since 1990, and he is currently riding better than ever. This is the race everyone wants to win to have their name engraved on one of the most treasured trophies in motorcycling. With names such as Rod Coleman (1952, '53, '54 & '56), Bob Coleman (1956), Ginger Molloy (1968 & '71), Pat Hennen (1974, '75 & '76), John Woodley (1978), who is back racing this year in the BEARS class, Dave Hiscock (1981 & '83), Bob Toomey (1982 & '87), and Jason McEwen (1988, '94, '96 & '98) to name a few. And of course the late Robert Holden himself, who won the feature event five times.
Rees says, "So long as the bike is good when we pull it out of the van we might be in the hunt. I've been there – done that, I've won it five times now (Robert Holden Memorial) and I'll always have a go, but I'm only doing this because I like riding motorbikes."
Huge interest will be on the Nationwide Accessories F2 600 class, presently lead by Motorad Kawasaki ZX-6R-mounted Shane Richardson, of Wellington, who also rode very well last year at Whanganui.
"I lead a big portion of the first race and ended up second to Adam Chambers, and then in the second race I made a mistake trying to pass around the outside and I ended up in the air fence!" Richardson recalls.
"I'm going to do what I have to do! It's good going there with a buffer (nine points) and not having to push to claw it back, I'll just go out there and maintain it, and not crash. I'm looking forward to it as I love the street circuits with all the bumps."
Aucklander Daniel Mettam (RCM Suzuki NZ GSXR600) is only nine points behind Richardson in the title chase but will need to be at the top of his game coming off a shoulder injury following his Manfeild crash.
Swiss rider Roman Stamm (Red Devils Racing ZX-6R) also hopes to make a return after his own high-speed Manfeild practice crash, and with his incredible experience should not be discounted to win during his debut visit to the Cemetery Circuit.
Other riders to watch include Whakatane's Damon Rees (Honda Rider Insurance CBR600RR) who is only 2.5 points behind Mettam, a fast improving Adam Chambers (Wolfpack Racing Honda CBR600RR), Steve Bridge of Ngaruawahia (F1E Motorcycle Works Kawasaki ZX-6R), or Connor London who lies fifth in series on his WIL Sport GSXR600.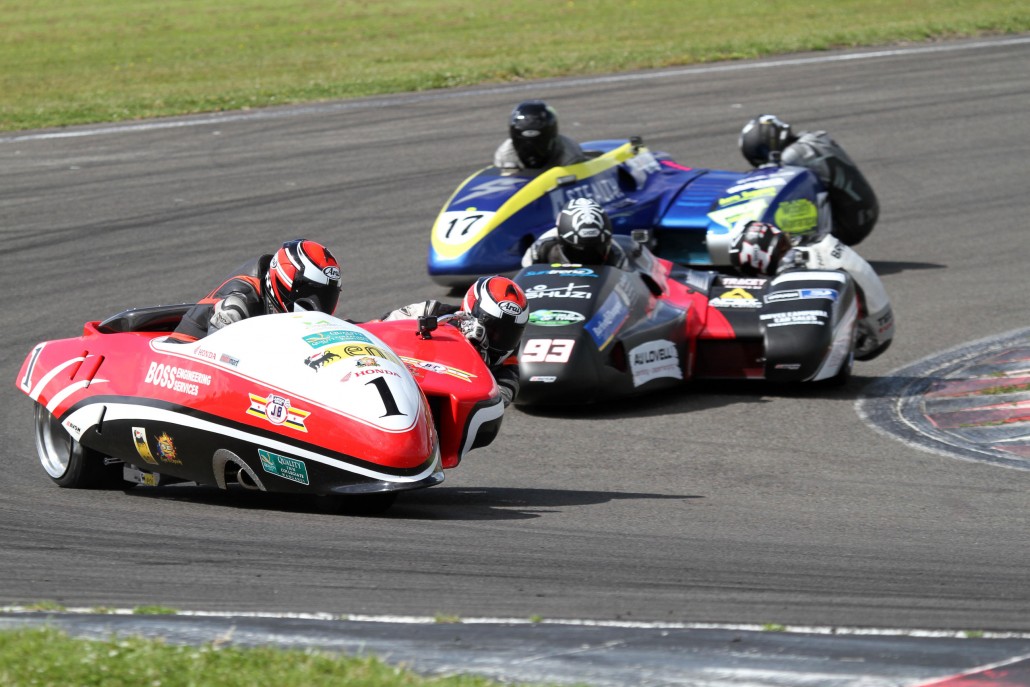 Multi-world sidecar champion and Isle of Man TT winner Tim Reeves remains unbeaten in the Quality Inn F1 Sidecar class on the Carl Cox Motorsport E-Aide LCR and has shattered the lap records at Hampton Downs and Manfeild. Although he will have a new passenger in Robbie Shorter, chances are the famous Cemetery Circuit will be no different for the Briton.
The Cemetery Circuits bumps, white lines nor manhole covers seem to worry Reeves because he's done it all before. "I'm not going to go and look at it beforehand, we'll just get down there and run out – I'm sure it will be fine."
There are however several New Zealand riders capable of preventing a clean sweep at Whanganui by the 2014 World Sidecar champion. Second in the title chase with four second placings is the Shuzi LCR-mounted Waikato/Bay of Plenty pairing of Aaron Lovell and Tracey Bryan.
"All we can do is to try and get the holeshot and not ride defensively, because you don't race properly that way, just try to keep in front. If we can get the holeshot we will brake as late as we can and go as hard as we can." Lovell says, who will need to get a top qualifying position if he wants the holeshot. "It's the inside line that we need, so pole would be good there."
The former Whanganui-based but now Auckland-domiciled duo of Adam Unsworth and Stu Dawe have become crowd favourites, and have lead many races at the Cemetery Circuit.
Unsworth says, "I've been pushing my Eni Windle sidecar around Whanganui for eight years now so it's a totally different set-up for Whanganui, suspension, steering geometry, everything changes because it's just so bumpy.
"We've had lots of seconds and thirds there, we won last year, and my opinion is you've got to be at least on the first two rows to have a chance of winning. If you are third or further back it's very difficult to make up ground.
"I don't think anything is a challenge to Tim, he's just a class act! The lap record is going to go for sure, unless it rains, which will change things dramatically.
Other contenders include Masterton's Spike Taylor and Astrid Hartnell, who are third in the Suzuki Series, and the Perth pairing of Des Harvey and Dirk Jeal may also come into their own due to having a more specialist 'short' sidecar for Whanganui.
The ACC "Ride Forever" F3 category has provided some of the closest racing this series, however when it comes to taking the chequered flag, no one has crossed the finish line yet before Leigh Tidman on his Yamaha RS450, of Taumarunui.
Richard Dibben, of Whanganui, has won all his Edmonds Painting Supermoto races and leads his class by 18 points from Tauranga's Duncan Hart and Reporoa rider Casey Bullock, so the battle for second will be the positions to watch.
Feilding's John Oliver holds a 14 point lead on his BMW S1000RR to local rider Dwayne Bishop (Aprilia RSV4) in the Q-west Boat Builders BEARS category. Keep a look out for a red MV Agusta F4 1000 with the letter W on it, as 1978 feature race winner John Woodley recreates history just by competing again.
Te Awanga racer Eddie Kattenberg (Yamaha FZ1000) leads Aucklander Paul Russell (Suzuki GSXR1100) in the Lyndsay Tait & Associates Post Classics Pre '89 class by 14 points, while in the Junior section Hamilton's Shane Lawrey (Yamaha FZR600) has a ten point lead to Wellington racer Terry Moran on his Kawasaki ZZR600.
Words & photos by Terry Stevenson