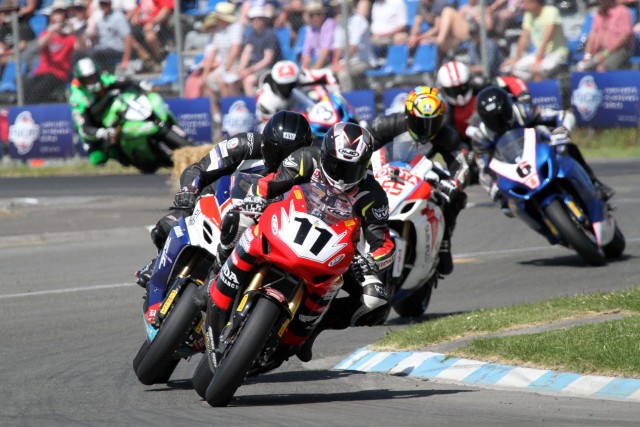 Rees triple treat but Frost wins Suzuki Series
Suzuki mounted Sloan Frost won the 2015 Suzuki Series in hot conditions at Whanganui on Boxing Day.
Frost and Horst Saiger, of Liechtenstein, entered the day equal on points but it was Frost who made the most of his opportunities on his Fujitsu TSS Red Baron Suzuki NZ GSXR1000. Frost snatched second place from Taupo's Scott Moir in the opening race, which had been restarted after Saiger crashed his Red Devil's Racing Kawasaki ZX-10R and was able to make the restart.
In reply Saiger could only manage fifth on the famous Cemetery Circuit, leaving the Suzuki F1 Superbike points advantage to a stronger looking Frost for a race two showdown.
Saiger however wasn't riding at his best which allowed Frost to ride defensively, as all the Wellingtonian had to do was finish in front of Saiger. Frost closed the Suzuki Series with a podium third placing while Saiger scored another fifth, handing Frost his first Suzuki Series after several valiant attempts.
Frost said after the racing, "In the first race we got a solid start and worked our way through the field up to second behind Tony Rees, I managed to set the fastest lap in that race. I got a great start in the second race but for the first couple of laps I took it easy, so long as I didn't see a green bike (Saiger's Kawasaki) come past me I was happy! I just wanted to win that championship for Suzuki.
"I wanted to finish in the top three, and a win would have been great, but when I saw Toby [Summers] come past, and then Tony [Rees] I wasn't going to put up a fight. Tony was catching in the points but as long as I stayed close to him that was all I needed to do.
"This is great momentum going into the national series as that's the one we want to win, but it's nice to win the Suzuki Series because Suzuki do so much for me so it's nice to reward them with the championship. I have several guys who come over from Australia to help me and they put so much time and effort into it, and my team, my family, MC2, TSS Red Baron and Fujitsu, it's great to reward them all with the championship."
Saiger realised too late that he should have used a different riding style on the tricky street circuit. "I did it all wrong, that's what happened. We ran long (high) gearing and I tried to carry higher corner speed, I tried to go faster and faster but I was just doing it wrong with my riding style," Saiger says.
"That was how I rode last year but the grip was much better then. I learned a lot in the last race because I could see how Tony Rees in front of me was riding, he was never in danger and was much faster with a completely different riding style and completely different gearing."
The rider of the day went to 48 year old Tony Rees, who took three wins from three races which included the non-championship Robert Holden Memorial feature race.
Rees qualified his Honda Rider Insurance CBR1000RR on Pole and also set the fastest lap of the day during the feature race with a quick 49.862 second lap time. The Whakatane rider has entered legend status by taking his sixth Robert Holden Memorial feature win at Whanganui – his first victory coming 25 years ago in 1990, which must be a record in itself for any sportsman between wins.
Rees said, "I made a few tweaks and I had a pretty good bike all day! It was easy to ride, I don't run any traction control or wheelie control here, so it was all throttle control, but the bike was good to ride.
"I just like going to ride. I came here to have a go, I've been there and done that, it's not like I have to win but I enjoy the riding. That is why I am here all these years later, and I feel comfortable on my bike. It means a lot to me to win all these years later."
With Rees winning the opening race and Frost second, Taupo's Scott Moir (Penny Homes GSXR1000) completed the podium with a surprisingly fast Toby Summers fourth on his almost stock Barnes Jenkins Insurance Kawasaki ZX-10R. Saiger was fifth.
The race two finishing order was Rees, Summers, Frost, Moir, who dropped several positions after he hit a hay bale, and Saiger. Rees' two series victories pushed him up to second in the Suzuki F1 Superbike championship, behind Frost. Saiger was third in the title chase followed by Moir and, equal on 74 points, Jamie Maindonald and Andrew Stroud, who didn't race at Whanganui.
The Robert Holden Memorial finishing order was Rees, Saiger, Summers, Perth-based Adam Chambers riding his smaller capacity Wolfpack Racing Honda CBR600RR, and Swiss Red Devil Racing Kawasaki ZX-6R rider Roman Stamm, returning after injury at Manfeild two weeks ago.
UK-based Tim Reeves again easily won the Quality Inn F1 Sidecar races on the Carl Cox Motorsport E-Aide LCR with new passenger Robbie Shorter, although the Aaron Lovell (Hamilton) and Bryan (Tauranga) pair had qualified their Shuzi LCR on Pole.
In race one the Auckland-based Adam Unsworth/Stu Dawe combination shot their Eni Windle F1 off the second row of the grid ahead of Lovell, but behind Reeves. The positions didn't change all race, with Masterton's Spike Taylor and Astrid Hartnell fourth on their Stealth Electric Bikes LCR. Des Harvey and Dirk Jeal looked good for fifth until a strong ride by locals Corey Winter and swinger Kieran Whitham passed the Perth-based pair mid-race.
Reeves cleared out to win race two by nine seconds from Lovell, followed by Unsworth, Winter and Taylor. Seven-time world sidecar champion Reeves won the 2015 Quality Inn F1 Sidecar title ahead of Lovell/Bryan, Unsworth/Dawe and Taylor/Hartnell.
Reeves enjoyed his summer in New Zealand, "It has been an excellent series. This track was the most difficult because it is so tight and twisting – it's just hard work to ride my big bike around here. I've really enjoyed it, everyone has been so welcoming and they've been really pleased with us here. All the other teams have been spot-on. I think we've helped them a bit, I've been working with Aaron [Lovell] on his bike yesterday and I think it got a little bit better than before.
"They've invited us back again for next year so we'll be coming, but I'm coming with Mark [Wilkes, who passengered the first two rounds] because Mark needs to finish off from where we started, and by this time next year he'll be fully fit.
"Next year I'll be doing the world championship, selected British championship races, but the Isle of Man TT will be big, then we'll be back here our next winter!"
Aucklander Daniel Mettam won the Nationwide Accessories F2 600 Suzuki Series on his RCM Suzuki NZ GSXR600 after series leader Shane Richardson crashed his Motorad Kawasaki ZX-6R while entering turn one of the opening F2 race while leading.
Tony Rees 20 year old son, Damon Rees, finished overall second on his Honda Rider Insurance CBR600RR in the Suzuki Series, just 1.5 points ahead of 20 year old Richardson, Adam Chambers and Roman Stamm of Switzerland.
With Richardson out of the opening race, a still injured 19 year old Mettam went on to win from Stamm, Rees, Isle of Man rider Billy Redmayne on his Biggles Racing ZX-6R, and Shaun Harris (New Plymouth), who was having a great day on his TT1 The Chassis Shack GSXR600.
While Adam Chambers could only muster seventh in race one, he snatched a brilliant victory in race two to win by just 0.089 of a second from Richardson (Wellington), who made a fine recovery after his earlier fall. Mettam rode a safe third with Harris improving for fourth, and Stamm fifth.
Mettam had torn ACL ligaments in his shoulder. "After my Manfeild crash two weeks ago, last night I was deciding if I was even going to ride because I wasn't feeling up to it! I took a couple of pain killers this morning and ended up second on the grid. In the first race I was just going to get some points, my goal was to finish second overall in the series, but Shane went down in the race so I said to myself 'I just need to finish' and get some points and I should take the lead, and if I bring it home in the second race I should have the championship," Mettam says.
The ACC "Ride Forever" F3 class was dominated by Glen Skachill on the day, with the Wellington racer taking both wins on his Moto TT Honda NSR300, although it wasn't enough to catch Suzuki Series class winner Gavin Veltmeyer riding his Coleman's Suzuki GVR645. Original series leader Leigh Tidman's machine suffered an engine failure during race one leaving the Taumarunui rider third in the standings, just one point behind Skachill.
Riding a BMW S1000RR, John Oliver locked up the Q-west Boat Builders BEARS series, but the Feilding  racer did it the hard way after suffering a spectacular fast crash onto the start-finish straight while leading the opening heat. That race was won by Masterton's Jamie Galway on a Triumph 675 with Mark Perry a fine second on an Aprilia. Oliver came back to take second in race two which was won in fine style by Perry, who rode his best ever race at the Cemetery Circuit.
There was high drama in the Edmonds Painting Supermoto category. Richard Dibben almost had the championship in the bag but the Whanganui ace dropped his Tyresheild CRF450 on lap two of the opened leg while he had a big lead, leaving Tauranga's Duncan Hart to grab an unexpected victory on his Mimico Yamaha YZF450. Casey Bullock, of Reporoa, was third on a KTM 450. Dibben came back to take the race two win ahead of Bullock and Hart but it wasn't enough claw back the lost points, leaving Hart as 2015 Suzuki Series Supermoto champion!
Dibben and Bullock closed the series equal with 128 points, however Dibben takes second overall due to his previous four victories at Hampton Downs and Manfeild.
Paraparaumu racer Sean Donnelly won both Lyndsay Tait & Associates Post Classics Pre '89 heats on his Kawasaki Z1000R to finish third in that title chase, won by Te Awanga's Eddie Kattenberg on his Bimota YB8. One of the rides of the day came from Dave Freeman, of Paraparaumu, who raced his Harris GSX1100 into second position, in each heat ahead of Kattenberg. Freeman also set the fastest Post Classic lap time of the day during race two.
Hamilton lawyer Shane Lawrey won the Lyndsay Tait & Associates Pre '89 Junior series on his Yamaha FZR600, ahead of Wellingtonian Terry Moran, and Steven Gregg. Matthew Eggleton won both legs at Whanganui.
Peter Tanner won the Classic Solo race on a Manx Norton 630, while the John Baymires/Charles Bilby combination from Pahiatua won both Classic Pre '82 sidecar races on their 1976 Moto Guzzi Le Mans classic sidecar.
The two $2,995 Suzuki UK110 scooter winners are Anne Ginty of Blackball, and Graeme Josephson of Lower Hutt.
Final 2015 Suzuki Series results from Wanganui on Boxing Day, December 26.
Quality Inn F1 Sidecars race 1: Tim Reeves/Robbie Shorter (UK-NZ, Carl Cox Motorsport LCR), 1; Adam Unsworth/Stu Dawe (Auckland, Eni Windle F1), 2; Aaron Lovell/Tracey Bryan (Hamilton/Tauranga, Shuzi LCR Suzuki), 3; Spike Taylor/Astrid Hartnell (Masterton, Stealth Electric Bikes LCR), 4; Corey Winter/Kieran Whitham (Whanganui, DMR600), 5.
F1 Sidecars race 2: Reeves/Wilkes, 1; Lovell/Bryan, 2; Unsworth/Dawe, 3; Winter/Whitham, 4; Taylor/Hartnell, 5.
F1 Sidecars final series points: Reeves/Wilkes, 152; Lovell/Bryan, 131; Unsworth/Dawe, 114; Taylor/Hartnell, 110; Winter/Whitham, 93.
Suzuki Formula 1 Superbike, race 1: Tony Rees (Whakatane, Honda Rider Insurance CBR1000RR), 1; Sloan Frost, (Wellington, Fujitsu TSS Red Baron Suzuki NZ GSXR1000), 2; Scott Moir (Taupo, Penny Homes Suzuki GSXR1000), 3; Toby Summers (Barnes Jenkins Insurance ZX-10R), 4; Horst Saiger (Liechtenstein, Red Devil Racing Kawasaki ZX-10R), 5.
Formula 1 Superbike, race 2: Rees, 1; Summers, 2; Frost, 3; Moir, 4; Saiger, 5.
F1 Superbike final series points: Frost, 133; Rees, 125.5; Saiger, 123; Moir, 110; Andrew Stroud (Hamilton, Suzuki NZ GSXR1000) and Jamie Maindonald (Hastings, Easybach Transportable Homes), 74=.
Robert Holden Memorial feature: Tony Rees, 1; Horst Saiger, 2; Toby Summers, 3; Adam Chambers, 4; Roman Stamm, 5.
Nationwide Accessories Formula 2 600, race 1: Daniel Mettam (Auckland, RCM Suzuki NZ GSXR600), 1; Roman Stamm (Switzerland, Red Devil Racing Kawasaki ZX-6R), 2; Damon Rees (Whakatane, Honda Rider Insurance CBR600RR), 3; Billy Redmayne (Isle of Man, Biggles Racing ZX-6R), 4; Shaun Harris (New Plymouth, TT1 The Chassis Shack GSXR600), 5.
Formula 2 600, race 2: Adam Chambers (Clive-Perth, Wolfpack Racing Honda CBR600RR), 1; Shane Richardson (Wainuiomata, Motorad Kawasaki ZX-6R), 2; Mettam, 3; Harris, 4; Stamm, 5.
Formula 2 600 final series points: Mettam, 124.5; Rees, 112; Richardson 111.5; Chambers, 202.5; Stamm, 89.
ACC "Ride Forever" Formula 3, race 1: Glen Skachill (Wellington, Moto TT Honda NSR300),  1; Ashley Payne ( Whanganui, Suzuki GSXR450), 2; Gavin Veltmeyer (Auckland, Coleman's Suzuki GVR645), 3; Jonny Lewis (Nelson, Carters Yamaha R450), 4; Dean Bentley (Lower Hutt, TSS Red Baron SV650), 5.
Formula 3, race 2: Skachill, 1; Payne, 2; Robert Whittall (Raglan, NTB Racing Aprilia SXV550), 3; Veltmeyer, 4; Bentley, 5.
Formula 3 final series points: Veltmeyer, 112; Skachill, 102; Leigh Tidman (Taumarunui, Yamaha RS450), 101; Payne, 98; Whittall, 86.
Edmonds Painting Supermoto race 1: Duncan Hart (Tauranga, Mimico Yamaha YZF450), 1; Casey Bullock (Reporoa, KTM450), 2; Glenn Haden (Dyno Lab Suzuki RMZ450), 3; Aden Brown (Whanganui, Harvey Round Motors RMZ450), 4; Richard Swain (Whanganui, Keown Honda CRF450), 5.
Supermoto race 2: Richard Dibben (Whanganui, Tyresheild CRF450), 1; Bullock, 2; Hart 3; Haden, 4; Brown, 5.
Supermoto final series points: Hart, 129; Dibben & Bullock, 128=; Haden, 110; Brown, 98.
Lyndsay Tait & Associates Post Classic Pre '89 Senior race 1: Sean Donnelly (Paraparaumu, Kawasaki Z1000R), 1; Dave Freeman (Paraparaumu, Harris GSX1100), 2; Eddie Kattenberg (Te Awanga, Bimota YB8), 3; Paul Russell (Auckland, Suzuki GSXR1100), 4; Paul Wootton (Waikane, Suzuki GSXR1100), 5.
Post Classic Pre '89 Senior race 2: Donnelly, 1; Freeman, 2; Kattenberg, 3; Phil Duxbury (Auckland, Suzuki GSXR1100), 4; Russell, 5.
Post Classic Pre '89 Senior final series points: Kattenberg, 142; Russell, 120; Donnelly, 115; Freeman, 101; Wootton, 97.
Lyndsay Tait & Associates Post Classic Junior race 1: Matthew Eggleton, 1; Shayne Lawrey (Hamilton, Yamaha FZR600), 2; Nick Kampenhout (Morrinsville, NV Motorcycles Husqvarna CR390) 3; Terry Moran (Wellington, Kawasaki ZZR600), 4; Steve Clarke (Masterton, Honda), 5.
Post Classic Junior race 2: Matthew Eggleton, 1; Steven Gregg (Masterton, Honda CBR600), 2; Lawrey, 3; Kampenhout, 4; Mark Robinson , 5.
Post Classic Junior final series points:  Lawrey, 139; Moran, 120; Gregg, 106; Nigel Lennox (Auckland, Honda), 90; S J Cavell (Napier, Honda VFR400), 89.
Q-west Boat Builders BEARS race 1: Jamie Galway (Masterton, Triumph 675), 1; Mark Perry (Sanson, F1E Motor Works Aprilia 1000), 2; Jason Bardell (Whanganui, BMW S1000RR), 3; Stephen Leggett (Auckland, Aprilia RSV4 S), 4; Jonny Lewis (Nelson, Carters Aprilia RSV4 1000), 5.
BEARS race 2: Perry, 1; John Oliver (Feilding, BMW S1000RR), 2; Lewis, 3; Galway, 4; Bardell, 5.
BEARS final series points: Oliver, 125;  Bardell, 108; Dwayne Bishop (Whanganui, Aprilia RSV4), 104; Leggett, 100; Shaun Manson (BMW S1000R), 95; John Woodley (Australia, MV Agusta F4 1000), 81.
ENDS
Words & photos by Terry Stevenson