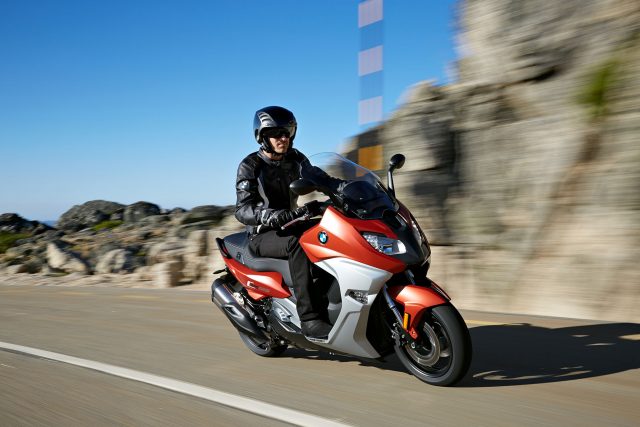 BMW C 650 Sport and GT Unveiled
BMW has launched its new C 650 Sport and C 650 GT maxi scooters with an extensively modified drivetrain, retuned suspension and increased standard features ensuring they continue to deliver both practical and efficient urban commuting along with trademark BMW sports performance and grand tour cruising.
Building on the strength and history of the BMW Motorrad brand and its outstanding motorcycle lineup, BMW first launched its maxi scooter C 650 range in Australia in 2012 and now with further mechanical improvements and for the Sport, a completely new body design, the range is set to appeal to a much broader market.
General Manager of BMW Motorrad Australia, Andreas Lundgren said the two BMW C 650 maxi scooters combined practicality and cost efficiency with maximum riding enjoyment and touring comfort making them ideal for all environments.
"With their improved performance, ride comfort and dynamic handling, both BMW C 650 models deliver the excellent ride qualities that BMW motorcycles are renowned for with the agility, comfort and convenience of a maxi scooter," Mr Lundgren said.
"At the same time, the all-new sharper and more athletic design of the C 650 Sport offers greater differentiation to the stylish comfortable elegance of the C 650 GT tourer providing plenty of appeal for a broad diversity of customers."
Both models share the same powerful 44kW/63Nm 647cc twin cylinder engine that has been retuned for improved performance and efficiency to meet the latest EU4 emission standards.
Driving through a significantly upgraded Continuously Variable Transmission (CVT), the engine delivers improved off-the line response, a higher 180km/h top speed and fuel consumption of 4.6l/100km at a constant 90km/h.
A new stainless steel exhaust system, now only fitted with a rear silencer, gives both scooters a throaty sonorous soundtrack.
Together with the drivetrain improvements, the new C 650 models also benefit from retuned spring and damper rates for the 40mm front upside down forks and rear swing arm suspension that provides excellent highway speed stability with easy manoeuvrability in city traffic.
The suspension maintains the generous 115mm travel of the previous models with the additional fine-tuning optimising the balance between sporty handling and superb ride comfort.
Big 15-inch light-alloy wheels further enhance the comfort, stability and agility of the maxi scooters while the new standard Automatic Stability Control (ASC), in addition to ABS, delivers maximum safety when braking or under throttle.
The new C 650 Sport that replaces the previous C 600 Sport, is immediately recognisable thanks to its leaner streamlined aesthetic with a sculpted front fairing, visible forks and sharply raked windscreen sitting atop the distinctive BMW "split-face".
In side profile, a dynamic line rises to the rear where the highly visible swing arm, white painted rear spring for the spring strut, and twin pipe silencer on the right hand side enhance the sporty silhouette and define the C 650 Sport as a product that sits easily within the BMW Motorrad family.
The design of the C 650 GT has been fine tuned as well with new rear side trim panels and rear LED light unit while both models feature redesigned instrument dials for better readability in all light conditions.
The distinction between the two models is also evident in the handlebar design with Sport's wider flatter bars and streamlined seat design prompting a more forward oriented riding position while the higher bars and large comfortable seat with an integrated backrest on the GT are perfect for long distance cruising.
Both new C 650 models also offer an extensive list of practical comfort and convenience features and ample storage space.
Standard adjustable windshields, with electric control for the C 650 GT, an automatic park brake that is activated when the side stand is folded down, and a revised design for the centre stand that requires 30 per cent less effort to jack up all ensure the C 650 is very easy to live with.
With an LED-illuminated, 60-litre storage space under the seat, the C 650 GT offers best in class storage that is complemented by two front glove compartments, one of which features a standard power socket and automatic locking function.
While the Sport model's slender rear end offers a smaller storage space, BMW's innovative Flexcase concept that enables a downward extension of the base of the storage compartment when the scooter is parked ensures there is still sufficient room to securely store two helmets.