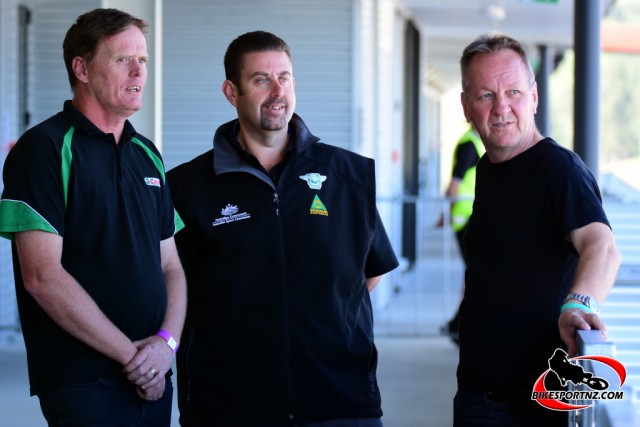 Words and photo: Andy McGechan, www.BikesportNZ.com
If it's true that two heads are better than one, then surely if two national governing bodies join forces, the benefits can be massive.
Motorcycling New Zealand and Motorcycling Australia are currently enjoying a new spirit of co-operation, the likes of which has only rarely been seen before to such a degree, and both parties stand to benefit hugely.
Motorcycling New Zealand president Glen Williams met with Motorcycling Australia officials Simon Maas, the MA Superbikes Operations and Safety Delegate, and newly-appointed MA Director of Sport Peter Doyle at Hampton Downs at the weekend and they discussed strategies that could benefit both organisations and both countries.
"The (world governing body of motorcycling) FIM is placing more faith in the regions now and Australia and New Zealand are the main players in the Oceania region," said Doyle, who had previously worked in international race team management and most recently as the National Technical Officer for Motorcycling Australia.
"We have gone through a lot of changes with personnel at Motorcycling Australia and the FIM is now giving us more responsibility as a separate federation.
"It is a no-brainer that Australia and New Zealand should work closely together."
Williams said a lot of work had been done to set up closer co-operation between Australia and New Zealand and both federations will be able to "move forward" in all disciplines.
"We have seen what things were and what they can be in the future and have put the building blocks in place. We will be more proactive than reactive," said Williams.
All three men agreed that much could be shared and learned from one another.