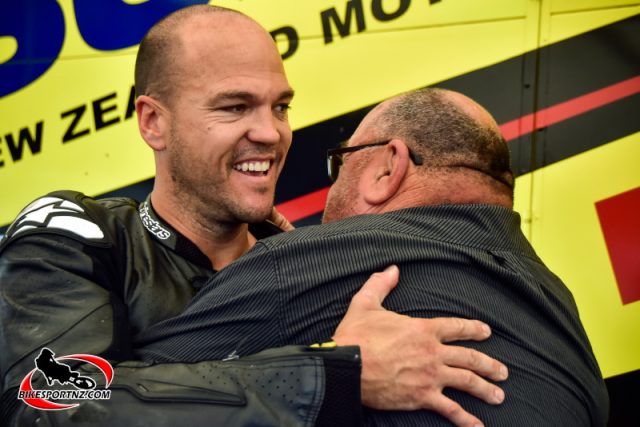 WEEKEND OF TURMOIL AND UPSETS AT HAMPTON DOWNS 
There was massive turmoil and upsets aplenty at the final weekend of racing in this season's New Zealand Superbike Championships at Hampton Downs.
Arriving at the Waikato circuit with huge points leads, it had looked almost a formality that Whakatane's Tony Rees and Wainuiomata's Shane Richardson would go on to wrap up title wins in their respective superbike and 600cc supersport classes at the weekend's fourth and final round of the 2017 series, but, in the end, it was their main rivals who would rise up to snatch the title wins away.
The margins for error in this sport are always tight, but perhaps nobody could have predicted that last year's champion, Wellingtonian Sloan Frost, would overcome a 32.5-point deficit at the start of the weekend to win the superbike crown for a second consecutive year or that Rees' 21-year-old son Damon Rees would see his 20.5-point deficit wiped out so that he would emerge with his first national 600cc crown. 
Frost had seemingly been out of the championship chase, but he's no quitter and set about his weekend's work by finishing runner-up to Christchurch's Alastair Hoogenboezem in the event's first superbike race on Saturday, while Tony Rees struggled with disintegrating tyres and settled for fourth. 
Frost then won the first of two superbike races on Sunday, while Rees again managed fourth, and this tightened the title chase to just 13.5 points with only the final race of the series still to come.
Fourth or better in that race would still have been enough for Rees to prevail but, when the last race was staged in two parts after other riders crashed and forced stoppages, Frost was able to produce two wins and Rees crossed the line in fifth both times – the title therefore went to Frost by the incredibly slim margin of just half a point.
A crash also featured in the final 600 race of the weekend, Richardson running off the track and into a tyre wall while leading, gifting the race win (and the NZ TT title) to visiting Australian Alex Phillis and, more significantly, also gifting the class title to eventual runner-up in that race, Damon Rees. 
Invercargill's Jeremy Holmes (1000cc superstock class) and Christchurch's Dennis Charlett (Pro Twins) had celebrated wrapping up their respective class titles at the previous round in Taupo, while Taumarunui's Leigh Tidman (superlites class), Christchurch's Andy McLaughlin (lightweight production class) and Opunake's Campbell Grayling (250cc production) were virtually untroubled in wrapping up their respective titles at Hampton Downs on Sunday.
In the sidecars class, team-mates Spike Taylor (Masterton) and Robbie Shorter (Tauranga) fought off a last-ditch effort by Tauranga pair Barry Smith and Tracey Bryan – who won all three races at Hampton Downs – to clinch the title by just five points.
Christchurch's Matthew Hoogenboezem won Saturday's sole 125GP race and wrapped up that title a day early, before following on to with both 125GP races the next day too. 
The 22-year-old Hoogenboezem is no stranger to winning national titles. He won the 150 streetstock title in 2011 and was national 125GP champion previously in 2014.
 "I was just fortunate enough this season to stay upright while others in my class were crashing," he said modestly.
 "I guess it's the old story, to finish first; first you must finish. I'm a living example of that. 
"My bike suffered a cracked exhaust expansion chamber in one of the races at (round one in January at) Ruapuna and I lost power and had to accept third place at the finish line. That was my worst result and I've been on the podium at every other race, so that gave me the title."
The New Zealand TT titles were also decided at Hampton Downs at the weekend, with the final race for each class determining this.
TT title winners this season are: Sloan Frost (superbikes); New Plymouth's Hayden Fitzgerald (1000cc superstock); Alex Phillis (600 supersport); Whangaparoa's Nathan Jane (superlites); Hamilton's Jacob Stroud (lightweight); Campbell Grayling (250cc production); Dennis Charlett (pro twins); Matthew Hoogenboezem (125GP); Barry Smith and Tracey Bryan (sidecars).
Final standings for the 2017 New Zealand Superbike Championships: 
Superbikes: 1. Sloan Frost (Wellington, Suzuki) 226.5 points; 2. Tony Rees (Whakatane, Honda) 226; 3. Alastair Hoogenboezem (Christchurch, Honda) 198. 
1000cc Superstock: 1. Jeremy Holmes (Invercargill, Honda) 250.5; 2. Hayden Fitzgerald (New Plymouth, Yamaha) 149.5; 3. Sam Sharp (Auckland, Kawasaki) 109.5. 
600 Supersport: 1. Damon Rees (Whakatane, Honda) 252; 2. Shane Richardson (Wainuiomata, Kawasaki) 243.5; 3. Jake Lewis (Rangiora, Triumph) 172. 
Superlites: 1. Leigh Tidman (Taumarunui, Yamaha) 237; 2. Nathan Jane (Whangaparoa, Suzuki) 210; Gavin Veltmeyer (Auckland, Suzuki) 199.
Lightweight: 1. Andy McLaughlin (Christchurch, KTM) 221; 2. Rogan Chandler (Upper Hutt, Yamaha) 178; 3. Sam Goulter (Ashburton, Yamaha) 163.5.
250 Production: 1. Campbell Grayling (Opunake, Kawasaki) 261.5; 2. Rob Gibson (Tauranga, Kawasaki) 208.5; 3. James Squire (Timaru, Kawasaki) 195.
Pro Twins: 1. Dennis Charlett (Christchurch, Suzuki) 304; 2. Josh Augustine (Auckland, Suzuki) 192; 3. Jordan Burley (Hamilton, Suzuki) 172.
125GP: 1. Matthew Hoogenboezem (Christchurch, Honda) 287; 2. Chris Wallinger (Christchurch, Honda) 157; 3. Matthew Reichenbach (Auckland, Honda) 145.
Sidecars: 1. Spike Taylor (Masterton) and Robbie Shorter (Tauranga) 257; 2. Barry Smith and Tracey Bryan (Tauranga) 252; 3. Peter Goodwin and Kendal Dunlop (Albany) 224.
Words and photo by Andy McGechan, www.BikesportNZ.com